Unit trusts, equities, and other ways to grow your money
Discover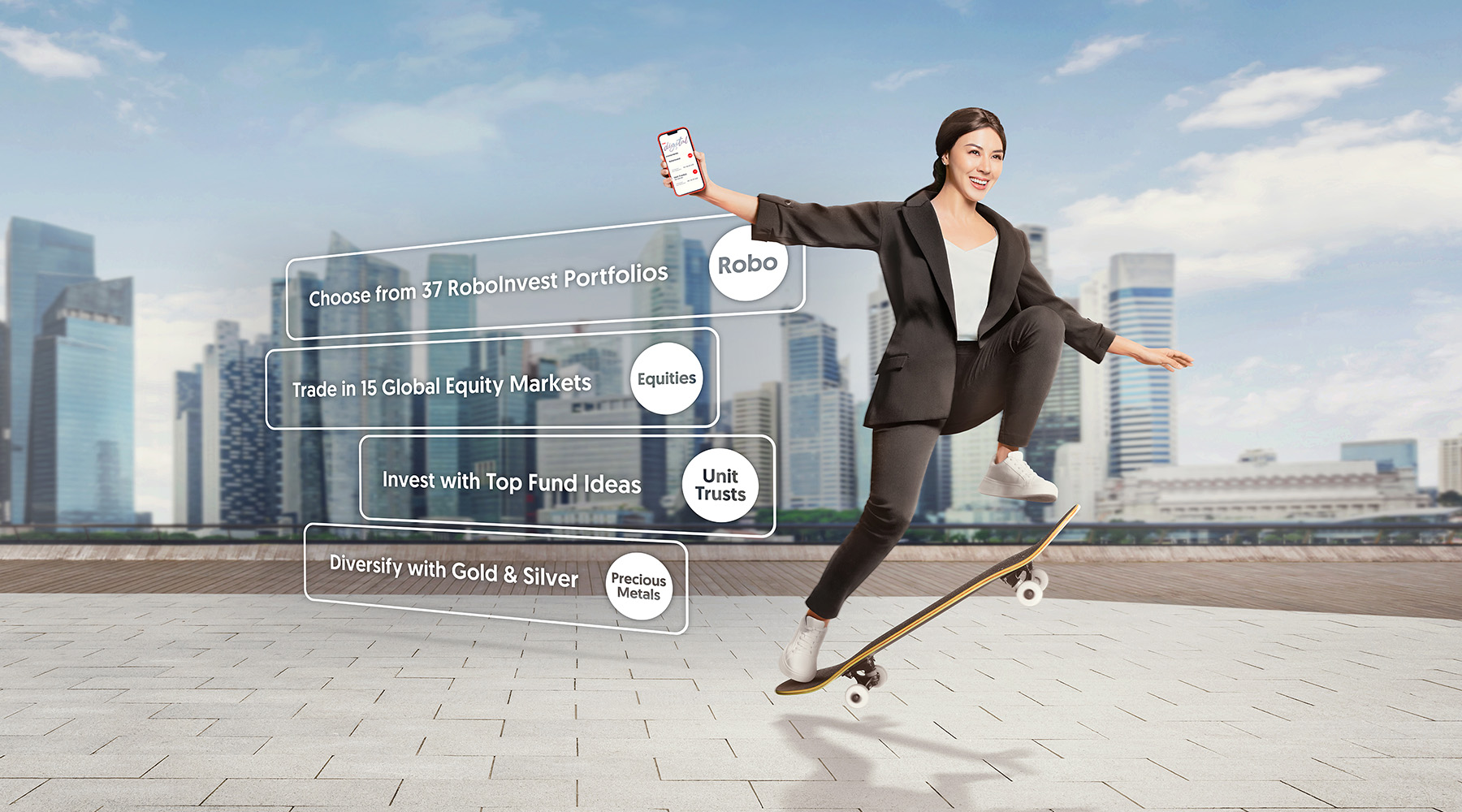 Let your investments power your aspirations
Discover our wide range of investment options and expert wealth insights in one place so you can tailor your portfolio to suit your goals. With OCBC Wealth Management, there's no stopping you.
Invest more today
Too much savings may limit your wealth gains. Consider investing.
Idle cash loses value over time due to inflation. Put your money to work and see your wealth grow when you invest.
How much of your savings would you like to invest?
Your balance after 40 years with an allocation of:
50% in cash deposits
50% in investments
Investments (Higher Risk)
SGD
00
Investments (Moderate Risk)
SGD
00
All figures and projections shown are for illustration purposes only, and calculated based on projected rates and assumptions which are subject to change at any time.
Transparent fees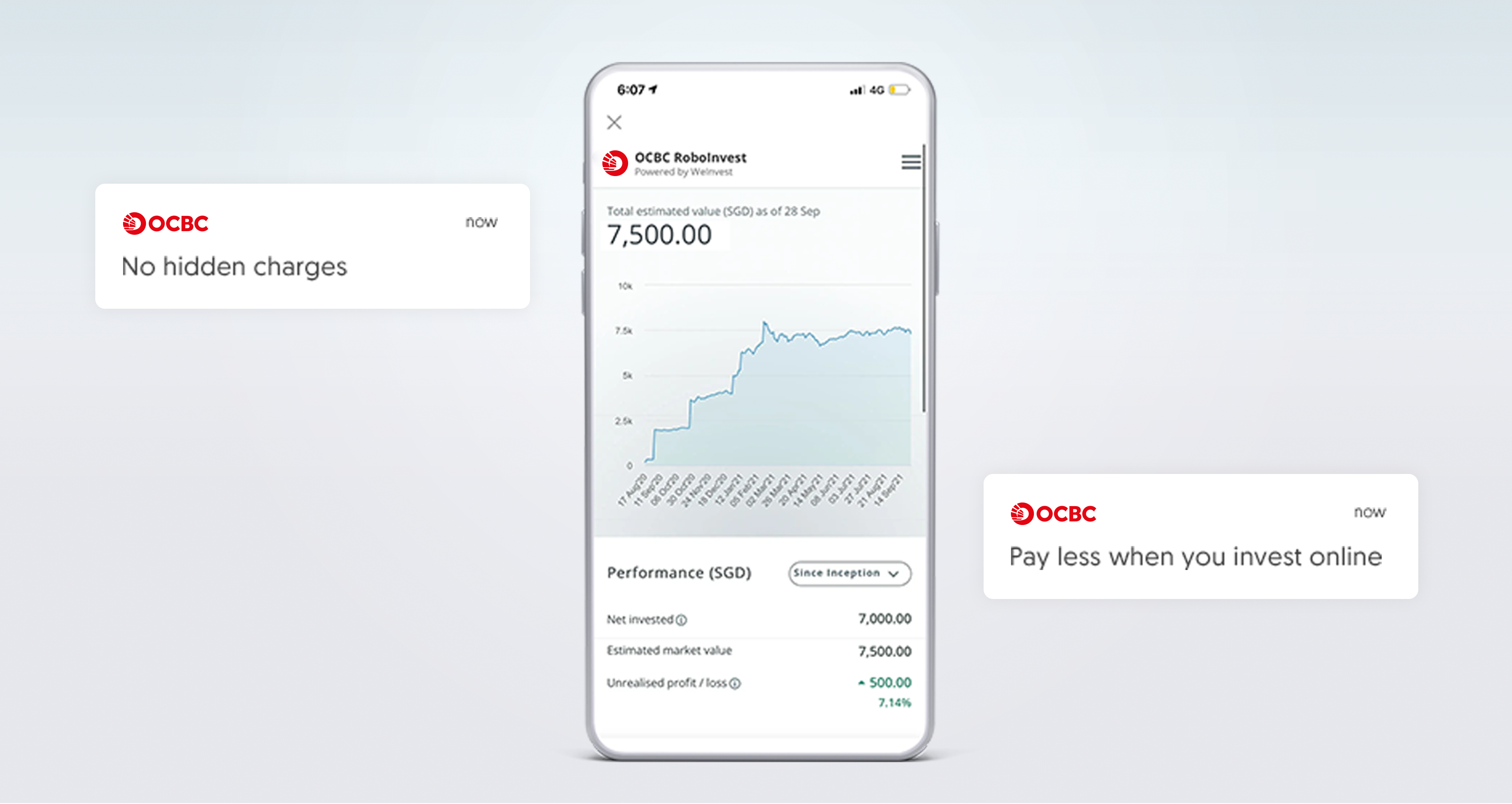 Get to know the fees upfront
Learn more about our full ranges of fees and see how OCBC remains one of the most affordable investment platforms for you.
Discover suitable investments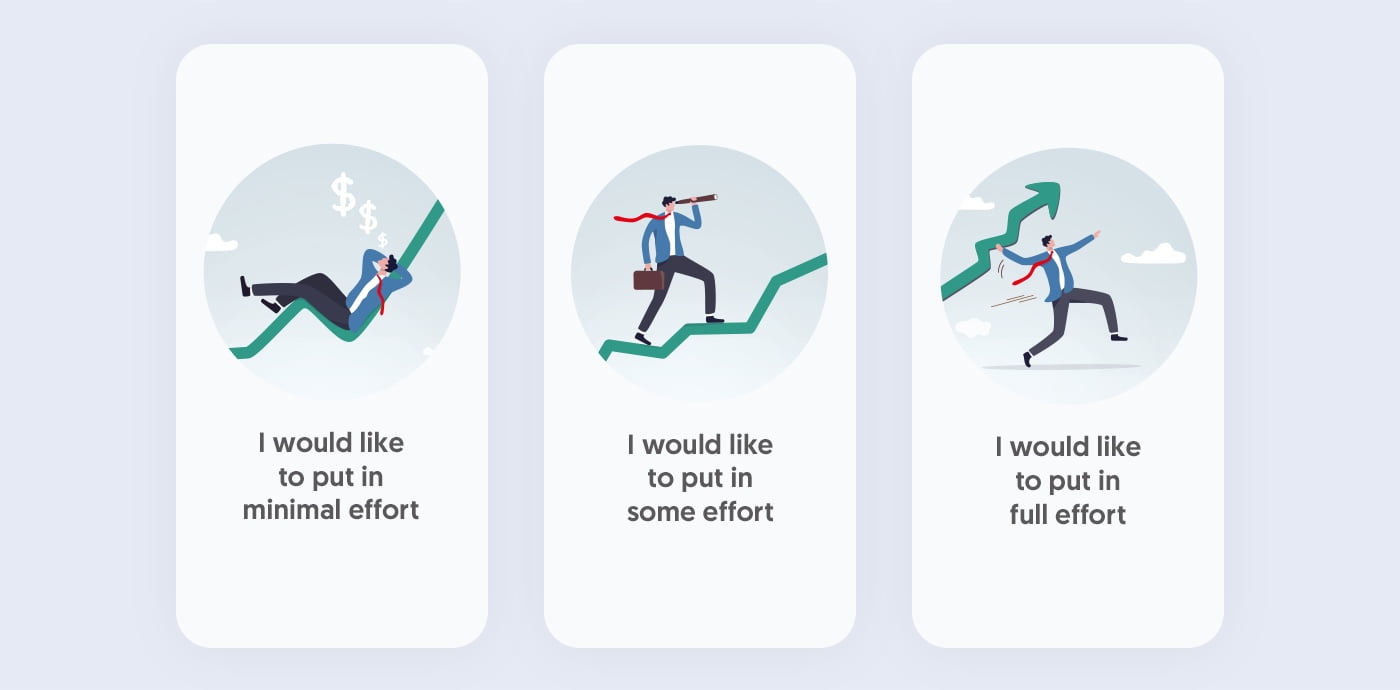 Not sure which investment is suitable for you?
How much effort are you willing to put in?
FAQs
I am new to investing. Where do I start?

For new investors, we recommend you complete our self-guided investment journey to see which products are suitable for you based on your risk appetite.

I am not an OCBC customer. Can I still invest with OCBC?

How do I open an investment account with OCBC?

Can I invest with CPF and SRS?

Yes, you can invest in the following products using your CPF and/or SRS:

For more information, please visit our Retirement Schemes page.

Can I transfer other investments over from another platform?

Yes, you can transfer the following products over from another platform:

Our financial advisors will be able to assist you further. Please visit your closest OCBC branch to find out more.

What are the benefits of investing with OCBC?

At OCBC, we make it a point to truly understand your needs and offer a range of investment products that we believe are solutions to help you meet your financial goals and achieve a well-diversified portfolio.

With OCBC Digital, you can kickstart your investment journey seamlessly, anytime and anywhere. Start small with as little as S$100 via our monthly investment plans that can help you accumulate financial assets gradually over time.
Ways to invest
Start your investment journey with OCBC today
through OCBC Online Banking or visit us at a
branch to open an account immediately.

Percentage to be invested
Key in the percentage of your total cash savings that you would like to invest. E.g. If you have SGD 100,000 in cash savings and would like to invest half, key in 50%.

How we calculate these values
We use these projected rates to calculate your returns over 40 years:
Cash deposits: 0.05% p.a.
Endowment: 2.50% p.a.
Investments (Moderate Risk): 4.00% p.a.
Investments (Higher Risk): 5.00% p.a.
For new customers
Open your account instantly when you apply with Myinfo via Singpass login.
If you do not have Singpass, you can apply online with these documents
For Singaporeans and Permanent Residents:
NRIC
---
Additional documents
Include any one of the following documents:
Phone bill
Half-yearly CPF statement
Any bank statement
Fill application form
If you have a current or savings account with us, you can apply instantly via Internet Banking with only a few clicks.
General disclaimer
This advertisement has not been reviewed by the Monetary Authority of Singapore.
Any opinions or views of third parties expressed in this document are those of the third parties identified, and do not represent views of Oversea-Chinese Banking Corporation Limited ("OCBC Bank", "us", "we" or "our").
This information is intended for general circulation and / or discussion purposes only. It does not consider the specific investment objectives, financial situation or needs of any particular person.
Before you make an investment, please seek advice from your Relationship Manager regarding the suitability of any investment product taking into account your specific investment objectives, financial situation or particular needs.
If you choose not to do so, you should consider if the investment product is suitable for you, and conduct your own assessments and due diligence on the investment product.
We are not making an offer, solicit to buy or sell or subscribe for any security or financial instrument, enter into any transaction or participate in any trading or investment strategy with you through this document. Nothing in this document shall be deemed as an offer or solicitation to buy or sell or subscribe for any security or financial instrument or to enter into any transaction or to participate in any particular trading or investment strategy.
No representation or warranty whatsoever in respect of any information provided herein is given by OCBC Bank and it should not be relied upon as such. OCBC Bank does not undertake an obligation to update the information or to correct any inaccuracy that may become apparent at a later time. All information presented is subject to change without notice.
OCBC Bank shall not be responsible or liable for any loss or damage whatsoever arising directly or indirectly howsoever in connection with or as a result of any person acting on any information provided herein.
Investments are subject to investment risks, including the possible loss of the principal amount invested. The information provided herein may contain projections or other forward-looking statements regarding future events or future performance of countries, assets, markets or companies. Actual events or results may differ materially. Past performance figures, predictions or projections are not necessarily indicative of future or likely performance.
Any reference to a company, financial product or asset class is used for illustrative purposes and does not represent our recommendation in any way.
The information in and contents of this document may not be reproduced or disseminated in whole or in part without the Bank's written consent.
OCBC Bank, its related companies, and their respective directors and/or employees (collectively "Related Persons") may, or might have in the future, interests in the investment products or the issuers mentioned herein. Such interests include effecting transactions in such investment products, and providing broking, investment banking and other financial services to such issuers. OCBC Bank and its Related Persons may also be related to, and receive fees from, providers of such investment products.
You must read the Offer Document/Indicative Term Sheet/Product Highlight Sheet before deciding whether or not to purchase the investment product, copies of which may be obtained from your relationship manager.
Any hyperlink to any third party article, or other website or webpage (including any websites or webpages owned, operated and maintained by third parties) is for informational purposes only and for your convenience only and is not an endorsement or verification of any such article, website or webpage by OCBC Bank and should only be accessed at your own risk. OCBC Bank does not review the contents of any such articles, website or webpage, and shall not be liable to any person for the same.
There are links or hyperlinks which link you to websites of other third parties (the "Third Parties"). OCBC Bank hereby disclaims liability for any information, materials, products or services posted or offered on the website of the Third Parties.
Deposit Insurance Scheme
Singapore dollar deposits of non-bank depositors and monies and deposits denominated in Singapore dollars under the Supplementary Retirement Scheme are insured by the Singapore Deposit Insurance Corporation, for up to S$75,000 in aggregate per depositor per Scheme member by law. Monies and deposits denominated in Singapore dollars under the CPF Investment Scheme and CPF Retirement Sum Scheme are aggregated and separately insured up to S$75,000 for each depositor per Scheme member. Foreign currency deposits, dual currency investments, structured deposits and other investment products are not insured.
Collective Investment Schemes
A copy of the prospectus of each fund is available and may be obtained from the fund manager or any of its approved distributors. Potential investors should read the prospectus for details on the relevant fund before deciding whether to subscribe for, or purchase units in the fund.
The value of the units in the funds and the income accruing to the units, if any, may fall or rise. Please refer to the prospectus of the relevant fund for the name of the fund manager and the investment objectives of the fund.
Investment involves risks. Past performance figures do not reflect future performance.
Any reference to a company, financial product or asset class is used for illustrative purposes and does not represent our recommendation in any way.
For funds that are listed on an approved exchange, investors cannot redeem their units of those funds with the manager, or may only redeem units with the manager under certain specified conditions. The listing of the units of those funds on any approved exchange does not guarantee a liquid market for the units.