Now reading:
Broaden your business horizons: 3 ways to become a serial entrepreneur
Broaden your business horizons: 3 ways to become a serial entrepreneur
Running your first business? Congratulations! But why stop there?
Whether or not you're an entrepreneur on constant innovation mode, consider continuing the momentum of your first successful business into your second or even third. Fan the spark of your business ideas into flames of bigger and brighter ventures.
Many famous entrepreneurs are serial entrepreneurs who run multiple businesses. Think Oprah Winfrey, owner of production, print and publishing companies, or Elon Musk, who is redefining transportation with all-electric cars and private spaceflight.
Of course, transforming even one business idea into reality is no walk in the park. To succeed in growing your portfolio of businesses as a serial entrepreneur, you should have the grit and tenacity to power through the trials that will come your way.
If being a serial entrepreneur sounds like your next big adventure, here's how you can embark on this exciting journey.
Diversify with complementary businesses
Create value for the eco-system in your industry with products or services that are related to your business or useful for your customers. Take a step back and evaluate your supply chain. You could start businesses that provide materials required for manufacturing, or dive into the tail end of the process—distribution.
A serial entrepreneur running complementary businesses in the logistics and transportation industry would be able to offer an enhanced customer experience with end-to-end service. On top of smooth coordination between their shipping, warehousing, and delivery companies, the throng of benefits include cost savings, waste reduction and better risk mitigation.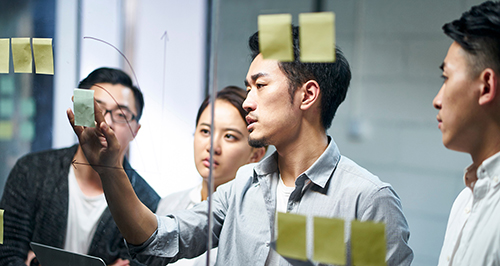 Serve different customer segments
Differentiate your businesses through branding and have unique offerings tailored for different customer segments.
En Dining Group is a good example. Founder Raymond Ng operates multiple F&B establishments with distinct Japanese cuisines and varying price-points. En Japanese Dining Bar and Z'en Japanese Cuisine cater to diners seeking premium Japanese food. Those looking for mid-priced casual dining can visit En Grill & Bar and Monster Curry, while budget-conscious patrons can patronise Tokyo Pasta Mario located at food courts.
"It is important to understand the needs and study the market gaps to discover underserved customer segments, test the concepts under the anchor business before launching the new venture."
Raymond Ng, Managing Director, En Dining
As a serial entrepreneur, he can better diversify risks by testing new concepts in the market under a standalone company, while maximising profits and entrenching the group's presence in Singapore's Japanese dining scene.
Venture into different industries
Instead of fishing in the same spot, why not cast your net wide to explore businesses in other industries? Seize new opportunities that come your way or turn your hobby or passion into your next business venture.
Before taking this route as a serial entrepreneur, you must first be confident that your existing core business is self-sufficient in funding daily operational cash flows.
We want to support you
Let us be a part of your serial entrepreneur journey, supporting your business ambitions and unique requirements every step of the way.
Contact us if you are a serial entrepreneur or planning on starting a new venture as a serial entrepreneur, and one of our dedicated Relationship Managers will reach out to you shortly.

DID YOU KNOW?
The serial entrepreneurial journey entails working with different business partners from different industry verticals. This gives them the opportunity to tap on their expertise, glean best practices and expand their network, possibly opening doors into niche sectors.
Disclaimer
You may be directed to third party websites. OCBC Bank shall not be liable for any losses suffered or incurred by any party for accessing such third party websites or in relation to any product and/or services provided by any provider under such third party websites.

The information provided herein is intended for general circulation and/or discussion purposes only. Before making any decision, please seek independent advice from professional advisors. No representation or warranty whatsoever in respect of any information provided herein is given by OCBC Bank and it should not be relied upon as such. OCBC Bank does not undertake any obligation to update the information or to correct any inaccuracy that may become apparent at a later time. All information presented is subject to change without notice. OCBC Bank shall not be responsible or liable for any loss or damage whatsoever arising directly or indirectly howsoever in connection with or as a result of any person acting on any information provided herein. Any reference to any specific company, financial product or asset class in whatever way is used for illustrative purposes only and does not constitute a recommendation on the same.
---