Now reading:
Do more with less: 3 business processes you should digitise
Do more with less: 3 business processes you should digitise
For serial entrepreneurs, more is better—more ideas, more opportunities and more business ventures. However, operating multiple businesses can be a struggle when the hours in our days are limited. For time-strapped serial entrepreneurs, efficiency is everything and using digital tools designed to replicate manual administrative processes across your companies can help you work smarter and faster.
Give your productivity a boost by digitising these processes.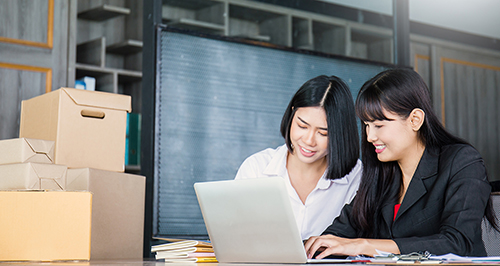 Manage your cash flow digitally
A hectic schedule is no excuse for losing control of your businesses' cashflow. Positive cashflow is the essence of a sustainable business.
Tap on a holistic digital platform like OCBC Velocity, which is jam-packed with powerful features and a comprehensive range of advanced tools to help manage cashflow and grow your business more effectively.
Think real-time access to your business accounts, creating e-invoices and consolidating bills all in one place. With a single login to OCBC Velocity, you get a complete picture of your cash flow and you would be able to track the sales performance across all your companies to identify your top selling product or gain insight on customer purchasing trends.
To help grow your business further, the cash flow forecasting tools available help you visualise your cash flow of the past, present and future so you can make smarter data-driven decisions.
Switch to E-Invoicing
Hardcopy invoices created manually is not only time consuming, but also prone to human error, which are costly to correct. According to the Infocomm Media Development Authority (IMDA), it costs up to S$72 to rectify errors in each invoice. Say goodbye to messy paperwork with e-invoicing—an easier, safer, and more accurate way of processing payments.
We don't mean sending PDF invoices by email, which still run the risk of invoice loss or inaccurate data entry. Instead, issuing e-invoices using InvoiceNow gives you a smoother invoicing experience with faster payments.
By using the nationwide E-invoicing method, which uses the Pan-European Public Procurement On-Line (PEPPOL) standard, you and your recipients enjoy a standardised e-invoicing format, quicker invoice validation and lesser payment delays. Plus, you can seamlessly transact across all business on the InvoiceNow network, both locally and internationally. This is especially beneficial for serial entrepreneurs running businesses overseas.
Completed business transactions done via e-invoicing automatically show up as a consolidated statement on our digital business banking platform, OCBC Velocity, which clearly reflects the status of your invoices as 'overdue,' 'paid,' or 'pending'. OCBC Velocity also alerts you about upcoming bills, so you don't have to worry about missing a payment to your suppliers.
As your businesses grow, so does the challenge of staying on top of things like tracking revenue, expenses and knowing when to pay suppliers or collect payment from customers. With e-invoicing, managing these payables and receivables will be a breeze.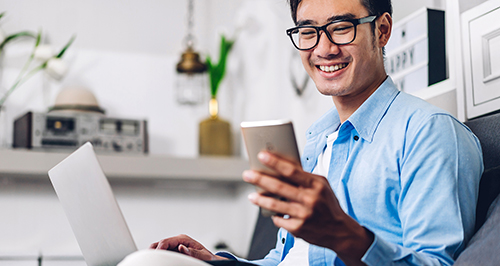 Speed up payment collection
Let's face it. Nobody likes to wait. For retailers, F&B, and service providers, tackling long queues at cashiers can be a nightmare.
For such businesses with brick and mortar stores, adopting a digital merchant solution like OCBC OneCollect lets you collect in-store payments in real-time with notification. All you need is a smartphone with the app, while your customers simply scan a PayNow QR code and pay instantly to your business account. No need for troublesome point-of-sale terminal setups.
As a merchant, you no longer need to wait to check if customers have paid, wait to receive cheque and credit card payments or waste precious time on paper-based reconciliation. OCBC OneCollect automatically consolidates your transactions across multiple businesses and gives you an overview of your daily sales in one place on OCBC Velocity. The result? Faster payment collections and an improved cashflow.
Did you know?

We are the only local bank to integrate e-invoicing with our digital business banking platform, OCBC Velocity. The extensive range of tools available on OCBC Velocity aims to help serial entrepreneurs like yourself work more efficiently so that you can focus on doing what you do best–working on your next brilliant idea.
For more information on our digital or financing solutions, contact us and one of our relationship managers will get in touch with you soon.
Disclaimer
You may be directed to third party websites. OCBC Bank shall not be liable for any losses suffered or incurred by any party for accessing such third party websites or in relation to any product and/or services provided by any provider under such third party websites.

The information provided herein is intended for general circulation and/or discussion purposes only. Before making any decision, please seek independent advice from professional advisors. No representation or warranty whatsoever in respect of any information provided herein is given by OCBC Bank and it should not be relied upon as such. OCBC Bank does not undertake any obligation to update the information or to correct any inaccuracy that may become apparent at a later time. All information presented is subject to change without notice. OCBC Bank shall not be responsible or liable for any loss or damage whatsoever arising directly or indirectly howsoever in connection with or as a result of any person acting on any information provided herein. Any reference to any specific company, financial product or asset class in whatever way is used for illustrative purposes only and does not constitute a recommendation on the same.
---