Now reading:
Use your strong business track record as a springboard to more successful ventures
Use your strong business track record as a springboard to more successful ventures
Putting a new idea to practice and starting your next business, while exhilarating, usually involves tackling a laundry list of processes all over again. After you have registered with ACRA and assembled your dream team, another important step is to ensure funding.
Obtaining financing from banks for a new business can be quite a hurdle to cross as your company is conventionally evaluated on its own, based on performance and financial credibility that may not be available in the early stages.
Here's the good news: At OCBC, a strong track record, solid financials and experience you've chalked up as a business owner doesn't go to waste when you're seeking to finance your next venture–even before incorporation.
Instead of viewing your new business as an independent entity, we take into consideration your entire existing portfolio of operating businesses, together with your proven track record as a serial entrepreneur.
"After running Josiah Montessori since 1996 and expanding the brand to 5 centres, we saw an opportunity to leverage on our expertise to start a sub-brand, My Learning Haven. Despite it being a new business, we were able to get a loan even before incorporation based on our past business track record and this allowed us to launch the sub-brand faster than we thought possible."
Wendy Tan & Lena Lim, Josiah Montessori & My Learning Haven
Read on to find out how your track record can work to your advantage as a serial entrepreneur and the key areas to pay attention to.
Your business transaction flows
To measure your business track record, one aspect includes transaction flows through your main operating bank. When you use OCBC as your primary business bank, insight into your transaction flows help us better understand your companies and their business cycles. This, in turn, enables us to recommend financing solutions that are tailored to your needs.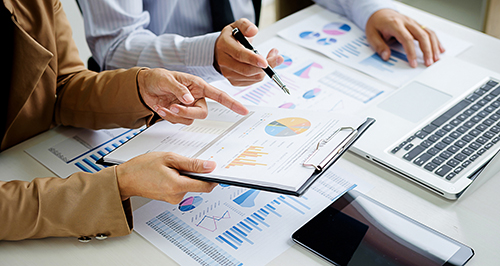 Your business strategy
Having a solid business strategy helps to increase confidence in your new and existing ventures. Being prepared to navigate the uncertain economic situations and knowing how to leverage working relationships with customers and suppliers to develop a competitive advantage not only puts you at the top of your game, but also enhances your ability to obtain additional financing.
Your loan repayment history
Maintain a positive payment history by repaying business term loans or paying personal credit card bills on time. Your repayment behaviour gives lenders like us a holistic view of your business and personal financial health. This snapshot of your creditworthiness is important when it comes to our decision on supporting your new venture with additional credit facilities.
We want to be your partner in growth
We take a comprehensive view in recommending and approving financing solutions for serial entrepreneurs. Whether you are starting your next business venture, expanding your brand across Asia or investing into your sustainable development goals, contact us today and let us be your trusty sidekick on this exciting journey.
Disclaimer
You may be directed to third party websites. OCBC Bank shall not be liable for any losses suffered or incurred by any party for accessing such third party websites or in relation to any product and/or services provided by any provider under such third party websites.

The information provided herein is intended for general circulation and/or discussion purposes only. Before making any decision, please seek independent advice from professional advisors. No representation or warranty whatsoever in respect of any information provided herein is given by OCBC Bank and it should not be relied upon as such. OCBC Bank does not undertake any obligation to update the information or to correct any inaccuracy that may become apparent at a later time. All information presented is subject to change without notice. OCBC Bank shall not be responsible or liable for any loss or damage whatsoever arising directly or indirectly howsoever in connection with or as a result of any person acting on any information provided herein. Any reference to any specific company, financial product or asset class in whatever way is used for illustrative purposes only and does not constitute a recommendation on the same.
---