Now reading:
Why Live Commerce Is Changing Online Shopping
Why Live Commerce Is Changing Online Shopping
The way people shop has been changing even before COVID-19 began. Can Singapore's SMEs – especially those in the retail sector – capitalise on the latest evolution of online consumer behaviour to meet the challenges of the new normal?
Even with the loosening of restrictions in Phase 2 of the Circuit Breaker which saw more businesses across sectors open their physical stores and shops again, there are still those in Singapore who prefer to stay away from large crowds and get the products they need from the safety and comfort of their own home.
This change in behavior, as a response to the realities of the pandemic, has simply added to the growing e-commerce trend that has exploded in Singapore and the rest of Southeast Asia. How then can SMEs here leverage this technology as an opportunity to increase sales? And what are some of the new developments in online shopping that could inspire and prove useful to businesses in Singapore?
Live commerce - where shopping meets streaming
A fusion of live-streaming and e-commerce – live commerce – through platforms such as Baidu and Tencent has grown extremely popular in China so much so that the country is expected to hit over $177 billion in sales this year.
A large part of this could be attributed to the nationwide lockdown caused by the coronavirus in February and March but the growth and appeal of live commerce is clear to see.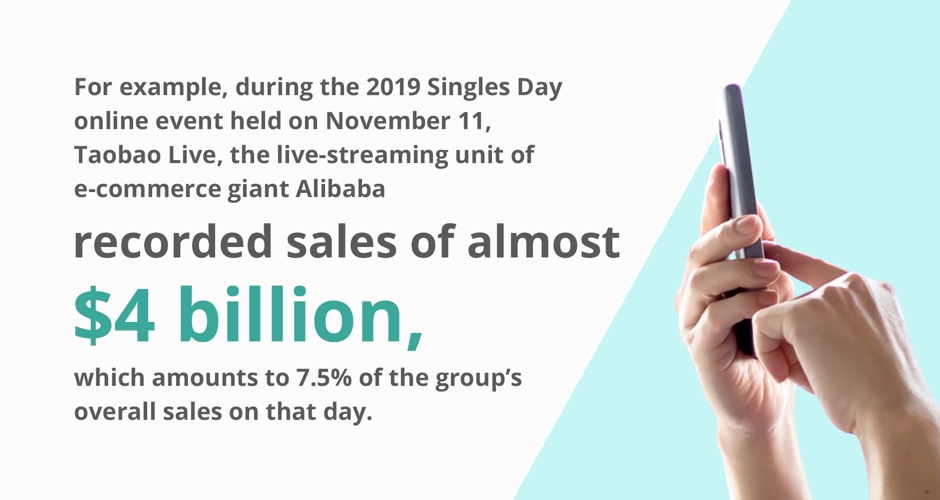 What's also significant is that more than 17,000 businesses started to carry out live-commerce on Taobao Live during last year's festival, selling popular products from fashion apparel and consumer electronics to even new categories such as cars.
The live commerce phenomenon has even spread to more traditional businesses such as China's rural farmers, traders and merchants to help sell fresh produce and village products online. Closer to home, live commerce has been adopted by innovative entrepreneurs such as Wang Lei to sell seafood through Facebook live streams. Wang Lei, a 59-year-old veteran getai singer who was jobless for over two months due to the COVID-19 restrictions leveraged his hosting skills as an entertainer and singer after being asked by a friend who owned a kelong if he considered selling seafood.
Wang Lei's engaging personality and hard work has seen him become an Internet sensation here in Singapore and also China. From his first ever live commerce stream where he had over 300 seafood orders, he now also sells other products and even has his own range of merchandise. His viewership has also grown from a local audience of 30,000 viewers within the first month of selling seafood to millions of viewers due to his popularity on Weibo, with the topic "Wang Lei's Fish Selling Diaries" making it to the Top 20 of Weibo's trending list recently.
Turn shopping thrills into stirring sales
As the live commerce examples have shown, this online shopping trend does hold plenty of possibilities for Singapore's SMEs. With a little creativity and experimentation, small business owners in Singapore can leverage live commerce to overcome social distancing restrictions and to talk and trade with their customers by bringing a personal in-store experience virtually.
Through these online live broadcasts, business owners and their staff have an opportunity to bring back the personal touch, as well as interact and engage more with their audience and this will greatly help to build trust with their customers in the longer term, helping them to bring in repeat business as well as earn positive recommendations.
This element of relationship building, which live commerce could possibly help to create, is especially vital for businesses that require high levels of trust. For example, small businesses that provide baby and young children's products and services would be in a better position to appeal to parents if they can provide authentic and informative content. This is especially important for first-time parents who want to make sure of everything before buying any products for their kids.
Doing this online through live commerce also helps businesses with limited marketing budgets to expand their footprint and expose themselves to a wider business audience as they are not limited to only those who can visit their physical premises. So whether you're a spice trader, grocer or butcher at Tekka Market or a retailer who sells beauty products, fashion apparel, consumer electronics, home furnishings and so on, live commerce makes it possible for businesses to reach out to many more people, which also increases their sales opportunities.
Consider influencers to win over more customers
While live-streaming and e-commerce are not new concepts, the combination of the two has created a fresh approach in relation to both the traditional in-store and online shopping experiences, enabling businesses exciting ways to engage and interact with customers.
By bringing together the community, content and connectivity through live broadcasts, brands can go beyond just showcasing, testing out and describing their products to also create buzz by providing consumers unique 'shoppertainment experiences'.
In this regard, for SMEs in Singapore with bigger budgets, these businesses could consider working with influencers or Key Opinion Leaders (KOLs) whose fans and content aligns with their products and services. A great example is Viya, who is arguably China's most popular live commerce KOL. Her loyal fans regularly place orders worth millions of dollars - typically for cosmetics, appliances, or clothing, and even cars as well as houses.
Then, there is the example of Fengju Qin, the head of Baishui county in China's Shaanxi province. With the outbreak of COVID-19, over 180 million kilogrammes of apples went unsold due to lockdown restrictions in Shaanxi province. To help the beleaguered farmers there, Qin, contacted e-commerce giant JD and together with influencers live-streamed the sale of these apples. The result? In two hours, his live-stream on JD.com's app attracted more than 210,000 shoppers and sold over 100,000 kg of Baishui apples.
Qin is not the only local official to pick up live-streaming during the period. Over 120 mayors, county heads, and other civil servants in China joined JD's live-streams during the epidemic to act as super hosts and promote local agricultural products, which has garnered over 100 million views in total.
Ready, set, go live commerce
What these live commerce examples have shown is that there is opportunity for retailers to thrive despite the challenging conditions brought on by the pandemic. As SMEs have always done, they need to keep being resilient and resourceful, leveraging technologies such as e-commerce and live streaming in order to survive and thrive.
Getting started in this regard may be easier than you think as SME owners and staff can leverage social media platforms that they are already familiar with such as Facebook and Instagram. These businesses can leverage the Facebook Live or Instagram Live features within these apps to carry out their live streams and by considering the following basic guidelines they will be able to get started.
1. No fancy equipment required. All you need is your smartphone or tablet. If possible, use an affordable tripod for a steadier, more professional shot.
2. Get some basic lighting. While this isn't necessary, it can help to improve the video quality. Consider low cost selfie lights that you can attach to smartphones or tripods or just make sure that you or your products aren't lost in any shadows.
3. Test your internet connection. Make sure that you have a strong enough signal or Wi-Fi connection as you don't want your video to cut in and out as you live stream.
4. Use apps that can live stream. As mentioned, Facebook and Instagram are probably the easiest and cheapest options to do your live broadcast but Shopee also has a live stream module where you can run flash sales too.
5. Leverage online ordering and e-payment. As the Shopee example shows, you can also use third-party online ordering apps and also register for PayNow to collect payments easily, securely and quickly.
6. Plan your broadcast. It may be useful to have a simple outline of what you would like to say, do and promote during your live stream. You can also do some basic research on your products like Wang Lei, who googled the seafood he was selling.
7. Tap government grants. To help SMEs build stronger digital capabilities and seize growth opportunities, the government has set up the SMEs Go Digital initiative, making funds available for SMEs to digitally transform their business. On top of this, the Digital Resilience Bonus was announced as part of Budget 2020 where qualifying businesses can receive up to $10,000 for adopting solutions such as e-inventory management, e-commerce, and e-payments.
At a time when SMEs need to budget wisely when looking to acquire new customers, live commerce can possibly help retailers and service providers obtain more online foot traffic at a relatively lower cost.
With their own live commerce platform, businesses can reach more customers who are unaware of their business and the more people who come to know about them through their digital storefront, the more they will share with others. With 96% of buyers finding videos helpful when making purchase decisions, this is another good reason why live commerce should be considered as one of your business and marketing strategies.
Disclaimer
You may be directed to third party websites. OCBC Bank shall not be liable for any losses suffered or incurred by any party for accessing such third party websites or in relation to any product and/or services provided by any provider under such third party websites.
The information provided herein is intended for general circulation and/or discussion purposes only. Before making any decision, please seek independent advice from professional advisors. No representation or warranty whatsoever in respect of any information provided herein is given by OCBC Bank and it should not be relied upon as such. OCBC Bank does not undertake any obligation to update the information or to correct any inaccuracy that may become apparent at a later time. All information presented is subject to change without notice. OCBC Bank shall not be responsible or liable for any loss or damage whatsoever arising directly or indirectly howsoever in connection with or as a result of any person acting on any information provided herein. Any reference to any specific company, financial product or asset class in whatever way is used for illustrative purposes only and does not constitute a recommendation on the same.
---
Discover other articles about: