Now reading:
What Can We Expect of F&B's New Normal?
What Can We Expect of F&B's New Normal?
The global pandemic was one burden too many for some of Singapore's most iconic restaurants.
We have seen Breko in Holland Village and Modesto's on Orchard Road close their doors after 20 years in business, while more than 500 other outlets have suspended operations at least temporarily.
But as savvy Singapore entrepreneurs and a forward-thinking government look to new trends and technology, this could be an opportunity rather than a disaster for F&Bs in Singapore.
With a dash of digital know-how and a sprinkle of customer knowledge, your business can emerge from the crisis stronger than ever, ensuring Singapore remains one of the most dynamic food destinations in the world.
Healthier habits
You know times have changed when a burger chain suddenly gets half its sales from a vegan patty. That's what happened to Bareburger in Dubai as consumers panicked by the pandemic started choosing healthier options that fill the tummy without emptying the wallet.
Consumers in Singapore are on a health kick too. Diet-conscious consumers recently caused a spike in the import of fresh fruit and vegetables while Growthwell, a local innovator of plant-based foods, recently raised more money to start a new product line.
Whether you provide more fresh food, organic ingredients, or even the kind of meatless alternatives that helped the US vegan company Tofurkey double its sales, being able to pivot with new consumer tastes is a great way to turn a crisis into an opportunity.
Seen to be clean
Hygiene is another "new" habit.
Hello Korean BBQ on Circular Road for example, installed a disinfection tunnel that sprays customers with a fine, virus-killing mist before entering the restaurant. In the months to come the disinfection tunnel may not be necessary but other changes will.
For example, what about an outdoor kiosk that lets you grab an order without leaving your car? With diners demanding services like contactless payments and drive-through takeaways, the Japanese eateries at Cuppage joined forces to set up JPdrivethru, which enables exactly that.
This push for more hygienic services also taps into tech trends that were emerging well before COVID-19, with half of Millennials asking for the ability to order before arriving, or at least order electronically after they have arrived. Translating this into practice is local chain Wine Connection, which provides table-top QR codes that let you pull up its menu on your phone.
Distant dining
What about consumers who want the experience, but zero proximity?
Restaurants and bars around the world have been working on that too. In China, the hotpot chain Haidilao has retained customer loyalty with livestreams that let people share meals together online.
The local Irish pub McGettigans didn't skip a beat either. It shifted its traditional open-mic music nights to Facebook Live while increasing takeaways so customers could enjoy its favourite Irish grub and music at home.
Of course, none of the above would be possible without new technology. Whether it's data analysis, mobile-first services, AI or even robots — the emerging digital ecosystem is disrupting every industry.
And if you're in the F&B sector, you will know this better than almost anyone else.
Getting a taste for tech
As we become more connected through our phones, our consumer habits have changed — including how we eat.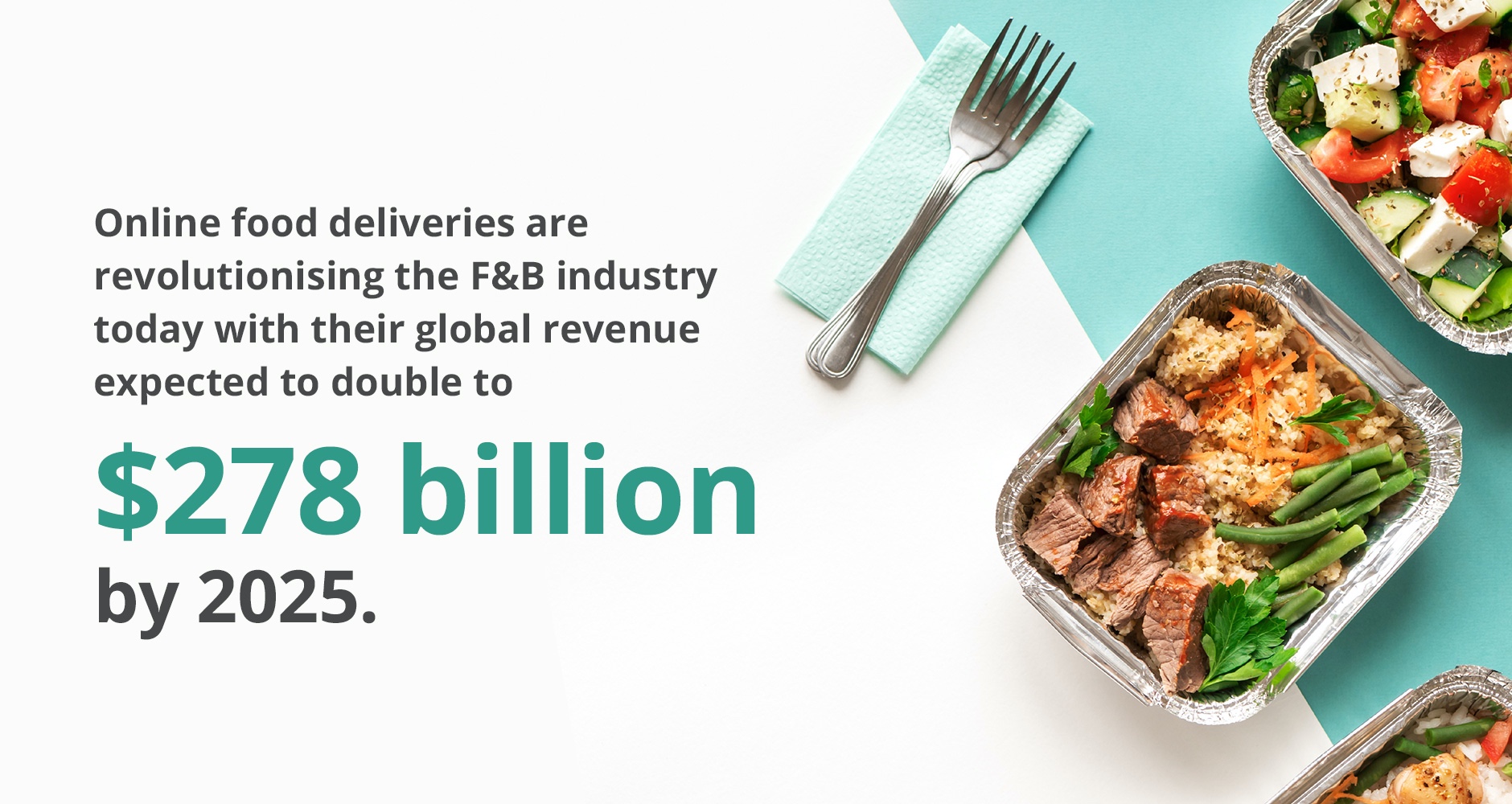 Source: Forbes, 2019
Singapore is also ahead of the curve, with the local delivery market already worth $645 million and growing almost 11% a year. But even as most of the local F&B sector has adapted quickly, it has not been easy for some smaller businesses like the hawkers.
Severely impacted by social distancing rules, the usually crowded hawker centers have found it difficult to pivot to online delivery. The low cost of meals and drinks — that start around $0.60 and rarely exceed $8 — leave little room for driver commissions.
But they are starting to adjust.
Banding together, many hawkers have formed an online Facebook community called Hawkers United that helps promote local eateries and facilitates online ordering. The group's followers — more than 270,000 already now — are also equipped with WHYQ, an online delivery option whose no-minimum orders and S$1.50 delivery fee caters to low-cost hawker meals.
Service with a smile (and a sensor)
Deliveries are just one component of an F&B business. To survive in the digital economy, the in-house operations are key.
This is why the American chain Cava has turned to cutting edge tools like the Internet of Things. It uses sensors to monitor noise levels in the dining area while more sensors in the kitchen keep track of inventory and food preparation.
Local companies are stepping up as well. Fishball supplier Thong Siek is connecting more than 100 of its machines with data-sharing sensors to reduce downtime and improve output. And they didn't have to look too far for help, turning to Singaporean startup and IoT leader Auk Industries.
As we can see with Thong Siek and Auk, the Singapore F&B scene is working hard to meet the increasingly sophisticated needs of consumers. Local companies are embracing the emerging digital economy to keep Singapore at the forefront of new trends and technology.
The Winnow waste monitor, for example, helps local kitchens cut food waste by up to 8%. Robot chefs, used by Hawkee, an eatery in Tanjong Pagar, whips up meals for busy office workers in less than four minutes.
Wrap Bstrd, an innovative kitchen, also helps local F&B company Ebb & Flow Group leverage advanced AI analysis of behaviour to come up with unique wraps like Spicy Chicken Indomie and Cauliflower Butter Curry.
A final ingredient
But as you know, technology isn't cheap, especially if you were already dealing with razor-thin margins even before the pandemic. Fortunately, there's help.
The government has introduced a raft of measures to update technology and improve efficiency for Singaporean F&Bs. Have you checked these out yet?
With a little luck, and a great deal of experience and entrepreneurial spirit, the local F&B scene will survive and thrive as it always has.
The worst is over. The best is yet to come.
Disclaimer
You may be directed to third party websites. OCBC Bank shall not be liable for any losses suffered or incurred by any party for accessing such third party websites or in relation to any product and/or services provided by any provider under such third party websites.

The information provided herein is intended for general circulation and/or discussion purposes only. Before making any decision, please seek independent advice from professional advisors. No representation or warranty whatsoever in respect of any information provided herein is given by OCBC Bank and it should not be relied upon as such. OCBC Bank does not undertake any obligation to update the information or to correct any inaccuracy that may become apparent at a later time. All information presented is subject to change without notice. OCBC Bank shall not be responsible or liable for any loss or damage whatsoever arising directly or indirectly howsoever in connection with or as a result of any person acting on any information provided herein. Any reference to any specific company, financial product or asset class in whatever way is used for illustrative purposes only and does not constitute a recommendation on the same.
---
Discover other articles about: