Now reading:
How The Dinky Shop used short-term financing to scale up operations
How The Dinky Shop used short-term financing to scale up operations
E-commerce revenue in Southeast Asia is expected to grow annually. In late 2017, the founders of The Dinky Shop seized the opportunity. Due to increased demand during COVID-19, they faced a new challenge – keeping up with rising demand. Enter OCBC Short-term Financing. Through OCBC Short-term Financing, the business was able to get advanced cash from their business invoices to import more products and fulfil customer orders.
A simple idea turned into a successful startup for Leon and his co-founder, Keane. At the end of 2017 – when Leon became a new parent and Keane's wife was expecting – they decided to join forces to start an e-commerce business in the baby products category.
The first step they took was to find out which products were trending. The result of their research? Wet wipes for babies. Once they found their product of choice, they started stocking up on the minimum quantity at their own homes. Eventually, the business started expanding and the co-founders converted their partnership into a private limited company.
With a bigger business and increased sales, came bigger problems. Warehousing at home was no longer an option, which resulted in them stocking their inventory at a warehouse of their own.
Leaving full-time work to start The Dinky Shop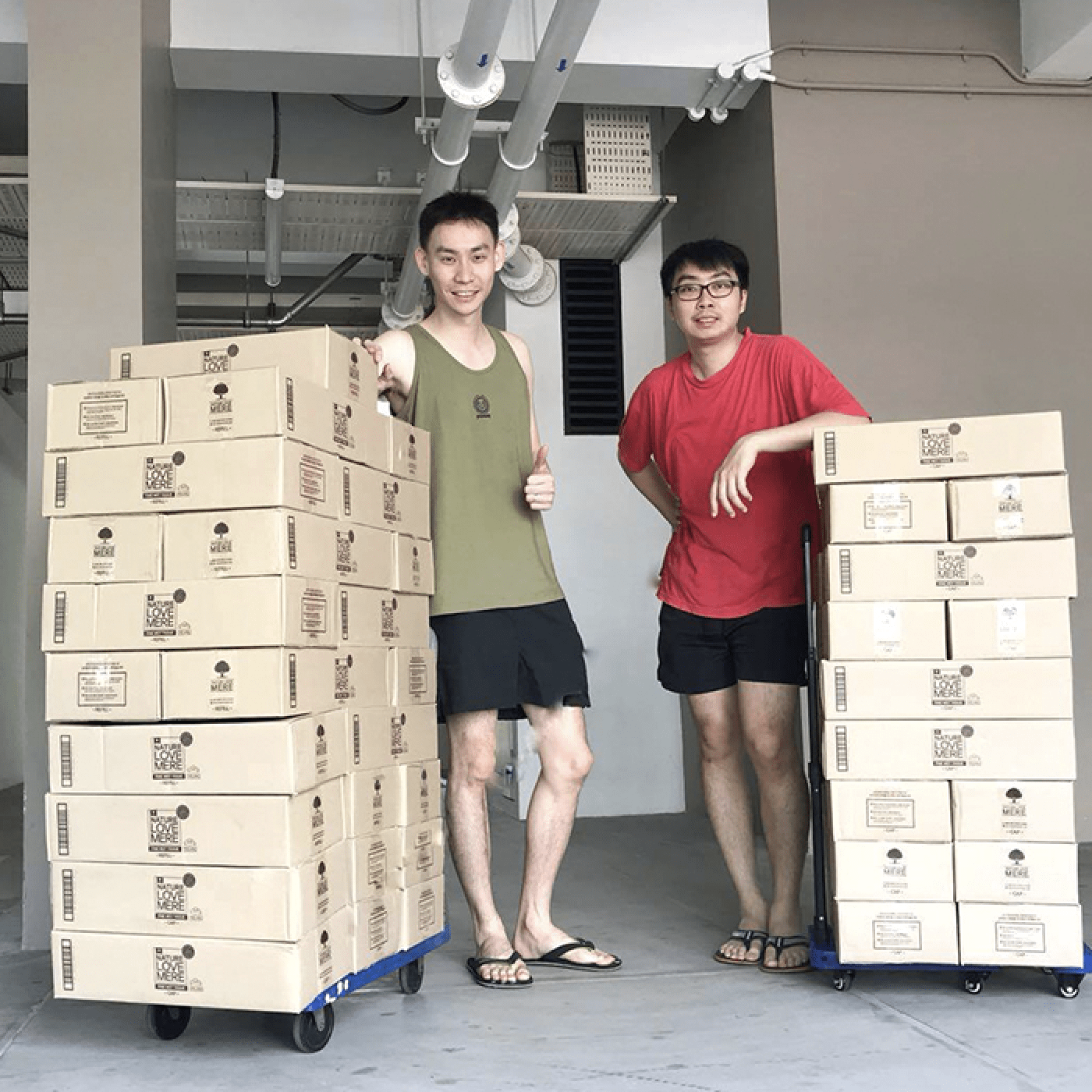 Both co-founders worked on the business on a part-time basis at the start. On the back of increasing traction in their online store, Leon started working full-time on the business after they had incorporated their private limited company.
Even with the lack of business experience, The Dinky Shop's co-founders took the store to new heights. They continued to source for trending products. And then COVID-19 happened.
While many industries were affected, online businesses – like The Dinky Shop – were able to push on.
That was also when Keane decided to seize this opportunity. He quit his full-time job to devote more time alongside Leon in the business. After all, business was on the up. Acting conservatively at first, he drove for Grab in his free time to make up for his salary shortfall.
Very quickly, orders came roaring in. Keane was now able to put all his energy and effort into The Dinky Shop.
From only one product at the start, The Dinky Shop now carries around 80 unique products. As an online business, they have processes in place and do not require a lot of manpower. They employed only four full-time operational staff with some part-time staff to help out at baby fairs and live events, or serve as extra support during peak order seasons.
Getting ahead of challenges
Unlike other businesses that were hit badly by the pandemic, The Dinky Shop benefitted from mothers staying at home and shopping online for their children's needs. Now that the pandemic regulations are slowly easing, the founders are paying attention to other challenges that they continue to face.
One challenge is to be more relatable to mothers who purchase the products for their little ones. While most mother-baby product stores are run by females and mothers themselves, The Dinky Shop's two male founders initially had a hard time approaching and connecting with new mothers.
They focus on promoting the quality and wellness that their products offer. Through social media visuals and videos, they demonstrated the benefits of different products and conveyed these messages through lighthearted and fun content. The content they have created has successfully attracted the attention of mothers, who dominate their social media audience – and customer base.
Another challenge the business faces is the need to constantly evolve within the competitive industry and ever-changing trends. Leon describes it as the need to always show up and stay at the top of their customers' minds. Social media and other marketing channels are helpful, but the co-founders are always on the lookout for more innovative ideas.
For instance, they plan to convert one of the three warehouses they currently occupy into a shop-and-play area where the mothers are able to entertain and play with their babies, while shopping out for products in their storefront.
Small steps to greater success
To meet the demands of new mothers and stay ahead of their competitors, the duo behind The Dinky Shop understands that they must build deeper relationships with their suppliers. Most of their inventory comes from online vendors they have not even met, but have built a trusting relationship with.
Despite being on a sharp growth trajectory amidst the pandemic, the company was still facing a cash flow issue. At one point, the co-founders were not able to meet payments to bring in the order size that they required. This is where OCBC stepped in to help with a short-term financing solution. Through this, The Dinky Shop was able to make 100% upfront payment even before pre-shipment of their products. This helped the co-founders better manage their inventory – being able to bridge their cash flow gaps to continue taking new orders, make more orders even while existing products are en route, and improve confidence among their suppliers. The Dinky Shop is a fantastic example of how small business ideas can grow into successful e-commerce operations. Listing their products on online marketplaces has helped them keep costs low, as they utilise the third-party logistic providers that are integrated into the system to fulfil orders. While Leon reminisces about their early days of delivering orders during lunchtime, and even sometimes surprising customers with same-day deliveries, the cash flow management solutions offered by OCBC Bank are helpful to scale small businesses like theirs.
With OCBC's Short-term Financing solution, The Dinky Shop's co-founders were able to overcome cash flow issues and meet customer demands. If your business is looking for viable financing solutions to help your business scale, our team is available for a chat at your convenience.
Disclaimer
You may be directed to third party websites. OCBC Bank shall not be liable for any losses suffered or incurred by any party for accessing such third party websites or in relation to any views or opinions expressed or any products and/or services provided by any provider under such third party websites.
---
Discover other articles about: