Now reading:
The (unexpected) financial challenges of having a child in Singapore.
The (unexpected) financial challenges of having a child in Singapore.
The (unexpected) financial challenges of having a child in Singapore. A Singaporean couple shares their experience with us
Leon and Emma, who are in their early 30s and late 20s respectively, got married in 2016 after having dated for three years. In 2017, they were blessed to have their daughter, baby Lois, joining their family. Not surprisingly, life has changed a lot for them since.
Before Lois was delivered, Leon worked as a partner in his family business (he still does) while Emma was working in the civil service.
Financially, they were stable and didn't have any money-related challenges. Emma described it best by saying that "though we were married, financially speaking, it was more like two singles living together. We didn't have any financial challenges to discuss about, or work out."
However, as those of us who are already parents would know, having a baby will change this...completely.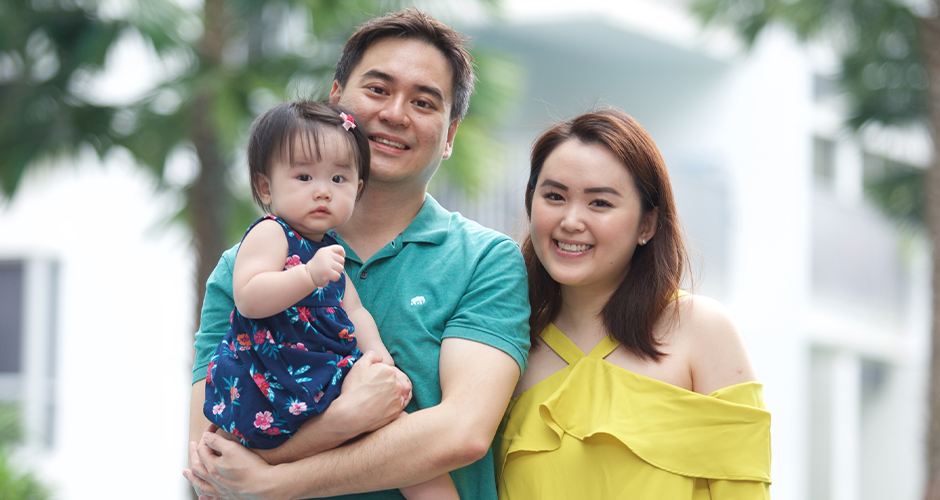 DollarsAndSense.sg (DNS): Leon and Emma, thanks for chatting with us. Being new parents, we are sure both of you have experienced your fair share of challenges, both expected and unexpected. What are some of the challenges that both of you were anticipating for prior to the arrival of Lois?
Emma: We definitely anticipated a fair amount of challenges, and our personal experience did not let us down!
Firstly, the physical exhaustion is very real. And unlike working or studying, where you can still come home at the end of a tough day and grab some sleep, taking care of a newborn is essentially a 24/7 responsibility.
Beside coping with the absence of sleep, we also had to tackle other financial challenges.
I will admit. Prior to Lois joining us, we didn't have much financial concerns weighing down on us – and why should we? We both have good jobs and didn't have to support anyone, except ourselves. I (Emma) do give an allowance to my parents each month.
When it comes to the financial cost of pregnancy, we were prepared for cost areas such as the gynecologist and hospital fee incurred during delivery. Even then, the cost was higher than what we expected. For example, we spent close to an additional $1,000 for extra visits to the gynecologist due to some complications and scares during the pregnancy.
Another unexpected challenge was the caretaking arrangement for Lois. Initially, the plan was for my mom to help out with the caretaking after Lois was delivered. However, because of other unforeseen circumstances, this arrangement was no longer possible. Hence, we had to engage a domestic worker which meant incurring additional cost. This costs us about $1,000 each month, inclusive of living cost.
I'm glad that we manage to settle these things on our own. I'm sure that our challenges are far from unique, and that it may pale in comparison to other Singaporean parents who have to deal with far tougher situation.
DNS: What about additional unexpected financial challenges once Lois was delivered?
Emma: This was an eye-opener. Healthcare expenditure can be really expensive for babies when they fall ill.
Breastfeeding was not as straightforward as we expected. Between the lactation consultants and massage sessions that I used, I think we spent an additional $2,000.
ois also had an adverse reaction to her BCG vaccination and we had to bring her for additional checkups. This costs us a few hundred dollars. Thankfully, she recovered fully without needing a surgery.
On its own, each of these expenditures already cost a bit. When added together, it becomes a large sum. Nobody ever shared with us about these additional costs and we were extremely thankful that we had savings that we could tap on when we incurred these unexpected costs. We heard stories of other couples who have been through circumstances that are worse.
DNS: Did you buy any health protection insurance for Lois?
Leon: Thankfully we did. Recently Lois fell ill and had to be warded for a couple of nights. The hospital bill came up to $4,000 which was a shock to me.
Fortunately, we already bought for Lois a private integrated shield plan which would cover the bulk of the bill. However, we still had to pay the bill first and was only able to claim on the insurance payout after that.
This made us realize the importance of health insurance coverage for children, and also the necessity of having emergency savings. It's not just for you, but also your family as well.
We may also want to look at other areas of insurance coverage for Lois, beside the existing private integrated shield plan, that she currently has.
DNS: Have you done any financial planning for Lois for her future education? Any plans on how that will be done?
Leon: It's something we thought of doing but we just haven't done it yet.
Ideally, we would want to buy an endowment plan for Lois for her future education. While I have tried investing on my own, my results, thus far, have not been too promising (laugh). So, I think it's a better and safer idea to buy an endowment plan so that we do not have to worry about making the right investments.
Before committing long term to an endowment plan, we want to build up our emergency savings first which is a more immediate need. Cash flow is tight for the time being as Emma isn't working so we want to work that out first.
Living On A Single Income
After her maternity leave, Emma made the big decision to leave her current job. Financially, this created a new challenge for the couple.
With a single income, the couple found themselves stretched financially.
DNS: Emma is currently not working so you are operating on a single income. How's that like financially for the family?
Leon: It's tough. We were used to being able to buy the random and unnecessary stuff that we want, such as gadgets for myself and online shopping for Emma. These days, we find ourselves having to budget for where our money is going into, and finding ways to cut down on unnecessary expenditure. For example, we no longer eat out as often as we used to.
On a monthly basis, we are still able to cope. However, we have to tap into our savings whenever we incur unexpected expenses. Seeing your savings slowly declining each month brings with it its own stress.
DNS: Given the current financial circumstances, is Emma intending to resume working?
Emma: Yes, I'm looking to resume work. Hopefully, this will alleviate the current financial pressure on the family.
DNS: What are some immediate financial goals that you have set for yourself, or your family?
Leon: The first thing is to build up our savings. It's really important to have that emergency savings fund set aside because you never know what are the curveballs life may throw you.
Once we nail that down, we want to start saving and investing for Lois future's education. We know that the expenses will continue to increase once she becomes older and starts going to school, so it's important for us to start planning for these cost items ahead of time. However, very often in life, it's about balancing between our needs and wants today, versus planning for what is required in the future.
This interview was conducted by DollarsAndSense. All information shared by the interviewees are their personal thoughts and do not necessarily represent the views of DollarsAndSense or OCBC.
Disclaimer
The information provided herein is for general information only. It does not take into account the specific investment objectives, financial situation or particular needs of any particular person, and does not constitute an offer or solicitation by OCBC Bank to provide loan or financing to any particular person or to enter into a transaction.
No representation or warranty whatsoever in respect of any information provided herein is given by OCBC Bank. All information presented is subject to change without notice. OCBC Bank shall not be responsible or liable for any loss or damage whatsoever arising directly or indirectly howsoever in connection with or as a result of any person acting on any information provided herein. Any reference to any specific entity, authority, area, figures, property or asset class in whatever way is used for illustrative purposes only and does not constitute a recommendation on the same.
The contents of this article are considered proprietary information and may not be reproduced or disseminated in whole or in part without OCBC Bank's written consent.
Start planning with us
Get started on your journey with OCBC Life Goals
Find out how close you are to your child's education goal.
Or need help planning for your goals?