Now reading:
Changing Poison Into Medicine
Changing Poison Into Medicine
Changing Poison Into Medicine: How This Singaporean CEO Beat The Odds And Built A Successful Homegrown Brand
Eric is the 40-year-old founder and CEO of the Ikeda Group, Singapore's first traditional Japanese onsen spa, with its own newly-launched skincare product line Irén. He is also a proud dad to a cheerful, healthy baby boy.
While Eric's achievements are impressive, the real person and struggles behind these achievements is even more amazing.
We sat down with this Singaporean entrepreneur to find out what it truly takes to build a successful business and fulfilling personal life.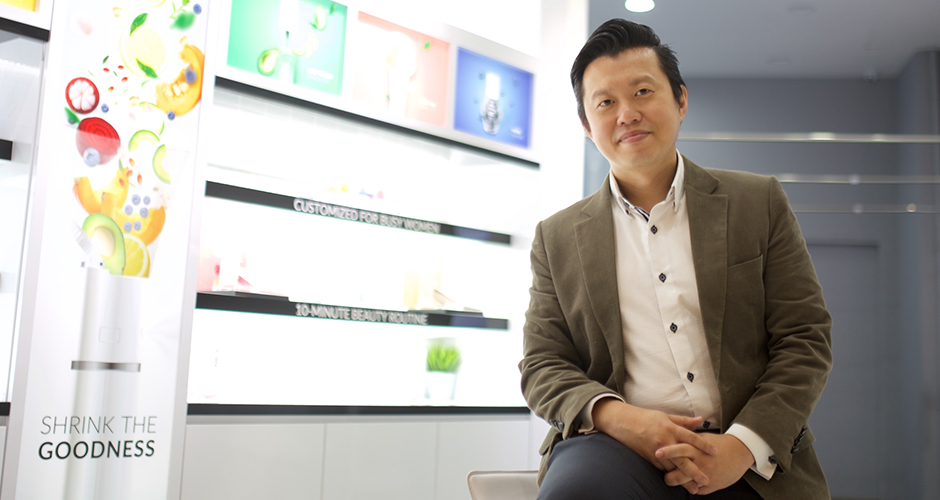 DollarsAndSense (DNS): Prior to setting up your first Ikeda Spa, you were an Assistant Vice President at an investment bank. What led you to quit your successful career and start your own business?
Eric Tan (ET): Like many people, I always had a mind for entrepreneurship since I was young. Perhaps the only difference was that I was determined enough to pursue it.
Following the economic recovery after the 1997 Asian Financial Crisis, I made a six-figure sum from selling my private property. I felt like I might never have the opportunity to have so much cash on hand in my life again, and wanted to make the most of it.
I thought: why not invest in a business of my very own? I would get to control what happens to that company, which I felt was comparatively less risky than putting money in other people's companies.
My wife was in the spa and wellness industry, so it made sense that our business venture would be a spa. I imagined in my mind that she would run the business, and I would be a silent partner who provided the capital, while I enjoy the upside of keeping my stable, high-paying day job.
Unfortunately, life doesn't always go as planned.
While my wife was an expert at managing the shop's daily operations, there were many other aspects of running a business that needed attention – such as managing cash flow, human resources matters, marketing, and more. Naturally, I had to step up to help take care of these issues, and it took a larger and larger toll on my time and health.
After months of squeezing in daily visits to the shop during my lunch breaks, and sleeping only 3 hours a day, I decided that I could not give 100% to either my day job, or the fledgling business. I knew that I needed to make a choice, so I tendered my resignation and never looked back since.
DNS: Was there any time when the demands of the business came into conflict with your personal family life? How did you manage both aspects?
ET: My wife Irene and I had struggle to conceive a child for more than 15 years of marriage. Knowing that the biological clock was ticking, we went for intensive IVF treatments for about a year. After trying different doctors, we were eventually successful in conceiving, to our great joy.
During Irene's pregnancy, I saw first-hand the effect that stress and hormonal changes could have on her skin, and how existing skincare products proved ineffective.
I studied more into skincare and decided to create Irén, a line of natural skincare and cosmetic products that was customised to suit women with various skin types. In 2015, my company began collaboration with A*STAR, the national research agency for research and development.
While continuing to run the Ikeda Group, I had to interface with the product research team, while supporting my wife during her pregnancy. I did not want to burden her with the daily issues the business was facing, so it was doubly tough not to be able to confide in her – though I very much wanted to.
Especially in times of extreme difficulties, I think that having mentors is extremely important for one's personal, professional and spiritual development, as we look to them for inspiration and benefit from their wisdom and experience. I am very fortunate to have encountered my mentor, Daisaku Ikeda, whose life example and writings inspired and guided me greatly.
There was one point in time where I had poured all the funds I could from Ikeda Spa into Irén, but the project still needed double the time initially estimated. Quitting after we've come so far was not an option for me. Again, the only way was forward. I put all my life's savings into continuing the research funding, while ensuring the team had everything they needed.
After seemingly impossible odds, we had a breakthrough and was the first A*STAR collaboration to go to market. Incidentally, within the same week of Irén's launch, my son was born. So you could say two of my 'babies' entered the world at the same time.
DNS: What was going through your mind when you made the decision to persevere, despite the uncertain odds and great cost?
ET: You could say that as an entrepreneur, my first instinct shouldn't be "what if things don't work out". But rather, being single-mindedly focused on how I can work with my team to make the research effort succeed. From day one, we believed in the project unreservedly, and so putting in all the resources I had was a natural, logical expression of my conviction.
On a personal level, I knew that even if the business failed, it is not the end of the world for Irene and I, because we were still young and healthy. We could still work and pick ourselves back up.
I could give my all to make my venture a success, rather than worry too much about the possibility of failure, because I knew that at home, my personal finances – such as insurance and savings – was well taken care of.
Looking back, I am happy that I had faced so much failure and difficulties on my business journey. What good can come out of failure? If not for so many failed experiments, I would not have realised that failure is an important, perhaps even crucial, ingredient for success.
I consider myself far from a "success". There's still so much to strive for. I look forward to undertaking even more struggles and winning over them, as I look to bring Irén to international markets, starting with Paris, Tokyo and Shanghai.
Remember that failure is the stepping stone to success. If you didn't fail, you didn't really try.
DNS: You have been very ambitious throughout your entrepreneurial journey. What about your ambitions for retirement? What are your goals and plans regarding that?
ET: My immediate goals is to continue to grow the business and bring Irén to the world, while enjoying every moment of my son's growing up years together with my wife.
I'm still healthy and have many good years ahead of me, so an early retirement isn't something I am thinking about, even though I could possibly have the financial resources to do so.
When I eventually retire from running the Ikeda Group on a day-to-day basis, here's how I want to spend my time.
First, I want to dedicate my life to contribute to world peace and the happiness of all people, fostering the next generation of youths to be value creative, contributive individuals.
Secondly, I want to be a business coach to help young entrepreneurs, using my years of experience to benefit them as they start their own businesses.
Lastly, if my funds suffice, I would also like to set up a micro-credit fund to support social businesses.
For me, I don't see retirement as a stage of life where you do nothing and just enjoy yourself.
Having gained valuable experiences and networks throughout the years of working, I want to put all of that to the best use by helping younger entrepreneurs on their own journeys of creating something valuable to society.
Towards that end, I am continuing to learn to be a better businessman and leader, while growing the company so that I would have the financial strength to accomplish my retirement goals in future.
This interview was conducted by DollarsAndSense. All information shared by the interviewees are their personal thoughts and do not necessarily represent the views of DollarsAndSense or OCBC.
Disclaimer
The information provided herein is for general information only. It does not take into account the specific investment objectives, financial situation or particular needs of any particular person, and does not constitute an offer or solicitation by OCBC Bank to provide loan or financing to any particular person or to enter into a transaction.
No representation or warranty whatsoever in respect of any information provided herein is given by OCBC Bank. All information presented is subject to change without notice. OCBC Bank shall not be responsible or liable for any loss or damage whatsoever arising directly or indirectly howsoever in connection with or as a result of any person acting on any information provided herein. Any reference to any specific entity, authority, area, figures, property or asset class in whatever way is used for illustrative purposes only and does not constitute a recommendation on the same.
The contents of this article are considered proprietary information and may not be reproduced or disseminated in whole or in part without OCBC Bank's written consent.
Start planning with us
Get started on your journey with OCBC Life Goals
Find out how close you are to your retirement goal.
Or need help planning for your goals?