Push limits.
Not remote buttons.
It's a deal.
Sweat it out with our exciting fitness promos.
Thinking of squeezing more workouts into your schedule? Check out our weekly fitness videos, plus our sports apparel and fitness class promotions to give you a much-needed boost. Make full use of them and make a deal with yourself to get fitter.
Fitness videos
Get fitter with Roxanne Gan
Roxanne is a renowned Singapore yoga instructor and founder of Zoi Yoga (studio). She has been teaching Yoga and Fitness since 2010, focusing on alignment and safety in classes. The 2018 Shape Fit Girl has inspired many to lead a healthy and balanced lifestyle in today's fast-paced society.
Roll out your mats and join Roxanne in her workouts! Click on the videos below and let's get started.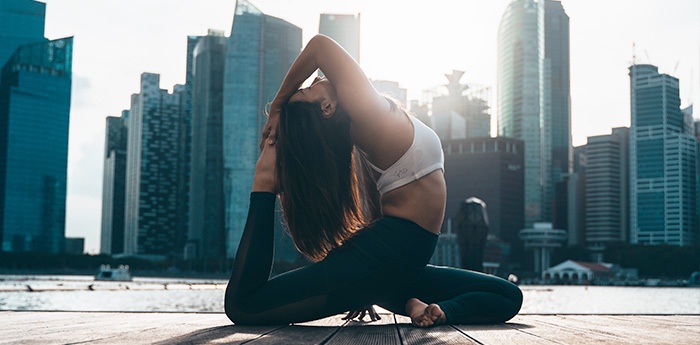 Get fit-spired with books
Enjoy up to 80% off all books at BookXcess! Get an additional 10% off when you pay with your OCBC Card.

Promo Code: OCBC<first 6 digits of OCBC Card>
Core Workout
Knee to Nose - complete 10 reps on each side
Oblique Crunch + Side Plank Dips - complete 10 reps on each side
Side Planks + Push Ups - complete 10 push ups in total
Shoulder Taps + Opp Ankle Taps - complete 10 reps in total
Side Plank Scoops + Plank Dips - 10 reps in on each side
Bicycle Twists - perform 30 to 40 reps in total
Criss-Cross Leg Crunches - perform 20 to 30 reps in total
If you're up for the challenge, repeat the entire sequence one more time!
Arm Exercises
Perform all of the exercises below for 1 min, rest 30s in between exercises and repeat from the top.
1. Renegade Row
2. Bent Over Row & Tricep Extension
3. Chess Press
4. Bicep Curl
5. Bicep Curl & Shoulder Press
6. Overhead Tricep Extension
7. Alternating Front & Side Raise
8. Reverse Bicep Curl
9. Bicep Pulses
Butt Exercises
1. Donkey Kick 20x
2. Hold at the top and pulse 20x
(Switch leg)
3. Fire Hydrant 20x
4. Hold at the top and pulse 20x
(Switch leg)
5. Glute Bridge 20x
6. Single-leg Glute Bridge 20x
7. Hold at the top and pulse 20x
(Switch leg)
8. Butterfly Glute Bridge
9. 2 Squats + 1 Extension 10x
10. Hold at the bottom and pulse 20x
11. 1 Squat, 1 Lunge 10x each leg
Wall/Supported Headstand
Walk your legs up 90° and extend one leg at a time, hold each side for 5 breaths.
Full Headstand
For safety reasons, we do not advise kicking up. Build the core strength to eventually walk your legs into your chest, hold it to work on your stability. As you progress, your core and body will be strong enough for you to extend your legs fully. Practice, and it will come to you eventually.
Headstand Warm Up
1. Downdog to High Plank 10x
2. Dolphin Push-Up 10x
3. High to Low Boat 10x
Rest and repeat the whole sequence one more time.
Recovery Stretches
Hamstring Stretch
Side Body Stretch
Seated Spinal Twist (Back)
Cow Face Forward Bend (Hips)
Butterfly Pose (Hips, Inner Thighs, Lower Back)
Seated Meditation (Calms your mind)
Hold each stretch gently for 1 min each so your muscles can relax to stretch with ease. If a pose feels intense, breathe deeper to help ease the tension.
Did you know that mindful meditation can also help to reduce stress? Find a spot that allows you to sit comfortably, close your eyes and learn to slowly control your breath for 5 to 10 minutes.
Your mood and body will definitely enjoy the calming effects of these stretches.
Full-Body HIIT Workout
2 Shoulder Taps + 1 Push-Up
2 Single Leg Crunches + 1 V-Sit
Cross-Body Mountain Climbers
2 Squat Pulses + 1 Squat Jump
Squats + Oblique Crunches
Pulse Lunges
Kneel to Squat
Perform each exercise for 45 seconds before resting for 15 seconds. Finish the whole circuit and rest for 60 seconds. Repeat exercises 1 to 7 for 2 to 3 more times!
Full body workout
Downdog to Plank
Mountain Climbers
Bulgarian Split Squat (Left & Right)
Shoulder Tap + Push Up
Side Plank
One-legged Squat (Left & Right)
Floating Table Top
Perform each exercise for 1 minute and rest for 3 minutes. Do a total of 3 sets, and work on both sides for exercise 3 and 6.
Don't forget to keep your core tight while you move with control!
Recovery Stretch Poses
Get a good stretch in and your body will thank you for the extra effort after a long and tiring day!
1. Thread The Needle - 5x and hold last one for 1 min
Stretch the shoulders and release lower back tension. Switch sides after.
2. Downward Facing Dog - 1 min
Stretching hamstrings and calves, this is a great pose for releasing stress.
3. Low Lunge - 1 min
Stretching the hip flexors and quads to help relieve lower back tension.
4. Half-Split - 1 min
Stretches the hamstrings, calves and lower back.
5. Twisted Lizard - 1 min
Opens up hips and releases tension in the lower back.
6. Pigeon - 2 min
Great for releasing tight glutes and hips and it is a great way to release lower body tension.
7. Knee to Chest - 1 min
Stretches hamstrings and lower back.
8. Supine Thread the Needle - 1 min
Release tension in your glutes, groin, and lower back with this simplified version of Pigeon pose.
9. Supine Twist - 2 min
If you're feeling really tight in your lower back, hold this pose a little longer, keeping legs closer to your chest.
Repeat Poses 7 to 9 on the left side.
10. Knees to Chest
Best way to give yourselves a big hug for putting in the effort to stretch. Enjoy the lower back stretch and feel the difference post-stretching.
Morning Yoga Sequences
Having a consistent yoga practice will help you find the connection between your body, mind, and breath, and it is definitely going to set you up for an amazing day.
1. Cat-Cow Stretch - 5x
Inhale and arch your back, exhale and round your back to stretch your back.
2. Down Dog Calf Stretch - 20x
Get into a mountain position, and alternate pushing your heels down to stretch your calves out.
3. Easy Spinal Twist - 5 deep breaths
Stretch your hip flexors while twisting your spine. Breathe deep into your rib cage and thoracic spine.
4. Side Body Stretch - 5 breaths
Stretch and lengthen the sides of your body to help you sit taller with greater ease.
5. Eagle Arms - 5 breaths
Keep elbows up and shoulders down for the perfect shoulder stretch.
6. Seated Spinal Twist - 10 breaths
If sitting on your heels is difficult, find a simple crossed-legged sitting position to help you ease into a relaxing spinal twist.
7. Deep Breathing Exercise - 10 breaths
Finish your practice by closing your eyes, and focusing on your breath. Breathing exercises help you clear your mind and increase energy levels to help you take on your day.
Recovery and Relax
Here are some simple and quick poses for a full body strectch. For a deeper stretch, remember to inhale and exhale with each pose.
Upper Body:
1. Eagle + Eagle Twist
2. Half-Chicken Pose
Repeat on the other side for poses 1 and 2 before proceeding to the poses 3 to 7.
Spend 1 minute on each side.
Lower Body:
3. Low Lunge
4. Twisted Low Lunge
5. Half-Split
6. Pigeon Pose
7. Sleeping Pigeon
Spend 1 minute in each pose except Sleeping Pigeon - 2minutes.
Then repeat poses 3 to 7 on the other side.
Top 10 Core Workout Exercises
Perform each core exercise for one minute each. Make sure to switch sides and repeat the same exercise for another minute before moving onto the next one. If you're up for the challenge, repeat the whole sequence one more time!
1. Opposite Elbow-To-Knee Crunch
2. Side Plank Dip
3. Side Plank Oblique Crunch
4. Plank Jack
5. Bicycle Twist
6. Bicycle Twist (Extend legs)
7. Seated Knee Tuck
8. Seated Knee Tuck (Opposite leg)
9. Split Legs Pulse
10. Criss Cross
Dumbbell core exercises
Perform each exercise for 40s and rest for 20s. Repeat one more round. The weight of my dumbbell is 2.5kg but you can always pick a lighter/heavier weight for your exercises. Please modify the exercises to your ability - perform any of the exercises without the dumbbell if you feel strain on your neck or back.
1. Sit Up
2. Russian Twist
3. Toe Reach Crunch
4. Butterfly Crunch
5. Split Leg Toe Crunch
<Switch sides after>
6. Pass Through
7. Lower Abs
8. Plank to Side Plank Dip
<Switch sides>
8 dumbbell moves
Perform these exercises for 40s and rest for 20s in between exercises. Complete all 8 exercises and rest for 1min. Repeat 1-2 more times.
1. Dumbbell Jacks
2. Forward Lunge with Twist
3. Double Pulse Goblet Squat
4. Squat with Shoulder Press
5. Row and Tricep Kickback
<Switch sides>
6. Side Lunge and Shoulder Raise
<Switch sides>
7. Backward Lunge with Shoulder Press
8. High to Low Boat
7 dumbbell moves for toned shoulders
Perform each exercise for 40s, rest 20s. Repeat the entire circuit two more times.
1. Shoulder Raise
2. Alternate Dumbbell Shoulder Press
3. Shoulder Press Variation
4. Shoulder Press (Neutral Grip)
5. Alternating Front & Side Raise
6. Front Raise
7. Shoulder Fly
Exercises with resistance bands
Perform these exercises for 40s on, 20s off. Change sides before proceeding to the next exercise. Rest for one minute and repeat the entire sequence again.
1. Squats
2. Crab Walk
3. Narrow and Wide Squat
4. Fire Hydrant
5. Donkey Kick
6. Glute Bridge
7. Glute Bridge with Abduction
8. Butterfly Glute Bridge
30-minute yoga sequence for athletes
This 30-minute sequence will focus on stretching the lower body (hamstrings, hip flexors, and glutes) and releasing tension in the upper body (stretching and holding supported backbends), so that you will feel less tense and stiff.
Props needed: a pair of blocks (or improvise with other equipment/props you can find).
Focus on taking deep breaths when you stretch to relax so your entire body can stretch more easily