Now reading:
Looking For Higher Returns? Here's How OCBC RoboInvest Can Help You Build Up Your Investment Portfolio
Looking For Higher Returns? Here's How OCBC RoboInvest Can Help You Build Up Your Investment Portfolio
For those of you who haven't already felt it, Singapore is riding a Financial Technology (FinTech) wave. Over the past few years, we have seen numerous novel and innovative start-ups enter into the local financial market with the aim of reinventing the way people manage their personal finance.
One area that has caught the imagination of many is robo-investing platforms for retail investors here. We have previously written about the various platforms such as Stashaway, AutoWealth and Smartly, and how they may potentially play a part in helping new investors kickstart their investing journey.
Read Also: Robo Advisors in Singapore: What You Need To Know Before Investing
Robo-investing is typically used to describe platforms that automate the act of investing your money, based on certain parameters including your risk tolerance level and the methodology adopted by the platform.
Robo-investing solutions are not just limited to budding start-ups using FinTech to disrupt the market. Even larger and established organisations such as the local banks are getting in on the act, and they are just as capable and resourceful, if not more, to develop these new solutions to better serve their customers, both new and existing.
One such product recently launched by a local bank is: OCBC RoboInvest which has 28 model portfolios you can choose from based on your interest and preference.
Who Should Use Robo-Investing Platforms?
Generally speaking, robo-investing platforms can be suitable for two types of investors. Those 1) who are relatively *new to investing* and who may need some guidance on how and what to invest and 2) *experienced investors* who may be too busy to actively monitor and rebalance their portfolios.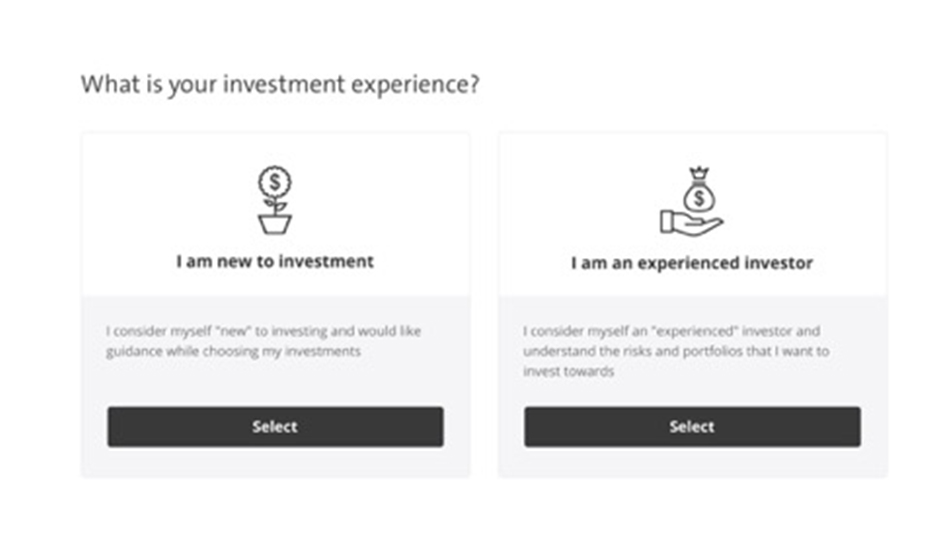 New To Investing
These are individuals who may have recently started investing a little and who still need a fair amount of guidance on their investing journey. They may be unsure of what they should invest in, or even how much risk they should be taking.
For example, they may be unsure about whether they should be buying individual stocks, invest in exchange-traded funds (ETFs) or to get some bonds, and what exactly to invest in within those broad asset classes. If you are such an investor, a platform such as: OCBC RoboInvest allow you to select a portfolio that best fits your preference.
From the table above, you can see that new investors can choose for themselves a suitable portfolio based on the risk that they are willing to accept.
We went ahead to select portfolios with Medium risk levels and were shown the available options for us to choose from.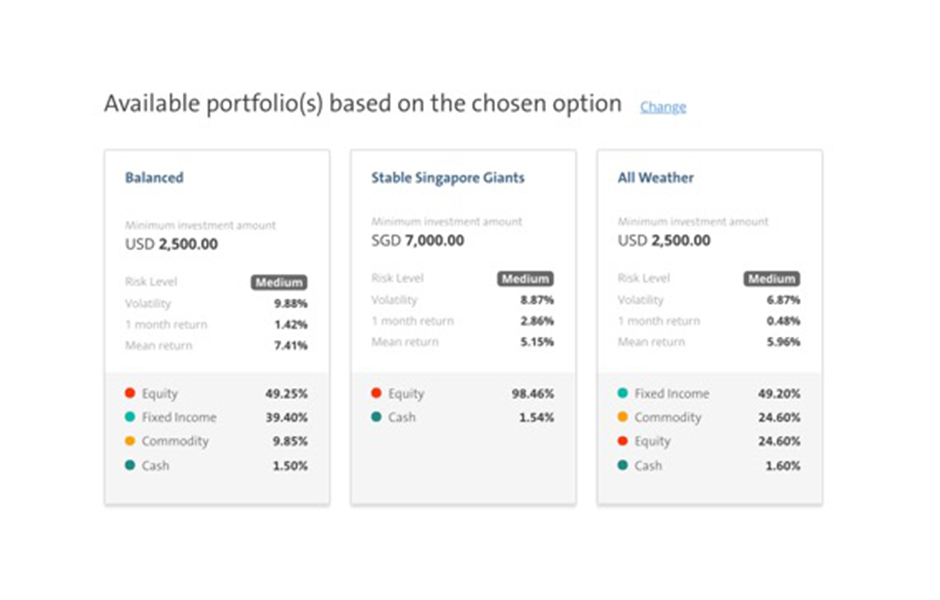 Experienced Investors Can Also Opt For It
There are also some experienced investors who could be financially savvy but may be too busy to actively research, monitor and rebalance their portfolios. They may have the ability, but not the inclination, to invest on their own and to manage their own portfolios. On top of that, they may also want a portfolio which is well diversified. If you are such an investor, OCBC RoboInvest can also help you.
OCBC RoboInvest does the heavy work for you by monitoring and rebalancing your selected portfolio based on market conditions. All you need to do is to select the portfolios that you wish to invest in.
For example, when we selected a portfolio based on the following criteria; 1) 10-20% annualized return; 2) US market and 3) very high-risk level, we were presented with a choice of 7 different portfolios to choose from. These include US healthcare giants and US tech leaders.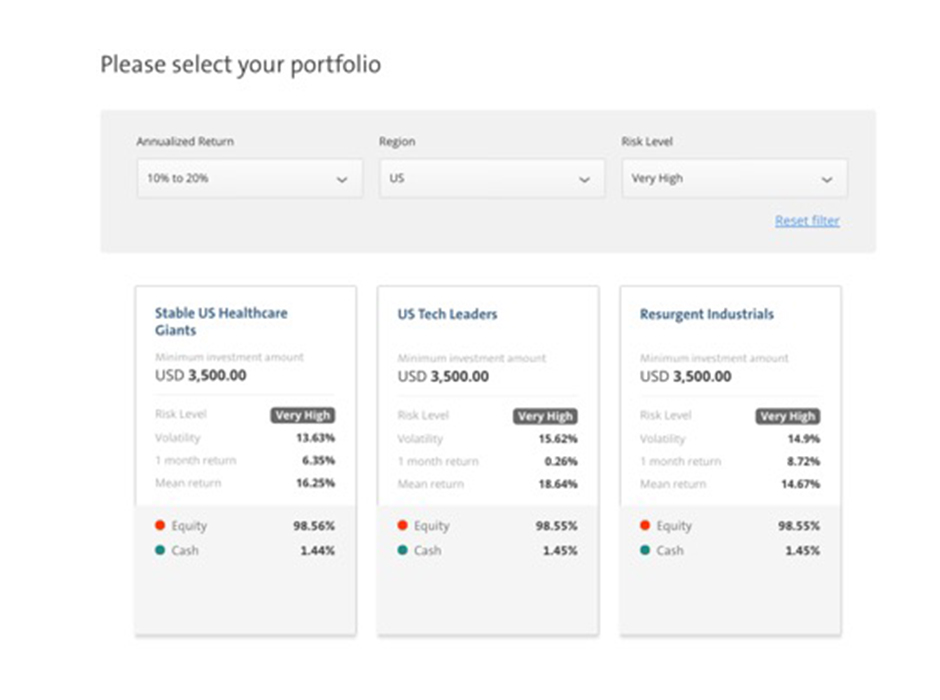 Choosing to invest through a robo-investing platform and opting to do it on your own may not necessarily need be mutually exclusive choices. If you are already investing on your own or have intention to do so on your own in the future, you can still find it useful to invest via OCBC RoboInvest.
By doing so, you can benchmark the returns that you are get from investing on your own, against the returns delivered by a robo-investing platform. You may even choose to invest with multiple platforms to determine which cater to your needs best.
You could also use robo-investing platforms to diversify your investment methods by employing different investment strategies. For example, you may make more tactical and aggressive investment decisions when investing on your own in small-cap or trending stocks. You could also choose to invest in local stocks, that you are more familiar with, directly, while letting your robo-investing platform help you invest in a portfolio of overseas stocks, without having to constantly monitor them.
Why Choose OCBC RoboInvest?
A fair question to ask at this point would be: why an investor should opt to try OCBC RoboInvest, given that there are several other platforms available in the market. Here are some key differentiating factors that investors should consider.
28 Model Portfolios Of ETFs And Stocks

Unlike the existing platforms in the market, OCBC RoboInvest is not just restricted to ETFs investments. The portfolio, depending on which you select, will invest into either ETF-based portfolios or Equity-based portfolios.

For example, when we choose the very high-risk portfolio of US Tech Leaders, we can see that the portfolio contains individual stocks such as Adobe Systems, Facebook, Microsoft and Mastercard. It also holds a little cash in Singapore Dollar which can be tactically deployed for portfolio rebalancing.

First Bank In Singapore To Offer Robo-Investing

Existing robo-investing platforms in Singapore have thus far been mainly launched by start-ups. OCBC RoboInvest, on the other hand, is launched by OCBC, a local bank that we are all already familiar with.

The 28 distinct portfolios have been curated based on market research and insights and this is something which many investors, whether new or regular, would value.

All OCBC customers, aged 21 and above, who are non-U.S. citizens can get started from as little as S$3,500.

Automatic & Flexible

Unlike structured investment plans, there is no lock-in period for your investments. This means you can deposit or withdraw your funds at any point in time. Based on your instructions, your investment will also be made automatically so you do not have to worry about timing the market.

We want to stress at this point that there is no way to say for certainty that one robo-investing platform is better than another. Investors need to take the time to understand each of these platforms they are considering, the methodology they employ, and most importantly, their comfort level with allowing these robo-investing platforms to invest on their behalf.

Get Started With OCBC RoboInvest Today

Whether you are a new investor looking for more guidance or an experienced investor who is looking to invest in equity-based portfolios overseas, OCBC RoboInvest can help you in building up your portfolio.
---
---
Additional Information
Deposit Insurance Scheme
Singapore dollar deposits of non-bank depositors and monies and deposits denominated in Singapore dollars under the Supplementary Retirement Scheme are insured by the Singapore Deposit Insurance Corporation, for up to S$75,000 in aggregate per depositor per Scheme member by law. Monies and deposits denominated in Singapore dollars under the CPF Investment Scheme and CPF Retirement Sum Scheme are aggregated and separately insured up to S$75,000 for each depositor per Scheme member. Foreign currency deposits, dual currency investments, structured deposits and other investment products are not insured.
This article was written in collaboration with OCBC. Views expressed in this article are the independent opinion of DollarsAndSense.sg.

This is for general information and does not take into account your particular investment and protection aims, financial situation or needs. You should seek advice from a financial adviser before committing to a purchase. Otherwise, you should consider the suitability of the investment.
Did you find what you were looking for?
That's great! Is there anything else you would like to share?
Did you find what you were looking for?
This is embarrassing! How can we improve your experience?
An error occurred. Please check that you have input the correct information before re-submitting.
We are unable to capture your message at the moment. Please try again shortly.
Thank you for your feedback.
This will help us serve you better.
General disclaimer
This advertisement has not been reviewed by the Monetary Authority of Singapore.
1. Any opinions or views of third parties expressed in this document are those of the third parties identified, and do not represent views of Oversea-Chinese Banking Corporation Limited ("OCBC Bank", "us", "we" or "our").
2. This information is intended for general circulation and / or discussion purposes only. It does not consider the specific investment objectives, financial situation or needs of any particular person.
3. Before you make an investment, please seek advice from your Relationship Manager regarding the suitability of any investment product taking into account your specific investment objectives, financial situation or particular needs.
4. If you choose not to do so, you should consider if the investment product is suitable for you, and conduct your own assessments and due diligence on the investment product.
5. We are not making an offer, solicit to buy or sell or subscribe for any security or financial instrument, enter into any transaction or participate in any trading or investment strategy with you through this document. Nothing in this document shall be deemed as an offer or solicitation to buy or sell or subscribe for any security or financial instrument or to enter into any transaction or to participate in any particular trading or investment strategy.
6. No representation or warranty whatsoever in respect of any information provided herein is given by OCBC Bank and it should not be relied upon as such. OCBC Bank does not undertake an obligation to update the information or to correct any inaccuracy that may become apparent at a later time. All information presented is subject to change without notice.
7. OCBC Bank shall not be responsible or liable for any loss or damage whatsoever arising directly or indirectly howsoever in connection with or as a result of any person acting on any information provided herein.
8. Investments are subject to investment risks, including the possible loss of the principal amount invested. The information provided herein may contain projections or other forward-looking statements regarding future events or future performance of countries, assets, markets or companies. Actual events or results may differ materially. Past performance figures, predictions or projections are not necessarily indicative of future or likely performance.
9. Any reference to a company, financial product or asset class is used for illustrative purposes and does not represent our recommendation in any way.
10. The information in and contents of this document may not be reproduced or disseminated in whole or in part without the Bank's written consent.
11. OCBC Bank, its related companies, and their respective directors and/or employees (collectively "Related Persons") may, or might have in the future, interests in the investment products or the issuers mentioned herein. Such interests include effecting transactions in such investment products, and providing broking, investment banking and other financial services to such issuers. OCBC Bank and its Related Persons may also be related to, and receive fees from, providers of such investment products.
12. You must read the Offer Document/Indicative Term Sheet/Product Highlight Sheet before deciding whether or not to purchase the investment product, copies of which may be obtained from your relationship manager.
13. Any hyperlink to any third party article, or other website or webpage (including any websites or webpages owned, operated and maintained by third parties) is for informational purposes only and for your convenience only and is not an endorsement or verification of any such article, website or webpage by OCBC Bank and should only be accessed at your own risk. OCBC Bank does not review the contents of any such articles, website or webpage, and shall not be liable to any person for the same.
14. There are links or hyperlinks which link you to websites of other third parties (the "Third Parties"). OCBC Bank hereby disclaims liability for any information, materials, products or services posted or offered on the website of the Third Parties.
Collective Investment Schemes
1. A copy of the prospectus of each fund is available and may be obtained from the fund manager or any of its approved distributors. Potential investors should read the prospectus for details on the relevant fund before deciding whether to subscribe for, or purchase units in the fund.
2. The value of the units in the funds and the income accruing to the units, if any, may fall or rise. Please refer to the prospectus of the relevant fund for the name of the fund manager and the investment objectives of the fund.
3. Investment involves risks. Past performance figures do not reflect future performance.
4. Any reference to a company, financial product or asset class is used for illustrative purposes and does not represent our recommendation in any way.

For funds that are listed on an approved exchange, investors cannot redeem their units of those funds with the manager, or may only redeem units with the manager under certain specified conditions. The listing of the units of those funds on any approved exchange does not guarantee a liquid market for the units.
Global Equities disclaimer
Dividend growth is not guaranteed, nor are companies in which you invest obliged to pay dividends;
Companies may go bankrupt rendering the original investment valueless;
Equity markets may decline in value;
Corporate earnings and financial markets may be volatile;
If there is no recognised market for equities, then these may be difficult to sell and accurate information about their value may be hard to obtain;
Smaller company investments may be difficult to sell if there is little liquidity in the market for such equities and there may be substantial differences between the buying price and the selling price;
Equities on overseas markets may involve different risks to equities issued in Singapore;
With regards to investments in overseas companies, foreign exchange rates may move in an unfavourable direction affecting adversely the valuation of investments in base currency terms.
What is portfolio rebalancing?
Rebalancing is the process of adjusting the composition of an investment portfolio. This involves the buying and selling of assets in an investment portfolio to maintain a desired asset allocation according to the market conditions and your declared risk profile. We will sell more if the stock value rises significantly, or buy more when the stock has declined to take advantage of volatility.
OCBC RoboInvest will periodically (quarterly or half-yearly depending on portfolios) trigger rebalancing. We will only proceed with the rebalancing once you have given your consent within 2 weeks from the date of trigger. You may choose to ignore or skip this rebalance as well.