Now reading:
Collective Responsibility – investing in sustainable funds
Collective Responsibility – investing in sustainable funds
Sustainable funds are not a new addition to the investor toolkit. However, events such as the Covid-19 pandemic have focused attention on global sustainability issues. As a result, these funds have seen a surge of inflows – especially since data shows they outperformed their counterparts during the sell-off in early 2020.
How exactly do we define sustainable funds? Also, are there any trade-offs that investors should consider? And finally, if someone is interested in this area of the market, what's the best approach to take?
What exactly are sustainable funds?
These are products that utilise sustainable strategies in their portfolio construction process. Just like any other mutual fund, this can be done via passive or active methods.
The creation of various ESG indices – such as the S&P 500 ESG or the MSCI ESG Leaders Index – has also enabled passive investors to become sustainable investors, as the index provider has done the work of identifying 'green' companies.
The most common ways these indices select their portfolios are through:
Negative screening: Excluding specific types of companies (e.g. tobacco and firearms)
Integration: Rather than strict exclusion, positive ESG companies are overweighted (versus the benchmark) while those deemed more negative are assigned lower weights
Impact Investing: Investing in companies deemed to be able to generate a positive and measurable ESG impact
On the active-management side, fund managers may refer to ESG indices and use them as a guide. However, they will also add their own strategies and selection criteria to the mix. Furthermore, some of these additional strategies are simply unavailable to passive funds. One example is active ownership, which involves actively engaging with company management to drive pro-sustainability changes in their businesses.
It is essential to understand that there are no universally accepted standards for what qualifies as a sustainable fund. While regulation is likely on the way, it is not here yet. This lack of standardisation brings us to the next section – the pros and cons of sustainable funds.
The pros of sustainable funds
The biggest pro for investing in sustainable funds is simply encouraging the shift toward more sustainable business practices. Encapsulated by the saying "vote with your dollars", sustainable investing provides a way not just for investors, not only consumers, to actively show the kind of businesses they would like to support. Both sustainable investing and greater consumer awareness can work together to effect powerful – and necessary – change.
"Sustainable business practices" doesn't necessarily have to be a vague goal either. There are clear benchmarks that investors – especially those using impact investing – can use to ensure their money is making a measurable impact. The UN's Sustainable Development Goals (SDGs) and their respective targets and indicators are an excellent place to begin.
Finally, there are also historical returns. While past performance does not guarantee future results, sustainable funds have outperformed in the pandemic-driven sell-off of 2020. The evidence also indicates that this trend of outperformance has persisted over the longer-term. This includes data studying both active and passive funds across multiple countries 1, 2 & 3.
These are all major pros, and they go a long way toward explaining the rise of sustainable investing. But, as already noted, we cannot ignore its drawbacks as well.
The cons of sustainable funds
The lack of standardisation of what constitutes a sustainable fund opens the door to greenwashing. This is the cynical practice of applying a sustainable 'label' to a fund, while disregarding the core ideas of sustainable investing, just to attract funds from sustainable investors. It's a drawback that can be solved by proper due diligence from the investor's part, but it requires additional work – which is in itself a stumbling block.
Sustainable funds can also be somewhat confusing. The ability to perform additional checks and investigate how a fund's investments are selected requires a certain level of knowledge – which not all investors have. While investor education certainly helps, it does present an additional barrier. The higher the obstacles for sustainable investing are, the less effective it will be.
Zooming in, certain sustainable investing strategies also have their own specific shortcomings. In particular, negative screening – a common method for ESG indices – means that the number of companies will be smaller. This shrinks the available investment universe and negatively impacts investors' ability to diversify.
Still, despite these drawbacks, sustainable investing has picked up a momentum that shows no signs of slowing down.
The money keeps pouring in
By the first half of 2020, ESG funds saw their total assets under management (AUM) pass the US$1 trillion-mark. This isn't just limited to the US, which saw US$22 billion in net inflows up till October 2020. Asia – a region that has normally trailed the rest of the world in sustainable investing – has seen a record US$8.8 billion in inflows in the third quarter of 2020 alone.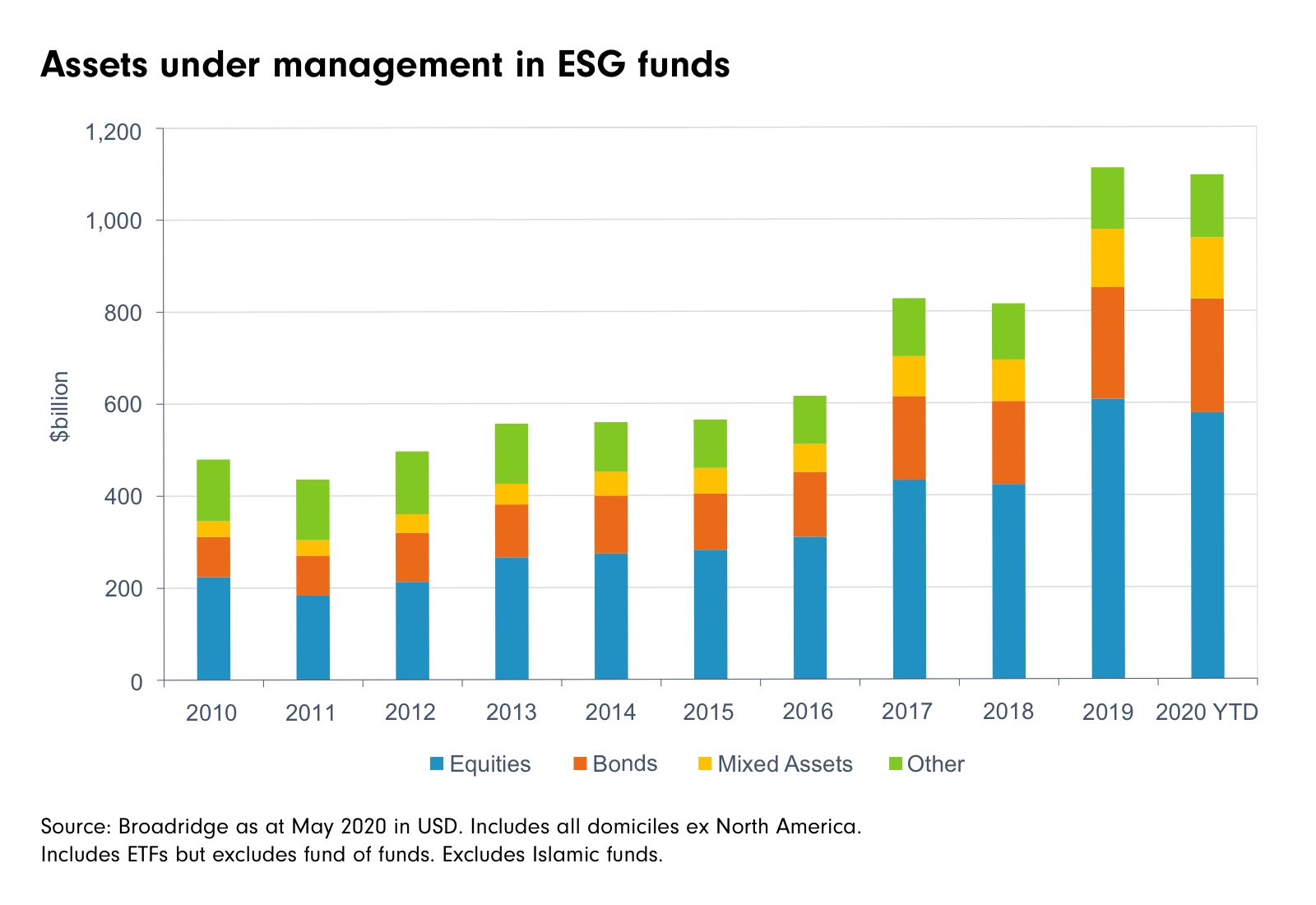 An interesting trend is how much of the inflows have gone toward passive ESG funds. Sustainable investing has historically been dominated by active investors, and it still holds the lion's share today. ESG index funds now hold about US$250 billion in AUM, representing just under a quarter of the total. But their growth has exceeded that of active funds, with Morningstar data showing that net inflows into passive funds have surpassed their active counterparts for four of the past five years.
But is passive really the best way to go for sustainable investing?
The case for active sustainable investing
The shift from active to passive investing has been well-documented. Evidence that it is increasingly challenging to obtain above-benchmark returns, net of fees, is driving investors toward passive vehicles. Does this argument apply for sustainable investing?
We argue that the answer is no. In fact, active funds may be the answer to overcoming the drawbacks of sustainable investing. Active sustainable investing can better:
Avoid greenwashing: Active funds may better be able to steer closer to the sustainable investing ethos. They are less reliant on third-party data, which helps them avoid the common criticism that passive sustainable funds are just "ESG by numbers". This ability to do their own research is particularly important given that research has found a significant divergence in the ESG ratings used by the different indices.
Create more diverse portfolios: Negative screening – a common passive sustainable investing strategy – reduces the investment universe and impacts diversification. By being able to dive deeper and take more granular approaches, however, active funds may be better able to construct more diverse portfolios, while still preserving the principles of sustainable investing.
Drive greater change: Active sustainable funds can proactively engage with portfolio companies, using their shareholder power to drive change from within. This is something passive funds cannot do, which limits their ability to affect greater change. After all, if we hope to create a sustainable world, we cannot merely rely on excluding companies deemed "bad". Change is an ongoing process, and it requires more than just exclusion.
The state of sustainable funds
Nothing is black and white, and even sustainable funds have drawbacks. Yet, the trend is clear. Accelerated by the pandemic and a period of outperformance, the number of sustainable funds and the size of their assets are poised to grow even further. They may have started as a niche area, but today, they are very much mainstream. And that means every investor should be aware of at least their basics.
---
The content above is written by Fidelity International.
Oversea-Chinese Banking Corporation Limited ("OCBC Bank", "us", "we" or "our") is not responsible for the contents of articles written by third parties. Any opinions or views of third parties expressed in this document are those of the third parties identified, and do not represent views of OCBC Bank.
This information is intended for general circulation and / or discussion purposes only. It does not consider the specific investment objectives, financial situation or needs of any particular person.
Before you make an investment, please seek advice from your Relationship Manager regarding the suitability of any investment product taking into account your specific investment objectives, financial situation or particular needs.
If you choose not to do so, you should consider if the investment product is suitable for you and conduct your own assessments and due diligence on the investment product.
We are not making an offer, solicit to buy or sell or subscribe for any security or financial instrument, enter into any transaction or participate in any trading or investment strategy with you through this document. Nothing in this document shall be deemed as an offer or solicitation to buy or sell or subscribe for any security or financial instrument or to enter into any transaction or to participate in any particular trading or investment strategy.
No representation or warranty whatsoever in respect of any information provided herein is given by OCBC Bank and it should not be relied upon as such. OCBC Bank does not undertake an obligation to update the information or to correct any inaccuracy that may become apparent at a later time. All information presented is subject to change without notice.
OCBC Bank shall not be responsible or liable for any loss or damage whatsoever arising directly or indirectly howsoever in connection with or as a result of any person acting on any information provided herein.
Investments are subject to investment risks, including the possible loss of the principal amount invested. The information provided herein may contain projections or other forward-looking statements regarding future events or future performance of countries, assets, markets or companies. Actual events or results may differ materially. Past performance figures, predictions or projections are not necessarily indicative of future or likely performance.
Any reference to a company, financial product or asset class is used for illustrative purposes and does not represent our recommendation in any way.
The information in and contents of this document may not be reproduced or disseminated in whole or in part without OCBC Bank's written consent.
OCBC Bank, its related companies, and their respective directors and/or employees (collectively "Related Persons") may, or might have in the future, interests in the investment products or the issuers mentioned herein. Such interests include effecting transactions in such investment products, and providing broking, investment banking and other financial services to such issuers. OCBC Bank and its Related Persons may also be related to, and receive fees from, providers of such investment products.
You must read the Offer Document/Indicative Term Sheet/Product Highlight Sheet before deciding whether or not to purchase the investment product, copies of which may be obtained from your relationship manager.
Any hyperlink to any third party article, or other website or webpage (including any websites or webpages owned, operated and maintained by third parties) is for informational purposes only and for your convenience only and is not an endorsement or verification of any such article, website or webpage by OCBC Bank and should only be accessed at your own risk. OCBC Bank does not review the contents of any such articles, website or webpage, and shall not be liable to any person for the same.
Investors should note that there are necessarily limitations and difficulties in using any graph, chart, formula or other device to determine whether or not, or if so, when to, make an investment.
Where the contents have not been identified as summaries of the investment ideas and recommendations set out in research reports disseminated by the OCBC Group, the information is not intended to constitute research analysis or recommendation and should not be treated as such.