Now reading:
5 things you never knew your business account can do
5 things you never knew your business account can do
If you are a business owner, you will be familiar with using your business account to make financial transactions for your company such as paying for business expenses and reviewing monthly e-statements.
However, if you are only using it to make financial transactions, you are not scratching beyond the surface on all the capabilities at your disposal. Opening a business account isn't just for organising your business transactions or storing your money, it can also help you operate well digitally and expand more efficiently.
For example, the OCBC Business Account comes with a suite of powerful tools and services, from cash flow management to payroll and e-invoicing. There are also additional features to help you in your day-to-day business operations on OCBC Velocity, the Digital Business Banking platform.
So if you didn't already know, here are 5 things the OCBC Business Account can do for you.
#1 Your account comes with free e-invoicing
If you have a business-to-business (B2B) setup, then you might be familiar with the mundane routine of having to send out your invoices each month to clients or tracking and chasing for payments.
However, you can easily improve this process by adopting e-invoicing. E-invoicing is the automated creation, exchange and processing of B2B or business-to-government (B2G) payment requests between suppliers and buyers, using a structured digital format. It helps businesses like you boost efficiency, reduce costs, and collect payments faster.
If you think that e-invoicing might be too expensive or complicated to implement, you'll be pleased to learn that all businesses can adopt our e-invoicing system, InvoiceNow, for free. Simply leverage on your OCBC Business Account and log in to OCBC Velocity to create and send e-invoices without any additional fees.
#2 Your business account can help you manage cash flow
In general, most business owners often keep track of their cash flow using spreadsheets such as Excel, while only a few may realise they also have the option of managing it digitally via their business account.
With the OCBC Business Account, you too can manage your cash flow online with free access to Business Financial Management features on OCBC Velocity. Not only will you be able to chart a summary of your monthly cash inflow and outflow, you can also get an overview of how your business has performed over the past year.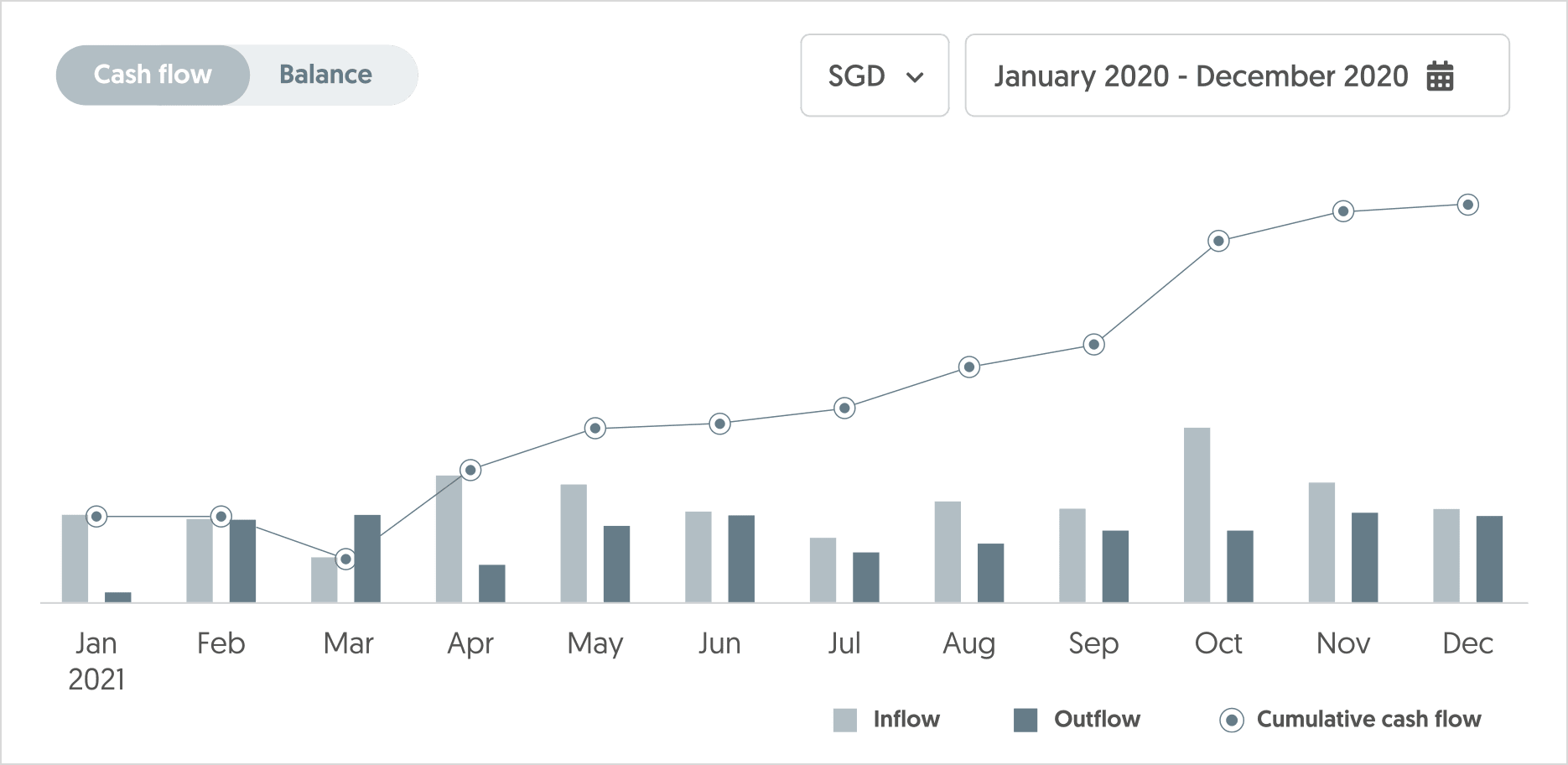 It will provide you with useful information such as the number of e-invoices you have created, invoice status, automatic reconciliation and also collection reminders in case your clients forget to pay you. If you have multiple bank accounts, you can also pool the information together.
What's more? You'll be able to peek into the future, based on your inflows and outflows, to realise if there will be a potential shortfall or squeeze in any period. This acts as an early signal for you to take action in advance.
#3 Get payment collection solutions from your bank
If you think the only methods for collecting payments from your customers are via cash, cheques or bank transfers, it's fair to say that you are not offering comprehensive payment solutions to your customers.
For example, PayNow for businesses enables companies in Singapore to pay and receive SGD funds instantly by tagging on to the existing PayNow network, which already has more than 5 million users in Singapore.
To register for PayNow Corporate, you can easily sign up online through OCBC Velocity. Thereafter, simply paste the QR sticker label at your retail stores or send customers an invoice with the QR code. Customers will then scan the QR code to pay you via PayNow.
Another payment solution offered by OCBC Digital Business Banking is the OCBC OneCollect app. It allows customer-facing businesses to process PayNow QR transactions and SGQR. This is great for businesses in retail, F&B, clinics, gyms and even on-the-go businesses like handymen, home tutors and roadshow booths.
#4 Get a complimentary debit card for your everyday business spend
Opening a business account may also give you access to a debit card that you can use for business expenses. As you start and grow your business, you are likely to incur a substantial amount of business expenses which can be hard to keep track of. That's why, the OCBC Business Account offers you a free OCBC Business Debit Card. This will make accounting much easier because your card transactions are debited directly from your business account and presented in a single consolidated statement.
You will also enjoy other benefits such as up to 1% cashback on everyday business spend and unlimited 0.2% cashback on all other categories, with no minimum spend. For businesses, this can be a cost-effective way to lower everyday expenses.
#5 Use your account to apply for business subscriptions
You may think of bank accounts as places for financial transactions but it is also possible to apply for business subscriptions via your business account.
As part of the Start Digital programme supported by Enterprise Singapore (ESG) and IMDA, local SMEs can receive a S$500 rebate by purchasing any subscription packages under the Start Digital Programme. For example, through OCBC, you can get an Accounting + HR bundle that comes with Xero (free for the first 12 months) and Talenox (free for the first 6 months). Find out more about the various Start Digital bundles available.
Access banking solutions on the go, without compromising on security
Big or small, there is no doubt a business account is necessary for almost all businesses in Singapore. After all, you need a place to safekeep your funds, collect money from customers and pay for business expenses.
That said, you can expect much more from your business account in today's digital-enabled world. And this is exactly what the OCBC Business Account offers. As shared earlier, our account supports you through diverse business services, be it financial or operational.
Whether it's to get a bird's eye view of your cash flow or simply to check your account balance, you can always access important business information on the go with the OCBC Business app. So choose to take your business forward today with the OCBC Business Account and maximise all the powerful features and tools that it has to offer.

Disclaimer
You may be directed to third-party websites. OCBC Bank shall not be liable for any loss suffered or incurred by any party for accessing such third-party websites or in relation to any product and/or service provided by any provider under such third-party websites.
Any opinions or views of third parties expressed in this article are those of the third parties identified, and not those of OCBC Bank. The information provided herein is intended for general circulation and/or discussion purposes only. Before making any decision, please seek independent advice from professional advisors.
No representation or warranty whatsoever in respect of any information provided herein is given by OCBC Bank and it should not be relied upon as such. OCBC Bank does not undertake an obligation to update the information or to correct any inaccuracy that may become apparent at a later time. All information presented is subject to change without notice. OCBC Bank shall not be responsible or liable for any loss or damage whatsoever arising directly or indirectly howsoever in connection with or as a result of any person acting on any information provided herein. Any reference to any specific company, financial product or asset class in whatever way is used for illustrative purposes only and does not constitute a recommendation on the same.
---
Discover other articles about:
Get started with us
Open a business account instantly
With only a low initial deposit required, take your business further with the account that comes with powerful tools