Now reading:
Guide to opening a Business Account for your Start-Up in Singapore
Guide to opening a Business Account for your Start-Up in Singapore
A personal savings account helps you safeguard your personal cash. A business account helps you to safeguard your funds for start-up.
If you're an entrepreneur working on your own start-up, you would have read about the stories of business giants like Elon Musk, Richard Branson, Jack Ma and Phil Knight. You may even have a carefully-crafted elevator pitch on standby, ready to present to any prospective investor who's willing to listen.
However, there is one vital ingredient that you might not realise you need but is nonetheless a critical first step to your business' success – a good business bank account. Business accounts may not be the sexiest thing to discuss when starting a business, but they are essential for businesses.
Even if you're running a sole proprietorship (i.e. you are running your own business), a business account allows you to keep your business assets and expenses separate from your own personal savings. It also helps you track your business cash inflows and outflows, which will come in handy during tax season.
As a rule of thumb, you should open a business account as soon as your company starts handling money. This can be the revenue that your company is earning from customers, or personal cash and investments that you intend to put in.
Depending on the kind of business you are running, the type of banking services that your company needs can also differ significantly from other companies. Here are some factors you should consider when choosing a business account.
#1 Expected volume of banking transactions
While there are many types of business accounts available in the market, they can usually be generalised into two main groups. Accounts meant for businesses with low volume banking transactions and accounts meant for businesses with high volume banking transactions.
If you are running a consultancy-based business, the amount of banking transactions you make each month may be quite low, since you might only need to pay staff and vendors.
For these businesses, an account like OCBC Business Growth Account will be appropriate. With a fee of just S$38 per year, you can ensure that all your business banking needs are taken care of, without having to pay for more than what you need.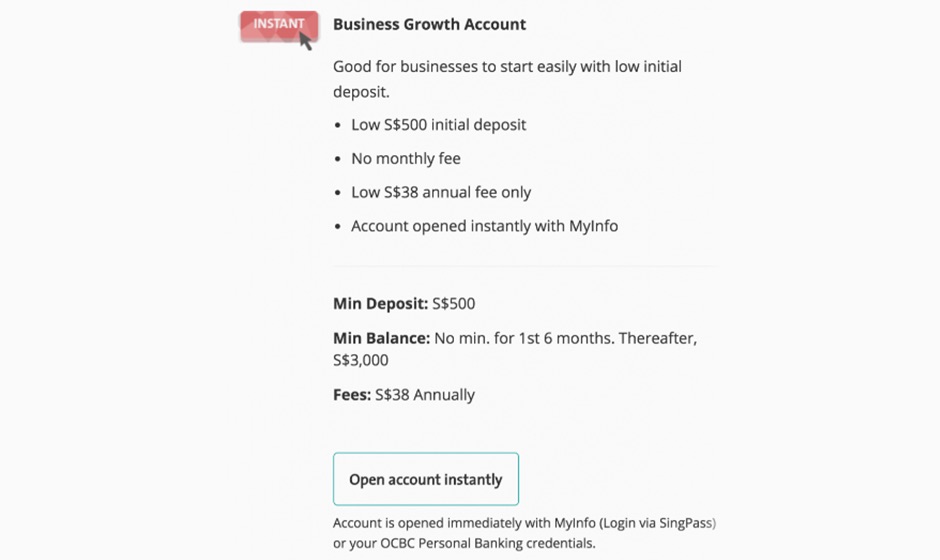 However, it is a completely different story if you are starting your own e-commerce business. Such businesses will require a large volume of banking transactions each month. For instance, you'll need to pay your suppliers, your employees and even make the occasional refunds to your customers.
If your business has these needs, you may want to choose an account that will provide you with a large allotment of banking transactions.
An example of such accounts will be OCBC's Business Entrepreneur Account, which provides free transactions of up to 200 GIRO transactions, 20 FAST payment transfers, two outward telegraphic transfers and 30 cheque payments each month. All these transactions are worth up to S$288 each month but you will only need to pay S$38 a month for this account. Plus, the first three months are waived.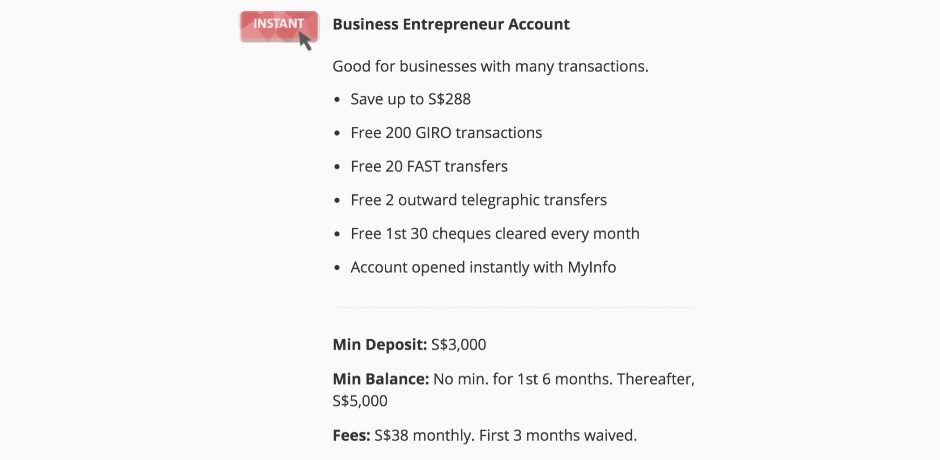 #2 Initial capital outlay
Most banks require you to make an initial deposit to open a business account. This amount can range from S$500 to S$30,000.
If your business has a low starting capital, you should opt for an account that does not require you to put up a high initial deposit.
An example would be the OCBC Business Growth Account. It requires a low initial deposit of just S$500, which is the lowest amongst the banks in Singapore. This is useful if you need to set up your business account first, while you wait for additional funds to be transferred to your company from other business partners.
#3 Waiver of minimum account balance during the initial months
For many entrepreneurs, the initial stage of setting up a business can be capital intensive. If you are running an e-commerce business, you might find a large portion of your capital being locked up as you'll have to pay for goods in advance, before being able to sell them to your customers. You'll also need to fork out money to secure a working space, purchase equipment and hire workers.
Look for business accounts that can waive off your minimum balance requirements during these initial months. This will reduce the cost of maintaining your business account at the start, when your capital is likely being tied up in other important areas.
Both the OCBC Business Growth Account and the OCBC Business Entrepreneur Account require no minimum monthly balance for the first six months after account opening. You can apply for your business account online, get your approval instantly and start using your account to pay and receive funds – all without having to worry about maintaining a monthly balance in the initial months.
#4 Average minimum monthly balance
Similar to personal banking accounts, most business accounts will require you to maintain a minimum average monthly balance. Failing to do so can result in a monthly service fee.
As an entrepreneur, you'll want to minimise unnecessary cost. One easy way of doing so is to choose a business account with a minimum monthly average balance that your business can maintain comfortably.
The OCBC Business Growth account has a minimum balance requirement of S$3,000 while the OCBC Business Entrepreneur Account has a balance requirement of S$5,000 – both of which are reasonably low amounts for businesses to maintain as an account balance.
# 5 Services that you will need
Opening a business account isn't just about dollars and cents. You should also look at the type of services that the business account can offer. Common services that you can expect include internet banking, mobile banking, a business debit card and e-alerts. These services provide convenience for business owners who'll need to stay up-to-date on transactions and payments received by their businesses.
In addition, you may also want to opt for a bank that has a large network of bank branches and ATMs. This makes it easier for you to withdraw petty cash from an ATM or visit a bank branch if you need to seek corporate banking related advice.
Beyond these banking services, OCBC is also able to support you in other key areas of your business growth. One example is its innovative digital business dashboard, which helps business owners monitor different aspects of their business. All OCBC business banking customers can enjoy this service for free.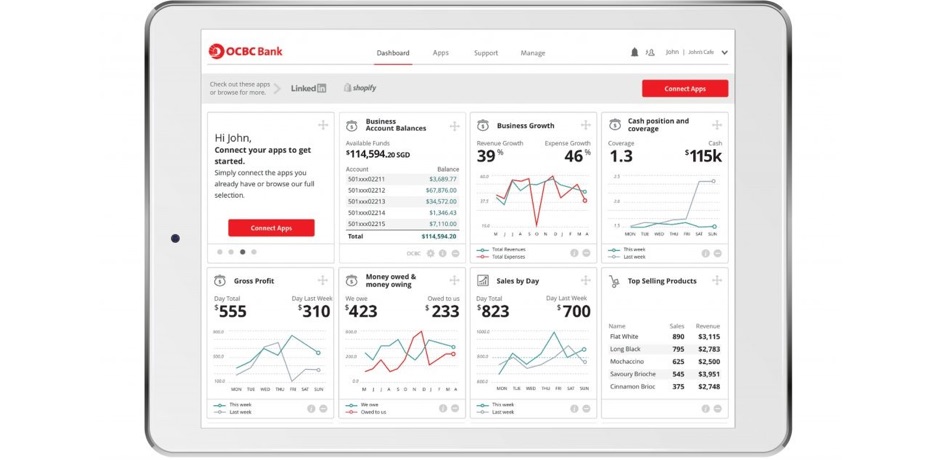 Enjoy 24/7 instant online account opening with OCBC
If you feel that heading down physically to a bank branch to open a business account is a hassle, you are not alone! We've been through it.
Thankfully for new business owners, both the OCBC Business Growth Account and the OCBC Business Entrepreneur Account can be opened instantly online. Both existing and non-OCBC customers can get their business account application done in less than 10 minutes using MyInfo. For those without MyInfo, you can apply online through their personal banking credentials.
Once your online application is successfully completed, you will get your business account number on the spot. This means you can start using your account immediately for business transactions.
There is no need to wait for an email, a letter or even someone to call you back in a few days time, just to get your account details. This makes it the easiest, fastest and most convenient way for you to get a business account for your start-up.
Supporting your business beyond just banking
OCBC works closely with industry partners to bring solutions to SME owners. For example, it offers digital packages across HR, Accounting, Digital Marketing, Digital Transactions and Cyber Security for its business banking customers as part of the SME Go Digital initiative.
Another example is their partnership with Xero, a popular cloud-based accounting software platform for SMEs. OCBC business banking customers can connect Xero to their OCBC Business Account, giving them automatic daily insights to their business cash flow.
By choosing a suitable bank and account for your business, you can start your business on the right foot, significantly reducing future banking-related headaches. This will also allow you to focus on growing your business, building your products/services and serving your customers well.
Now that you know how to pick the most appropriate business account for your start-up, you might want to take a look at the range of business accounts from OCBC. From start-ups to large corporations, these accounts help serve companies of all sizes.
Find out more about the different accounts, and the benefits you get from each one of them, before selecting the one that suits your business needs best.
Need a loan for your business expansion?
Find financing solutions for your business needs with OCBC Business Banking today.
Disclaimer
You may be directed to third party websites. OCBC Bank shall not be liable for any loss suffered or incurred by any party for accessing such third party websites or in relation to any product and/or service provided by any provider under such third party websites.
The information provided herein is intended for general circulation and/or discussion purposes only. Before making any decision, please seek independent advice from professional advisors. No representation or warranty whatsoever in respect of any information provided herein is given by OCBC Bank and it should not be relied upon as such. OCBC Bank does not undertake any obligation to update the information or to correct any inaccuracy that may become apparent at a later time. All information presented is subject to change without notice. OCBC Bank shall not be responsible or liable for any loss or damage whatsoever arising directly or indirectly howsoever in connection with or as a result of any person acting on any information provided herein. Any reference to any specific company, financial product or asset class in whatever way is used for illustrative purposes only and does not constitute a recommendation on the same.
---
Get started with us
Open a business account instantly
With no initial deposit or minimum balance required, take your business further with an account that comes with powerful tools.