2022 Annual Report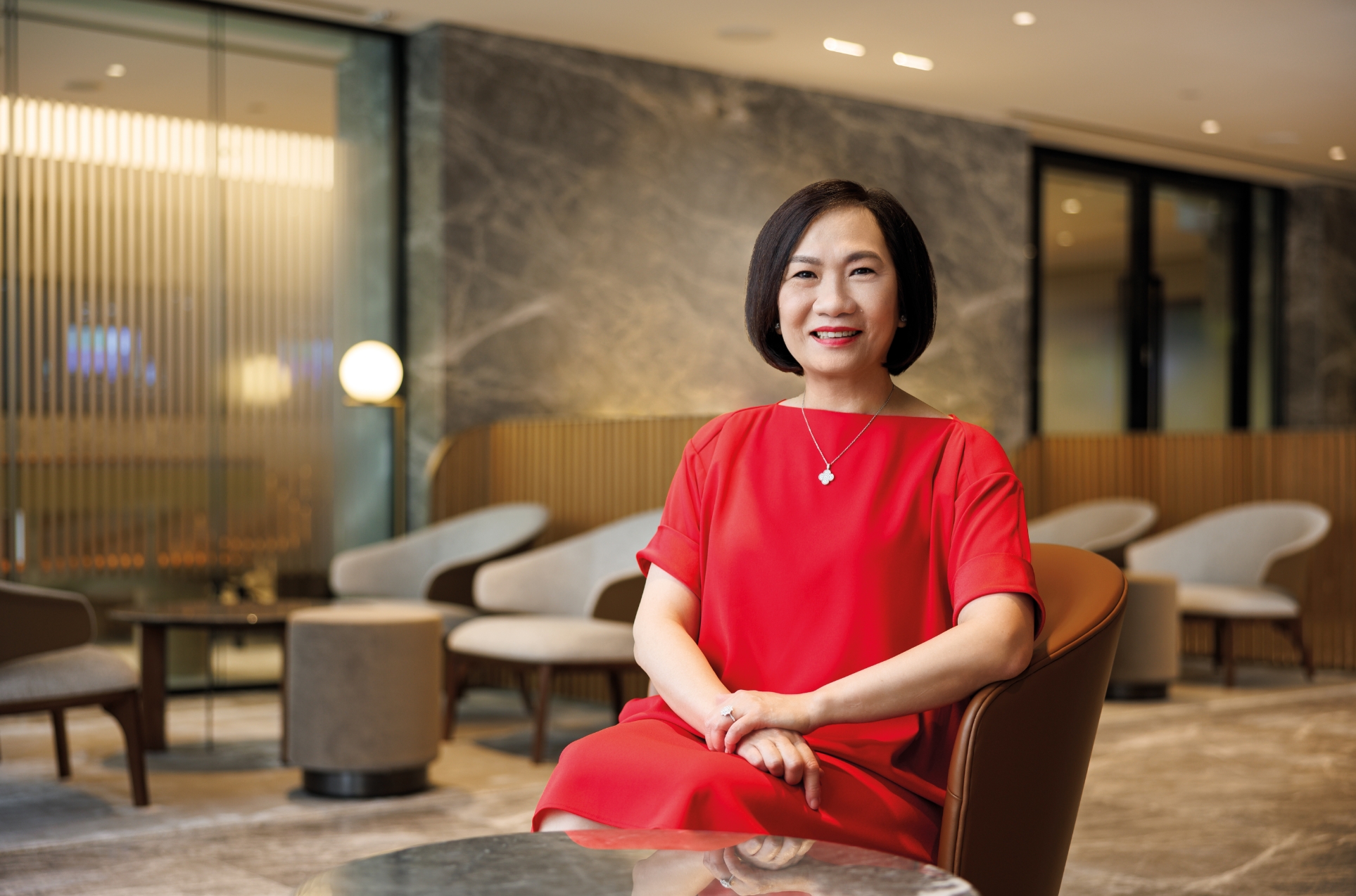 Upfront with Helen
"We celebrated our 90th anniversary in 2022 — a milestone for OCBC. I am confident that, guided by our values and strong management, we will thrive for another 90 years and beyond."

Helen WongGroup Chief Executive Officer
You unveiled the Corporate Strategy to Excel for Sustainable Growth in 2022. In which areas of the strategy have you seen the most progress?
As the name of the strategy suggests, it is about growing OCBC sustainably and achieving excellence in the way we operate and run the business. The emphasis here is on 'long-term'. OCBC has navigated various crises and challenging times. We have always emerged stronger.
Tapping on our collective strength as OCBC Group is important. By building on our comprehensive regional franchise under "One Group", we expect collaboration across various products and business groups to play a bigger role in driving income.
We have made some structural changes to our franchise in Hong Kong. Since OCBC Bank acquired Wing Hang Bank in 2014, Hong Kong branch and the renamed OCBC Wing Hang remained separate entities. In December 2021, we reached a significant milestone with the integrated platform of Hong Kong branch and OCBC Wing Hang. Doing so enabled us to use our talent, capital, liquidity and other resources more efficiently and effectively. We can also scope business opportunities better and support a full spectrum of customers with the strength of one consolidated Hong Kong team.
This change was foundational for us given the importance of Hong Kong. Together with Singapore as the nexus of ASEAN, and Hong Kong as the gateway to Greater China, we have successfully captured the increasing ASEAN-Greater China trade and investment flows.
Such flows often result from the China Plus One strategy adopted by corporates including China State-Owned Enterprises (SOEs) and companies. They want to establish an additional manufacturing base in ASEAN to complement their China operations and build resilience, especially in the wake of global supply chain disruptions. By tapping on different business units' expertise and our presence in different markets, we can offer them the breadth of products and services that they need, from lending to treasury, foreign exchange, and cash management. To further facilitate the capture of these flows, we have expanded our Greater China Business Office network last year, adding Indonesia to our existing offices in Thailand, Malaysia and Singapore.
We have also fared well in leveraging our twin wealth hubs and digital propositions to capture rising Asia wealth flows. Even though 2022 was challenging for wealth management in general, we attracted net new money inflows.
We continued to improve on our Group Wealth Platform — a collaboration between OCBC Bank and Bank of Singapore — for our high net worth and ultra-high net worth customers to provide superior advisory and unified investment views on one platform. In February 2022, OCBC Wing Hang China and OCBC Wing Hang Macau jointly launched the Northbound Wealth Management Connect Service to provide more diversified investment opportunities and richer asset allocation options.
Our investments in digitalisation have shown good results too. In Singapore, 98% of SME accounts and practically all of our consumer accounts are opened digitally. 96% of consumer financial transactions are done online and 90% of business financial transactions are conducted digitally. We made progress in the new economy and high-growth industries spaces too. For instance, we launched embedded finance propositions on five platforms in Singapore, Malaysia and Indonesia, thereby enabling small and medium-sized enterprises to access financing more efficiently.
2022 was a significant year for OCBC in the area of sustainability. I will talk more about it later in this section.
What are you most optimistic about for 2023, and what are some of your concerns?
2023 will hopefully be the year where we can put Covid firmly in our rear-view mirror. China's faster-than-expected reopening and policy stimulus has made this more of a possibility, barring any setbacks. Trade and investment flows between Greater China and ASEAN will pick up as a result and we expect wealth flows to increase as well.
The groundwork that we have conscientiously and consistently been working on has put us in a good position to seize these opportunities. We are already seeing the fruits of our labour.
In the area of Wealth Management, we will continue strengthening our hub capabilities across Singapore, Hong Kong, Dubai and London and enlarge Bank of Singapore's dedicated Family Office Advisory Unit. We will also expand our offshore OCBC Premier Private Client and OCBC Premier Banking propositions in key Asian markets.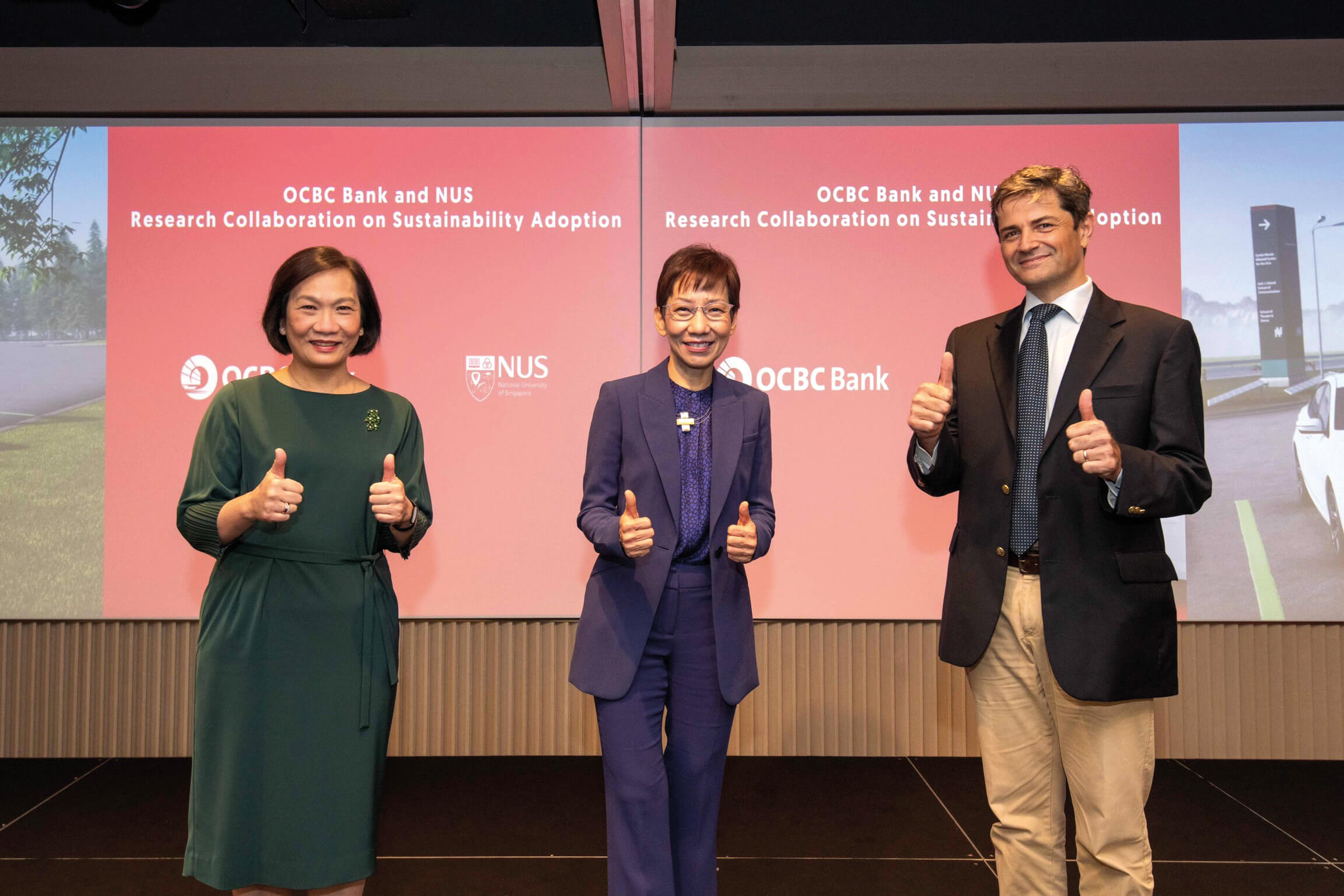 Of course, 2023 will have its challenges. The volatility that we saw in 2022 has carried into 2023. This could be the story for the entire first half of the year, although we do believe that it will ease in the second half. The volatility may create headwinds for Wealth Management but our diversified business, with the three pillars of Banking, Wealth Management and Insurance, provides stability, whatever the season.
Our reshaped balance sheet allowed us to capture the benefits from the series of rate hikes by the Fed in 2022 as seen in increases in net interest income and net interest margins. In 2023, we must once again be well-prepared — but this time, with an eye on interest rates coming down.
The bank has made big strides in its environmental sustainability efforts. What is next?
2022 was significant for us. We achieved carbon neutrality for our operational emissions through key carbon reduction measures such as space optimisation and adopting innovative cooling technologies, while supporting carbon offset projects in the region. We also expanded our carbon sequestration efforts through two mangrove restoration projects in 2022 — the OCBC Mangrove Park in Singapore and another project in Tebuk Mendeleng, Malaysia.
In addition, we became the second Singapore bank to join the United Nations-convened, industry-led Net-Zero Banking Alliance. This reflects our commitment to achieving net-zero not just in our operations but also in our lending and investments businesses. The next step to this would be to unveil our sectoral financed emission targets, which we will do by the first half of 2023.
While we are working on formalising these targets, we are already supporting our customers in their transitions to net-zero with utmost urgency. This is reflected in the continued expansion of our sustainable finance commitments which currently stands at $44 billion. At this rate, we are likely to reach our $50 billion target ahead of our 2025 schedule.
Given the urgency of the climate agenda, we are constantly looking for new ways to support the movement. Last year, we launched the OCBC Sustainability Innovation Challenge. Our inaugural partner on this challenge was our corporate customer SATS, and working together, we were able to conduct a worldwide search for solutions to waste management and reduction challenges. We will continue this challenge with other likeminded customers from key industries and also find other partnership opportunities.
I have summarised steward leadership for sustainability in 4Cs:
Commit

: We will commit to making policy and process changes and invest in people development.

Collaborate

: Collaboration must flourish in our interactions with other organisations and the community.

Catalyse

: We must play a catalytic role by enabling and encouraging the transition towards decarbonisation.

Courage

: Oftentimes, someone just needs to tip the first domino and set things in motion. We have done that in the past. We were the first bank in Southeast Asia to say we would stop funding new coal-fired power plants and to announce a target for sustainable finance. Bank of Singapore was the first in Asia to incorporate ESG factors in assessing investment funding. We will continue to play this leadership role.
What is your management philosophy and vision for your leadership team?
To me, it is very important to lead — and live — by the OCBC corporate values: Lasting Value, Integrity, Forward-looking, Respect and Responsibility. LIFRR, as we call it, is an important part of our culture. It is the foundation for everything we do. That is true not just for the leadership team, but also everyone in the Group.
Being future-oriented is especially important and this has been the impetus for a lot of what I have done since becoming CEO two years ago. In an increasingly competitive landscape, there is an urgency to collaborate even better as One Group.
We institutionalised this regionally with an enhanced reporting structure at the end of 2021 and continued to build on it in 2022. New teams like our Group Data Office and the Global Wholesale Banking Sustainability Office were also formed as part of an organisation refresh.
With the retirement of some of our senior leaders, there have been new members joining our senior leadership team. These additions came from both our internal talent base as well as external hires. Together, we have the right mix of experience and perspectives in the senior leadership team to be able to deliver on our Corporate Strategy and drive sustainable growth.
We celebrated our 90th anniversary last year — a milestone for OCBC. I am confident that, guided by our values and strong management, we will thrive for another 90 years and beyond.
90 Years and Beyond
We commemorated our 90th anniversary by launching two mangrove restoration projects in 2022: OCBC Mangrove Park at Pulau Ubin in Singapore and Tebuk Mendeleng in Malaysia. 18,000 mangrove trees are expected to take root by 2026. These trees can absorb more than 30 million kg of CO2 in their lifetimes and protect shorelines against erosion and storm surges. These gifts to the community are in line with the theme "90 years of giving" and show how our LIFRR values are translated into action.