Selena Ling
Head, Treasury Research & Strategy, OCBC Bank
Member of OCBC Wealth Panel
Macro-economic uncertainties such as the Brexit and the slowdown in China may fuel investor worries, but there are still silver linings
RECENT world events have triggered fears among investors that the second half of 2016 (2H2016) will see more risks unfold. But OCBC Bank's head of treasury research and strategy Selena Ling says that there are some bright spots that investors should note.
The United Kingdom's vote to leave the European Union (EU), for instance, serves as a timely reminder that all is not well in developed markets, says Ms Ling, who is also a member of the OCBC Wealth Panel. Financial markets and the British Pound took a beating on news of the Brexit, with major central banks preparing for emergency injections of US dollar liquidity if things take a turn for the worse.
The United States Federal Reserve's plan to raise interest rates by at least 25 basis points this year, as well as the European Central Bank (ECB) and the Bank of Japan (BOJ) potentially resorting to more fiscal measures to support economic growth and stalling concerns of deflation, could compound the uncertainty further. "The pervading gloom in the global economy looks set to stay for a while longer," says Ms Ling.
However, all is not lost. Ms Ling maintains that the global economy is not headed for a global recession similar to the 2008 Global Financial Crisis, despite news of lingering threats. Major economies are still growing, albeit in a muted fashion. "Global growth is still tipped to be close to the 3 per cent year-on-year handle. The US economy is expected to grow around 2 per cent in 2016; not fantastic but not dire either. Europe and Japan may clock in a more tepid 1.6 per cent and 0.5 per cent respectively," says Ms Ling.
Both the ECB and the BOJ may be venturing into unknown territory of negative deposit rates, but both banks have stated that they would remedy the situation. "Japan postponed its planned April 2016 sales tax hike and a supplementary budget is on tap soon," she adds.
Ms Ling notes that the risks of mounting debt and non-performing loans continue to loom over China. While its growth has stabilised in recent quarters, such a trend is due to Chinese policymakers responding to the slowdown with some support measures, in a move that could seem contradictory to medium-term reform efforts to cut its credit risk.
For the medium-term, China needs to focus on reducing the housing inventory and shift from an exports-based economy to a consumption-based one, as outlined in its Five-Year Plan, says Ms Ling. Policymakers may have to bear with the sluggish growth trajectory for now, and be cautious about implementing further stimulus. She feels that a hard landing for China is unlikely, as policymakers have been proactive in trying to prevent a debt crisis.
Fiscal measures to drive growth in Asia
Global inflation remains lacklustre in 2H2016, a reflection of crude oil oversupply and softening global demand, says Ms Ling. With inflation at a standstill, Asian central banks have room to ease monetary policy in the near-term.
Banks such as the Royal Bank of Australia, the Monetary Authority of Singapore (MAS) and Bank Sentral Republik Indonesia have been easing monetary policy opportunistically in light of growth headwinds and fickle US dollar sentiment owing to the Federal Reserve's rate hike plans, as well as the anticipated capital outflows from emerging markets to developed markets that did not fully materialise.
She explains that Indochina economies may expand by 6 to 8 per cent this year, followed by the Philippines at about 6 per cent, Indonesia at 5.1 per cent and Malaysia at 4.4 per cent. While regional trade is also slowing, Asean economies have not been sitting back idly.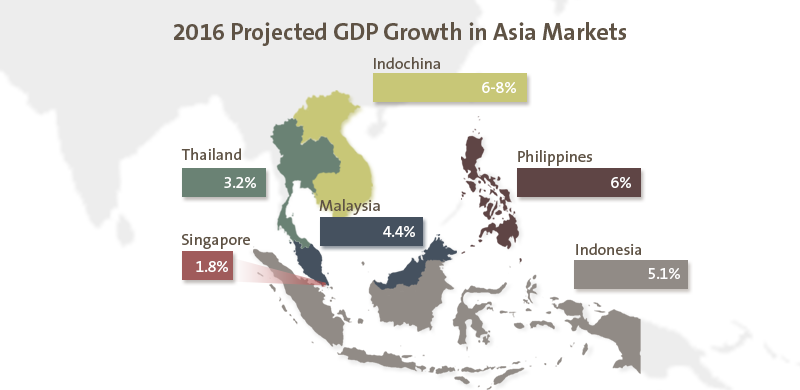 Says Ms Ling: "Indonesia has regained some mojo with its recent push to attract more foreign direct investments and a tax amnesty bill is currently underway to help shift much-needed funds back to its infrastructure projects. Global and regional growth prospects may notch a little lower in the wake of the post-Brexit period of protracted uncertainty, but we anticipate that over time, the global search for yield will return."
"Emerging markets, especially Asia, may still benefit from relatively higher yields and more stable macro-economic fundamentals. As for Singapore, full-year growth is likely to be stuck in the lower half of the official 1 to 3 per cent growth forecast, weighed down by falling external demand. OCBC expects gross domestic product growth to hit 1.8 per cent in 2016, down from 2 per cent last year."
Ms Ling projects manufacturing to remain in the doldrums, with construction demand supported by public infrastructure efforts. Financial services and tourism-related services, such as hospitality, should outperform labour-intensive domestic services, such as retail and food & beverage, she adds.
In response to the uncertainties, MAS has already eased its Singapore dollar Nominal Effective Exchange Rate (NEER) policy stance thrice, with the latest being a neutral stance in April. Should growth and inflation expectations deteriorate, MAS may lower the NEER parity, similar to its actions post-Global Financial Crisis. "With the Committee for Future Economy due to release its recommendations at the end of the year, there may be some fiscal initiatives in the pipeline as well, although it could be more a 2017 story with the FY2017 Budget package," says Ms Ling.
She emphasises that while there are still dark clouds on the horizon, global recession fears are overblown. "There are remaining uncertainties over China's ongoing slowdown and even the US presidential elections outcome and its implications for foreign and trade policies," she says.
"Nevertheless, Asia should see growth stabilise in the second half of 2016, and remain a key growth region with interesting prospects for investment and infrastructure spending in the medium-term," she adds. According to Ms Ling, there are still ample investment opportunities despite the volatile environment.
OCBC advises clients to take a diversified and multi-strategy approach as a way to spread out risks in an investment portfolio. The bank recommends that investors look at the BlackRock Global Multi-Asset Income Fund, the JPMorgan Global Macro Opportunities Fund and the Schroder Asian Income Fund.
In a nutshell
Uncertainty continues to prevail in the macro-economic environment, but the silver lining is that key policymakers are on stand-by;
A global or US recession is unlikely this year, notwithstanding the plethora of gloomy news headlines;
China's growth has stabilised in recent quarters, although it remains to be seen if the policy-fuelled momentum can be sustained into the future;
The main difference between 2H16 and 2H15 is that the Fed is no longer hawkish and global inflation remains lacklustre;
Singapore's growth may have bottomed in the first half of 2016 and policy settings remain accommodative; and
There are silver linings within Asia still;
Dark clouds are still on the horizon, but global recession fears are overblown.
Investment recommendations
At OCBC Premier Banking, both customers and Premier Banking Relationship Managers have access to rich market information provided by the OCBC Wealth Panel. With over 200 years of collective investment experience, the Panel's insights are available to help guide customers' investment decisions.
Here are the bank's recommendations:
BlackRock Global Multi Asset Income Fund
JPMorgan Global Macro Opportunities Fund
Schroder Asian Income Fund
Important Information
Any opinions or views of third parties expressed in this material are those of the third parties identified, and not those of OCBC Bank. The information provided herein is intended for general circulation and/or discussion purposes only. It does not take into account the specific investment objectives, financial situation or particular needs of any particular person. Before you make any investment decision, please seek advice from your OCBC Relationship Manager regarding the suitability off any investment product taking into account your specific investment objectives, financial situation or particular needs. In the event that you choose not to seek advice from your OCBC Relationship Manager, you should carefully consider whether the product is suitable for you. This does not constitute an offer or solicitation to buy or sell or subscribe for any security or financial instrument or to enter into any transaction or to participate in any particular trading or investment strategy. OCBC Bank, its related companies, their respective directors and/or employees (collectively Related Persons') may have positions in, and may effect transaction in the products mentioned herein. OCBC Bank may have alliances with the product providers, for which OCBC Bank may receive a fee. Product providers may also be Related Persons, who may be receiving fees from investors. OCBC Bank and the Related Person may also perform or seek to perform broking and other financial services for the product providers.
The information in this material is not intended to constitute research analysis or recommendation and should not be treated as such.
The contents of this material are a summary of the investment ideas and recommendations set out in OCBC Investment Research and Group Treasury research reports. Please refer to the respective research report for the interest that the entity might have in the investment products and/ or issuers of the securities.
Foreign currency investments or deposits are subject to inherent exchange rate fluctuation that may provide opportunities and risks. Earnings on foreign currency investments or deposits would be dependent on the exchange rates prevalent at the time of their maturity if any conversion takes place. Exchange controls may be applicable from time to time to certain foreign currencies. Any pre-termination costs will be deducted from your deposit.
For fund investments, a copy of the prospectus of each fund is available and may be obtained from the relevant fund manager or any of its approved distributors. You should read the prospectus for details on the relevant fund before deciding whether to subscribe for, or purchase units in the fund. The value of the units in the funds and the income accruing to the units, if any, may fall or rise. Please refer to the prospectus of the relevant fund for the name of the fund manager and the investment objectives of the fund.
No representation or warranty whatsoever (including without limitation any representation or warranty as to accuracy, usefulness, adequacy, timeliness or completeness) in respect of any information (including without limitation any statement, figures, opinion, view or estimate) provided herein is given by OCBC Bank and it should not be relied upon as such. OCBC Bank does not undertake an obligation to update the information or to correct any inaccuracy that may become apparent at a later time. All information presented is subject to change without notice. OCBC Bank shall not be responsible or liable for any loss or damage whatsoever arising directly or indirectly howsoever in connection with or as a result of any person acting on any information provided herein. The information provided herein may contain projections or other forward-looking statements regarding future events or future performance of countries, assets, markets or companies. Actual events or results may differ materially. Past performance figures are not necessarily indicative of future or likely performance. Any reference to any specific company, financial product or asset class in whatever way is used for illustrative purposes only and does not constitute a recommendation on the same.
The contents hereof may not be reproduced or disseminated in whole or in part without OCBC Bank's written consent.
Cross-Border Marketing Disclaimer
1. Indonesia: The offering of the investment product in reliance of this document is not registered under the Indonesian Capital Market Law and its implementing regulations, and is not intended to constitute a public offering of securities under the Indonesian Capital Market Law and its implementing regulations. The investment product may not be offered or sold, directly or indirectly, within Indonesia or to citizens (wherever they are domiciled or located), entities or residents, in any manner which constitutes a public offering of securities under the Indonesian Capital Market Law and its implementing regulations.
2. Malaysia: Oversea-Chinese Banking Corporation Limited (?OCBC Bank?) does not hold any licence, registration or approval to carry on any regulated business in Malaysia (including but not limited to any businesses regulated under the Capital Markets & Services Act 2007 of Malaysia), nor does it hold itself out as carrying on or purport to carry on any such business in Malaysia. Any services provided by OCBC Bank to residents of Malaysia are provided solely on an offshore basis from outside Malaysia, either as a result of ?reverse enquiry? on the part of the Malaysian residents or where OCBC Bank has been retained outside Malaysia to provide such services. As an integral part of the provision of such services from outside Malaysia, OCBC Bank may from time to time make available to such residents documents and information making reference to capital markets products (for example, in connection with the provision of fund management or investment advisory services outside of Malaysia). Nothing in such documents or information is intended to be construed as or constitute the making available of, or an offer or invitation to subscribe for or purchase any such capital markets product.
3. Myanmar: OCBC Bank does not hold any licence or registration under the FIML or other Myanmar legislation to carry on, nor do they purport to carry on, any regulated activity in Myanmar. All activities relating to the client are conducted strictly on an offshore basis. The customers shall ensure that it is their responsibility to comply with all applicable local laws before entering into discussion or contracts with the Bank.
4. Taiwan: The provision of the information and the offer of the service concerned herewith have not been and will not be registered with the Financial Supervisory Commission of Taiwan pursuant to relevant laws and regulations of Taiwan and may not be provided or offered in Taiwan or in circumstances which requires a prior registration or approval of the Financial Supervisory Commission of Taiwan. No person or entity in Taiwan has been authorised to provide the information and to offer the service in Taiwan.
5. Thailand: Please note that OCBC Bank does not maintain any licences, authorisations or registrations in Thailand nor is any of the material and information contained, or the relevant securities or products specified herein approved or registered in Thailand. Interests in the relevant securities or products may not be offered or sold within Thailand. The attached information has been provided at your request for informational purposes only and shall not be copied or redistributed to any other person without the prior consent of OCBC Bank or its relevant entities and in no way constitutes an offer, solicitation, advertisement or advice of, or in relation to, the relevant securities or products by OCBC Bank or any other entities in OCBC Bank?s group in Thailand.
6. Hong Kong SAR: This document is for information only and is not intended for anyone other than the recipient. It has not been reviewed by any regulatory authority in Hong Kong. It is not an offer or a solicitation to deal in any of the financial products referred to herein or to enter into any legal relations, nor an advice or a recommendation with respect to such financial products. It does not have regard to the specific investment objectives, financial situation and the particular needs of any recipient or Investor. This document may not be published, circulated, reproduced or distributed in whole or in part to any other person without OCBC Bank?s prior written consent. This document is not intended for distribution to, publication or use by any person in any jurisdiction outside Hong Kong, or such other jurisdiction as the Bank may determine in its absolute discretion, where such distribution, publication or use would be contrary to applicable law or would subject the Bank and its related corporations, connected persons, associated persons and/or affiliates to any registration, licensing or other requirements within such jurisdiction.
? Copyright 2016 - OCBC Bank | All Rights Reserved. Co. Reg. No.: 193200032W