Teo Joo Wah
Chief Strategist, Lion Global InvestorsMember of OCBC Wealth Panel
Disappointing For Five Years
It has been a disappointing ride for Asian investors in the last five to six years. From end-2010 to August 2016, the MSCI Asia ex-Japan index which is a measure of Asian equities has posted a gain of 18 per cent (2.9 per cent per annum) versus 66 per cent (9.3 per cent per annum) for global equities as measured by the MSCI World Index (see Chart 1).
Chart 1: Asia ex-Japan vs World (end-2010 to Aug 2016)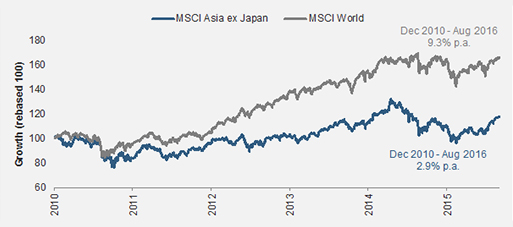 Source: Source: Bloomberg, based on dividends reinvested in SGD terms as at August 2016.
Such uninspiring performance left many investors wondering, "What happened to Asia?"
Reasons for disappointing performance
The disappointing performance from Asia stemmed from a number of factors. Within Asia, China's well publicised economic rebalancing resulted in slower growth. Meanwhile, outside of Asia, the economic growth of the United States, while steady, remained a far cry from previous years. Asian exports have correspondingly been affected by the slow grinding global economic recovery
At the micro level, unbridled capex expansion led to excess capacity and weak pricing power for companies. This is further compounded by rising labour cost, resulting in pedestrian earnings growth for the past five years (Chart 2).
Chart 2: Asia ex-Japan EPS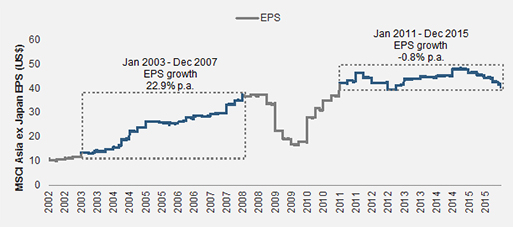 Source: Bloomberg, in USD terms, as at Aug 2016. EPS: Earnings per share
Against this backdrop, the Fed has continued to tease markets with whispers of higher rates, citing employment data and the outlook for the economy and inflation. The stronger US dollar (and weaker Asian currencies) has encouraged funds to flow back to developed markets.
What is the outlook for the next five years?
China's on-going transition will continue to restrain growth but the transition to the new economy has gained traction, with strong growth in the services sector offsetting weakness in the manufacturing sector.
While the Li Keqiang index (an indicator comprising of rail freight volume, electricity consumption, and bank lending) continues to slow, the 'new' economy equivalent index of passenger rail traffic and electricity consumption of tertiary industry and households grew at a much faster pace. Outside China, we are hopeful that growth could pick up in India and Indonesia, two large and growing economies within Asia.
With labour costs moderating and excess capacity abating, profits for the next few years will likely be better than the previous five years and we believe high single-digit earnings growth is quite probable. Meanwhile valuation of Asian markets is cheaper than developed markets. In addition, dividend yield of Asian markets is attractive compared to the current low interest rate environment.
Monetary policy divergence will be supportive for the U.S. dollar. However, we think the greenback will remain range bound and we do not expect significant appreciation against Asian currencies.
The combination of global aging, low productivity growth and the slowing pace of globalisation will put a lid on global growth. Interest rates may go up from over-bought level but are not likely to rise substantially. With rates low or even negative, sovereign bonds are not compelling for yield investors. A generation of aging, yield seekers in a low rate environment needs viable alternatives to sovereign bonds.
Risks remain but stay invested for the medium term
In the near-term, however, Asian markets may remain volatile. Rate hike uncertainty remains, as does persistently weak global economic growth. The Renminbi's weakness could unleash another bout of volatility for Asian markets. Investors should also closely monitor the upcoming U.S. election as a Trump victory is likely to be negative for Asian markets.
Despite this, Asia presents a worthwhile consideration for long-term investors. Asian listed corporates have robust balance sheets, healthy cash reserves and increasing willingness to pay dividends. With commodity prices stabilising and downward earnings revisions bottoming, we could see better earnings next year and eventually this will be reflected in valuations.
On a closing note, after recent years of disappointment, many investors have forgotten that Asian equities have generated strong returns in the earlier years (Chart 3).
Chart 3: Asia ex-Japan vs World (end-2000 to end-2010)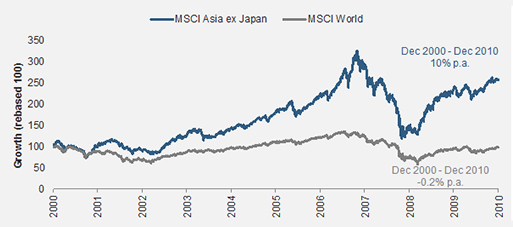 Source: Bloomberg, based on dividends reinvested in SGD terms as at August 2016
In the last decade (end-2000 to end-2010), Asian markets have posted a gain of 159 per cent (10 per cent per annum) while developed markets fell 2 per cent (-0.2 per cent per annum) in Singapore dollar terms.
In a global new 'normal' of slower growth, we are not suggesting investors can expect 10 per cent per annum returns as equities are likely to give more muted returns going forward. Instead, we encourage investors to consider whether Asia, with its superior growth and cheaper valuation, is more likely to give not only better returns than developed markets but also good positive returns in the next five years.
Important information
Any opinions or views of third parties expressed in this material are those of the third parties identified, and not those of OCBC Bank. The information provided herein is intended for general circulation and/or discussion purposes only. It does not take into account the specific investment objectives, financial situation or particular needs of any particular person. Before you make any investment decision, please seek advice from your OCBC Relationship Manager regarding the suitability of any investment product taking into account your specific investment objectives, financial situation or particular needs. In the event that you choose not to seek advice from your OCBC Relationship Manager, you should carefully consider whether the product is suitable for you. This does not constitute an offer or solicitation to buy or sell or subscribe for any security or financial instrument or to enter into any transaction or to participate in any particular trading or investment strategy.
OCBC Bank, its related companies, their respective directors and/or employees (collectively 'Related Persons') may have positions in, and may effect transaction in the products mentioned herein. OCBC Bank may have alliances with the product providers, for which OCBC Bank may receive a fee. Product providers may also be Related Persons, who may be receiving fees from investors. OCBC Bank and the Related Person may also perform or seek to perform broking and other financial services for the product providers
No representation or warranty whatsoever (including without limitation any representation or warranty as to accuracy, usefulness, adequacy, timeliness or completeness) in respect of any information (including without limitation any statement, figures, opinion, view or estimate) provided herein is given by OCBC Bank and it should not be relied upon as such. OCBC Bank does not undertake an obligation to update the information or to correct any inaccuracy that may become apparent at a later time. All information presented is subject to change without notice. OCBC Bank shall not be responsible or liable for any loss or damage whatsoever arising directly or indirectly howsoever in connection with or as a result of any person acting on any information provided herein. The information provided herein may contain projections or other forward-looking statements regarding future events or future performance of countries, assets, markets or companies. Actual events or results may differ materially. Past performance figures are not necessarily indicative of future or likely performance. Any reference to any specific company, financial product or asset class in whatever way is used for illustrative purposes only and does not constitute a recommendation on the same.
The contents hereof may not be reproduced or disseminated in whole or in part without OCBC Bank's written consent.
The information in this document is not intended to constitute research analysis or recommendation and should not be treated as such.
Cross-Border Marketing Disclaimer
1. Indonesia: The offering of the investment product in reliance of this document is not registered under the Indonesian Capital Market Law and its implementing regulations, and is not intended to constitute a public offering of securities under the Indonesian Capital Market Law and its implementing regulations. The investment product may not be offered or sold, directly or indirectly, within Indonesia or to citizens (wherever they are domiciled or located), entities or residents, in any manner which constitutes a public offering of securities under the Indonesian Capital Market Law and its implementing regulations.
2. Malaysia: Oversea-Chinese Banking Corporation Limited ("OCBC Bank") does not hold any licence, registration or approval to carry on any regulated business in Malaysia (including but not limited to any businesses regulated under the Capital Markets & Services Act 2007 of Malaysia), nor does it hold itself out as carrying on or purport to carry on any such business in Malaysia. Any services provided by OCBC Bank to residents of Malaysia are provided solely on an offshore basis from outside Malaysia, either as a result of "reverse enquiry" on the part of the Malaysian residents or where OCBC Bank has been retained outside Malaysia to provide such services. As an integral part of the provision of such services from outside Malaysia, OCBC Bank may from time to time make available to such residents documents and information making reference to capital markets products (for example, in connection with the provision of fund management or investment advisory services outside of Malaysia). Nothing in such documents or information is intended to be construed as or constitute the making available of, or an offer or invitation to subscribe for or purchase any such capital markets product.
3. Myanmar: OCBC Bank does not hold any licence or registration under the FIML or other Myanmar legislation to carry on, nor do they purport to carry on, any regulated activity in Myanmar. All activities relating to the client are conducted strictly on an offshore basis. The customers shall ensure that it is their responsibility to comply with all applicable local laws before entering into discussion or contracts with the Bank.
4. Taiwan: The provision of the information and the offer of the service concerned herewith have not been and will not be registered with the Financial Supervisory Commission of Taiwan pursuant to relevant laws and regulations of Taiwan and may not be provided or offered in Taiwan or in circumstances which requires a prior registration or approval of the Financial Supervisory Commission of Taiwan. No person or entity in Taiwan has been authorised to provide the information and to offer the service in Taiwan.
5. Thailand: Please note that OCBC Bank does not maintain any licences, authorisations or registrations in Thailand nor is any of the material and information contained, or the relevant securities or products specified herein approved or registered in Thailand. Interests in the relevant securities or products may not be offered or sold within Thailand. The attached information has been provided at your request for informational purposes only and shall not be copied or redistributed to any other person without the prior consent of OCBC Bank or its relevant entities and in no way constitutes an offer, solicitation, advertisement or advice of, or in relation to, the relevant securities or products by OCBC Bank or any other entities in OCBC Bank's group in Thailand.
6. Hong Kong SAR: This document is for information only and is not intended for anyone other than the recipient. It has not been reviewed by any regulatory authority in Hong Kong. It is not an offer or a solicitation to deal in any of the financial products referred to herein or to enter into any legal relations, nor an advice or a recommendation with respect to such financial products. It does not have regard to the specific investment objectives, financial situation and the particular needs of any recipient or Investor. This document may not be published, circulated, reproduced or distributed in whole or in part to any other person without OCBC Bank's prior written consent. This document is not intended for distribution to, publication or use by any person in any jurisdiction outside Hong Kong, or such other jurisdiction as the Bank may determine in its absolute discretion, where such distribution, publication or use would be contrary to applicable law or would subject the Bank and its related corporations, connected persons, associated persons and/or affiliates to any registration, licensing or other requirements within such jurisdiction.
© Copyright 2016 - OCBC Bank | All Rights Reserved.