SDG 8 – Decent work and economic growth
How OCBC supports SDG 8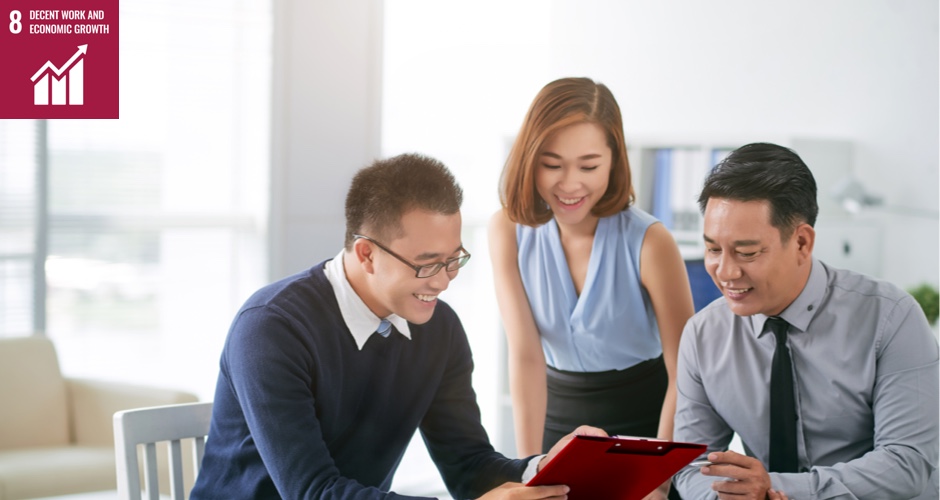 Relevant SDG Targets
8.4 Improve progressively, through 2030, global resource efficiency in consumption and production and endeavour to decouple economic growth from environmental degradation, in accordance with the 10-Year Framework of Programmes on Sustainable Consumption and Production, with developed countries taking the lead.

8.5 By 2030, achieve full and productive employment and decent work for all women and men, including for young people and persons with disabilities, and equal pay for work of equal value.

8.10 Strengthen the capacity of domestic financial institutions to encourage and to expand access to banking, insurance and financial services for all.
Alignment with OCBC's Material ESG Factors
>94% of financial transactions conducted digitally, and digital wealth sales grew >4x year on year.
Empowered 1,000 women entrepreneurs with IDR 862 billion in new loans to expand their business in Indonesia.
S$1.8 billion worth of new government-assisted loans made available to SMEs in Singapore, Malaysia and Hong Kong SAR.
Invested S$30 million in talent development across three years, with more than 20 new sustainability-themed learning courses to equip employees with future skills to lead sustainability innovation in the Bank.
S$1.36 billion direct economic value generated in the local community through local spending.