Often in Singapore, conversations around education planning centre on which primary school parents should pick.
The process starts years ahead of the actual Primary One registration, driven by the belief that entrance into an elite primary school would guarantee the child success in his or her future academic journey.
Unfortunately, some parents have a tendency to stop there once this mission is accomplished.
Whichever primary school your child ultimately goes to, you are barely scratching the tip of the surface where the formal education years are concerned.
Tertiary education is a given these days, and with escalating costs, it becomes even more crucial to ensure you have done your sums when planning for your child's education journey.
Parent 101
A quick study among our customers shows that that planning for their child's education is an area that they tend to fall behind in, as they are faced with competing priorities in their lives.
A respectable 36 per cent of those surveyed did manage to start planning for their child's education costs, and are on target. However, about 25 per cent fare behind in their target, while only 26 per cent were planning to start.
A worrying 10 per cent had no plans to start over the next 5 years.
Only a minority - about 4 per cent - had achieved their goals, according to the survey conducted in 2013.
This can be a major oversight as it is common for children to further their studies beyond the basic formal years.
It could be a medical degree at a local university or jazz studies at Julliard, or even studying zombies at the University of Baltimore, the crux of the matter is that, you have to be financially prepared for your child when the moment arrives.
Thinking ahead
It is important to start saving early, even if it's a small amount.
This is especially true if your child goes overseas for further studies, as the cost of an overseas university education involves more than just paying for tuition fees. It also involves housing cost and living expenses like food, transportation and even entertainment.
The costs are significantly lower for a local university education, as your child could be staying with you, and saving on food and transportation costs.
The following table gives you an idea of how much it will cost to send your child to a university in Singapore, versus an overseas option in countries like Australia and New Zealand: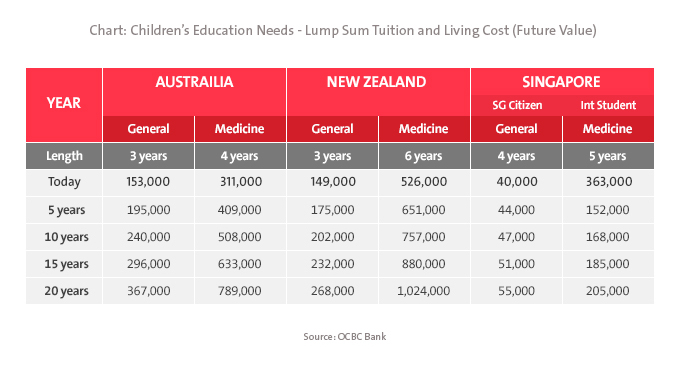 The expenses shown in the table are lump-sum expenses, including tuition fees and living expenses adjusted for inflation.
As you can see from the table above, a Singaporean pursuing a non-medical degree in a local university will need to pay $40,000 for a four-year course today, compared to $153,000 at a university in Australia.
Over the next five to 20 years, the cost increases sharply to an estimated S$55,000 (Singapore) and S$367,000 (Australia).
No doubt, most tertiary institutions do provide a comprehensive range of financial assistance schemes - such as tuition fee loans, study loans, bursaries or work-study assistance, but there are other ways you, as a parent, can help your child ease the financial strain.
The earlier you start, the smaller the amount you would need to put aside regularly to achieve your goal.
Choose an endowment plan
One suggestion is to look into owning an endowment insurance plan for your child's education. These are insurance plans which provide basic protection coverage and moderate returns with low risks.
More often than not, education endowment plans have an option to attach premium waiver riders. These riders aim to waive off any subsequent premium payment in the event that something unfortunate happens to the parent (untimely demise or disability, for instance).
Endowment insurance plans can yield potentially better returns than regular savings in a deposit account. Also, it inculcates the discipline of putting aside funds regularly towards this objective as money has to be set aside for the premium.
Although the returns may not be as high as other investment products such as stocks and shares, endowment plans are generally considered a good option as they are less risky.
Unlike a bank account, however, you are not able to withdraw your money as and when you please from your endowment policy. If you do so before the endowment policy matures, you could suffer a loss, but if you wait till the policy matures, you could potentially gain more than you paid for.
In fact, OCBC Research has revealed that 39 percent of Singaporean parents choose endowment plans to save for their children's education. A piece of advice is to embark your child on the first education endowment plan early. When you start early, you can potentially benefit from lower premiums and reap greater returns.
Also, it is better to start small than not to start at all. OCBC offers an affordable education endowment plan, MaxEdu Goal, which has a starting minimum premium of just $104/month. An advantage of MaxEdu Goal is that it guarantees a 135 percent sum assured pay-out – one of the highest in Singapore!
So, don't fall behind in your plans to ensure your child's education success.
Important Notice
Insurance policies will be underwritten by The Great Eastern Life Assurance Company or The Overseas Assurance Corporation Limited, each a wholly-owned subsidiary of Great Eastern Holdings Limited and a member of the OCBC Group, and are not bank deposits or obligations of, or guaranteed by OCBC Bank. Max is a registered trademark of The Overseas Assurance Corporation Limited. This document is for general information only. This document does not take into account your particular investment and protection aims, financial situation or needs. Buying a life insurance policy is a long-term commitment. An early termination of the policy usually involves high costs and the surrender value payable may be less than the total premiums paid. You may wish to seek advice from a financial adviser before making a commitment to purchase a life policy. In the event that you choose not to seek advice from a financial adviser, you should consider whether the life policy in question is suitable for you. The specific terms and conditions of the plan are set out in the policy documents. A person interested in the insurance policies should read the product summary and benefit illustration (available from OCBC Bank) before deciding whether to buy this product. Buying health insurance products that are not suitable for you may impact your ability to finance your future healthcare needs. If you decide that the policy is not suitable after purchasing it, you may terminate the policy in accordance with the free look provision, if any, and the insurer may recover from you any expense incurred by the insurer in underwriting the policy. The insurance plans are protected under the Policy Owners' Protection Scheme which is administered by the Singapore Deposit Insurance Corporation (SDIC). Coverage for your policy is automatic and no further action is required from you. For more information on the types of benefits that are covered under the scheme as well as the limits of coverage, where applicable, please contact us or visit the Life Insurance Association (LIA) or SDIC websites (www.lia.org.sg or www.sdic.org.sg).
Disclaimers