We recognise that sustainability is integral to the successful execution of our corporate strategy. As we deepen our presence in our core markets, this deep conviction underpins and defines the way we conduct our business activities and has become embedded within the ethos of the organisation.
A robust governance structure is of paramount importance to the achievement of our sustainability commitments. Our Board takes our environmental, social and governance (ESG) factors into careful consideration when formulating OCBC's strategy. Together with the Sustainability Council, the Board oversees sustainability efforts across the Group which are managed and implemented by the Sustainability Working Group.
Sustainability Efforts and Performance
Our sustainability efforts and performance are documented in our Sustainability Report and in this section of our website. For a comprehensive understanding of our sustainability efforts, we recommend reading both the Report and our additional disclosures on our Responsible Financing approach as well as how we engage our customers , communities , employees and the environment.
Our Sustainability Report is prepared in accordance with the Global Reporting Initiative (GRI) Standards – Core Option. The Report contains the policies, practices, performance and targets relating to our material ESG factors.
We believe in the importance of making continuous progress towards sustainability, and we urge our stakeholders to share our commitment towards improving our ESG performance in the markets in which we operate.
We welcome your feedback and suggestions at corpcomms@ocbc.com
Sustainable Development Goals
The 17 Sustainable Development Goals (SDGs), also known as the Global Goals for Sustainable Development, are the core elements of a 2030 Agenda for Sustainable Development which is fully negotiated by United Nations member states. The Agenda provides a global framework that addresses a broad range of issues including the eradication of poverty and hunger, empowering women and girls, improving access to education, promoting sustainable economic growth and employment, protecting natural resources, as well as strengthening governance and institutions.
As a trusted financial institution that values and forges enduring relationships with our stakeholders, we recognise the important role we play in promoting long-term sustainable development. We have chosen to focus on five SDGs where we believe we can make meaningful contributions, taking into consideration our business and the needs of the core markets we operate in:

Our Sustainability Report sets out our Sustainability Pillars and ESG factors that we have determined to be material to us. These are largely aligned with the five SDG goals that we have selected.
We contribute to building sustainable growth for the markets we operate in, including developing countries. As a provider of financing, we support economic activities and contribute towards annual economic growth which in turn promotes productive employment.
Economic growth and employment are closely related to energy. In developing countries, the energy mix used for power generation is dependent on the availability, affordability and feasibility of adopting various energy sources. In our financing of energy projects, we will continue to conduct our ESG risk assessment and selectively support the needed energy mix which makes practical sense for the local community. These energy projects include a range of fossil fuels and renewable options.
We have adopted a progressive approach to promote the transition to a low-carbon economy. We have expanded our financing of infrastructure that supply modern and sustainable energy services for all, encompassing renewable energy, energy efficiency and clean environmentally sound technologies. We are committed to promoting sustainable development and will contribute towards the progressive improvement of global resource efficiency in consumption and production, and endeavour to decouple economic growth from environmental degradation.
In our operations, community engagement efforts and sustainable financing push, we will promote the actions needed to combat climate change and its impact.
As a leading financial services provider to large corporates and small and medium-sized enterprises, we also contribute to building a resilient regional and cross-border infrastructure and support sustainable industrialisation and foster innovation in the markets we operate in.
At the same time, we continue to expand access to banking, insurance and financial services. We promote healthy lives and well-being for individuals of all ages, including by availing financial risk protection to improve health coverage through our strong bancassurance business and our insurance subsidiary, Great Eastern Holdings. Great Eastern Holdings supports the Singapore government's nation-wide health insurance schemes, including administering the ElderShield scheme, which provides basic financial protection in the event of severe disability, and Integrated Shield Plans which augment the government's MediShield Life health insurance scheme.
As with the phased approach that we have adopted for our sustainability reporting, we will enhance our disclosure on targets and initiatives that relate to these SDGs over time.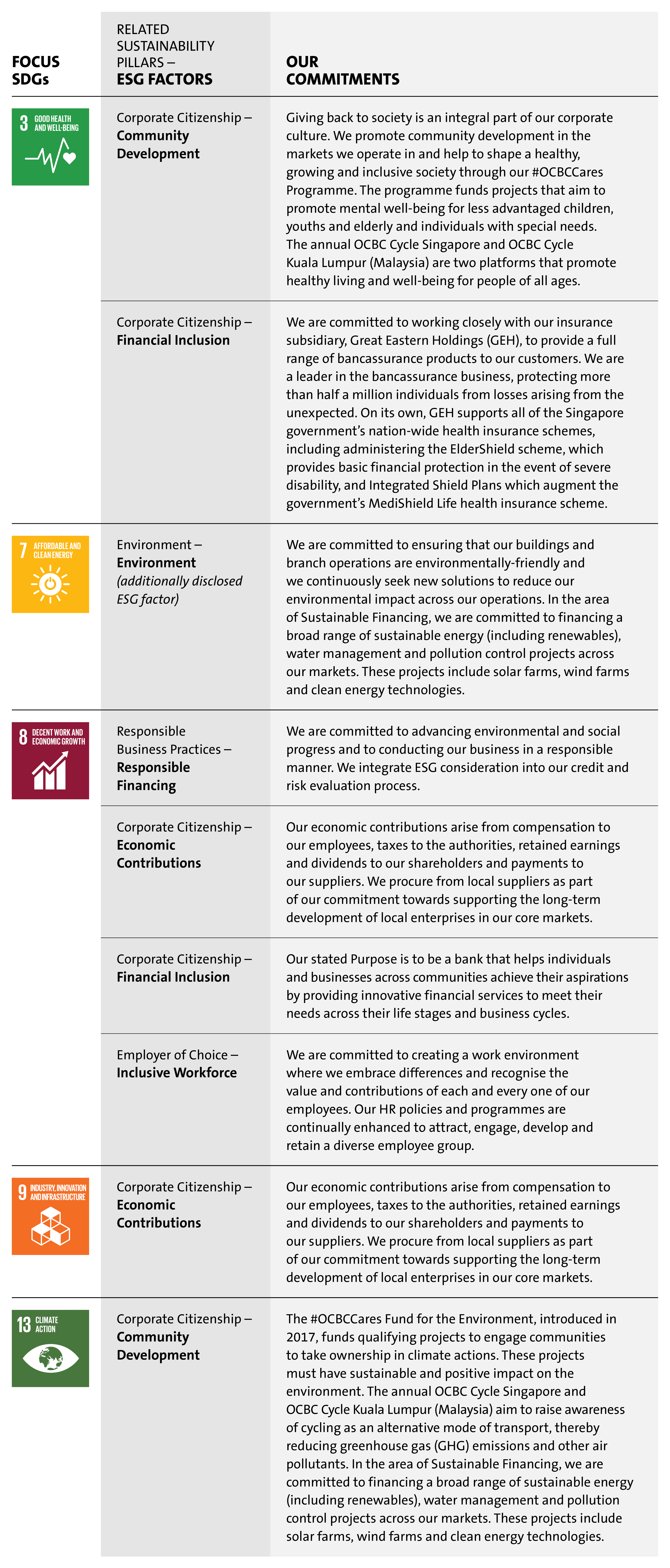 Our Climate Change Statement
Climate change has had a significant impact on our planet. With rising global temperatures leading to shrinking ice sheets, rising sea levels and the increasing prevalence of extreme weather events, it is widely acknowledged that climate change poses the greatest environmental challenge to our society and businesses today.
OCBC recognises that our financial success is intrinsically linked to the overall health of the markets we operate in. We are committed to advancing environmental and social (E&S) progress and to conducting our business in a responsible manner. By doing so, we will be able to support sustainable development in our markets and communities and create long-term value for our stakeholders.
Our Climate Change Statement affirms our support for the Paris Climate Agreement, which aims to keep the increase in global average temperatures to "well below 2°C above pre-industrial levels". We believe that decarbonisation of the economy must be managed responsibly over time and will adopt a progressive approach to promote the transition to a low-carbon economy. This is aligned with our focus on Sustainable Development Goal 13 of taking urgent action to combat climate change and its impacts.
Our Commitments on Coal Sector Lending
We prohibit any new corporate financing or project financing for coal-fired power plants that use:
(a) Subcritical efficiency technology, and/ or
(b) Lignite (brown coal) as the main fuel source.
As part of our ESG Risk Assessment Framework, we perform enhanced E&S due diligence on our clients for all energy-related loans, referencing:
(a) International Finance Corporation (IFC) Performance Standards,
(b) Equator Principles (EP),
(c) Local/National laws and regulations.
Under our credit evaluation process, we conduct ESG risk assessment on borrowers at least once a year throughout the financing tenor. Additional assessments are conducted if and when significant ESG events arise. In addition, we may impose covenants in our credit facilities that require the borrowers to comply with ESG requirements. If the covenants are breached or our ESG expectations are not met, we will reassess the client relationships, including turning down transactions.
We aim to update our climate change statement with our mining (coal-specific) sectoral policy in due course.
Increasing Sustainability Financing
We will continue to seek and realise opportunities to partner our clients on sustainability performance-linked loans. By offering reduced interest rates for independently-assessed improvements in their ESG indicators, our clients will be financially incentivised and empowered to find innovative ways to enhance their sustainability performance. On 8 June 2018, we finalised a deal with Wilmar International to peg interest rates on a US$200 million revolving credit facility to its sustainability performance.
We are committed to channelling funds to support environmental investments which will in turn spur economic and climate resiliency across our core markets. The green bond market has emerged as an alternative source of funding and a platform to support the financing of qualifying assets/projects that combat climate change and its impacts. These qualifying assets/projects may include renewable energy, energy efficiency, sustainable water and wastewater management, green buildings and others.
Disclosure on Our Climate Change Efforts
Our annual sustainability report documents our consideration of and approach towards sustainability issues and demonstrates our commitment towards being a sustainable and responsible organisation. We will continue to track key performance indicators and disclose related information on our sustainable financing progress, referencing internationally recognised reporting standards such as the Global Reporting Initiative (GRI) Standards. Moving forward, we will explore the recommendations of the Task Force on Climate-related Financial Disclosures to enhance our disclosures.
Moving Forward
Sustainability is a journey and OCBC recognises that more needs to be done to support sustainable development. In line with this approach, we will continue to refine our climate change statement and enhance our responsible financing policies over time. Together with our customers, we will work towards further adopting appropriate sustainable practices and standards laid out by local regulations and to continue to reference international standards and industry best practices.