At OCBC our purpose is to help individuals and businesses across communities achieve their aspirations by providing innovative financial services that meet their needs today and tomorrow.
Ensuring we embed sustainable business practices into the core of our business is integral to our purpose.
To achieve this, we have developed a Sustainability Framework to articulate what sustainability means in practice at OCBC and to guide our approach.
OCBC Sustainability Framework
Our Sustainability Framework is based on achieving five pillars that represent how we aim to create and sustain value over the long-term:
Putting Customers First Customers are at the heart of our business. We are committed to understanding their needs and providing financial services that improve people's lives.
Acting with Integrity As a financial services provider, how we behave and make decisions is imperative to building and safeguarding trust with our stakeholders, as well as ensuring that we are positively contributing to sustainable development.
Valuing our People 'People' is a core value at OCBC. We treat each other fairly and with respect. We support our colleagues and invest in their development to help them realise their full potential. We recognise and reward outstanding performance.
Engaging Communities We aim to contribute to healthy, growing and inclusive communities wherever we operate through our core business activities, corporate giving initiatives and employee volunteering.
Being Environmentally Responsible We believe that a thriving society must be based on a healthy environment. Therefore, we are committed to playing our part in conserving the environment by reducing our footprint and avoiding unnecessary use or waste of resources.
Underneath each of these ambitions, we have identified the most material Environmental Social and Governance (ESG) factors that inform the specific ways we are managing the sustainability agenda.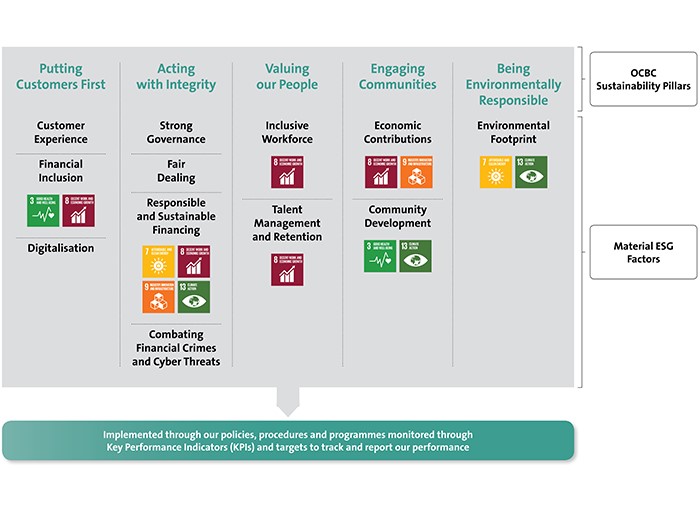 The Sustainable Development Goals (SDGs)
On 25 September 2015, leaders from 193 countries came together at a historic UN Summit in New York to adopt the 17 SDGs, also known as the Global Goals for Sustainable Development. The SDGs represent the world's most pressing priorities until 2030.
At OCBC, we recognise the unique role we must play in helping to achieve the SDGs and in promoting sustainable development, including the transition to a low-carbon economy. Having considered the alignment with our own material ESG factors, we have identified five SDGs where we believe we can make the biggest contribution to sustainable development in the markets where we operate.



While we are focused on where we can make the greatest difference, we also recognise that we touch all 17 SDGs in different ways. Therefore, we will continuously seek new ways to contribute to the SDGs through the financial products and services we bring to market, by managing our business operations sustainably and responsibly, while being an advocate for sustainable development.
For more details on how OCBC is contributing to each of the five SDGs, please see our Sustainability Report 2018.
Sustainability Governance
To achieve our aspirations and embed responsible and sustainable practices into our business, a robust governance structure is important: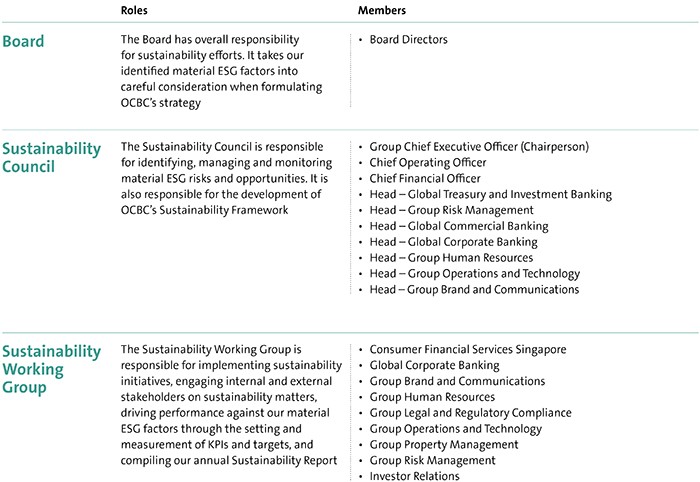 Sustainability Report
At OCBC, reporting is an important mechanism that demonstrates transparency and accountability to our stakeholders.
Through our report, we hope to be responsive to stakeholders'interests and concerns, in order to build mutual understanding, trust and respect. Our sustainability efforts and performance relating to each of our material ESG factors are documented in our Sustainability Report 2018.
As Sustainability Reporting is an important communication channel that an organisation has with its internal and external stakeholders, we believe that it is timely to widen our reach and target readers with a Chinese version of Sustainability Report 2018 .
We believe in the importance of making continuous progress towards sustainability, and we welcome any feedback and suggestions with regards to our reporting on sustainability matters at corpcomms@ocbc.com