Employee health, safety and wellbeing
Why this is material to us
The success of our business requires a healthy, resilient, connected and engaged workforce. As the nature of work and the workplace changes in light of the Covid-19 pandemic, we have a responsibility to our employees to provide a workplace that is safe, supports mental and physical health, and enables employees to have a fulfilling life beyond the workplace. It is also important that they remain connected and engaged with fellow colleagues, building trust and a sense of purpose at the workplace.
Our management approach
We will continue to prioritise the health, safety and wellbeing of our employees. This is supported by our robust policies and practices, which include tools that enable us to detect and respond to external threats such as terrorism, natural hazards, cross border conflicts or civil unrest that may impact the safety of our employees and operational continuity of the group globally. The Global Incident Management Centre provides the Bank with enhanced incident situational awareness, employing advanced technology services customised to our global footprint. This serves as the trigger for mitigating actions to events that may potentially have a severe impact to the Group.
New initiatives and ongoing efforts
Operational Resiliency amid Covid-19
The Group further enhanced its operational resiliency in three ways:
A Pandemic-resilient Workforce: Staff were encouraged to be vaccinated and the Bank arranged talks by medical professionals to address any concerns. Policies were also rolled out to support vaccination including days off, working from home in the week they are vaccinated, medical leave without the need to produce a medical certificate, hospital coverage and transport claims. The Bank was among the first to collate staff vaccination data and, across the Group, 99% of our employees have completed the primary vaccination series as at end December 2021.
Environmental Hygiene: Ensuring a hygienic environment is a critical component of the Bank's strategy in managing the pandemic outbreak. As Singapore's national infection rate of Covid-19 increased in the 3rd quarter of 2021, all employees were required to conduct self-administered Antigen Rapid Test (ART) and comply with all existing Safe Management Measures if they wished to return to the office.
Transforming Work Arrangements: One of the key lessons learnt in the first year of the pandemic was the value of reducing physical contact and concentration risk. While safe distancing remained in force through 2021, the Bank further enhanced its business continuity plans, increased split operations and transformed onsite operations to enable remote working.
MyWellness Fiesta 2021
To promote holistic wellness, we organised workshops on four pillars of wellness: physical, mental, social and financial wellbeing as well as sustainability-related topics under the banner of MyWellness Fiesta. This initiative aims to inspire employees to adopt the right mindset to live well and sustainably.
Over a 5-week period, activities such as talks, quizzes, photo activities and sessions with nutritionists were held virtually. Participants were also provided with online resources to practice a sustainable lifestyle. A total of 7,331 employees attended MyWellness Fiesta across the Group.
MyWellness Enabled
OCBC has engaged a global mental wellness solution provider to provide high-quality and consistent services. This programme provides employees with both preventive care and clinical support to boost personal and professional growth. It is available at all hours, in multiple languages, to employees and their family members.
MyWellness Enabled offers a wide range of services, which includes online resources, training, webinars and wellness programme series, as well as counselling and coaching support. This programme is currently available to all employees across 17 countries.
INCLUSIVE WORKFORCE
Why this is material to us
An inclusive and diverse workforce is important for an organisation to thrive in the face of disruptions. At OCBC, we continuously build an inclusive culture that embraces diversity, treats employees fairly and provides equal opportunities. Such a culture is crucial to our long–term success as it fosters innovation and creativity.
Our management approach
We seek to recognise each employee and his or her value to the Bank. This means cultivating a supportive environment so employees can maximise their potential given their individual circumstances. This includes providing learning and development opportunities for employees while providing an avenue for feedback via formal channels and encouraging real-time feedback.
New initiatives and ongoing efforts
OCBC Fair Recruitment Practices and Hiring Policy
To build our inclusive work environment, we focus on maintaining a gender-equal workforce. We strive to increase the representation of women in OCBC, helping women reach leadership roles and achieve their full potential as they build a rewarding and successful career with OCBC.
We are an equal-opportunity employer aligned to the Tripartite Guidelines on Fair Employment Practices issued by the Tripartite Alliance for Fair and Progressive Employment Practices (TAFEP).
To further cultivate an inclusive workplace, we ensure that our recruitment process reflects our diverse and inclusive approach. We:

removed biased language and terminology from all relevant documentation;
developed gender-neutral job specifications, recruiting collaterals and advertisements. All final versions of advertisement copies are reviewed internally for any unintended bias;
ensured roles are advertised through multiple media channels; and
expanded outreach platforms to ensure diversity in job applicants.
Reverse Mentoring
OCBC Bank has a strong mentoring culture. Since 2018, more than 120 mentors have volunteered in our mentoring programmes championed by Group Human Resources. The Bank deliberately pairs individuals from different age groups – the mentor being the senior employee – to foster greater shared experience and understanding across the organisation. As a result, our seniors have since reaped unexpected benefit by being reverse mentored by much younger mentees.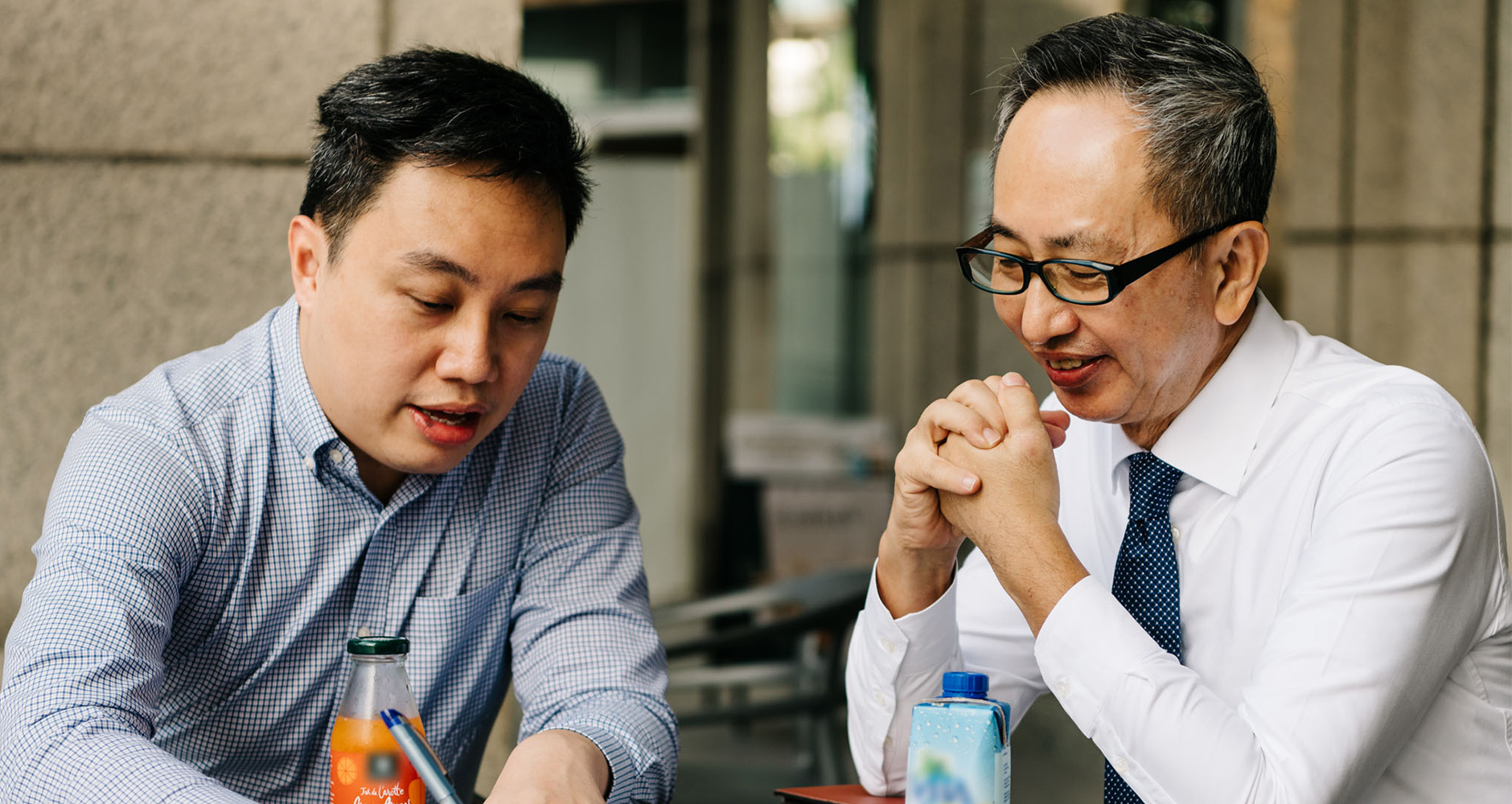 Both Jason and Malie learned a lot from the shared experience. With Jason, Malie shared his knowledge of the possibilities and limitations of technology and how social trends in technology would affect the human resource environment. This knowledge served to be useful for Jason to drive the digital HR transformation journey. Malie enjoyed the opportunity to hear thoughts directly from a senior leader and learned from the process of reframing his mind to speak in an engaging manner and prepare information that is relevant, insightful, and digestible.
Find out more:
Talent management
Why this is material to us
Our talent is our most important asset. We believe that the best organisations thrive because of the strength of their people. We must continue to attract, retain, and develop our talent to ensure we are future-ready.
Our management approach
We recognise our responsibility to develop employees throughout their careers. We are focused on cultivating a learning culture that prioritises holistic development, helping employees realise their full potential both professionally and personally. We also strive to build sustainability-related skills in our workforce in line with our goal to become a regional leader in responsible banking.
New initiatives and ongoing efforts
Fostering A Strong Learning Organisation
A strong learning organisation is the foundation for sustained people development and business growth. The OCBC Group Learning Blueprint is the first ever artefact of our learning culture, reflecting the state of learning and the collective aspirations of our people and codifying the principles of learning to further perpetuate our strong learning culture by design.
A key design principle of our Learning Blueprint is "Anchored Through Leadership," that accentuates positive role-modelling of leaders across the OCBC Group — by and for our people, our organisation, and the communities in which we live and serve.
Developing Talent through OCBC Future Smart
OCBC Future Smart upskills and reskills employees across the Group in seven key domains across four proficiency levels, that together ensure our talent stays relevant and prepared for the future of work.
OCBC committed S$20 million in the first phase of OCBC Future Smart in 2018. A total of 1,900 programmes were developed, and employees completed over 178,000 programmes since then.
As part of the second phase of OCBC Future Smart, we will invest S$30 million over the next three years to upskill 30,000 employees across OCBC.
In 2021, we introduced more than 20 new sustainability learning programmes to help employees gain knowledge and skills for application in their roles. More than 13,000 attendees participated in sustainability programmes, with 80% reporting new knowledge gained on sustainability.
Our Leadership Programmes
MentorMe Programme: Launched in 2018 to widen our female talent pool, the programme aims to help mentees develop networking skills and confidence to speak within and beyond the organisation. All mentees in the programme are female, while mentors can be of any gender. Following the success of the programme in Singapore, the programme was expanded to Malaysia as one of their women initiatives programmes in 2020.
LEAD programme: Aims to strengthen the leadership pipeline for mid to senior level leaders across the Bank and equip leaders with skills and knowledge to thrive in the increasingly complex world. In partnership with the National University of Singapore (NUS), the 3-month journey builds core leadership competencies such as Leading Courageously, Adaptability, Building Talent, Fostering Collaboration and Strategic Thinking. Participants have the opportunity to collaborate across OCBC Group, harness one another's strengths and sharpen their strategic thinking. As at end-2021, there are a total of 232 participants in the programme.
DARE Programme: DARE is a core Leadership Programme that aims to build key Leadership Competencies through an exploratory leadership journey. The programme focuses on self-leadership and collaboration and prepares participants for leadership roles by increasing their exposure to global issues that impacts the business. As at end-2021, there are a total of 201 participants in the programme.
INSEAD EDP: Since 2007, we conduct an annual Executive Development Programme in partnership with INSEAD for employees who are Vice President (or equivalent) level to prepare them for senior positions. To date, there are 480 participants. The programme aims to open the minds of the participants on the business environment & strategy and encourage them to venture beyond their specialised areas to think enterprisingly and lead differently in the new normal. This year, the programme is curated to ensure a greater focus on 'Sustainability' and included a new topic on 'Customer Value Creation through Data Analytics'. Also, instead of the overseas immersion, virtual guest speakers' series were organised between Module 1 and Module 2.
Graduate Talent Programme: A 2-year programme designed with a series of structured training and group mentoring to groom the future leaders of the Bank. One of the key highlights include a Regional Week where Graduate Talents across seven entities in Asia Pacific region gathered to learn, grow and network. The last run involved 82 graduate talents across the region.