1 Jun 2020 |

Consumer Banking
OCBC Bank surveys 1,000 Singaporeans to assess financial impact of COVID-19 on Singaporeans
The OCBC Financial Impact Survey for COVID-19 points out gaps in financial planning and knowledge during a crisis
The OCBC Financial Impact Survey for COVID-19, to measure the financial impact on Singaporeans during the global pandemic, was conducted in mid-May. The bank surveyed 1,000 Singapore and PR working adults between the ages of 21 and 65 across different age groups and income levels to represent the Singapore population, about 1.5 months into the Circuit Breaker period.
Unsurprisingly, the virus has hit many hard as it has across the globe. Nearly half (47%) of those surveyed have experienced a dip in income, such as through wage cuts, being forced to take no-pay leave or a reduction in commission earnings, and a similar proportion (46%) are worried about losing their jobs despite extensive government support. However, what was less anticipated was the extent to which the pandemic has caused many Singaporeans to panic and forgo the discipline and consistency critical to ensuring their financial health in the long run.
Throughout history, crises have come and gone, but the impact of the financial decisions one makes in troubled times go beyond those few years. OCBC Bank seeks to highlight the gaps in Singaporeans' financial knowledge and provide timely tips by its wealth experts on how to move ahead. It has also roped in human resource specialists to guide Singaporeans who are navigating their careers in this difficult time. Together, the bank hopes to deliver on its brand promise to be Simply Spot On.
The top five gaps in financial planning and knowledge in a crisis are:
1) Reducing investments
Among those who have invested, one in two (54%) are worried about their portfolio, with 40% saying they intend to reduce their investments. 16% said they will reduce by more than 20%.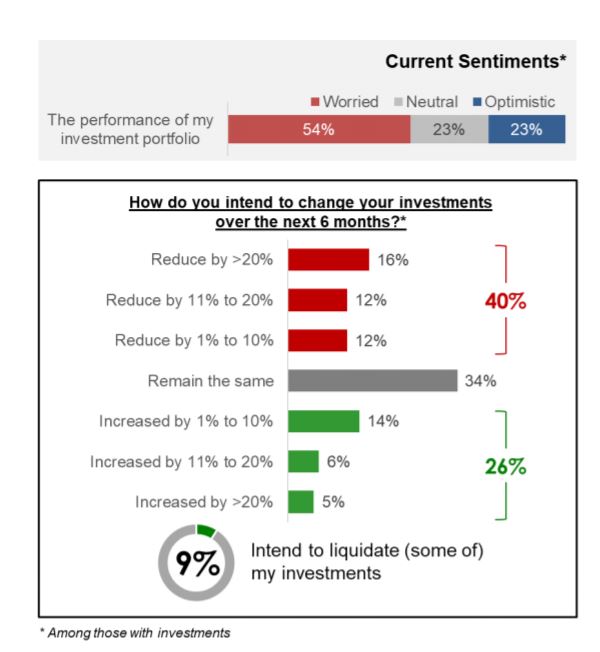 2) Stopping or reducing funds for retirement
27% of those with financial plans said they have stopped setting aside or even reduced their funds for retirement. A third (32%) of the sandwiched generation - those between the ages of 40 and 54 and many of whom must take care of both young children and aging parents – said they have cut down on such funds. In stark contrast, 23% of those in their 20s with a retirement plan have put aside more money for this goal during this time of uncertainty.

3) Reducing their savings
55% of those surveyed said they have reduced their savings with 22% saying the reduction is more than 20%.
4) Not having enough emergency savings
Only 30% can sustain themselves for more than 6 months if they were to lose their job now. 18% of them have enough savings to cover only up to one month of expenses.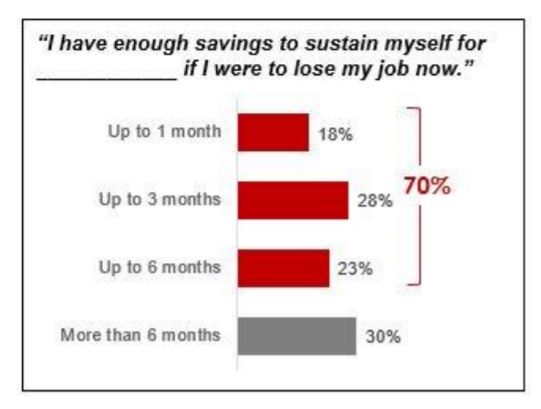 5) Not having enough insurance
41% are worried if they have enough insurance coverage with 47% of Singaporeans aged between 40 and 54 the most concerned.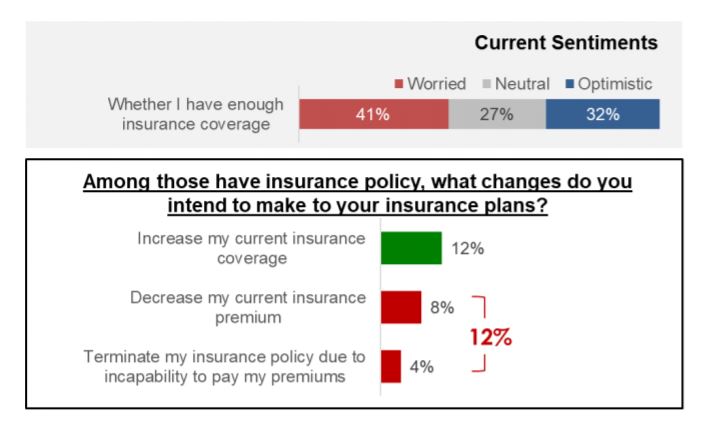 Singaporeans are also taking actions to prepare for the future
Known to be a hardworking lot of people, many Singaporeans are, however, taking steps to future-proof themselves. One in two (53%) are attending more online courses than before, and three in five (61%) are working harder than before the virus hit with more than half of them doing so to keep their jobs. About a third (35%) intend to take or have taken on a second job.
One group stood out for their optimism and hustle – those in their twenties. For example, 64% of this group said they were taking up more online courses, compared to an average of 53% across all the age groups.
Ms Tan Siew Lee, OCBC Bank's Head of Wealth Management Singapore, said: "It is encouraging that some are doing the right thing to boost their financial health, by continuing to save, spending prudently and making sound investments according to their risk appetite and financial circumstances. But we also hope that those who are cutting back on these aspects, which are crucial to building a nest egg for retirement, will not despair."
"Events such as the current COVID-19 crisis, like SARs and the Asian Financial Crisis, will pass. If you are currently experiencing discomfort from the situation, take the opportunity to learn from the experience and do not give up," she said.
To help narrow the gaps in financial planning and understanding in a crisis, OCBC Bank has launched a series of videos featuring its employees, who share their experience going through previous crises, and its Wealth and Human Resource experts, who provide tips on how to make the most out of the current one.
Ms Koh Ching Ching, OCBC Bank's Head of Group Brand and Communications, said: "The COVID-19 outbreak has caused unprecedented economic impact on many people. Yet, like past crises, the current one will eventually go away. Crisis or not, good financial discipline and planning are important as they have long-lasting impact.

That's why we decided to conduct this survey during the Circuit Breaker to understand how and what Singaporeans do with their finances during the crisis. By truly understanding their needs, our wealth and human resource experts can provide targeted advice to help them move ahead. It is very much part of our brand DNA to be simply spot on."

OCBC Bank will conduct its second annual Financial Wellness Index survey in the later half of the year. The Index, launched in 2019, helps to measure the financial health of Singaporeans comprehensively. The results of the second Index survey will also capture the sentiments of Singaporeans during this outbreak. The more targeted OCBC Financial Impact Survey for COVID-19 may be done again in the early part of 2021 to monitor the progress of the impact of the crisis on Singaporeans.
Annex: OCBC Financial Wellness Impact Survey for Covid-19 Report