31 July 2019 |

Consumer Banking
OCBC Bank is first in Singapore to enable cash withdrawals at ATMs using QR codes
OCBC Bank customers no longer need an ATM card and PIN to withdraw cash from 655 OCBC ATMs in Singapore - they can simply scan a QR code on the OCBC Pay Anyone app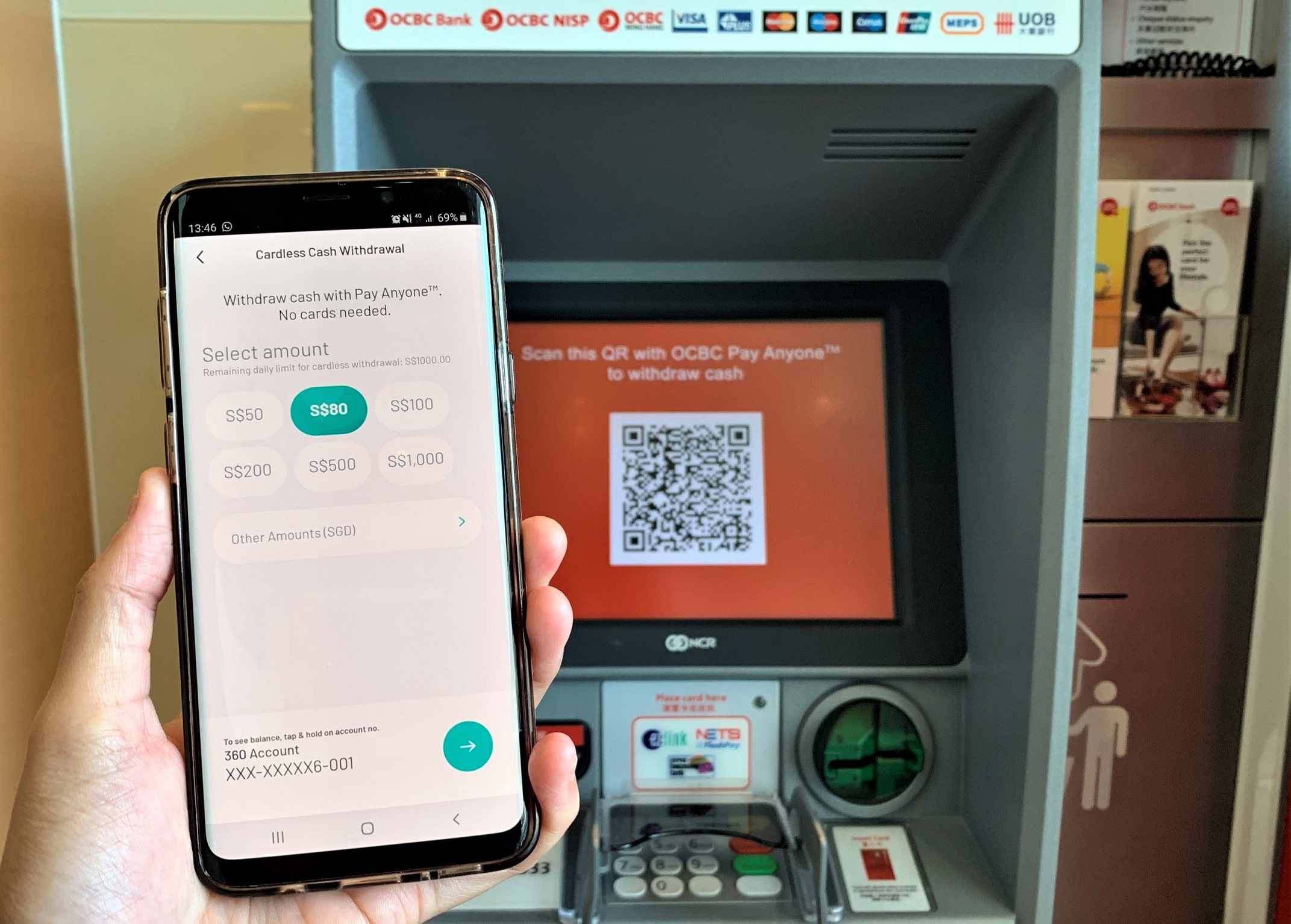 OCBC Bank customers indicate on the OCBC Pay Anyone app the amount they want to withdraw from the ATM
Singapore, 31 July 2019 – The ranks of OCBC Bank's digital customers – those who used mobile banking at least once in the last three months – may have grown by 25 per cent since last year. Mobile banking usage may have tripled.
Yet despite the push for a cashless Singapore, 3 million cash withdrawals are still being made each month at OCBC Bank's ATMs – unchanged from a year ago. From today, however, this old-line banking activity has been made a little more 'digital': OCBC Bank customers can withdraw cash by just scanning a QR code using the OCBC Pay Anyone app, then authenticating the transaction via fingerprint, faceprint or mobile banking login credentials.
From 80 seconds previously, an ATM cash withdrawal at most OCBC Bank ATMs can now be completed in under 45 seconds. As importantly, using a QR code instead of keying in a PIN is more secure because biometric authentication can be chosen, a more robust security feature than a PIN number that can be revealed or stolen. Further, a physical ATM card can be skimmed while a mobile device cannot. Even if the customer's mobile device falls into the wrong hands, access to his or her bank account can be barred as the customer's fingerprint or faceprint would be required.
"As we accelerate our drive to go cashless, we also recognise that ATMs are still an essential and frequently used touchpoint for our customers. Increasingly, more of these customers are getting familiar with and scanning QR codes to pay, and we wanted to bring them the same ease, speed and security when they get cash at our ATMs. We believe this completely reimagines a core service for which customers engage with the banks and will move the needle in making QR code payments mainstream in Singapore," said Mr Aditya Gupta, Head of Digital Business, Singapore and Malaysia, OCBC Bank.
To make a QR code cash withdrawal, customers tap the "Withdraw cash with OCBC Pay Anyone" option on the bottom left of the ATM home screen. A QR code appears in the centre of the screen, which customers simply need to scan after logging into the OCBC Pay Anyone app. A menu of cash withdrawal amounts will appear on the app. Customers tap on the amount they wish to withdraw, or click "other amounts" to manually input an amount. For customers with multiple accounts with OCBC Bank, they can choose the bank account to withdraw from at the bottom of the screen. For the next withdrawal, the customer's last-withdrawn amount and chosen bank account will be automatically called up and pre-populated. Finally, tapping the arrow at the bottom right of the app screen will cause the ATM to dispense the cash. The service is available on all OCBC Bank ATMs except the 22 new ATMs which accept both coin and cash deposits.
The OCBC Pay Anyone app is a comprehensive payments app that enables customers to make direct QR code payments to merchants, and peer-to-peer e-payments leveraging QR codes, social media, or a recipient's mobile number and PayNow. The app was developed in-house by OCBC Bank's mobile development team, who also designed and built the QR code technology for ATM cash withdrawals for the OCBC Pay Anyone app in under five months.
"OCBC's QR code cash withdrawal service is a welcome initiative. The simple app design, leveraging the existing OCBC Pay Anyone app which I'm already using, coupled with the speedy cash dispensing, has made my cash withdrawal experience really smooth and efficient. I will never need to bring my ATM card out now. I really love it," said Bobby Ng, 34, an OCBC Bank customer who works in operations. Bobby was among the first 1,000 users of the new service within the first week of the service being launched at close to 300 ATMs.
To withdraw cash at any OCBC ATM using a QR code:
Step 1: Click on "Withdraw cash with OCBC Pay Anyone" on ATM screen
Step 2: Log into OCBC Pay Anyone app
Step 3: Scan the QR code on the ATM screen
Step 4: Select the amount to withdraw or key in your preferred amount
Step 5: Cash is dispensed from ATM

Social media assets
| | |
| --- | --- |
| | Suggested Facebook Post |