Now reading:
Sliding and springboarding towards success
Sliding and springboarding towards success
We proudly congratulate Jaanvi Chawra who has been honoured as one of the women lauded in the Singapore 100 Women in Tech (SG100WIT) 2021 List for her contributions and achievements as a woman making a positive impact in technology.
Jaanvi Chawra, Vice President at the Digital Office, joined OCBC in March 2021 and is at the centre of leading some of our key digital transformation initiatives. She is a return-to-work mother after a three-year hiatus.
Firstly, congratulations, Jaanvi! What is Singapore 100 Women in Tech (SG100WIT) 2021 and what does it mean to you?
Thank you!
SG100WIT is a joint initiative by Infocomm Media Development Authority of Singapore, MediaCorp, Singapore Computer Society and SG Women In Tech. It recognises deserving female ICT (Information Communication Technology) professionals based in Singapore who have inspiring stories that encourage others to join the tech industry.
Personally, this honour is humbling in a lot of aspects. It is a validation of my core beliefs and values that serve as my north star. If you go through my career and life, it is more like a jungle-gym rather than a straight line. Obviously, as a human, I've had doubts. My family and I had to make sacrifices. I hope that by sharing my challenges and successes, I'm able to motivate others to join the tech sector and OCBC.
What were your growing up years like?
My jungle-gym journey has been a whirlwind ride! While I've had fun at every stage, I've gone through steep learning curves, conquered fears, struggles and challenges. However, life would have been boring without these added spices.
I was born to a modest family in Mumbai. My parents could barely make ends meet. My earliest memory is of my father selling handkerchiefs on a roadside stall. Mom grew up in a house that had aluminium walls. Though I was aware and grounded in the reality of my modest upbringing, my parents trained me to set my vision high and gave me tools to forge my path. I went to the best school they could afford. Their support, in the form of trust and independence, allowed me to begin working at 16 and leave home at 18.
As a child, during my summer holidays and downtime, I learned life-skills such as stitching, typing, fashion designing, self-defence, dancing, stock trading, and interning at a law firm—essentially, whatever caught my fancy. Today, each experience is part of my Jugadu toolkit, as we call it in India, which loosely translates to "fixer or builder".
While my parents gave me wings, I've been fortunate to have a husband, Anand Chawra, who is the wind beneath them. They did everything possible to allow me to chase my dreams from the small Mumbai suburb of Ghatkopar, through four countries, to the halls of Harvard.
How did you get into ICT in the first place?
My lifelong love affair with tech started with Windows 3.1. As an undergrad, I was one of the earliest users of the Internet in India and among the first 500 to be given student accounts at launch. I bought my first PC in 1995 and the world exploded in our modest suburban home. I made the best of that opportunity. I learned to code, hack and create graphics. All this was when Yahoo! had just launched and Google and Hotmail did not exist!
In my work life, I started as an engineer with Tata Interactive Systems (TIS) and in less than six months, moved into project management. There, I met my first mentor, Sachin Torne, who taught me about building relationships with teams, setting work-life balance and to learn to take pauses rather than quit.
From TIS, I moved to Sydney, Australia. There, I began my foray into Business-Tech, driving business transformation and change management across various industries such as aviation, telecom, construction and the public sector. After a decade, I took the entrepreneurial leap and ran a start-up. This experience added extra dimensions to my skills such as e-commerce, tech, sales, marketing, IP trademarks and manufacturing across five countries.
Between TIS and OCBC, I took two sabbaticals. In between those two sabbaticals, I worked for Boston Consulting Group (BCG), setting up Digital BCG across APAC. With Stefan Mohr as my mentor, I learnt the finer nuances of layering Tech with individual relationships and identifying the toolkit of every individual and playing to that strength.
You took two career breaks. Why did you do that at the peak of your career?
Our priorities change from time to time, and we need to make decisions based on the situation and what is right for us. From my various mentors, I've learnt to consider decisions on a sliding scale rather than on an either/or weighing scale. This means sliding to a given priority depending on the needs of the time. This ethos still drives my values and beliefs, and my career breaks meant I could make the calm-headed decision to slide towards family priorities until I was ready to slide it to the middle of the scale.
I moved to Singapore in 2013, when my daughter was six weeks old. I had sold the start-up and took my first sabbatical. I told myself that I'd only return to work when my daughter was able to express her feelings and needs. That break was about 14 months.
Then came the second sabbatical, when my very vocal five-year-old daughter categorically asked for my dedicated time! I made a conscious decision to move the sliding scale to the family side. This time, I did not set a deadline. I told my daughter that I'd return to work the day she was ready to let me go. I did with her what my mom did with me during my childhood. I exposed her to many play activities. We bonded over pottery, guitar, coding and painting. She became busier and after three years, we were both ready to pursue our individual interests.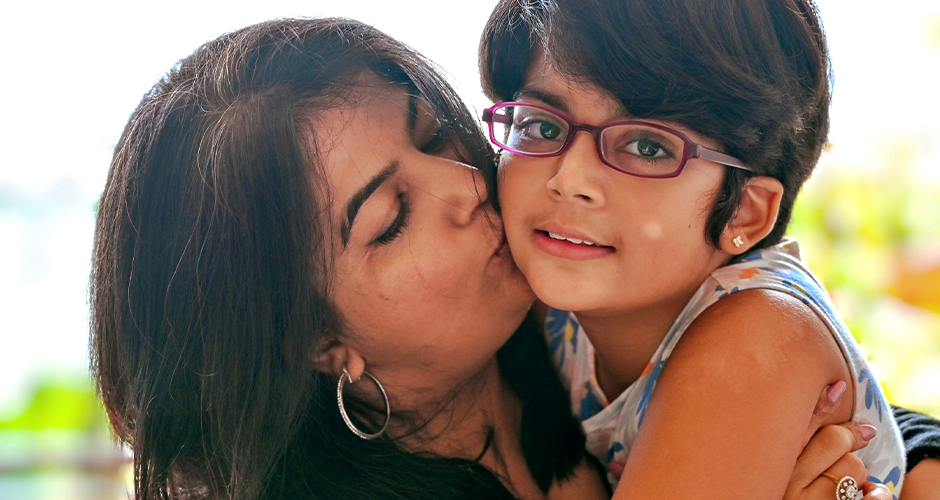 How were you able to "slide back" so successfully after three years?
Growing up with the freedom and belief to not place limitations on myself and to trust my decisions made it easy to slide back to the corporate gig. My favourite tattoo is that of a Phoenix with the text, "Still I rise!" and I did just that. I slid back and jumped straight onto the springboard!
My flight has taken many interesting turns and I alone am not the architect of my success. My husband Anand, my daughter Sky, my parents, my girl tribe and many more have supported my choices through the years. When I left my job at Boston Consulting Group (BCG) to enrol in Harvard Business School to study their General Management Program in Regional Leadership, my parents flew over and took care of my daughter for five months. My wonderful husband decided not to travel during that period. Their dedicated support motivates me to do my best!
A strong value Anand and I share is that no one gets left behind! As we've spread our wings, we've brought our family and work family with us. As we succeed, we desire our clan to succeed.
So what was your initial experience having slid back and "springboarded" back to work? Why OCBC?
OCBC was not on my radar, having never worked for a bank. That is, until Prashant Garg, a very dear friend, spoke to me about the Bank's ambitious digital transformation and platform strategy. The vision of building one of Singapore's largest in-house development teams, to transform Digital Banking and to make wealth and banking accessible to everyone excites me. It is thrilling to daily push the boundaries of tech by enabling a seamless customer journey.
I had apprehensions but these quickly disappeared as I got into gear. I slid to the middle of the sliding scale, balancing family and career and with no feelings of guilt on either end.
What were your initial priorities at OCBC?
I was new to the banking industry, so I spent the first few months absorbing like a sponge and gearing up my team, which was about 90% new as well.
My North Star mantra is "People First" and this came into play. I absolutely love working with my team and strongly believe in the twin formula of developing teamwork and bringing out the best in every individual. It's both individual and team—it's not an "either/or". I believe we should give everyone the space to grow their own "strength toolkit" by helping them set and achieve their individual benchmarks. Clear individual and team goals drive organisational change and productivity.
As you can guess, I am also a firm proponent of building fluid work-life balance where each can take priority depending on the stage in life rather than trying to balance them all at one go. It's that sliding scale rather than a weighing scale again!
Do you have any advice for women wishing to pursue a career in ICT?
Go for it. Take a chance. It's worth it! It's very exciting and we're just scratching the surface of how transformational technology can be used both in our personal and professional lives. Technology is the silent revolution. Look at how our daily work and home chores have transformed in the past two years. Yet, even more exciting changes are on the way.
We're at the precipice of infinite possibilities. Over the last two decades, we have gone from landline phones to holograms. We are just getting started! So why not ride the wave as a technology enabler or creator and take part in building instead of being just a consumer—or worse, collateral damage. We need more women in this space so that the world we build fits us better! Plus, diversity of thought is an imperative to build a world that has not yet been imagined. And frankly, we need more role models.
So to all women, I say, "Slide on in and springboard your career in ICT!"
---