Now reading:
Using data for good: Food from the Heart
Using data for good: Food from the Heart
Food from the Heart (FFTH) is an IPC-status food charity that feeds the needy in Singapore. It is also one of OCBC Bank's charity partners. Along with its many food distribution projects, FFTH has set up two community shops that are essentially mini marts where the beneficiaries can shop for free. Each month, low-income households under the care of FFTH can visit the shop and collect a maximum of 12 food items including staples, canned food, bread spreads, biscuits, cooking oil and condiments.
The OCBC Group Data Office team contributed their expertise to help FFTH understand the shopping habits of their beneficiaries.
The journey with FFTH
A few team members from OCBC visited the shop on Mountbatten Road and had a chat with the staff to better understand how the programme works and the insights they were looking for. Some things they wanted to find out were:
the number of beneficiaries who use all their credits monthly,
if the household composition affects the items chosen,
if the beneficiaries' selections change during festive seasons,
the most popular products,
and which products were often bought together.
When beneficiaries come to shop, all the products they choose are scanned during checkout, and this data is collected. However, FFTH lacked the tools and expertise to answer the above-mentioned questions. To fix this, we built a self-service dashboard in Power BI to enable them to answer their immediate questions and obtain future insights.
Based on the insights generated, FFTH can now identify interesting trends such as the most popular items at different times of the year. This has been useful in sourcing relevant donations from partners. Through the system, they can also identify current visitors who have stopped visiting the shop, allowing them to perform proactive outreach to ensure that everything is ok. The data also allows the identification of customers who have unhealthy diets so that FFTH can recommend healthier options (such as more vegetables or fish) for their future visits.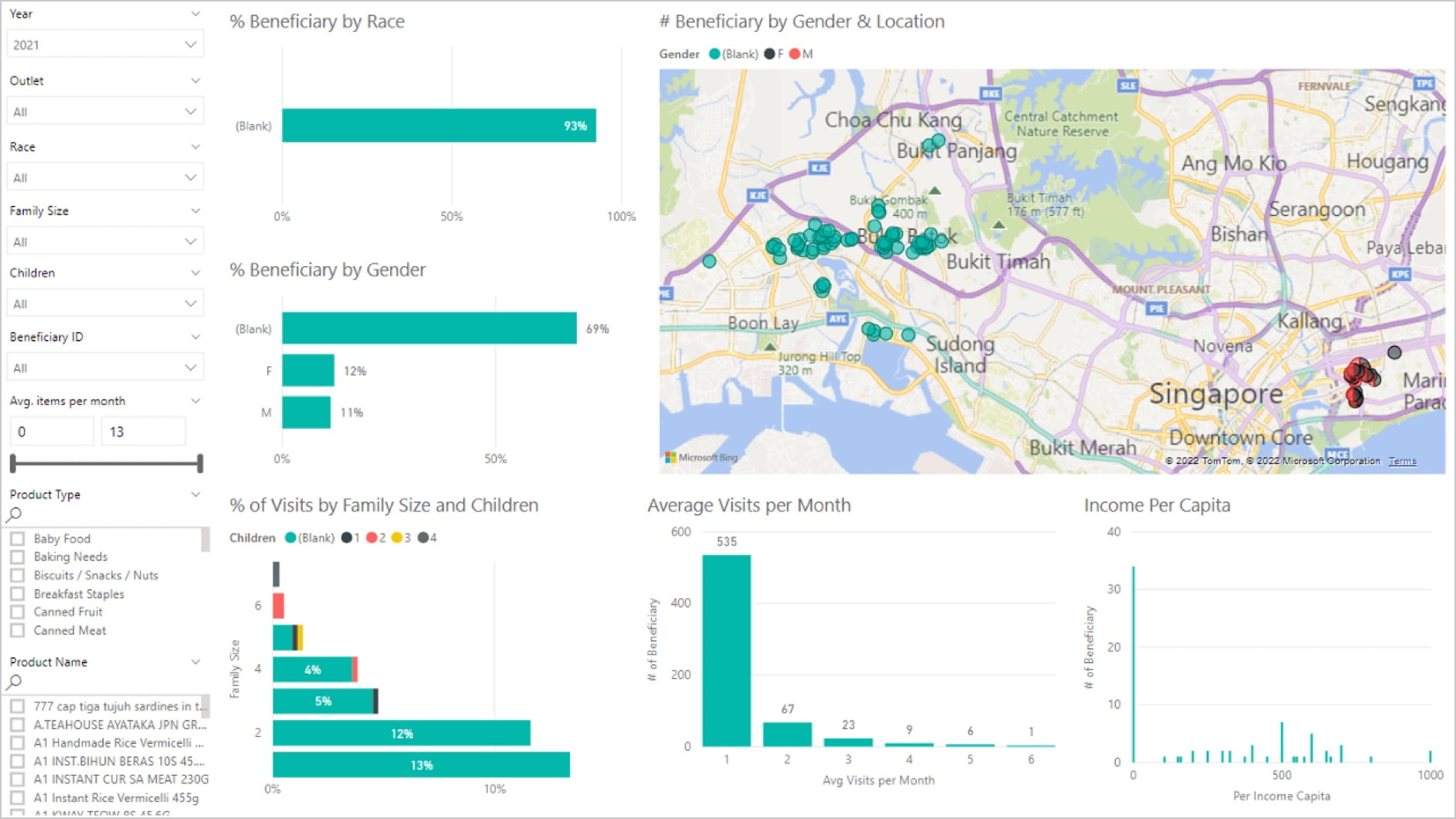 The partnership with FFTH is a fantastic example of using data for good to benefit the community. Corporate social responsibility doesn't always have to be about donating money. Sometimes, donating skills and providing self-implementable solutions can be equally valuable to the charity sector.
"We are thankful for the support from the OCBC Group Data Office team. Their data analysis skills and the creation of the dashboard in Power BI have helped us find new ways of giving better."
- Ms Sim Bee Hia, CEO, Food from the Heart
---