Deposits
Meet your saving goals and enjoy attractive interest rates with our deposit accounts.

Day-to-day banking
OCBC 360 Account
Earn up to 3.20% per year in bonus interest on your first S$70,000 savings when you credit your salary to the account and transact, insure, and invest with it.
Learn more
OCBC Premier EasiSave Account
Earn up to 0.25% per year and enjoy the flexibility of cash withdrawals with this chequing account.
OCBC Premier Global Account
Earn up to 1.50% per year with the flexibility to save and transact in 8 major foreign currencies, namely USD, AUD, NZD, CNH, CAD, EUR, GBP, and HKD.
Learn more

Saving
OCBC Premier Dividend+ Savings Account
Grow your savings with no limits, earn interest rates of up to 1.65% p.a. for months when you save and don't withdraw.
Learn more

Time deposits
Enjoy attractive interest rates with a time deposit account in your preferred currency.
| Currency | Tenure | Interest rate(per year) |
| --- | --- | --- |
| Singapore dollar | 12 months | 1.85% |
| Australian dollar | 3 months | 1.50% |
| | 6 months | 1.60% |
| | 12 months | 2.00% |
| U.S. dollar | 3 months | 2.50% |
| | 6 months | 2.65% |
| | 12 months | 2.80% |
The placement amount must be in fresh funds only (fresh funds refer to funds not transferred or withdrawn from existing OCBC Bank deposit accounts and re-deposited or funds in the form of OCBC Bank cheque/cashier's order/demand drafts).
To qualify for the above mentioned SGD dollar promotion, a minimum placement amount of S$50,000 is required; for the foreign currency promotion, a minimum placement amount of 5,000 in respective currency is required. Maximum placement amount is capped at S$999,999 for both SGD and foreign currency placements.
All promotional interest rates and tenors are determined by OCBC Bank in its sole and absolute discretion from time to time without prior notice.
Insurance
Plan for your retirement and leave a legacy for your loved ones without compromising your lifestyle.

Retirement planning
GREATLife Generation
This regular premium whole life insurance plan gives you guaranteed monthly income for life to supplement your desired lifestyle.
Learn more
MaxRetire Income
Pick a later payout age for higher monthly retirement income. Choose to pay premiums only for the first 10 years or until 60 years old (age next birthday).
Learn more

Legacy planning
PremierLife Generation II
This participating single-premium whole-life plan lets you enjoy guaranteed income for life while leaving a lasting legacy.
Learn more
Universal Life
We offer universal life insurance plans from various providers such as The Great Eastern Life Assurance Company Limited, Transamerica Life (Bermuda) Ltd. and HSBC Insurance (Singapore) Pte Ltd. to meet your wealth legacy needs.
Learn more
Investments
Maximise your wealth with a wide array of investment options for different risk profiles and portfolio types.

Unit trusts
We only recommend funds that are carefully selected and guided by the views of the OCBC Wealth Panel:

Treasury products
Equity-linked convertible investments
Equity-linked convertible investment is a short-term capital-at-risk equity-linked investment that gives you the opportunity to purchase shares of a selected company at a discounted price at maturity of the investment, relative to the price prevailing on the day of the investment. This investment potentially pays higher yields but carries the risk of market movements of the underlying share price.
Structured notes
A structured note is a derivative investment whose return is linked to the market performance of its underlying assets or securities. The common underlying asset may include market indices, equities, interest rates, bonds, mutual funds, and foreign currencies exchange rates.
Bonds
Bonds offer the opportunity to diversify your investments and earn better yields than bank deposits. They offer a steady stream of passive income from periodic interest payments, typically on a semi-annual basis.
Learn more
Dual currency returns
Such currency-linked investments let you capitalise on movements in currency markets for higher returns, if you're willing to take a risk on the exchange rate between two currencies.

Equities
Cash Trading Account
Trade with an OCBC Securities trading account and have the world markets at your fingertips. Access to more than 15 securities exchanges gives you a global advantage, and direct market access to 10 markets allows you to capture opportunities with speed, security, and control.
Financing
Get customised and holistic solutions for important investments, whether you're purchasing a property or refinancing an existing loan.

Home financing
Solutions include a home loan to finance the purchase of your property and a term loan to convert your properties' appreciating value into accessible credit. Finance the purchase of land, construction of your home, and purchase of overseas property in London, New York, Tokyo, and Australia.

Portfolio financing
Multiply your investment power by borrowing against the value of your investment portfolio, and enjoy the flexibility to borrow in local currency (SGD) as well as foreign currencies like United States Dollar(USD), European Dollar(EUR), and Japanese Yen(JPY). Pledge a wide variety of assets, including deposits, Singapore stocks, bonds, and unit trusts, as collateral.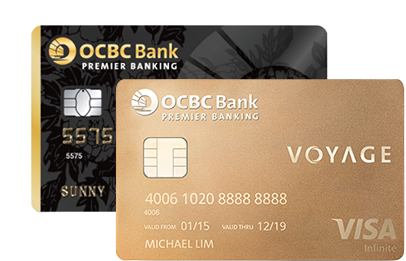 Credit and debit cards
Credit and debit cards
Designed for the discerning traveller, the OCBC Premier VOYAGE credit card allows you to earn 2.3 VOYAGE Miles with every S$1 spent in foreign currency and 1.6 VOYAGE Miles with every S$1 spent on local retail spend. Redeem them for free flights, without blackout dates. In addition, earn 1% rebate on spending overseas and online with the OCBC Premier World Elite debit card.
Get in touch
Get in touch