14 Places to Learn About Singapore's History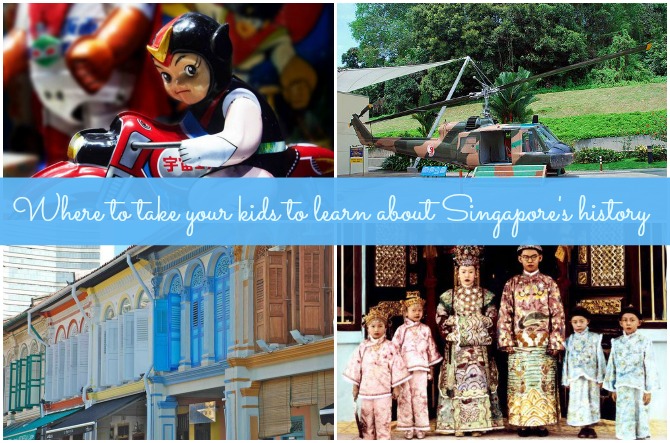 For such a small country, Singapore has done remarkably well over the years, ably guided by the vision of the late Lee Kuan Yew, a statesman admired all over the world.
The "little red dot" as Singapore is fondly called, is not just about modern high rise buildings and metropolitan living. We also have a remarkable history that weaves the stories of the various cultures and nations that make up modern Singaporean society.
It's important for children to know about the history and culture of their country. This gallery is all about where you can take your kids in Singapore to learn about their heritage.
1) The National Museum of Singapore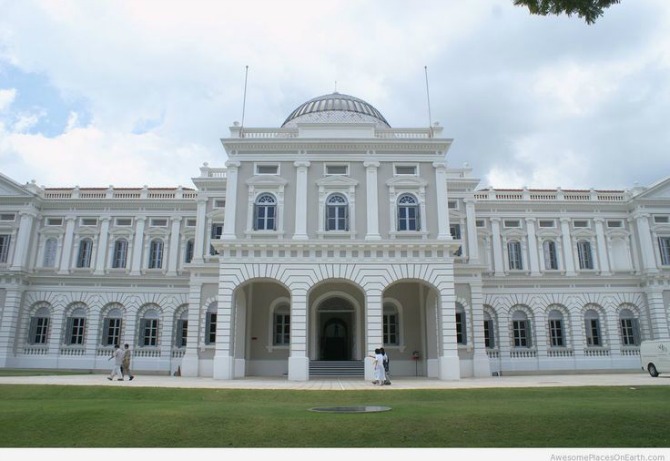 The National Museum of Singapore is the ideal place to teach kids of all ages about Singapore's history.
They have various kid-friendly exhibitions and activities (e.g., Masak Masak 2015, Singapura: 700 years) spread throughout the year.
This centre carries the museum's library collection of about 15,000 volumes of books, rare books, periodicals, etc., all with an emphasis
Image credit: Pinterest
2) Reflections at Bukit Chandu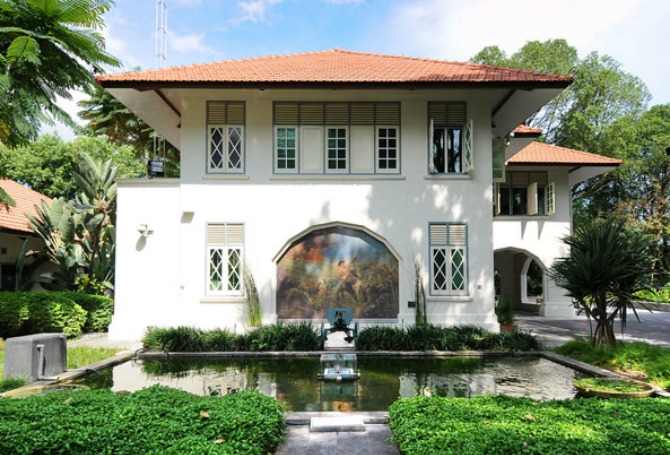 Another great place to teach your kids some local history is Reflections at Bukit Chandu.
This restored black and white colonial bungalow is now a World War II interpretive centre that is close to the site of the Battle of Pasir Panjang. In this battle, 1,400 from the Malay Regiment bravely defended the last stand against a 13,000 strong Japanese army.
The centre houses several artifacts, exhibits, and multimedia that take you through Singapore's war experience. You can also enjoy the stunning architecture of the bungalow.
Where: 31-K Pepys Road, Singapore 118458
Phone: 6375 2510
Operating hours: Tuesday to Sunday, 9am to 5:30pm
3) Asian Civilisations Museum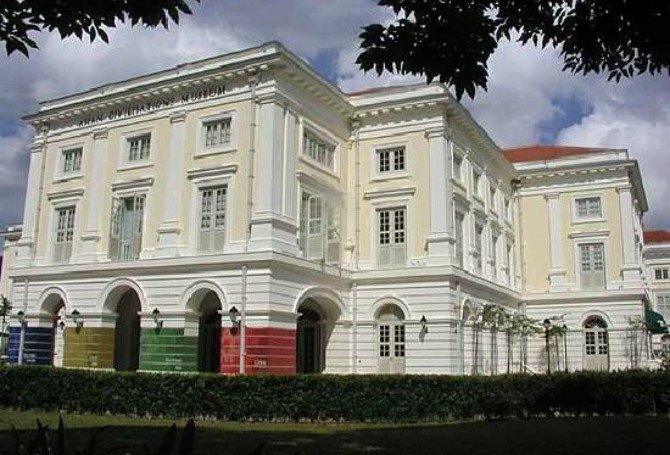 The Asian Civilisations Museum specialises in the history of China, Southeast Asia, South Asia, and West Asia, from which the diverse ethnic groups of Singapore trace their ancestry.
It has an amazing collection of galleries and exhibits and offers many fun activities and programmes for both children and their families.
Where: 1 Empress Place, Singapore 179555
Phone: 6332 7798
Operating hours: Saturday to Thursday, 10am to 7pm; Friday, 10am to 9pm
Admission: Free
4) Chinatown Heritage Centre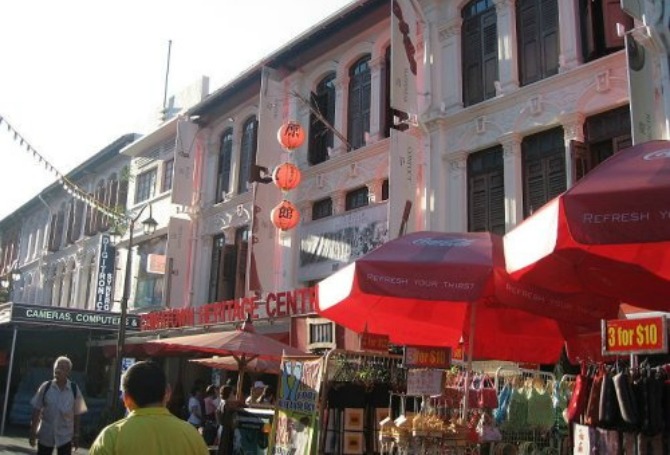 Catch a glimpse of what the lives of Chinatown's early residents were like at the Chinatown Heritage Centre.
Where: 48 Pagoda Street, Singapore 059207
Phone: 6534 8942
Image credit: Pinterest
5) Singapore Discovery Centre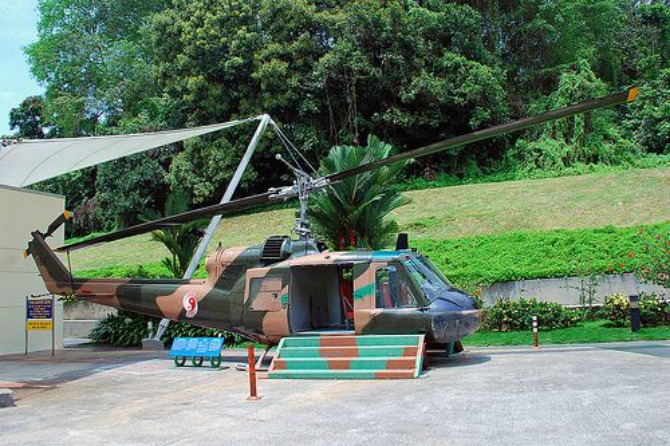 The Singapore Discovery Centre is an "edutainment" and tourist attraction, which includes exhibits displaying the history of Singapore as well as insights into the future.
Some of the exhibits include a storytelling interactive experience showing Singapore's recent history; the theatrical "Singapore Today" shows what life was like in late 20th century Singapore; interactive quizzes let you discover facts about Singapore; and the visually dramatic "future" exhibit shows that war and peace are two sides of the same coin. Don't forget to head outdoors, where there is a playground and an aircraft display!
Where: 510 Upper Jurong Rd, Singapore 638365
Phone: 6792 6188
Operating hours: Tuesday to Sunday, 9am to 6pm;
6) Changi Museum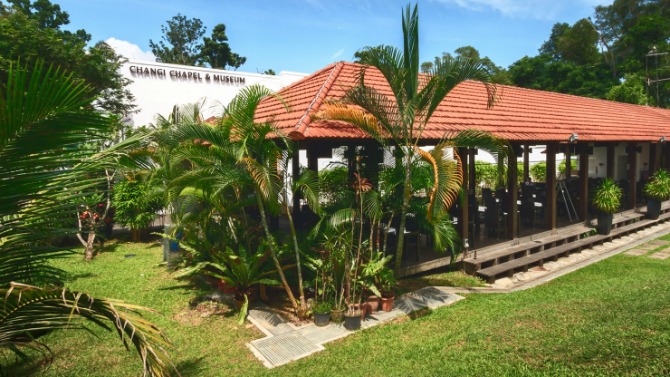 The Changi Museum provides an emotional exploration of Singapore's wartime history during the Japanese occupation – ideal for older kids who are looking to learn what happened during this period.
The museum has a collection of paintings, photographs, and personal effects donated by former prisoners of war (POWs). Look out for a series of paintings and sketches by a POW named William Haxworth which provide valuable insight to our rich history.
7) Images of Singapore LIVE, Sentosa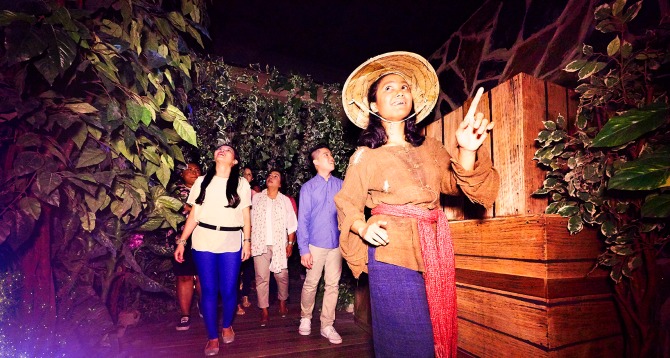 Sentosa is not just about exciting rides – you can also teach your whole family about the history of our country and have fun while you're at it!
Images of Singapore LIVE is an attraction that showcases Singapore's history, where you'll be guided by actors through 15 areas that weave Singapore's story. Some of these areas include a Malay fishing village, television shop, and Jubillee Cinema.
8) Heritage Trails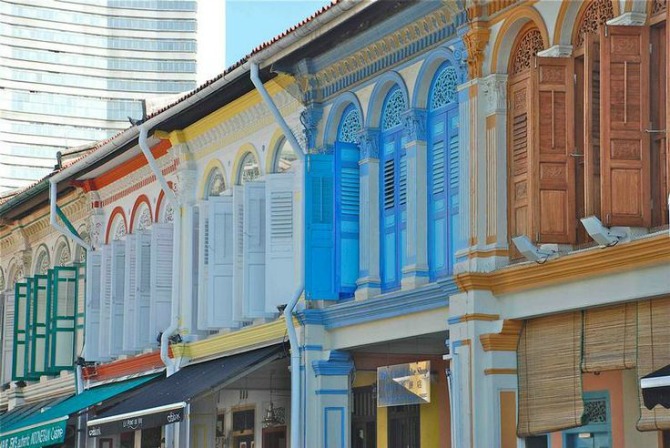 We can't think of a better way to spend a weekend with the family than exploring the many National Heritage Board heritage trails in Singapore. It's a great way to bond with your kids and experience the untold stories behind Singapore's streets and landmarks.
Here are two of our favourite trails:
1. Tiong Bahru Trail: Admire the unique architecture in the charming old neighbourhood. Tiong Bahru is also home to many quirky shops and great cafes, where you can pick up a memento or two and a delicious bite to eat.
2. Kampong Glam Trail
9) Kranji War Memorial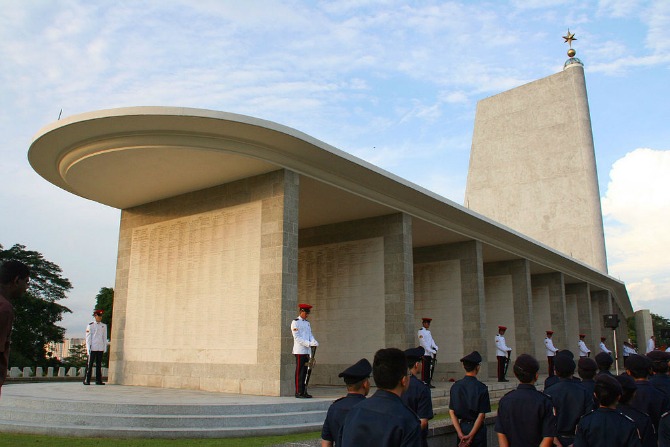 This war memorial is dedicated to the men and women from various countries who died defending Singapore and Malaya against invading Japanese forces during World War II. Here, you can see war graves, the Memorial Walls, the State Cemetery and the military graves.
If you visit the Kranji War Memorial with your kids, point out to them that it represents the three branches of the military— the air force, army and navy. The columns represent the army, which marches in columns; the cover over the columns is shaped after of the wings of a plane, representing the air force; and the shape at the top resembles the sail of a submarine, representing the navy.
Where: 9 Woodlands Road, Singapore 738656
Opening hours: Daily, 8am to 6:30pm
Image credit: Huaiwei, Wikimedia Commons
10) MINT Museum of Toys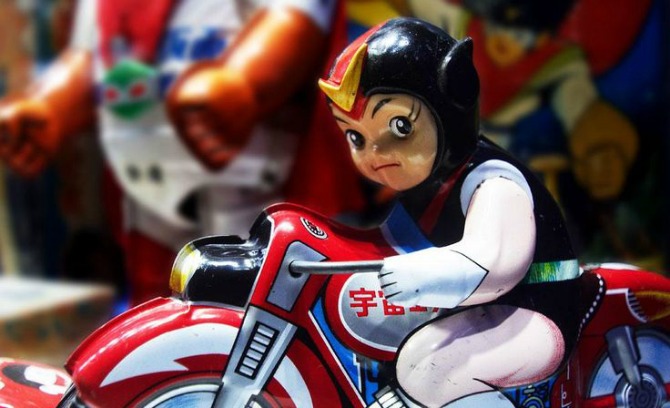 How can you not take your kids to visit the MINT (Moment of Imagination and Nostalgia with Toys) Museum of Toys?! This is the world's first purpose-built museum for toys and showcases a private collection of more than 50,000 vintage toys from over 40 countries. The collection ranges from the mid-19th to mid-20th century.
These toys reflect interesting international cultural trends and historically accurate events that have taken place over the centuries. What's more, each of them tells a different story that represents the era in which they were made.
The MINT Museum of Toys also regularly hosts fun activities for kids, usually during the school holidays. Just check out their website for details of when these events will take place.
Where: 26 Seah Street, Singapore 188382
Phone: 6339 0660
Opening hours: Daily, 9:30am to 6:30pm daily
11) Memories at Old Ford Factory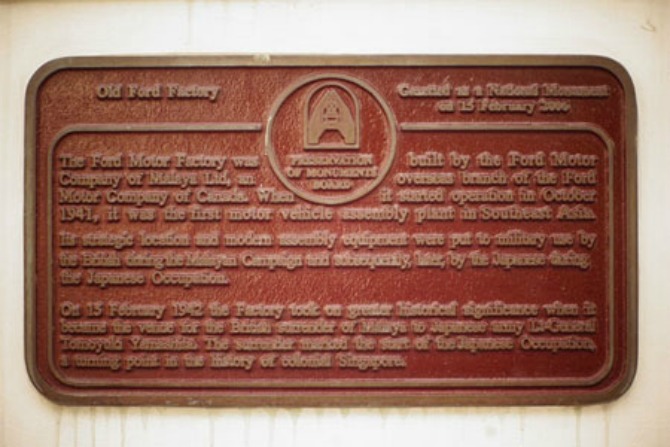 This historical building, which was the first Ford vehicle assembly plant in Southeast Asia, was also the site where the British surrendered to the Japanese.
Image credit: Memories at Old Ford Factory website.
12) Peranakan Museum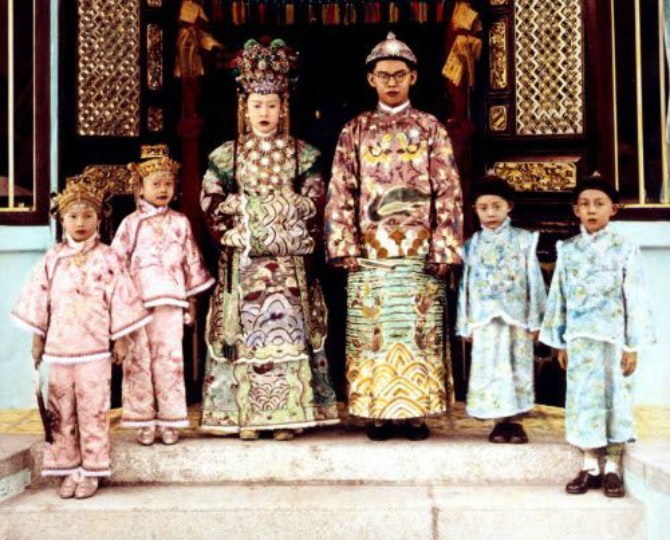 Peranakan Chinese and Baba-Nyonya are the descendants of Chinese immigrants who came to the Malay archipelago and British Malaya (now Peninsular Malaysia and Singapore) between the 15th and 17th centuries (Wikipedia).
It is quite clear that the Peranakan community is an integral part of Singapore's history and who we are today. So what better place than the Peranakan Museum to take your little kid to.
13) Singapore City Gallery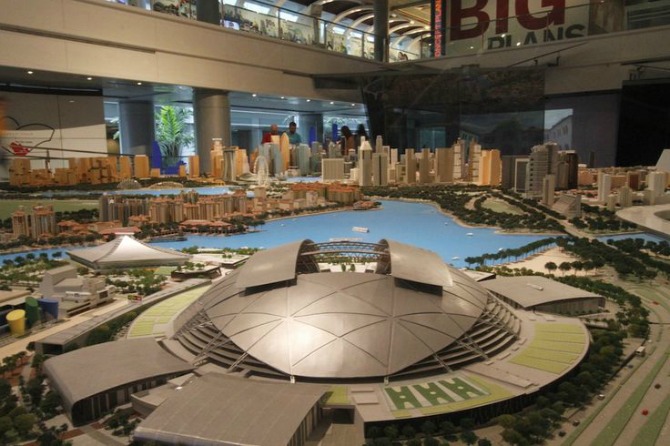 A trip to the Singapore City Gallery (formerly known as the URA Gallery) is a great way to witness Singapore's physical transformation over the past 50 years.
Don't miss highlights like the panoramic sights and sound show and the Central Area Model light and sound show. You'll also see architectural models as well as various interactive exhibits and simulations.
Where: 45 Maxwell Road, The URA Centre, Singapore 069118
Opening hours: Monday to Saturday, 9am to 5pm
Admission: Free; guided tours (11:30am), adults - $6, students and seniors - $4, Children (6 and below) - free
Website
Image credit: Singapore City Gallery website
14) Indian Heritage Centre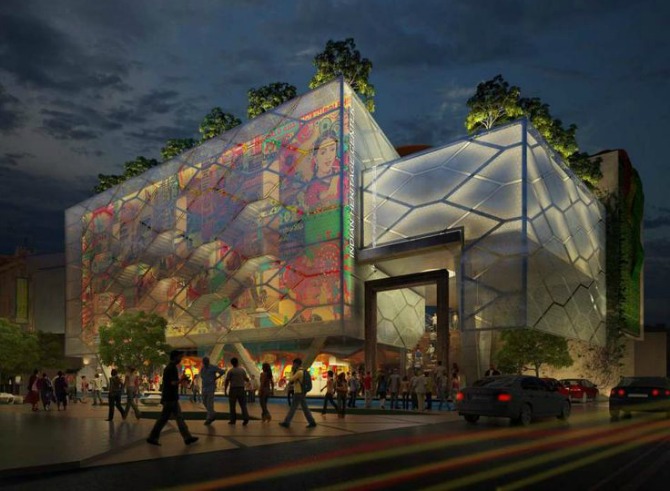 The Indian community makes up a significant component of Singapore's population and has contributed in many important ways to bring our country to where it is today.
If you want to teach your kids about India's presence in Singapore and how it is culturally and historically important, there's no better place to take them to than the beautiful Indian Heritage Centre. Here, you will also be introduced to the pioneers of Singapore's Indian community and their contribution to modern society.
The Indian Heritage Centre is Southeast Asia's first museum to focus on the Indian culture in Singapore.
Teaching Your Kid to Respect Other Cultures
Red and yellow, black and white--We're all the same with red blood coursing through our veins. How do you teach the concept of respecting a different culture to your kids? Read on to find out how.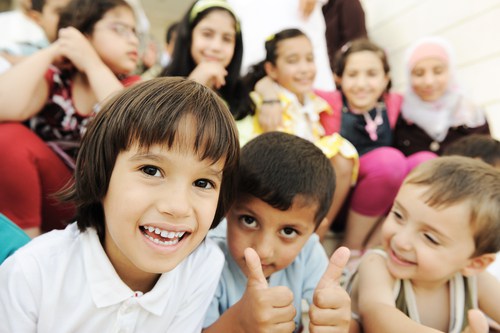 One of my daughters and her husband recently adopted my precious and beautiful grandson. He is from the mountain aboriginal people of Taiwan. His beautiful black hair, long legs and broad shoulders are amazingly like his daddy's. But his bronze skin is very different from that of my three-year-old granddaughter's, who when she saw a picture of her new baby cousin said, "He looks funny."
We are all different yet...
There will come a time when your children will be exposed to children and adults from other countries and continents. Their color, dress, habits and language will be different than what they consider normal.
These cultural differences should not be viewed as embarrassing or inappropriate by you. Instead you should view their questions as an opportunity to broaden their horizons and educate them on the differences that make us all unique and special.
...the same
It is important to teach your children that though their skin may be lighter or darker than the child sitting behind them, they are both very much alike in the fact that they both need to be loved, both need to be treated with kindness and respect and both enjoy doing all the things kids love to do.
It is important that you teach your children that cultural diversity is not a reason to exclude, demean or even bully someone. A child in Singapore is a child throughout the world.
Experience is the best teacher
When it comes to understanding and being comfortable with cultural differences, the best thing you can do is to give your children a variety of cultural experiences. This can be done by:
Visiting exhibits and various cultural events such as festivals and ceremonies
Eating a variety of foods favored in other countries
Reading about different places or origin and cultures of people you and your children come in contact with
Befriend the parents of children from other cultures in your child's classroom, sports team or dance class
Focus on the similarities rather than the differences-help your child realize that different clothes, accents, etc. don't change the fact that both children enjoy soccer or that both children struggle with spelling
Set the bar
In spite of the fact that our children test our patience and push our buttons, they look up to us. They mimic our attitudes and actions. So by being respectful and accepting of people from all walks of life, we will be teaching our children to do the same.
Supercharge Your Adrenaline on Cable-Skis!
Singapore Wake Park?! – When I first read about it somewhere on Internet, I had no clue about it. I mean what it offers, where it is located…I was totally unaware of all the details. Obviously also because it's very new; hardly a few months old. That's why I am so happy to bring you this review after visiting and loving it already
Lets explore more about it in this post.
What is Singapore Wake Park?
"Singapore Wake Park, the only cable-ski park facility in Singapore offering knee-boarding, wakeboarding, wakeskating and double-skis 'cable-style'. You can do these both in the daytime and night time any day of the week, in a safe enclosed body of water. Safety! the most important thing for parents."
Expect learning a new sport or if you already know cable-ski then get your adrenaline fix, eat well, and hang out with family and friends. People like me who would be more interested in "watching the fun" than "doing the sports themselves", there's one helluva good cafe of Singapore Wake Park where you can just chill and relax.
With a full-sized cable system and two System 2.0s, water-sports enthusiasts and riders of any level can enjoy and challenge themselves at the Park. We have introductory sessions for children and beginners, as well as obstacles for the advanced riders to push their limits.
Where is Singapore Wake Park located?
It is located in the scenic lagoon near East Coast Park. We preferred to go by the Carpark E1 route. Pretty near from there. You also check detailed info on how to get there which I have posted at the end.
First impression is the last impression! The moment we looked at it, same moment we loved it.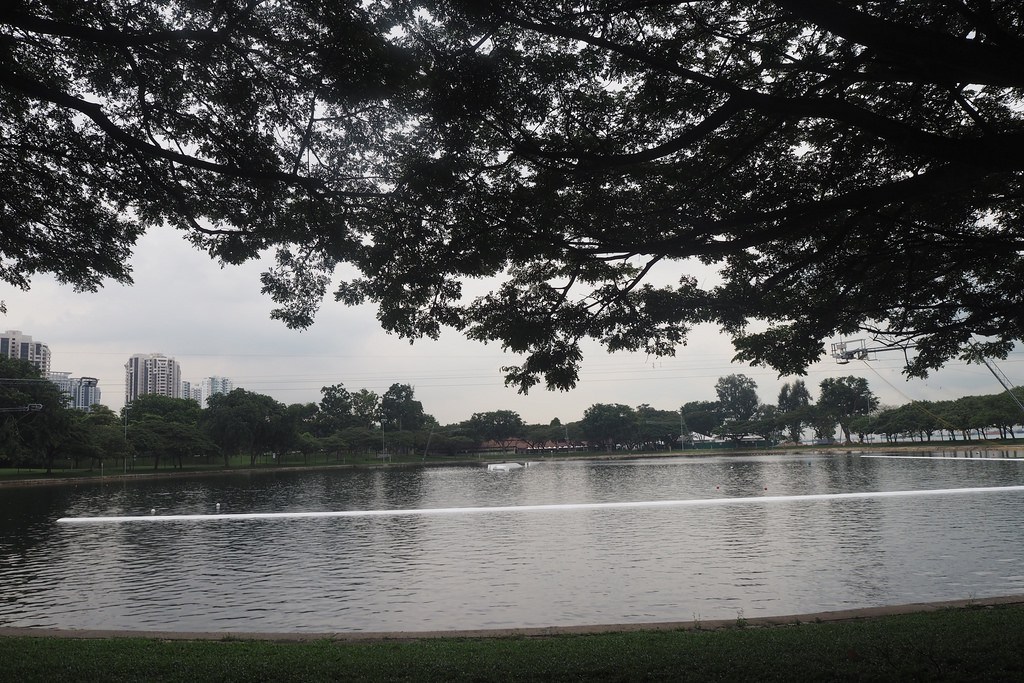 What we did?
Daughter and Hubby who are ever-ready for anything sport; were already bubbling with excitement and energy just by looking at this scenic place. Colorful display of wake boards in Singapore Wake Park's shop added more zing.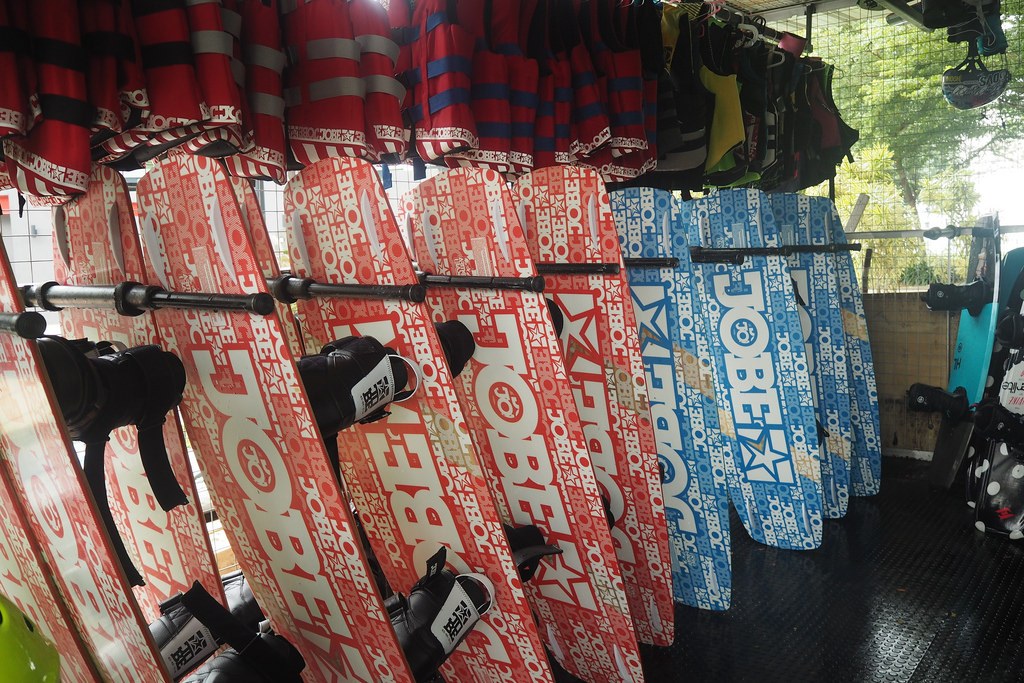 Instructors briefed them about safety and other instructions. Some stretching exercises and almost ready…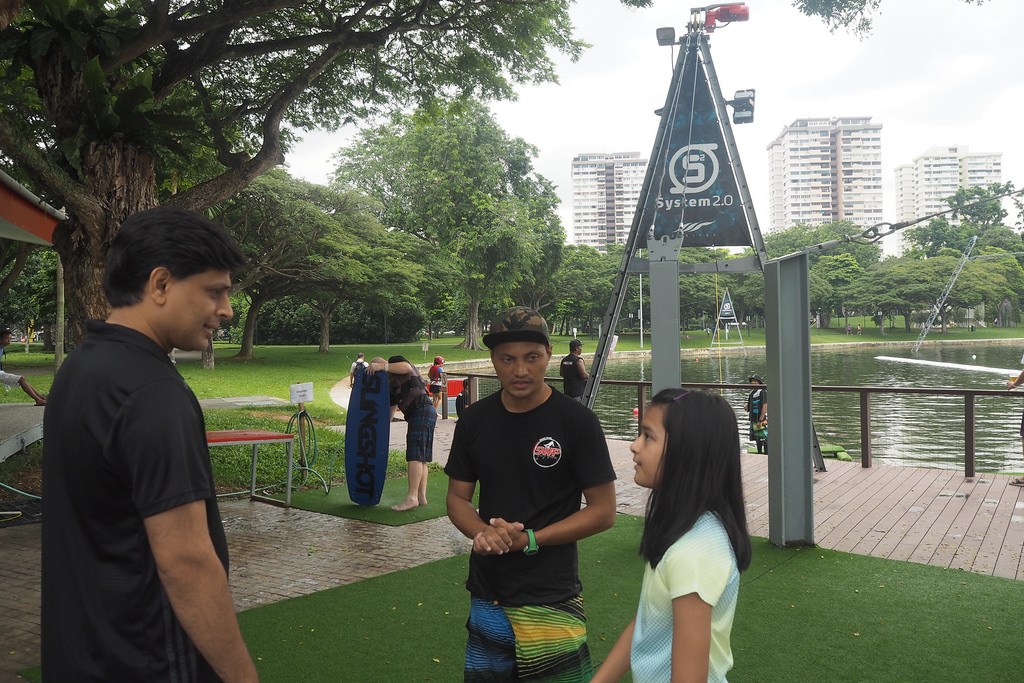 Helmets and all on and GO!!!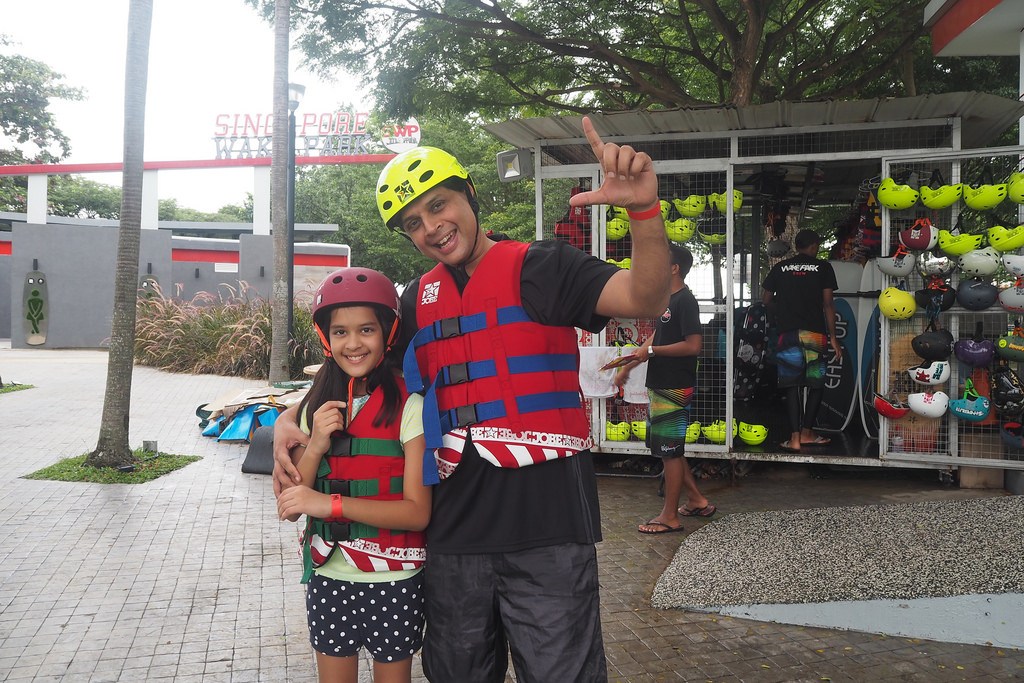 By the way, we tried System 2.0 which is for newbies. There is another system for more seasoned players.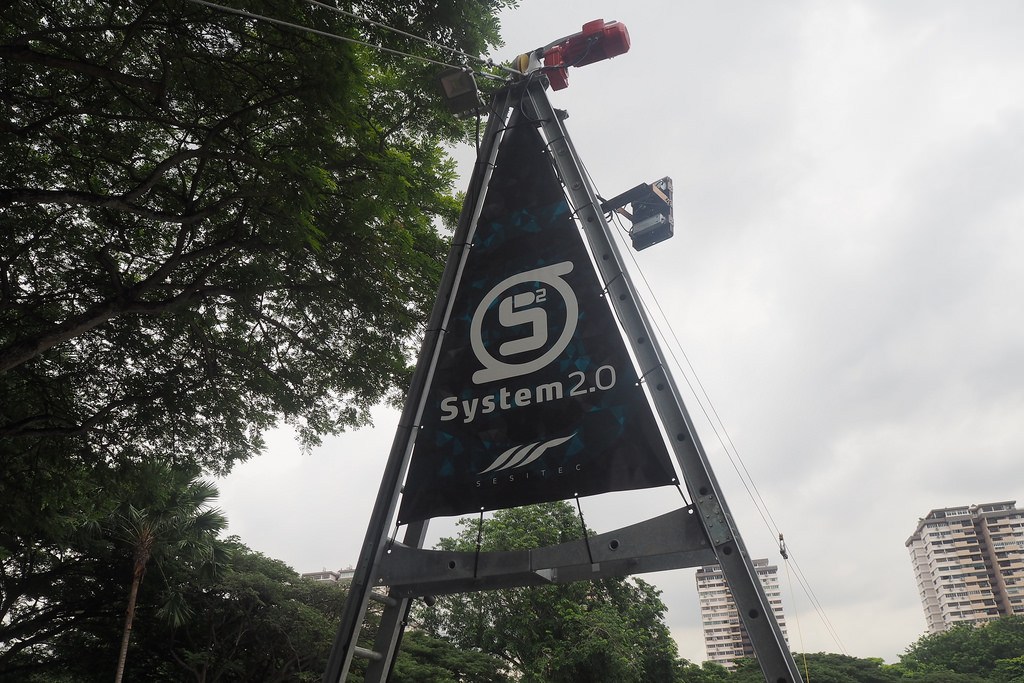 Hmmm, which one to try…There were 3 types!!!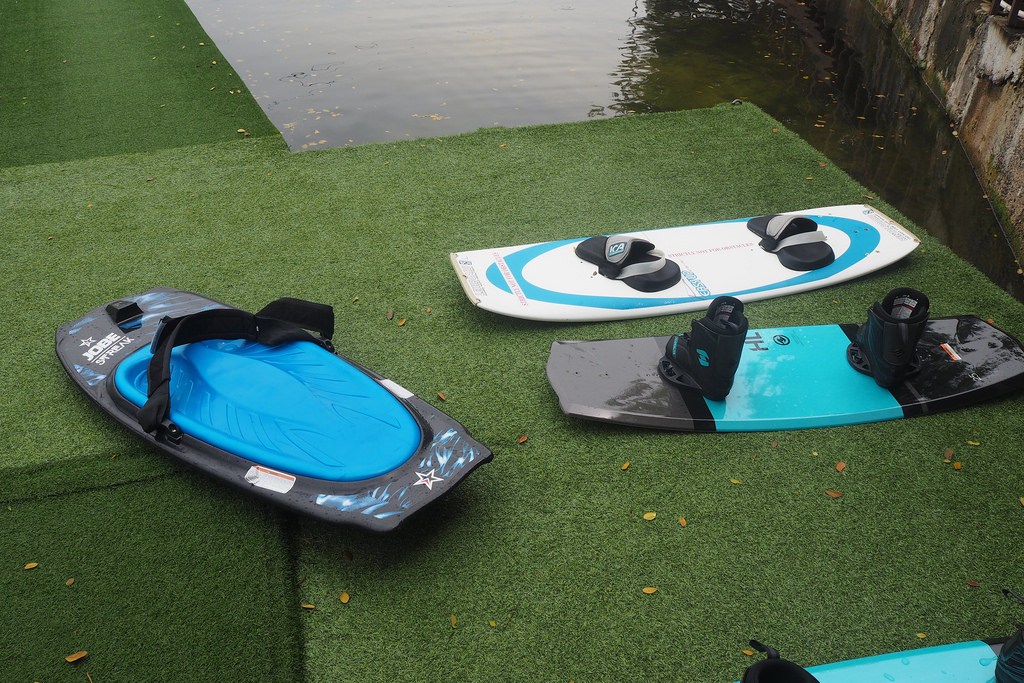 Okay, knee-board first! Easy for beginners and kids.
Zooommmm…..Off she goes! Check the video below to understand how it works. Kids will enjoy it for sure sure sure.
Then my hubby's turn! After 1-2 not-so-successful attempts, he made it!!! It's really a great sport and has its technique so you must keep trying patiently…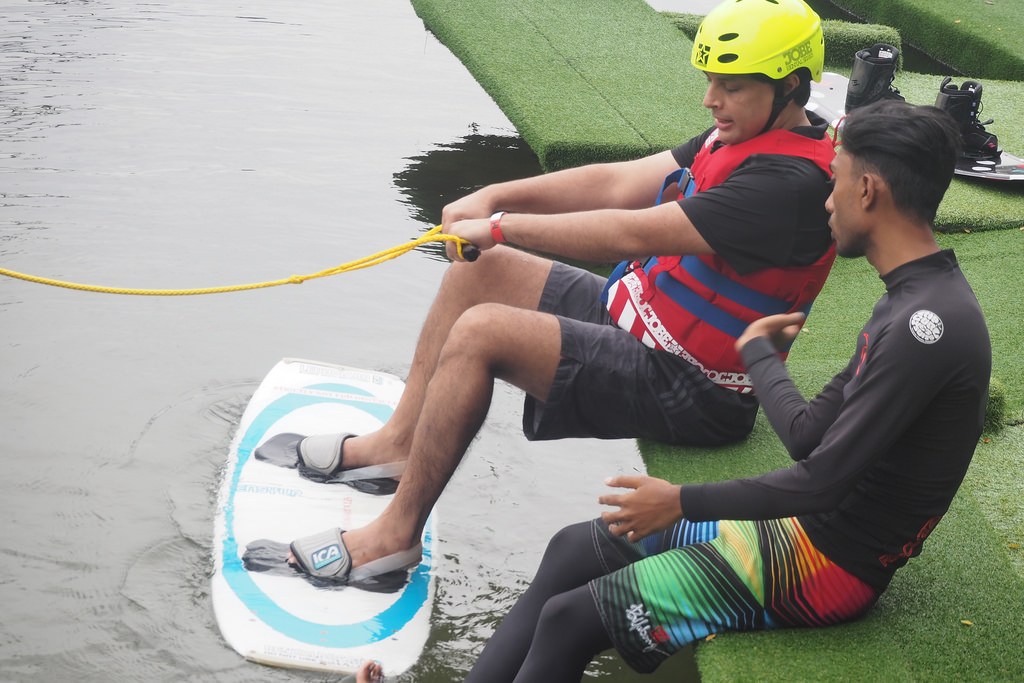 Girl attempted ski with one more type of wake board. This was a bit harder compared to the knee-board.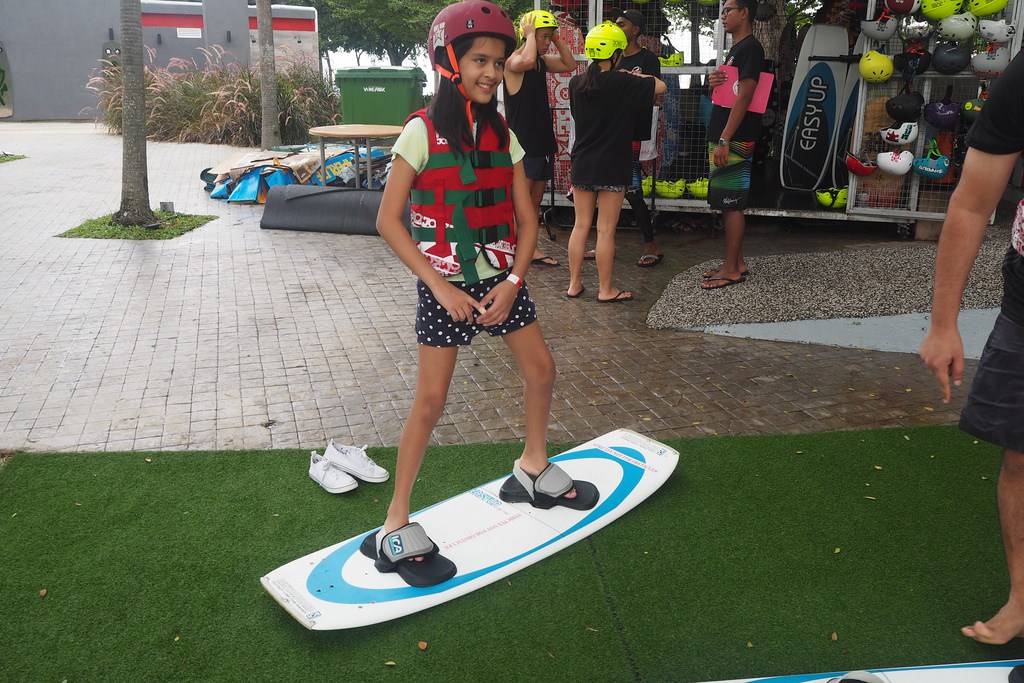 "Note for parents: You can book the slot for 1-2 hours. Cable-ski is a great exercise and we can get tired if overdone. Also, note that it is an advantage if you know swimming because if you fell off the board then you are in water and have to swim back. No need to wear swim suit as such. But do carry extra clothing, water and all…"
Once they had the knack of it, they kept skiing and skiing. Later, Hubby said that he loved the feel of the wind, touch of the waves and speed. Water + Cable Ski + Safety = Wonderful experience! Their wide smiles said so.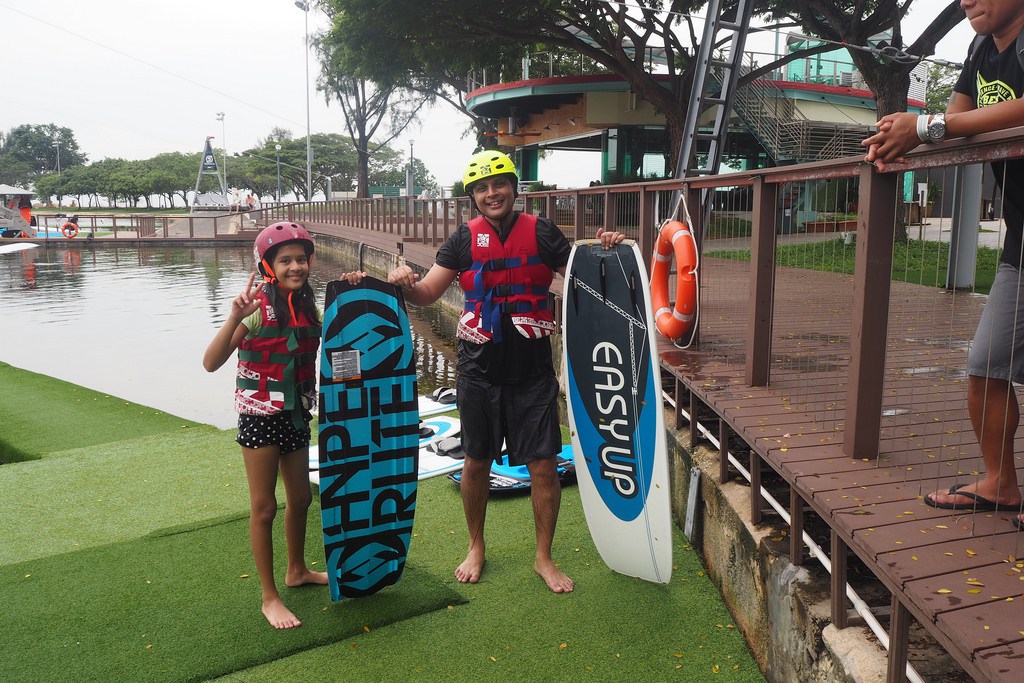 What was I doing? Taking photos and videos, understanding the process and simply soaking in the beauty of the lagoon.
Why it's for the entire family?
1. Family members who love sports and adventure can try cable ski.
2. Family members who don't have liking for sports, can chill at the Cafe. Lemme show you some pics of it later.
3. There is shopping too at Shop @ SWP.
4. Overall, it's a great hangout place for the entire family. Cool off after hard work that we put everyday.
5. Oh ya, don't forget that it's open in the night too. If it looks this fun in the day, night at Singapore Wake Park would be amazing too.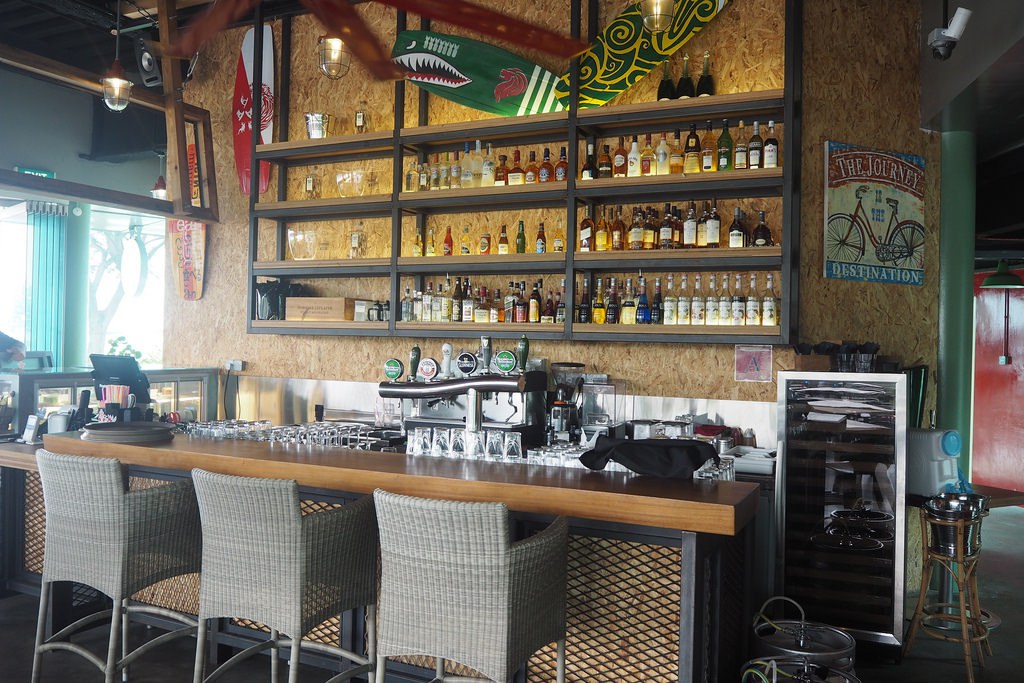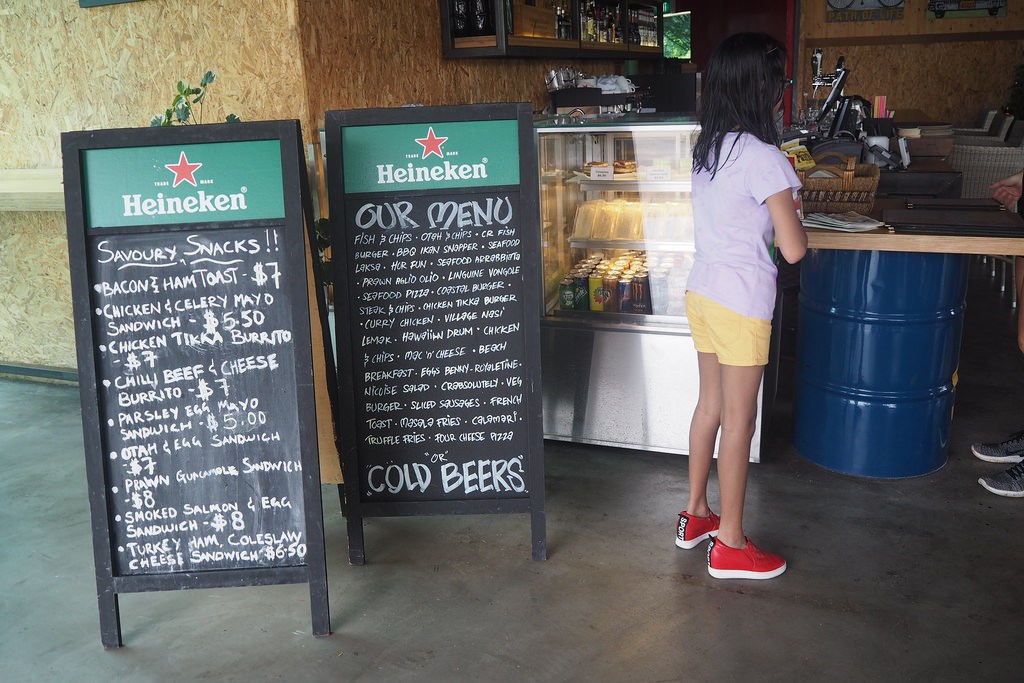 Ride, Eat, Shop, Bond with your loved ones – Singapore Wake Park provides a complete package of family funventure!!! Do visit.
More Info:
HOW TO GET TO
SINGAPORE WAKE PARK
By Bus: Buses 401 (operates only on Saturdays and Sundays) and 197 from Bedok Interchange. Alight when you see Laguna Park condominium and walk through the underpass.
By Car/Taxi: Via ECP highway, exit 7A (landmark: Jumbo Seafood)
Car Park: Park at E1 (paid entry)
*Note: The bridge from East Coast Lagoon Food Village leading to Singapore Wake Park is closed for construction until further notice. Please enter from Carpark E1 or East Coast Seafood Centre.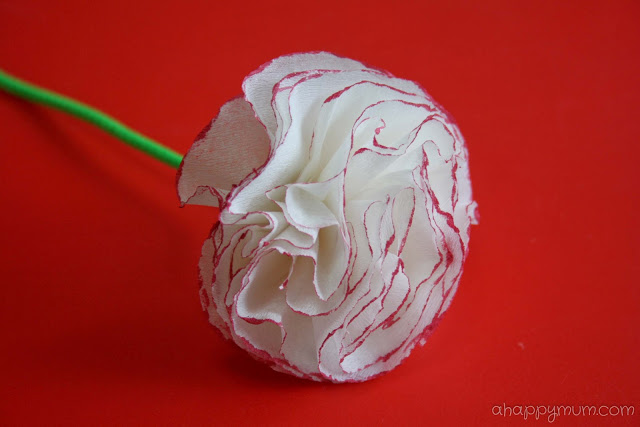 We all know that the carnation is an emblem of Mother's Day. But do you know why?
In 1907, Anna Jarvis, the founder of Mother's Day, sent 500 white carnations to a church in West Virginia to be distributed among mothers. She chose the carnation because it was the favourite flower of her mother. From then on, it has become a tradition to present carnations on Mother's Day as a token of thanks for a mother's love and care.
"The white carnation is preferred because it may be thought to typify some of the virtues of motherhood; ... whiteness stands for purity; its lasting qualities, faithfulness; its fragrance, love; its wide field of growth, charity; its form, beauty..."
For that reason, I decided that carnations would be my gift this Mother's Day. Well, as someone who loves crafts and is not a fan of fresh flowers, I ended up making some DIY carnations instead.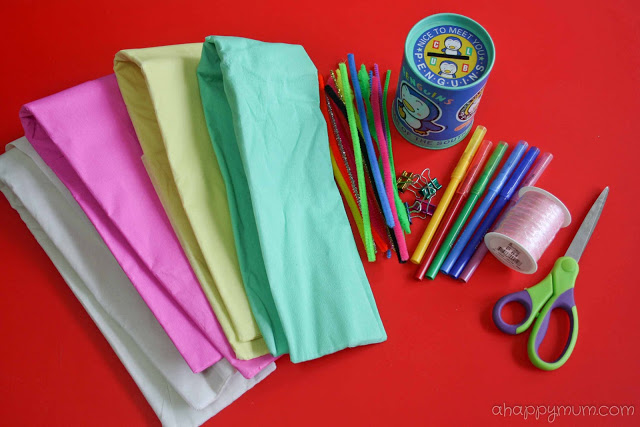 Materials
1) Crepe paper
2) Pipe cleaners
3) Binder clips
4) Markers/ Pencil
5) Ribbon
6) Scissors
7) Anything you can use to draw a 3" circle (I used a cylindrical coin bank)

Fold the crepe paper to form a thick square. You can have over 40 layers of crepe paper because it can be easily cut with a sharp scissors! Outline and draw a circle which has a 3" diameter. Cut the circle out carefully, using binder clips to keep the layers in place as you cut.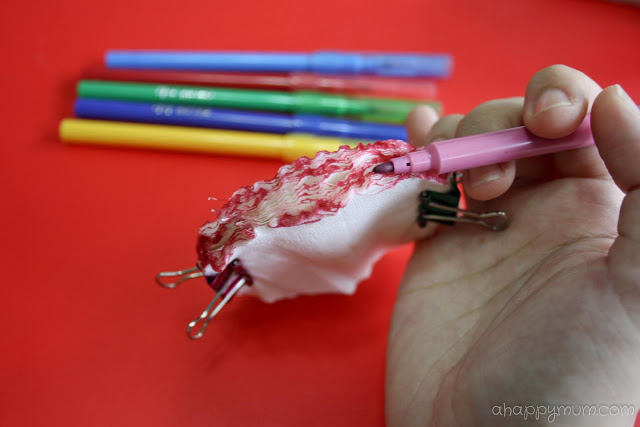 To give your flowers a more realistic look, use a bold marker and gently colour along the edge of the circles. Make sure the ink permeates all the layers. Work slowly around and make sure the areas under the clips are coloured too.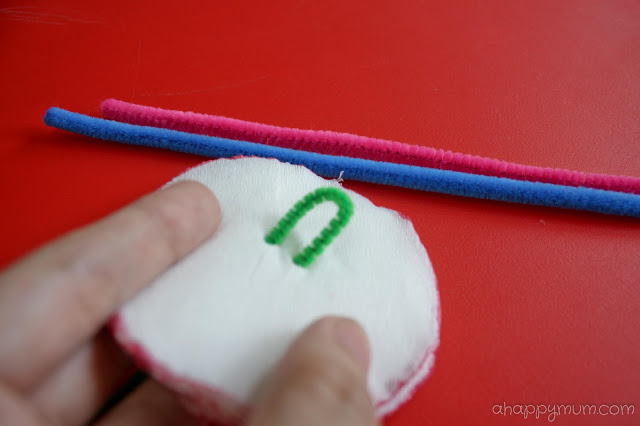 One flower will need 10-12 circles. Take a pipe cleaner and use it to poke two small holes in the middle. You can use a skewer if your pipe cleaner is not sharp enough. Insert the pipe cleaner into one hole, fold it down and into the other, leaving around one inch at the short end. Twist it together with the longer end to secure the stem.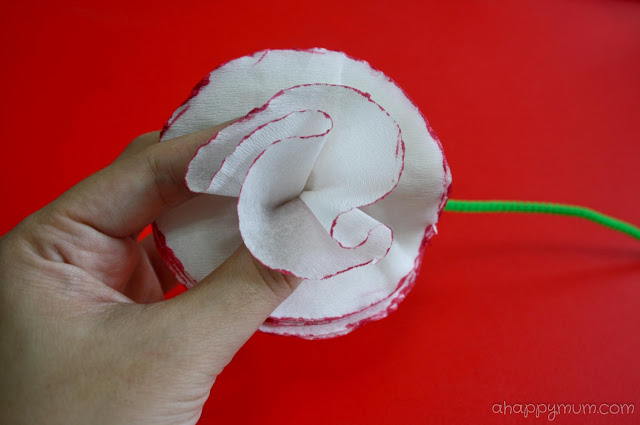 Next, it's time to scrunch! Taking the base of every layer, being careful not to touch the edges, crumple it so that it looks like a real flower to you!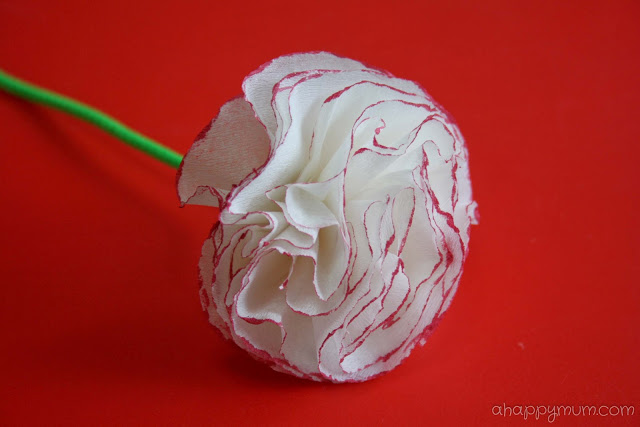 After you have worked through every layer and are happy with the final look, give the pipe cleaner an additional twist at the base of the flower and make sure it stays in shape.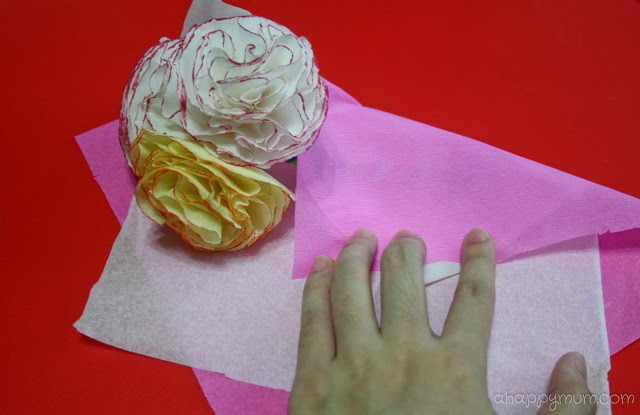 If you have more crepe paper to share, you can also twist several stalks together, wrap it up, tie some ribbons and voila, you have a mini bouquet. Alternatively, use some shimmery ribbon to wrap around the stems, tie it in the middle and you will have a sturdy stalk to hold.

I used three flowers for a bouquet because three means I Love You, right? This Mother's Day, we made three of these to give away. One for my mother, one for my mother-in-law and one for my grandma.

My girl was fascinated by the flowers and tried to smell them. She was also the one who presented the gifts on Mother's Day, making it even more special and meaningful to these people whom we hold dear.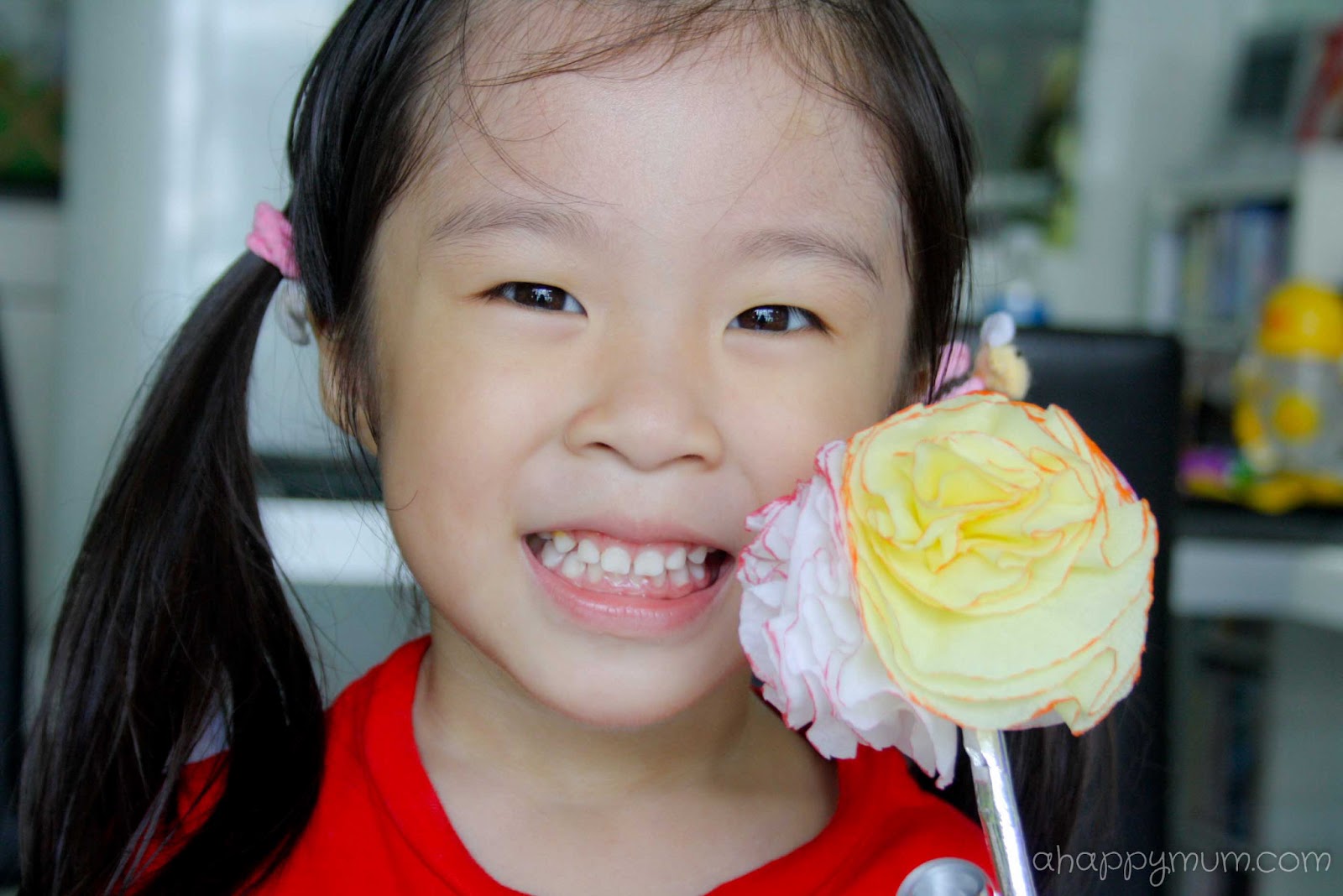 As for me. I got a big smile, a big hug, a big kiss and many "Happy Mother's Day" wishes from my girl. That beats any big bouquet in the world, doesn't it?
12 Egg-stremely Egg-citing
Easter Recipes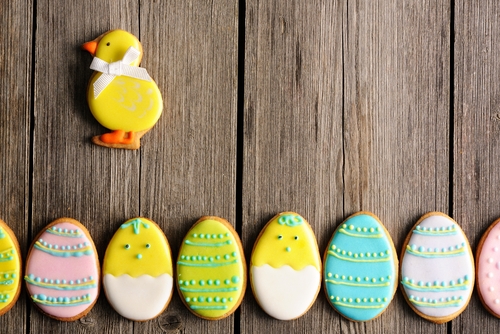 Eggs, carrots, bunnies and all Easter related things. Planning your Easter menu and getting ready for a feast to celebrate the festival? Whip up these delicious dishes, ranging from the sugary sweet desserts to savoury entrées. Delight your child and family with these Easter themed recipes that are both yummy to eat and easy to make!
Recipe #1 – Easter Cookies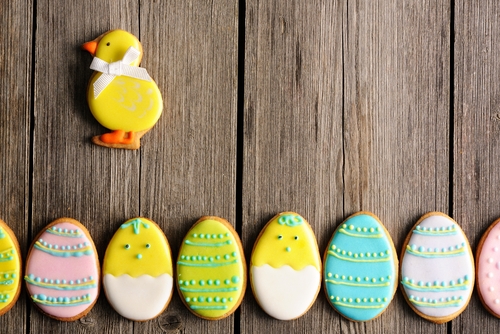 Ingredients (Serves 30 cookies)
Cookies
2 cups of salted butter
1 1/2 cup of sugar
2 eggs
4 tbsp milk
3 tsp vanilla
6 cups of flour
2 tsp baking powder
1 tsp salt
Icing
3 tbsp meringue powder
4 cups of sifted icing sugar
6 tbsp warm water
1/2 tsp vanilla or almond extract
Food colouring
Directions
Cream the butter and sugar
Add egg, milk and vanilla
Add baking powder, salt
Add flour one cup at a time, stopping to combine each cup
Form into 2 balls, chill at least 1 hour
Roll out the dough and cut with bunny or egg shaped cookie cutters
Bake at 400 for 5-8 mins
Let the cookies cool before decorating with icing
Beat all icing ingredients until icing forms peaks (7-10 mins at low speed with a mixer)
Add food colouring to icing and start decorating your treats!
Recipe #2 – Easter Cupcakes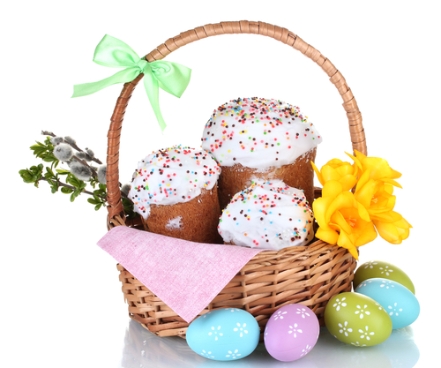 Ingredients (Serves 12 cupcakes)
Vanilla Cupcakes
1½ cups of all-purpose flour
1 cup granulated sugar
1½ tbsp baking powder
½ teaspoon table salt
8 tablespoons unsalted butter (1 stick), room temperature
½ cup sour cream
1 large egg, room temperature
2 large egg yolks, room temperature
1½ teaspoons vanilla extract
Vanilla Buttercream Frosting
1 cup (8 ounces) unsalted butter, at room temperature
2½ cups powdered sugar
1 tablespoon vanilla extract
Directions
Preheat oven to 350 degrees F and line cupcake tin with paper or foil liners
Whisk together flour, sugar, baking powder, and salt in bowl
Add butter, sour cream, egg and egg yolks, and vanilla; beat at medium speed until smooth
Scrape down sides of bowl with rubber spatula and mix by hand until smooth and no flour pockets remain
Divide batter evenly among cups of prepared tin and bake for 20 minutes until cupcake tops are pale gold and skewer comes out clean
Remove the cupcakes from tin and cool cupcakes to room temperature before frosting
Whip butter on medium-high speed for 5 minutes
Reduce the speed and gradually add the powdered sugar. Once all of the powdered sugar is incorporated, increase the speed and add the vanilla
Whip at medium-high speed for 2 minutes until light and fluffy
Decorate your cupcakes with the frosting and sprinkle colourful treat on top!
Recipe #3 – Easter Carrot Cake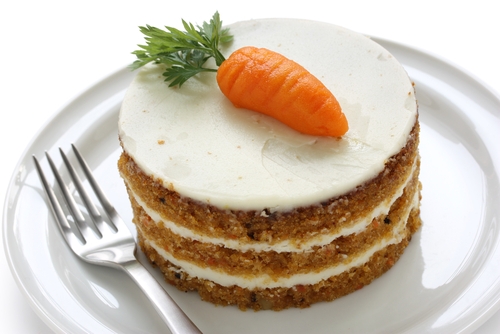 Ingredients (Serves 8)
Cake
1 1/2 cups oil
2 cups sugar
4 eggs, beat well
2 cups shredded carrots
1 cup crushed pineapple
2 1/2 cups all-purpose flour
1 teaspoon baking soda
1/2 teaspoon salt
2 teaspoons cinnamon
1 cup chopped nuts
Icing
1 (8 ounce) package cream cheese
1/2-1 cup butter
1 (1 lb) box powdered sugar
1 teaspoon vanilla
Directions
Mix all cake ingredients together with a spoon
Pour in 12x14 sheet pan sprayed with olive oil
Bake at 350°F degrees for 35-40 minutes
Mix icing ingredients together and spread on cooled cake
Decorate with Easter bunnies or carrot sweets
Recipe #4 – Easter Fruit Cake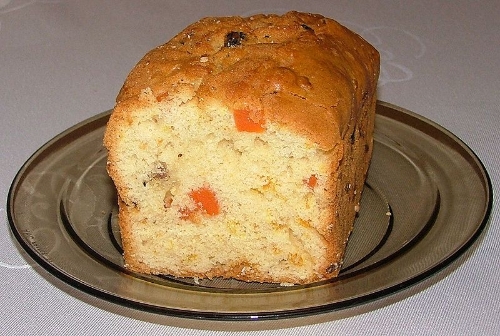 Ingredients (Serves 8)
225g self raising flour
110g butter
110g sugar
225g mixed fruit
1 egg
5 tablespoons milk
1 teaspoon mixed spice (optional)
Directions
Rub the butter into the flour until it looks like fine breadcrumbs
Add sugar and dried fruit and mixed spice
Add egg and milk to make a soft dropping consistency
Put mixture into lined tin
Sprinkle sugar over the top and pat down with the back of a spoon (this gives a nice crunchy top)
Bake for approximately 1 hour in a preheated oven at 180 C until a skewer comes out clean.
Recipe #5 – Crispy Noodle Easter Eggs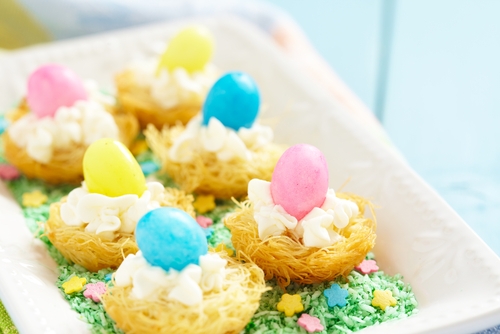 Ingredients (Serves 4)
4 eggs
1 packet egg noodles
Olive oil
Salt and pepper
Chocolate Easter eggs
Directions
Place noodles in large saucepan in enough water to cover; bring to boil.
Cook, stirring occasionally, 5 minutes; drain well.
Fill deep-fat fryer half full with oil fry noodles for 2 minutes until golden brown and crisp
Remove from oil and drain well on paper towels
Scramble the eggs and season with salt and pepper
Place scrambled eggs on crispy noodle basket and top with chocolate Easter egg
Recipe #6 – Easter Bunny Gingerbread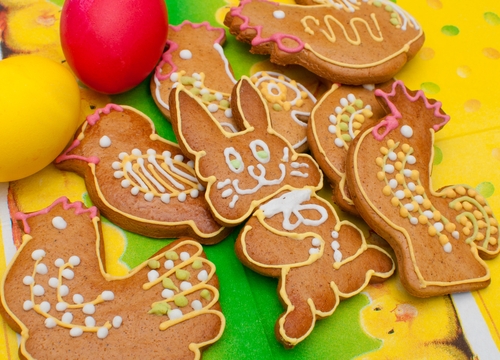 Ingredients (Serves 4)
1 cup softened butter
1 cup brown sugar
2 eggs
3 cups flour
2 pack butterscotch pudding mix
3 teaspoons ground ginger
1 teaspoon baking powder
1 teaspoon ground cinnamon
Directions
Cream the butter and brown sugar until light and fluffy
Beat in the eggs
Combine the flour, pudding mix, ginger, baking powder and cinnamon; gradually add to creamed mixture and mix well
Cover and refrigerate for 1 hour or until easy to handle
On a lightly floured surface, roll out dough to 1/4-in. thickness
Cut with lightly floured bunny or egg shaped cookie cutters and place apart on ungreased baking sheets
Bake at 350° for 6-8 minutes or until firm and remove to wire racks to cool
Decorate with icing for a colourful treat!
Recipe #7 – Easter Eggs in a Basket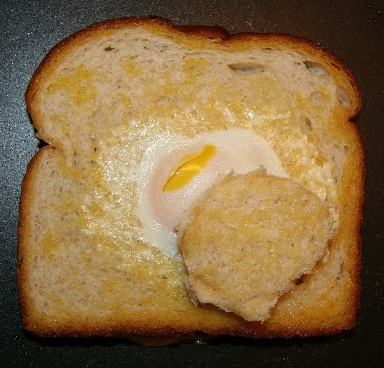 Ingredients (Serves 2)
2 slices of bread
2 eggs
A stick of salted butter
Salt and pepper
Directions
Cut out a hole or any shapes using a cookie cutter in your bread slice.
Coat a warm pan with salted butter and pan fry the bread slices
Crack an egg into the hole of your bread and fry until golden brown
Season with salt and pepper to taste
Recipe #8 – Sausage and Egg Chowder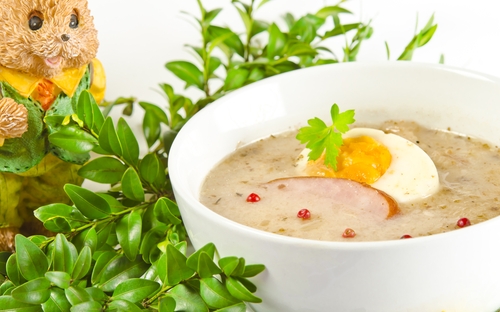 Ingredients (Serves 12)
1 pound smoked sausage thinly sliced
1 medium onion thinly sliced
4 cups diced potatoes
3 cups water
2 tablespoons minced parsley
1 tablespoon minced basil
1 teaspoon salt
1/8 teaspoon pepper
1 can whole kernel corn, drained
1 can evaporated milk
4 boiled eggs
Directions
Pan-fry sausage and onion
Add the potatoes, water, parsley, basil, salt and pepper
Bring to a boil
Simmer for 15-20 minutes until potatoes are tender
Add remaining ingredients
Cook until heated through
Add in halved boiled eggs and enjoy!
Recipe #9 – Easter Eggs Benedict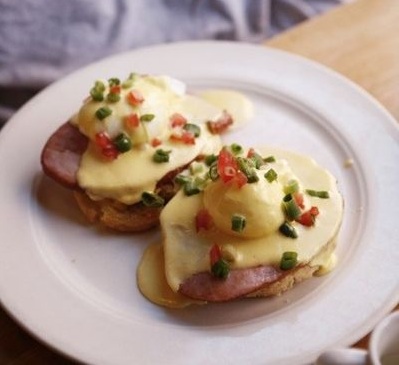 Ingredients (Serves 2)
4 slices bacon
1 teaspoon vinegar
4 eggs
1 cup butter
3 egg yolks
1 tablespoon heavy cream
1 dash ground cayenne pepper
1/2 teaspoon salt
1 tablespoon lemon juice
4 English muffins
Directions
Pan-fry bacon on each side until evenly browned
Fill a large saucepan with 3 inches water, and bring to a simmer
Pour in the vinegar
Carefully break the 4 eggs into the water and cook 2 to 3 minutes, until whites are set but yolks are still soft
Remove eggs with a slotted spoon.
Melt the butter until bubbly in a small pan or in the microwave and remove from heat before butter browns.
Blend the egg yolks, heavy cream, cayenne pepper, and salt until smooth.
Add half of the hot butter in a thin steady stream and blend in the lemon juice using the same method, then add the remaining butter.
Top English muffins with 1 slice bacon and 1 poached egg. Drizzle with the cream sauce, and serve.
Recipe #10 – Scrambled Easter Eggs and Salmon Sandwich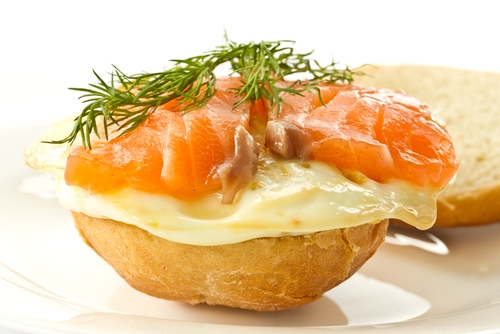 Ingredients (Serves 6)
1/4 pound sliced smoked salmon
12 eggs
1/2 cup heavy cream
Salt and freshly ground black pepper
2 tablespoons butter
12 to 15 blades of fresh chives, finely chopped
6 slices baguette
Directions
Chop salmon into very small pieces.
Whisk eggs and cream together
Add 1/2 of the chopped chives and season eggs with salt and pepper
Preheat a large nonstick skillet over medium heat
Melt butter in the pan and add eggs then scramble eggs with a wooden spoon. Do not cook eggs until dry.
When eggs have come together but remain wet, stir in chopped salmon
Remove pan from the stove and place on a trivet
Garnish the eggs with remaining salmon and chives and dish onto the baguette
Recipe #11 – Deviled Easter Eggs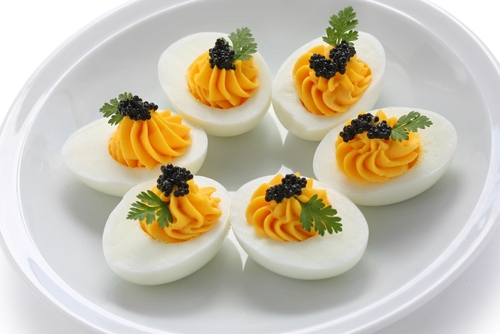 Ingredients (Serves 6)
6 eggs, hard cooked and peeled
1/4 cup mayonnaise
1 teaspoon yellow mustard
3/4 teaspoon white wine vinegar
A pinch of salt
Fresh ground black pepper
Smoked paprika
Directions
Cut eggs lengthwise into halves.
Slip out yolks and mash well with a fork.
Mix in remaining ingredients.
Fill whites with yolk mixture, heaping it up lightly.
Recipe #12 – Traditional Easter Pashka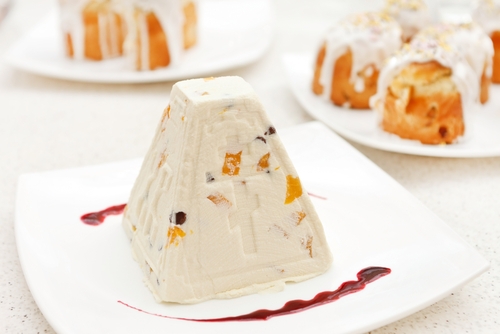 Ingredients (Serves 10)
150g unsalted butter softened
850g ricotta cheese
250ml cream
3 egg yolks
125g caster sugar
1 tsp vanilla essence
100g chopped orange peel
100g blanched almonds, finely chopped
Directions
Line a dish with greaseproof paper
Use electric beaters to beat butter in a large bowl until creamy and gradually beat in ricotta cheese
Heat the cream separately in a small saucepan over medium heat
Whisk egg yolks and sugar in a bowl until thick and pale then gradually add warm cream in a thin stream to the egg yolk mixture, whisking constantly, until combined
Return mixture to pan and cook over medium-low heat, whisking constantly, until mixture coats the back of a spoon. Do not allow to boil.
Remove from heat and whisk for 5 minutes until cooled to room temperature
Stir in vanilla essence, fruit and almonds.
Add mixture to pan, pressing down with the back of a spoon until filled
Place another dish on top and fill with rice or sugar to weigh down. This will help drain excess liquid. Place in refrigerator overnight to set.
To serve, turn the pan upside down onto serving plates and carefully peel away the paper. Serve each pashka with crisp biscuits.
5 Practical Lessons to Teach Your Kids
The Value of Money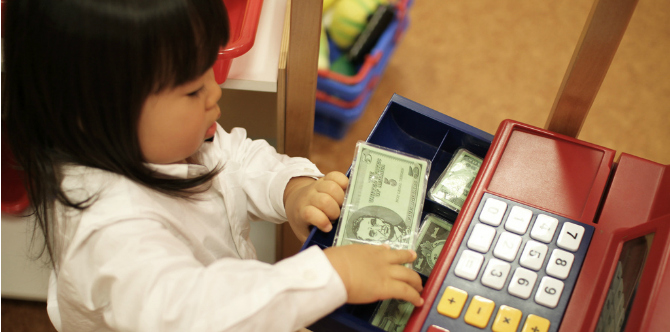 Have you ever stopped and thought if your kids know how to spend their money wisely, or manage their finances once they grow up? Well, it isn't enough to just tell them that they have to save money, you have to teach them very important financial lessons so that while they're still young, they would understand the value of money.
1. Teach them about how people make money
When kids ask parents about where money comes from, some of them say that they get it from the bank, or from 'rich people'. This is actually a pretty bad idea, since you want to teach your kids some real-life lessons when it comes to talking about money.
That's why it's very important that you let them understand how people make money, and you can do this by talking to them about jobs and that people get paid to do certain things that they're good at which helps them earn money. You should also explain to them how selling things work.
You can take this to another level by 'hiring' them to do their chores, or you can ask them to gather up their old clothes or toys, and start a garage sale in your neighborhood.
2. Teach them how to shop wisely and budget
You can start teaching them on how to budget by playing pretend games with fake money. You can give them a budget and a list of things that they want to buy and you can help them work out how to best spend their 'money' wisely.
Another way would be to teach your child to be a cashier, so that they can practice their math skills in a fun way. Eventually, you can let them help you out with shopping and budgeting money to make the most of it.
3. Give them a weekly allowance that they can save
A good way to start teaching your child about handling their finances is by giving them an allowance, even just a small one. You can make it fun by asking them to put the money in a piggy bank so they can save up.
You could also ask your child if there's a toy or anything that they want to save up for, and you can help them by giving them money every week that they can slowly save in order to get what they want. Teaching them the value of saving up for the future is a very important lesson that they'll take with them to adulthood.
4. Teach them about compound savings
Another way to encourage saving money would be to teach them about compound savings. You can tell them that you'll add a certain amount of money to their savings once they reach a specific amount of savings. It helps them develop smart saving habits for the future, and it's also good motivation for them to save money and see it grow.
5. Teach them how to differentiate wants and needs
While some kids can save up money to buy whatever they want, it's also a good lesson to teach your kids that it isn't enough to just save money and then splurge it all on one thing. You should teach them to know what things they want, and what things they really need, and that they should prioritise the things that they need first.
That way, they can better understand how to prioritise their spending so that they can focus first on the things that are really important, and not just the things that they want just for the sake of it.
3 Ways to Make Good Use of Your Child's
Hong Bao Money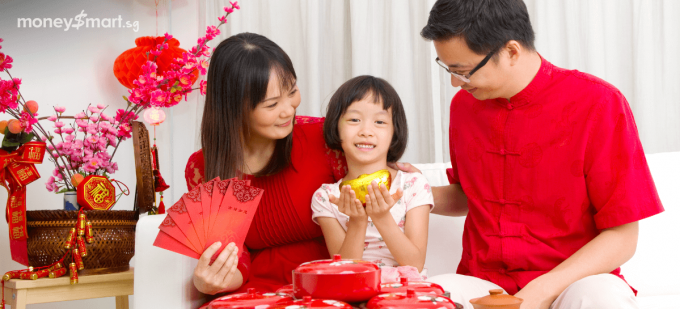 Each year, you dress your kid up like a Chinadoll and send him or her, armed with two Mandarin oranges, out into Chinese New Year gatherings with the aim of collecting as many hong baos as possible.
Whether your relatives are the sort who give four figure hong baos or you can hear the coins jigging around in the red packets, don't forget to help your kid use that cash wisely.
Do you stash it away in a bank account, never to see the light of day until your kid comes of age? Do you (gasp) keep it for yourself? Here are three ways to use that cash that will actually benefit your child.
1. Give your child a fraction to spend and save the rest
While you might think saving all your kids' hong bao money would be more beneficial to them than letting them spend the cash on nonsense from Kiddy Palace, pry your fingers away a few of those notes.
Giving your child a small fraction to spend as he likes gives you the opportunity to sneak in a little lesson about budgeting.
If your child is of lower primary age and isn't old enough to rock up to a shop on his own and spend the money independently, you can step in as the well-meaning parent and talk him through his purchasing decision.
Discuss what he would like to buy, do research on where the toy can be purchased and then visit more than one retailer together to comparison shop. Your kid will learn how to budget the amount he's been given to spend, and seriously consider whether he wants to buy multiple small items or one big-ticket one.
With older kids, you can simply discuss what they plan to do with the cash. This might lead to a think about whether it would be wise to just blow the entire sum on Starbucks frappucinos, or whether it would be worthwhile saving up to buy that Nintendo 3DS.
2. Invest the money and monitor the gains together with your child
After a few years of hong bao collecting (or just one, if you have really generous relatives), your child should have saved up enough to start investing.
You only need $500 to start investing in Singapore Savings Bonds, while the lot size on SGX is a mere 100 units. For teaching purposes, it's probably best to start with a low risk investment like bonds or even a fixed deposit.
Instead of letting the money rot away in a savings account, use this as an opportunity to teach your child about the concept of interest. Every Chinese New Year, you can look back at the investment and watch it dawn upon your kid that his money is growing without him having to do anything for it.
3. Encourage your child to donate a portion to a good cause
There are enough spoiled, entitled brats in Singapore, and your child doesn't need to be one of them.
So often, parents push their kids to succeed but neglect cultivating empathy in them. One good way to do the latter is to encourage your child to donate a portion of his hong bao money to a good cause.
That gives you the opportunity to talk about the various social issues in Singapore, and how charity organisations are working to address them. Discuss which issues your child feels most strongly about and then talk about how donating some money will help.
Having conversations like that will, over time, help your child to become a more civic-minded, less selfish individual… and hopefully stem the competition-fuelled fear and anxiety that so many experience during Chinese New Year.
11 Things You Will Only See In Singapore
During Chinese New Year
Ang Pow Lai!
We've barely settled down from the New Year celebrations, but with Chinese New Year right around the corner, we're already looking forward to the second wave of rejoicing - this time, with more feasting and free money if we're lucky. Thanks in advance ah gong, ah ma, mummy, daddy, uncle, aunty… or if we're young enough at least.
Even though Chinese New Year is widely celebrated throughout the planet, it takes on unique quirks in Singapore. While traditions like reunion dinner and staying up late so our parents live a ripe old age are standard, local traditions like queueing up to buy 4D at specific "lucky" booths is just one of the few sights that we look forward to every year.
With that said, here are 10 uniquely local sights you'll witness during Chinese New Year that'll remind you nothing beats home.
1. The entire nation going crazy over twister fries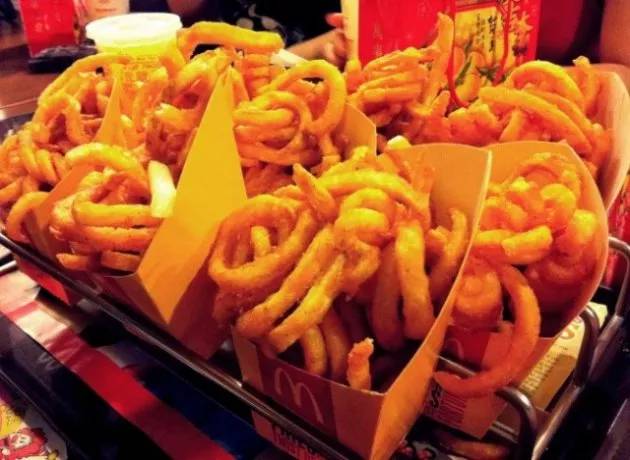 Just thinking about this makes my mouth water. Regardless of race, language or religion, one thing EVERY Singaporean looks forward to is Twister Fries making a comeback to the McDonalds menu.
Whether on Facebook, Twitter, Instagram or Snapchat, everyone will know when we lay our hands on these godsent golden curls. It's that good, I've even skipped dessert for this before - now that's a HUGE sacrifice.
2. Uncles and aunties queueing up for fresh banknotes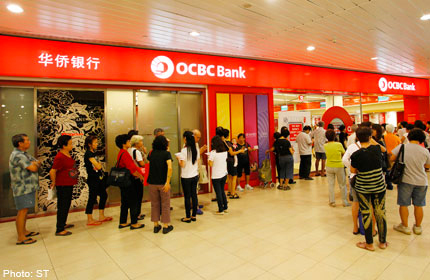 Every CNY, every Singaporean over the age of 60 flocks to the nearest bank, queuing for hours to withdraw the crispest notes of the year.
Don't think these aunties just want to hiam all things new - ever wondered why the angpows you receive always have wrinkle-free notes? Yup, behind every flawless angpow is an aunty's undying determination to get the freshest notes, standing under the hot sun with shirts sticking to their backs. And also why they need to pack on an extra layer of makeup the next day - they stayed up till 3am just to pack every single angpow.
3. "Lucky" Singapore Pools outlets getting more customers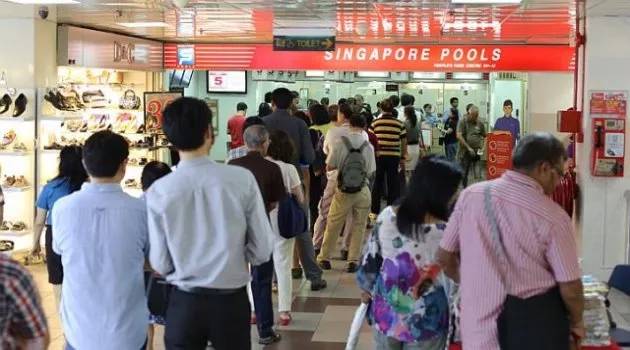 Not all Singapore Pools outlets are created equal, and this cannot be more apparent than during the Chinese New Year season. It's can't be pure coincidence that the 7-Eleven at Yishun Avenue 5 Block 102 has produced 10 more Toto winners than the second "ranked" outlet at Tanjong Pagar… right?
Statistically speaking, getting your ticket from any branch gives you the same chance of hitting the jackpot, but uncles and aunties don't listen to boring old logic. The more word spreads that a particular outlet is lucky, the more people will go there and buy their tickets, increasing the odds that someone there will strike gold. But hey, having a "lucky" outlet never hurt anyone!
4. Zodiac fortune telling boards erected at shopping malls.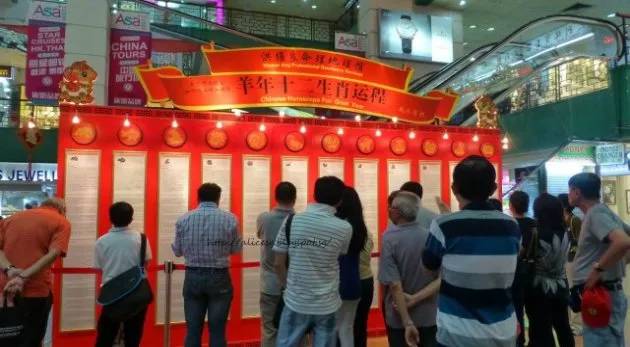 Usually situated at the lobby of any neighbourhood mall, the year's fortune for each of the Chinese zodiac signs will be plastered onto 6 boards, ready to impart their wisdom to the curious. It's no surprise at all to see aunties standing a metre away snapping photos of the zodiac of their loved ones and sending it to them.
5. Chinese New Year snack-shaming on your Facebook feed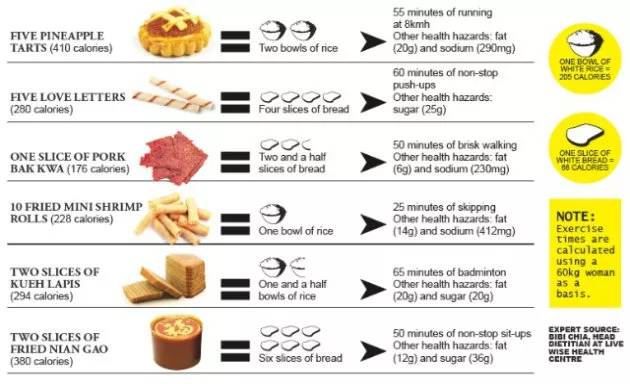 "An inoffensive piece of bak kwa has 370g of calories, which can only be burned off with 55 minutes of hardcore run"
"A pineapple tart has 74g of calories, but who are we kidding, you'll eat at least 9 at one go, which is like eating x bowls of rice."
I can't possibly be the only one that fumes internally whenever I see these snack-shaming infographics pop up my Facebook feed - gee, thanks for sharing, #fitspo friend. After a day of visiting - in which endless snacking and eating occurs - I end the night with one final upload on IG and sweep through my Facebook feed before retiring for the night.
Alas, during this festive season, the food fact-mill starts spinning and I have to open an album full of fa(c)tsheets of the calories present in pineapple tarts, love letters, bak kwa, and all of the goodies I just had.
Ps: did you know I have to sprint for two years straight to burn off the calories I took just today?
But then again, I'll just forget about it the next morning I wake up.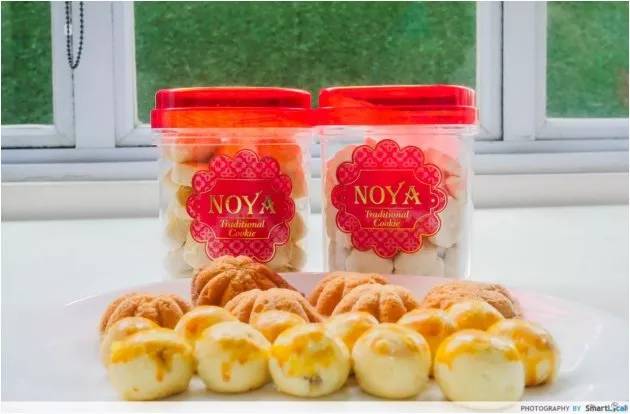 And since you're going to be a compulsive snacker anyway, the key is to make every calorie count and eat only the ones that tastes great. With Tai Sun's Chinese New Year NOYA traditional cookie series, every bite will be a crumbly mess of oh-so-delicious goodness.
6. This Fengshui uncle on the Chinese New Year countdown show every. single. year.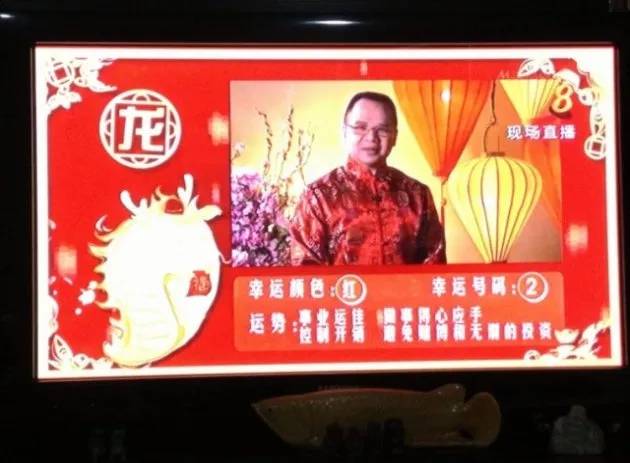 No matter which year of the Channel 8 Chinese New Year countdown show it is, and how drastic the cast changes are, there is always - I repeat, ALWAYS - this fengshui uncle dropping in every 20 minutes to talk about the year's prospects for each Zodiac.
I don't know about you, but I hate how slowly he talks. Nonetheless, I always run out of my room to hear what he has to say about the rat zodiac.
7. Chinatown ah bengs with their mochi and jelly samples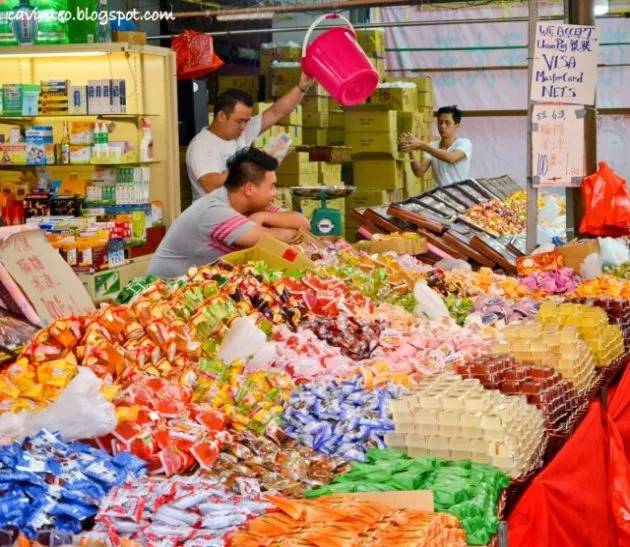 From stalls playing Cai Sheng Dao to seeing fake firecrackers dangling ever corner you turn, one thing you cannot miss is the ah bengs selling Taiwanese snacks. Don't be fooled, thinking the term ah bengs has a negative connotation - these smooth talkers are good with words, affectionately calling the ladies mei nu and males shuai ge. Plus, they are super generous with giving out free samples!
Unlike at major supermarkets, where they dice jello samples so thinly you can see through em', these bengs generously open up entire packs of Taiwan pudding or muah chee and hand them out to bystanders, making you feel guilty if you don't buy any. But they usually taste pretty awesome anyway, so snagging a kg before leaving is common for me.
8. Classroom decoration competitions in school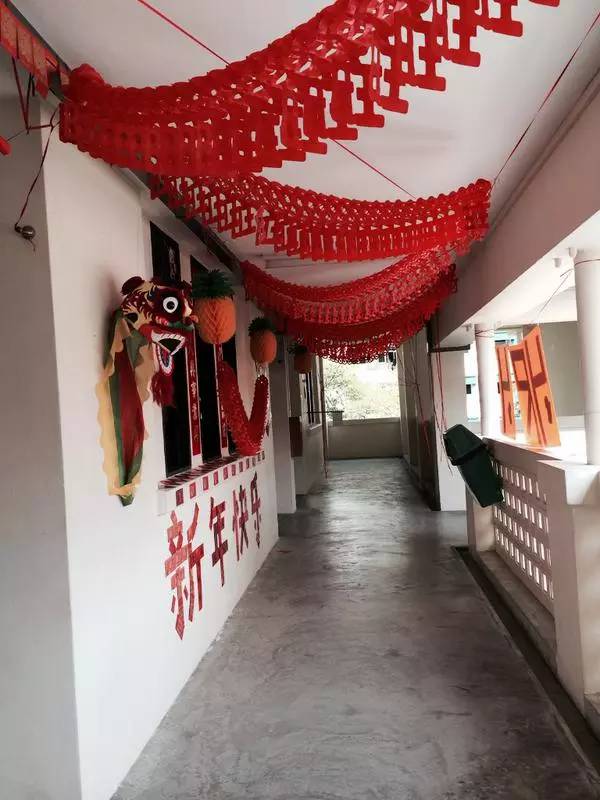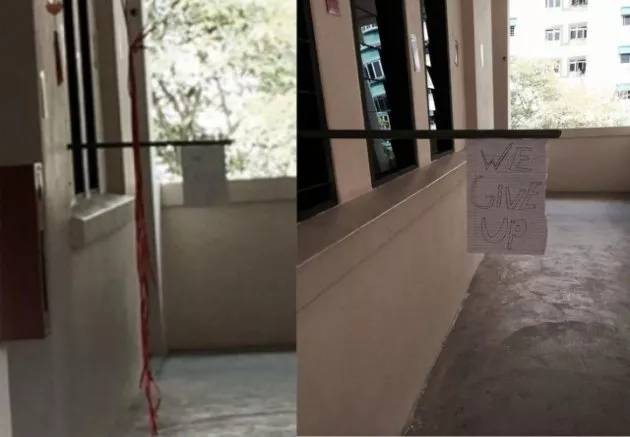 One secondary school activity everyone has experienced is staying back to put up Chinese New Year decorations. While we were always reminded to bring red packets and whatever decor we have, the story usually ends with the form teachers saving the day, bringing a truckload of stuff.
Some classes do the bare minimum, just folding some paper lanterns and calling it a day, but those who want to win the Best Class Award deck their classrooms like it's their life mission. But at least one good thing came out of this: I now know how to craft a simple lantern and angpow fish without hurting anyone.
9. Insane queues at Lim Chee Guan that go on for hours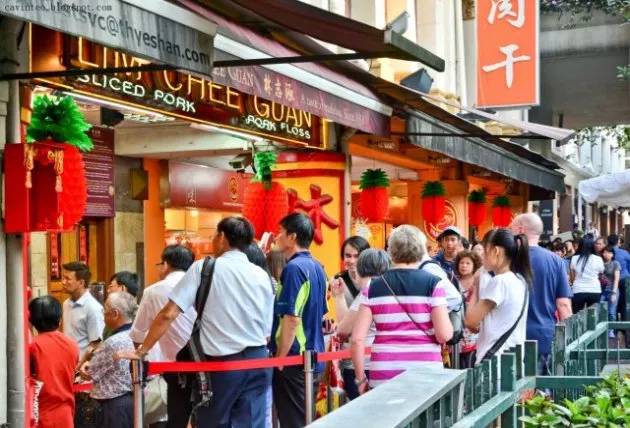 If you thought Bee Cheng Hiang had long queues during CNY, wait till you see Lim Chee Guan's. Recognised by the well-informed to have the best bak kwa in Singapore, the queues here stretch for hours upon hours for the same one month every year.
These days, we've been hearing news of domestic helpers being joining the queues, helping their employers and getting kilograms upon kilograms of those amazing pork squares. Although it's a smart tactic, do it yourself if you can - it makes for a great bonding experience!
10. The Number 8 EVERYWHERE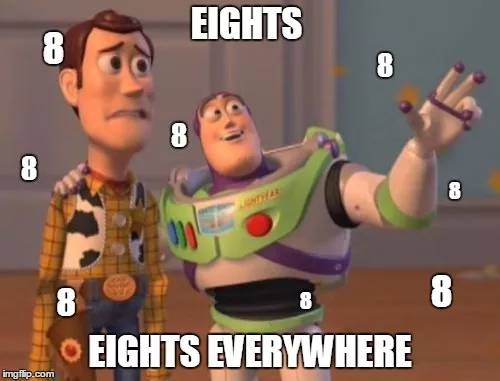 It could be a lucky draw giving 88 cans of abalones or additional 0.88% of bank rebate when you sign up for a new bank account. Or it could even be a whopping $8,888 when you spend more than $88 on a single receipt, the overuse of the number 8 will never be more obvious. For my non-Chinese friends who never understood why, 8 is pronounced as 'ba' in Mandarin, which is similar as fortune, pronounced as 'fa'.
While hardly anyone buys into that gimmick anymore, what's there to complain about getting bigger discounts and a chance to win big money? I'm going to the store and getting 88 bottles of $1 drinks because I can. Thanks, CNY.
11. Hair salons suddenly experience inflation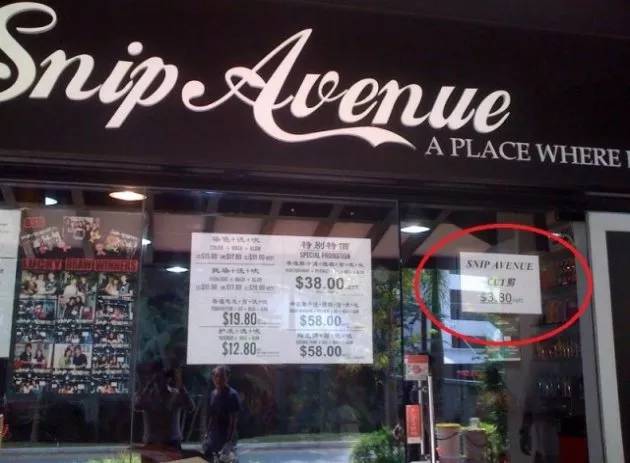 One reason why I never get a new haircut during the Chinese New Year season as many do is because of the ridiculous price inflation - the salon I frequent can't possibly be the only one that increases the price of their services when CNY's around the corner.
From an extra $8 - for extra fortune, y'know - for a haircut to $38 for a full-on new colour service, I call daylight robbery. Like hello, do you even know how many large twister fries I could get with that $38? We done the math - it's about 10.1333 packets.
Unique Ideas for Christmas Trees in Singapore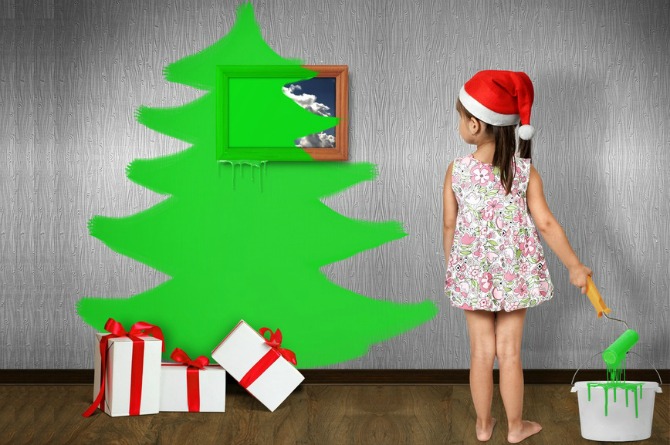 If you're not keen on forking out hundreds of dollars on a real Christmas tree, and you're bored of dragging out your artificial tree year after year, check out our list of unique Christmas tree ideas which are perfect for sunny Singapore!
Unique Ideas for Christmas Trees in Singapore
Celebrating Christmas in sunny Singapore calls for creative ways for a Christmas tree to fit into our small flats, and also one that fits our budget!
For some of us, getting a huge real-life pine tree and spending hundreds of dollars on it is probably enough to bring out the Grinch in us – but you don't want to forgo the Christmas tree altogether.
We've put together a list of unique Christmas tree ideas which are suitable for Singapore's tropical climate and pretty easy to make, so you and your kids will have a fun DIY project to work on together for the yuletide festival!
Twiggy tree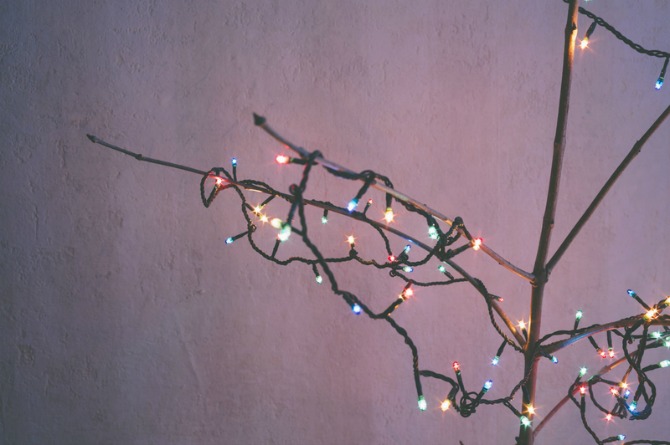 Real pine trees might start to shed and wilt in our hot tropical climate, so why not skip the sad state of decay and go straight to a twiggy Christmas tree instead?
Less is more with this minimalist tree and it gives focus to all your gorgeous decorations hanging off the bare branches.
You can pick up some random twigs of different sizes from the park and arrange them in a large vase then get your children to help you hang up all the decorations.
Difficulty level: 2 out of 5.
Bauble tree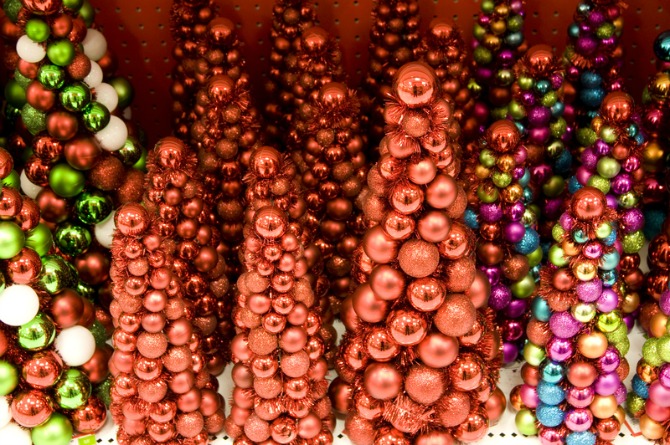 Shiny Christmas baubles are so easy to get here and you can buy them at a good price from Giant or NTUC Fairprice.
Buy a few packs of baubles and superglue them together into a tree formation then let it dry overnight.
You can either make the tree multi-coloured, or stick to just one colour to go with whatever your theme is for the year. Popular colours are usually red, green, gold and silver.
Difficulty level: 3 out of 5.
Painted tree on the wall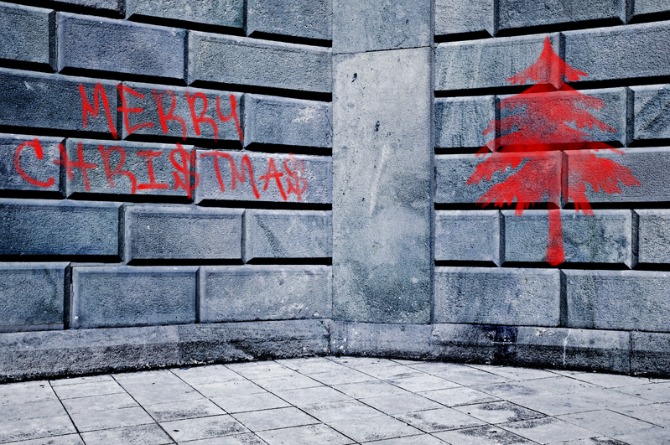 Grab a can of paint, a few paint brushes, lay out some newspapers on the floor and start painting a Christmas tree up on the wall in your living room.
You can draw an outline with a pencil first and then carefully paint it in with the help of your little ones – then once Christmas is over, you can simply paint over it.
However we don't recommend you painting anywhere outside of your home, or along the corridor or void deck, because as you probably might know, that's illegal in Singapore and it won't exactly be fun to spend the holidays in handcuffs!
Difficulty level:3 out of 5.
Book shelf tree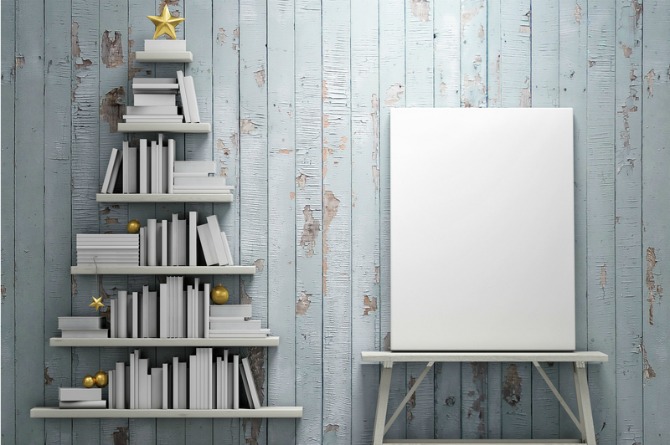 For all the bookworms out there, get some shelves from Ikea and arrange your books on them to look like the shape of a Christmas tree.
You can even use Christmas-related books such as How The Grinch Stole Christmas!, A Christmas Carol, The Polar Express, Dream Snow, A Visit From St Nicholas, A Charlie Brown Christmas, and more.
Make it a fun Christmas tradition where you choose a book from the shelf every night to read to your child before bedtime.
Difficulty level: 3 out of 5.
Cut-out tree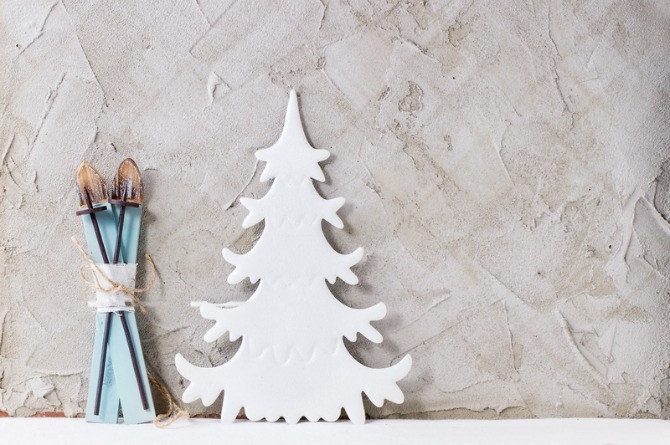 This is an easy-peasy art project you can do with your little ones, or it can also be a tough woodwork project for you or your husband to attempt.
Draw the outline of a tree on a large piece of paper, then cut it out and stick it up on your wall, or get it cut out of a piece of wood then let it lean against the wall.
Either way, this cool two-dimensional tree will add a chique touch to the whole look of your living room for the holidays.
Difficulty level: 1 out of 5 (paper) or 5 out of 5 (wood).
Tree of sand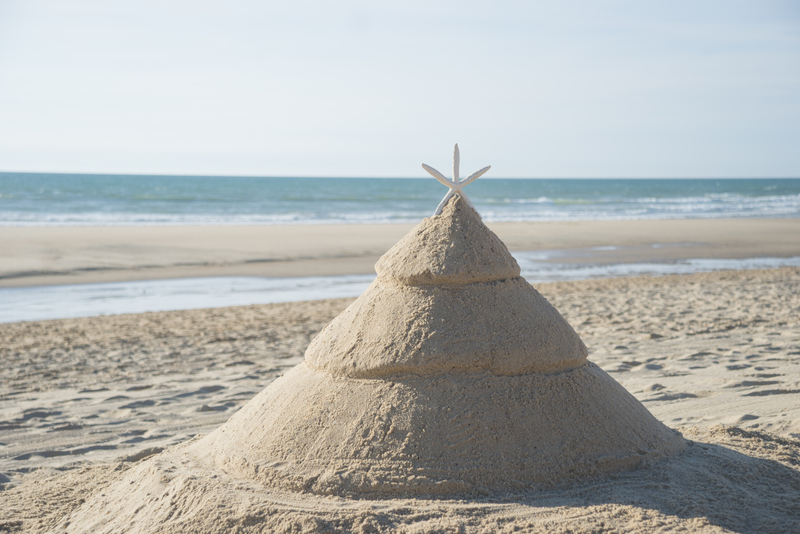 You might not be able to bring this home with you, nor would you really want a messy pile of sand sitting in the middle of your house – but it's a novel idea to build one with your little ones the next time you're down at East Coast Park.
Have loads of fun building the "tree" with your kids and then get them to collect pretty seashells, stones, leaves and flowers for the decorations.
You can then sit around the tree after it's done and sing song Christmas carols together, while admiring your beautiful work of art.
Difficulty level: 2 out of 5.
Tree of picture frames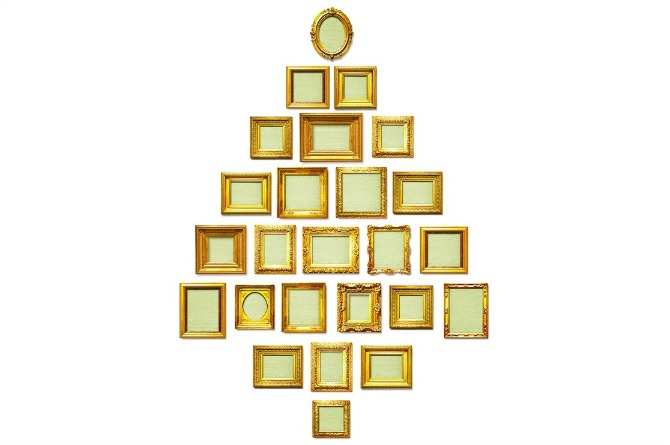 Go to Daiso and grab a bunch of different picture frames for only $2 each, then fill them up with photos of your family members, close friends and beloved pets.
Arrange the picture frames up on the wall to form the shape of a Christmas tree and stick them up using removeable hooks.
You can reuse the frames for any other occasion, or rearrange them into a different pattern once the New Year is here.
Difficulty level: 2 out of 5.
Cardboard tree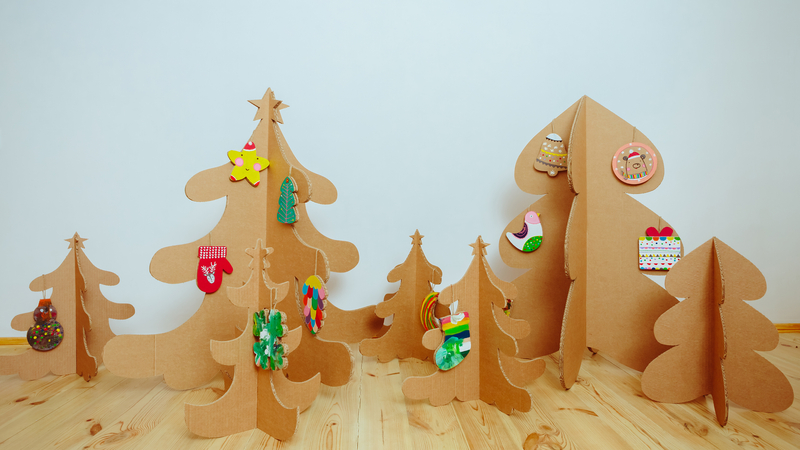 Did you buy some new furniture for the holiday season? Or did you get a huge present for your little one? Don't throw out the cardboard box it came in, because it can be recycled into a Christmas tree!
Draw the outlines of a tree onto two pieces of cardboard, cut them out and them slot them together to make them stand.
Your kids can draw lovely little Christmas decorations and then cut them out and stick them onto the cardboard tree.
Difficulty level: 2 out of 5.
What do you think of our Unique Ideas for Christmas Trees in Singapore? Which one do you like the most ? Do you have any ideas to add to this list? Let us know by commenting below!
4 Essential To-Bring List when Travelling with Kids
I have been receiving a few emails from Daddies & Mummies alike, asking what sort of gear do we pack for our holiday trips. So in light of the upcoming NATAS Travel Fair, I thought why not share our To-Bring list for our travels with everyone.
Personally, I feel the need (and temptation) to lug as many things as possible for a holiday trip with kids comes at the time when the child is between 1 to 3 years old. It is also perhaps the most taxing period for travelling as well. Infants are relatively easy while those beyond 3 years of age can be reasoned (coupled with a generous dose of patience!) or bribery/blackmail/intimidation if all else fails. Heh.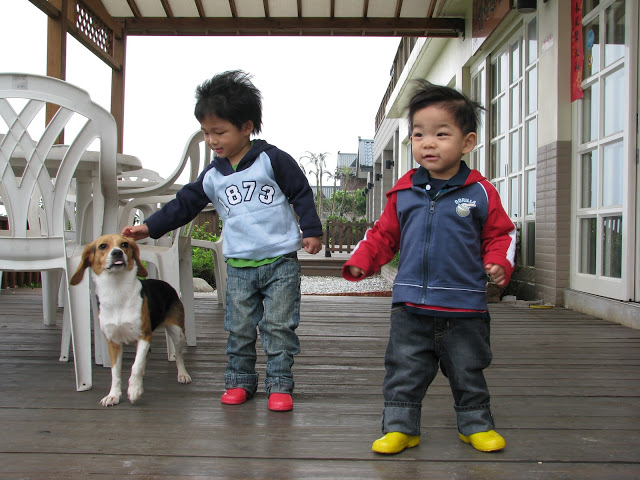 On with the list then!
1. FIRST AID KIT
Sickness and accidents do happen, especially with young children around. The last thing we would want is to be caught off-guard with any emergencies while in a foreign land, so these are the first things that always go into our luggage.
Medicine - For trips lasting more than 4 nights, we would usually purchase a 'travel-pack' from our family doctor and this pack would contain medicine for fever, running nose and cough. Depending on the country that we are visiting, we would sometimes bring along medicine for diarrhoea and constipation as well.
Digital Thermometer - to take my own temperature if the kids make my blood boil.
Breathe Right Nasal Strips or Vicks - in case the kids' get clogged up at night and cause great distress. I think the distress part refers to us parents.
Insect Repellent - if only it repels those pesky touts too.
Sun Screen lotion - at least SPF50 for us.
Lip Balm for kids
Plasters
Nappy Rash cream
Hand Sanitizer
2. FOOD
Compared to her 2 brothers, Ale is one big snack monster. Which is probably a good thing, since we are able to shut her up by piling her with all her fave snacks.
Milk powder - The nightmare of lugging tins and tins of milk powder on our holiday trips begins when Ale stops her breastfeeding. So for now, I just have to remember to bring the wifey along.
Pediasure Milk Powder - As a precaution however, we bring along a tin of Pediasure. Just in case any of the kids suffers a loss of appetite or falls sick during the trip.
Milk Feeding accessories - Milk bottles, milk dispenser containers, bottle brush, detergent & thermos flash for hot water.
Cereal & Jar food - The cereal is usually for breakfasts, and the jar food is on standby in case we can't find any suitable food for Ale during our travels.
Cutlery for meals - A pair of spoon & fork, and also a plastic container.
Bibs - We hardly use them, but just thought it might be useful to include it into the list.
Noodle Cutter - This ranks as one of our most important item on the list. This comes in very handy for noodle dishes, and also for cutting those long strands of vegetables.
Biscuits, gummies, and other snacks - to keep them quiet
Water bottle - knock them on the head to keep them quiet. Just kidding.
3. ESSENTIAL BABY GEAR
Enough said.
Books & Toys - Pack a few of their fave books & toys and alternate between them during those long hours of travelling in the plane or on the road.
Doodle pad & Journal book- we find it to be extremely useful for the boys as they spend their whatever free time that they have drawing and writing about their travel experience.
Bolsters or other bedtime soft toys - Yes, we used to squeeze Ash's & Ayd's bolsters into our luggage as they do provide them a great sense of comfort especially in a foreign land. Luckily for us, this is no longer in practice.
Diapers & Wet Wipes - Pull-up diapers are our choice when it comes to travelling. Sometimes we are hard-pressed to find a decent diaper-changing room so erm, the park bench will suffice and that's when pull-ups are definitely more convenient.
Ziploc Bags - for soiled clothes, diapers or puke. And in case I vomit blood.
Shampoo & Bath foam
Toothbrush & Toothpaste
Laundry detergent - if you are planning to wash soiled clothes.
Baby Stroller - try to do a research on the country you would be holidaying in if the walkways are stroller-friendly. You wouldn't want to be lugging it up and down countless flights of steps. I've been there and done that, and it gave me such a good workout.
Baby Carrier - A further better workout would come in the form of this, and we are using the Ergo Baby Carrier. In fact, it has served us well all these years... ever since Ash was born!
Portable Booster Seat - We are using the Sack 'n' Seat, also since Ash's time and it is a godsend especially if we can't find a baby high chair during meal times.
4. DADDY'S GEAR
Also known as Daddy's geeky toys.
iPhone. iPod. iPad. iCan'tDoWithoutThem.
Laptop
Camera & lenses - don't forget the batteries!
ALL chargers for the gadgets above.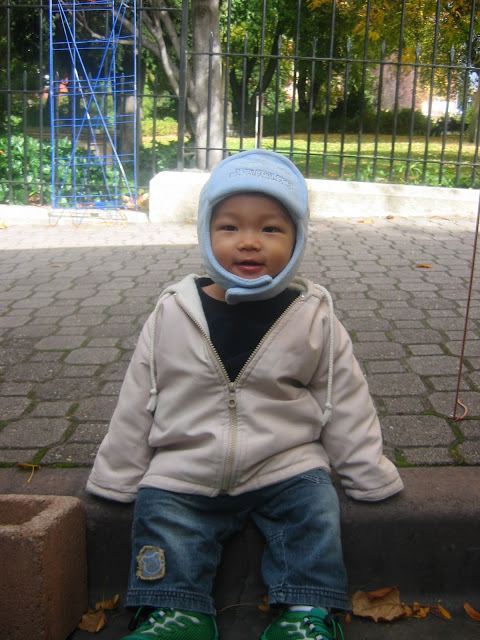 Uh-oh. I feel the travel bug biting again.
GET.com's Guide to the Most Fun Enrichment Classes
in Singapore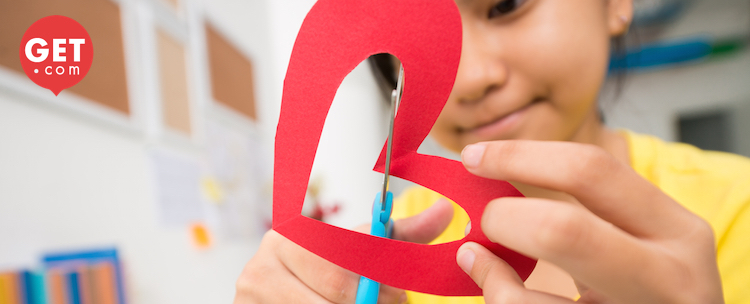 All work and no play makes Jack a dull boy. Supplement the little one's tuition classes with non-academic enrichment classes and watch him take the world by storm!
Instead of dragging the little ones to classes that they may not necessarily enjoy, consider taking them to non-academic enrichment classes nestled in shopping malls that you know they'll have a good time. It is always a good idea to observe and communicate with your kids to see where their interests lie. Here at GET.com, we've highlighted the most fun enrichment classes at shopping malls your kids may probably love according to categories just to make things a tad easier on your end. Have fun plowing through this handy guide of ours!
We picked these 11 shopping malls for their wide variety:
PoMo
Suntec City
United Square
West Coast Plaza
Forum The Shopping Mall
City Square
Rochester Mall
The Grandstand
Liang Court
Plaza Singapura
Paragon
Most Fun Enrichment Classes In Singapore
Gym

Bubbles Gymnastics - The Grandstand
My Gym - Rochester Mall, City Square
The Little Gym - Forum The Shopping Mall
Royce Kids Gym - Liang Court
Ensuring that your little ones are healthy and active from a tender age is crucial. Consider sending them to gyms to get them started on leading an active lifestyle. At Royce Kids Gym for instance, children from the age of 6 months to 7 years old can have fun at this sensory gym that aims to enhance their 5 senses and improve their motor skills in a clean, safe environment.
Bubbles Gymnastics offers a myriad of programmes for children of different ages. Their introductory Gymtots programme is meant for those between the ages of 1 and 3 where the little ones will get to learn basic gymnastics skills, their Kindergym programme is suitable for those between 3 to 6 years old getting their first dose of independence.
Music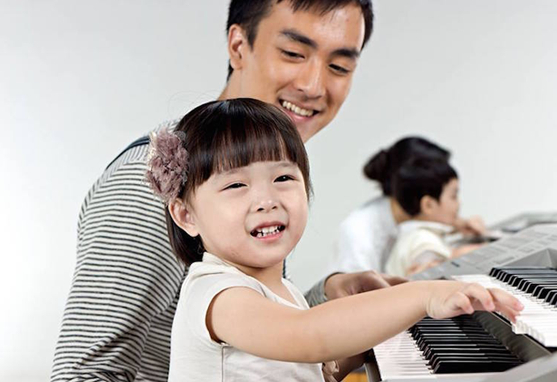 Kawai Music School - Paragon
Yamaha Music School - Plaza Singapura
Kindermusik With Love Studios - Rochester Mall
School of Music Clef - Suntec City
The Music Lab - City Square
Drumstruck Studios - PoMo
I don't know about you but if I had a kid, I'll definitely send him or her to music classes. Music is an amazing platform for self-expression and it shapes the child to reason and think creatively, value sustained hard work and to always strive for excellence. It is always good to let your kids start young on music education, don't you agree?
Kindermusik is a great option for children regardless whether they're newborn or 7 years old as they have core programmes for children of different age groups. Children between the ages of 5 and 7 have opportunities to explore anything from voice development, notation, rhythm, to even woodwind instruments.
Arts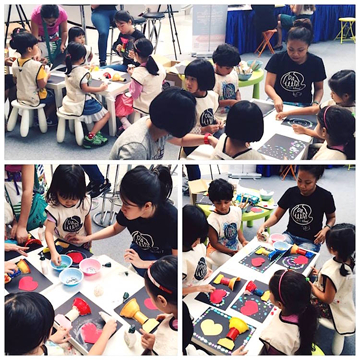 Da Little School - Rochester Mall
Global Art - United Square
Vince Music & Art Studio - West Coast Plaza
The Little Arts Academy - PoMo
Have your kids shown flair for art or simply enjoy art for what it is? If your kid has an artsy nature, why not groom that potential by sending your child to art classes? The Little Arts Academy has a magnificent 6-month introductory programme, Art of Play, for the little ones to explore fundamental aspects of dance, theatre, music and visual arts. Multidisciplinary in nature with a strong focus on shaping the child's interest for the arts, Art of Play is a fantastic programme to kickstart a child's journey in learning and appreciating all things artsy.
Dance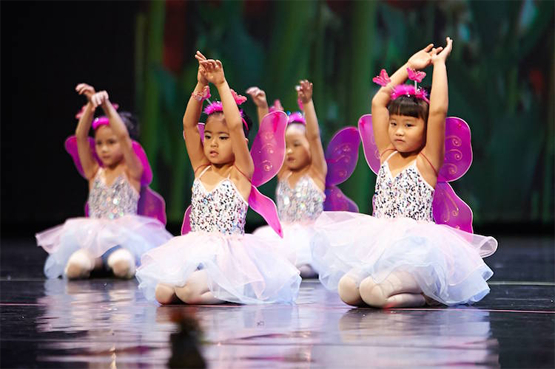 Danz People - PoMo
The Ballet & Music Company - United Square
Jody Marshall Dance Co. - Suntec City
Stepping Out Studios - City Square
All That Jazz Dance Academy - Forum The Shopping Mall
Nobody says jazz is only for adults. At All That Jazz Dance Academy, children aged 3-4 enrolled in their Twinkle Tots Ballet & Jazz programme get the best of both worlds as they step foot into the world of ballet and jazz. This programme is specially crafted for children who love to move, dance and sing in a fun and interactive environment.
Sports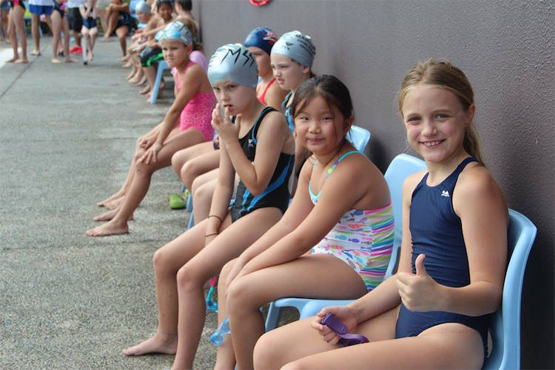 JH Kim Taekwondo Institute - The Grandstand
Marsden Swim School - The Grandstand
Ildo Taekwondo - West Coast Plaza
KinderGolf - United Square
If you want your kids to be fitter, stronger and healthier so that they don't fall sick so frequently, consider sending them to fun classes specializing in sports from a tender age. JH Kim Taekwondo Institute is one of the globally renowned institution specializing in taekwondo with schools in USA, Korea, Ireland, China, Malaysia besides Singapore while Marsden Swim School is incredibly well-loved by parents and kids alike.
Others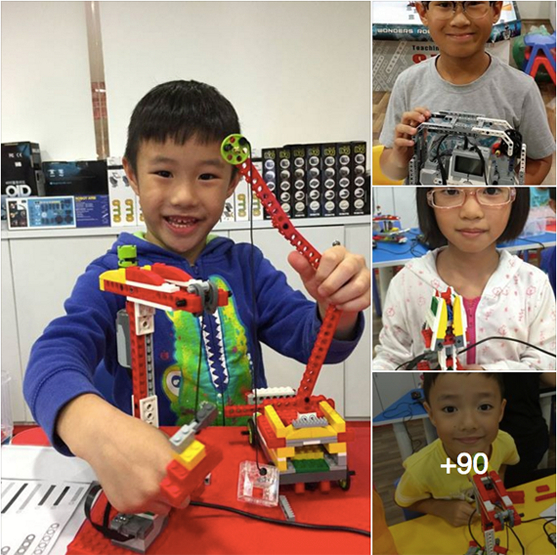 Julia Gabriel Centre - Forum The Shopping Mall
Children's Worklab - Forum The Shopping Mall
WondersWork - Liang Court
Evolve Mixed Martial Arts - PoMo
The Julia Gabriel Centre is great for children who are learning to express themselves. Here, programmes in both English and Mandarin utilize speech and drama, music, play, performance, art and even literature to inculcate the kids' love for learning.
WondersWork is an extraordinary learning centre that nurtures children to be aspiring inventors and entrepreneurs through programmes such as WondersInvent, WondersRobotic and WondersKnit.
Children's Worklab offers incredibly interesting weekly weekend workshops that introduce little ones to the world of applied technology. Their workshops allow children to be familiar and creative with technology in addition to reinforcing their understanding of key concepts across disciplines like science, energy, engineering and even video game design.
If you think mixed martial arts is only reserved for adults with bulking muscles, think again. Evolve Mixed Martial Arts aims to teach the young ones martial arts, mental strength, focus and all-rounded wellness through their Little Samurai Children's Programme.
Saving Tips For Enrichment Classes
We all know that sending children to enrichment classes doesn't come cheap. But if you want to give your child this extra education that they won't find in preschool or school, then there are some ways to save money on classes.
For example, if you use a credit card that gives you rewards on your purchases, like a cashback card or a rewards credit card, these rewards help you save money since you can redeem them to offset other expenses.
Here is our pick of the best credit cards for families with kids in Singapore.