10 Spas in Singapore to Indulge in
Mother's Day is just around the corner and it is the day which many of us show our appreciation to our mothers for their hard work and dedication to the family over the past year. If you have no idea what to do, give your mother some time off and allow her to indulge in the ultimate in relaxation by bringing her to a spa instead of settling for just boring old dinners and flowers.
For the mothers who want to be pampered
1) Banyan Tree Spa Singapore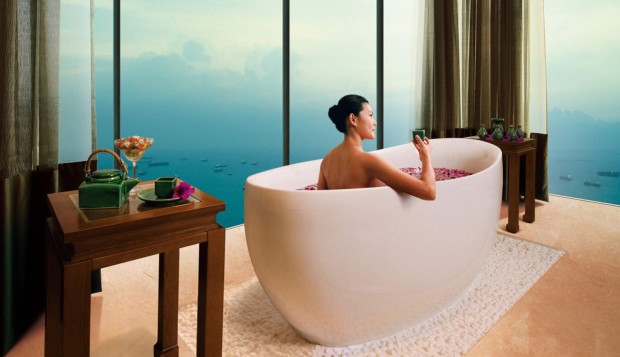 Boasting stunning views of the Central Business District on the 55th floor of Marina Bay Sands, Banyan Tree Spa claims to be an "oasis in the sky". Its spa menu offers unique treatments like the rainmist experience which will provide full physical and mental relaxation for your mother, allowing her to fully rewind from the hectic pace of Singaporean life.
Address: 10 Bayfront Ave, Marina Bay Sands Hotel Tower 1 55/L, Singapore 018956
Opening hours: Sunday to Thursday: 10:00am to 11:00pm, Friday and Saturday: 10:00am to 2:00am
2) G Spa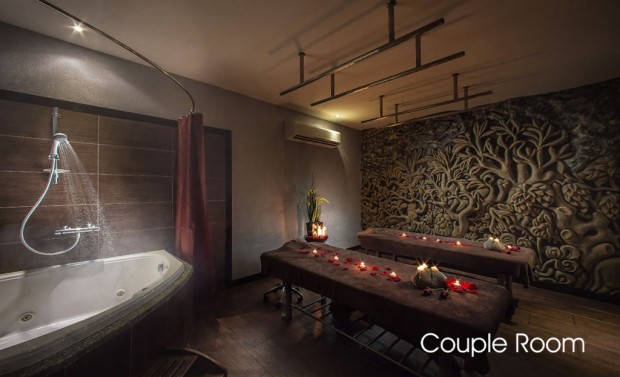 The G Spa will provide your mother with a hollistic spa experience this Mother's day. Besides the general massages, you can also opt to complete your treatment by soaking in the hot or cold pools before the treatment and then indulging in the gourmet offerings which the spa provides. This not only provides a hollistic wellness experience for your mother, it also saves you the problem of racking your brain to figuring out where to bring your mother right after the spa.
Address: 102 Guillemard Road, #02-02, Singapore 399719
Opening hours: 24 hours
3) Ikeda Spa
The first traditional Japanese spa in Singapore, Ikeda is the epitome of Japanese relaxation right here in Singapore. Your mother is guaranteed to enjoy the quality of facilities and the spa services provided here (including a real Onsen!), given that Ikeda was the winner of the Best Luxury Day Spa in the 2014 Luxury Spa Awards. With their ongoing Mother's Day promotion, you can also accompany your mother and give her the gift of your undivided attention in addition to the spa treatment.
Address: 787 Bukit Timah Rd, Singapore 269762
Opening hours: 1:30pm to 10:30pm
4) My Cozy Room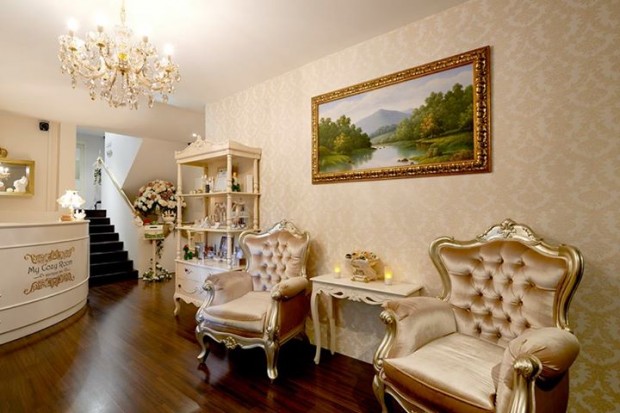 My Cozy Room is situated in a pre-war terrace house tucked away in Cairnhill Circle and it strives to create, as its name suggests, the cosy spa experience which will make your mother feel right at home. However, don't let this fool you into thinking that their service and treatment are substandard! My Cozy Room is dedicated to using only effective skincare products and therapists who can empathise with their customers. My Cozy Room will ensure that your mother's spa experience is a pleasant one this coming Mother's Day.
Address: 56A Cairnhill Rd, Singapore 229667
Opening hours: 11:00am to 9:00pm
5) Remède Spa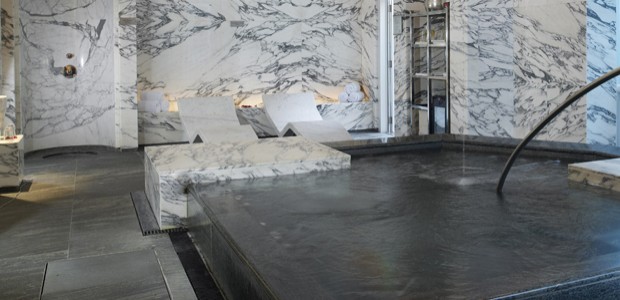 Located at St Regis Singapore, Remede creates an environment of calm amidst the bustle of Singapore. Its commitment to providing personalised services will make your mother feel pampered and special on Mother's Day. The availability of a wide range of treatments will leave your mother spoilt for choice. And don't just stop there. Your mother can also indulge in pedicure treatments formulated by the world-renowned Bastien Gonzalez and get the head-to-toe ultimate in pampering.
Address: 29 Tanglin Road, The St Regis Singapore, Singapore 247911
Opening hours: 9:00 am to 12:00 am
For mothers who want to get away from the city
6) Aramsa~The Garden Spa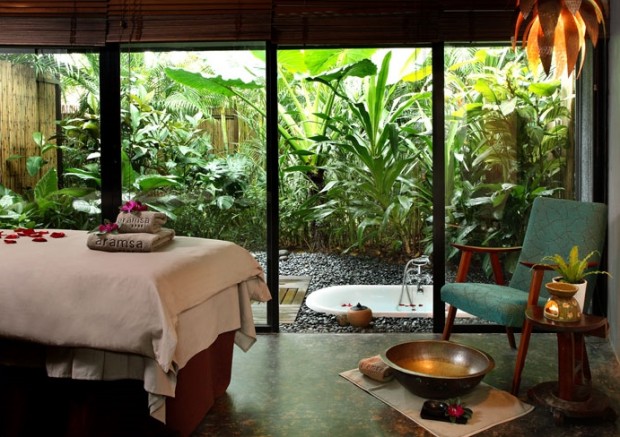 Located within the gorgeous landscape of Bishan Park 2, Aramsa has been claimed to be one of Singapore's top spas. The award-winning design of the rooms integrates beautifully with the natural backdrop of the park, creating the perfect environment for relaxation within nature. Additionally, the services provided by the spa complement its excellent design. Winner of many awards, including the 2006 award for Best Spa Experience by the Singapore Tourism Board, Aramsa Spa is definitely a place where you can be sure that your mother is in good hands.
Address: 1382 Ang Mo Kio Avenue 1, Bishan Park 2, Singapore 569931
Opening hours: 11:00 am – 10:00 pm
7) Auriga Spa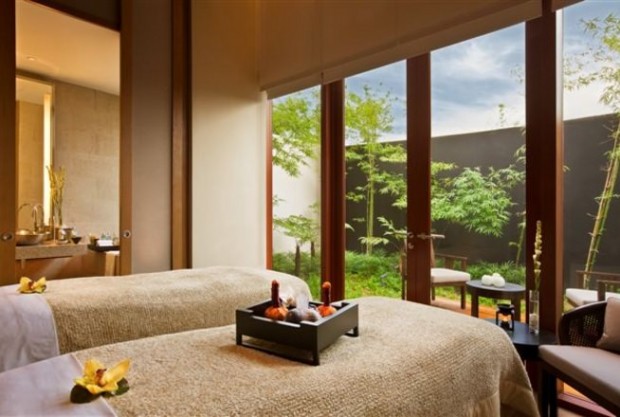 Auriga Spa in Sentosa is an excellent choice if you want to bring your mom for a weekend getaway. Located away from Singapore altogether, Auriga Spa in Capella Hotel is surrounded by greenery, making it the perfect place for those who simply wish to get away from the city. Its Signature spa treatments, unique blend of modern products and time-tested treatments will also help your mom relax and rejuvenate. Auriga Spa's fully organic treatment products will make it well worth the effort for those who may be reluctant to make the trip down.
Address: 1 The Knolls, Capella Singapore, Singapore 098297
Opening hours: 10:00 am – 10:00 pm
8) ESPA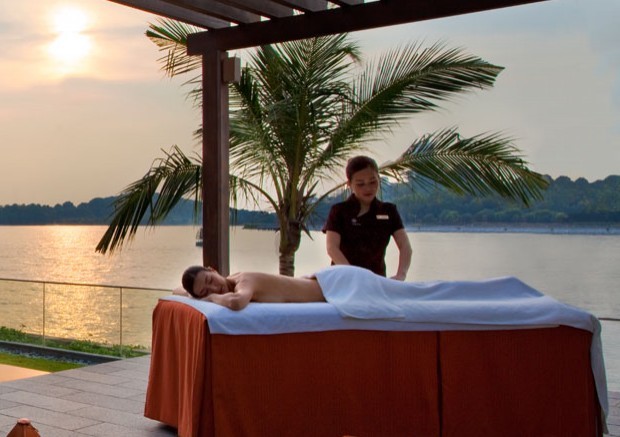 ESPA is also located in Sentosa, spread across 10,000 square miles of verdant forest and creating a relaxing, natural environment. Besides offering regular spa treatments, ESPA also allows your mother to personalise her lifestyle retreat which helps to achieve her goal of relaxation and wellness.
Address: 8 Sentosa Gateway, Singapore 098269
Opening hours: 10:00 am – 10:00 pm
For the adventurous mothers or those who want something different
9) Fish Reflexology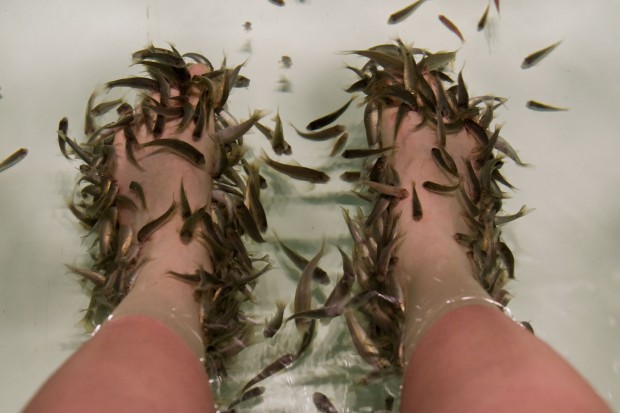 If your mom is the adventurous sort, a day at the fish spa might just be what she needs. Located right beside Underwater World, this small but cosy spa has tiny fishes eating the dead skin right off your feet, which is sure to draw a smile, if not laughter, from your mother. And there's no need to worry about after-spa activities. Underwater World and Resort World Sentosa are just nearby!
Address: 80 Siloso Road, Sentosa, Singapore 098969
Opening hours: 10:00 am – 7:00 pm daily
10) Palm Ave Float Club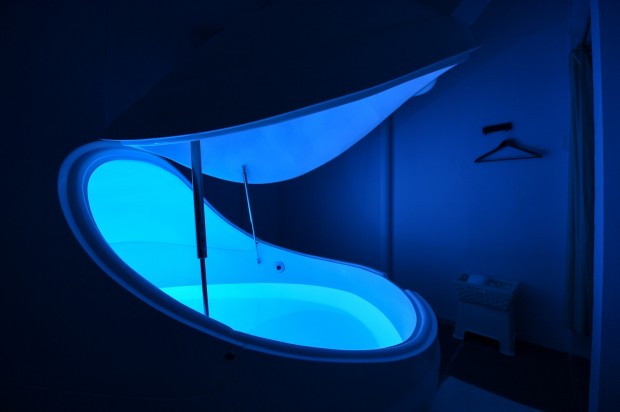 While not exactly the treatment that comes to mind when we think of a spa, flotation therapy has gained popularity in recent years as a way to rejuvenate the mind and get away from the daily monotony of work. So for something a little different, bring your mother to the Palm Ave Float Club, the first flotation pod spa in Singapore, to allow her to relax and get away from the stress from work and family.
Address: 20 Waringin Park, Singapore 416333
Opening hours: 10:00 am – 10:00 pm daily
12 Fun Outdoor Activity Ideas
for the Weekend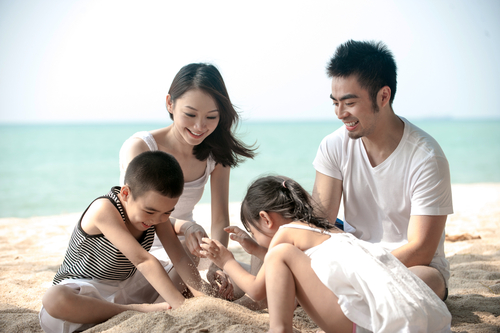 Help your child learn in an enriched environment with these 12 easy outdoor activities for children.
Not every outdoor activity has to be centered around sports. There are many outdoor activities with kids you can try, that are cost-free and enjoyable, and the following should help give you ideas on how to spend your day out with kids in an enjoyable way:
1) Explore Singapore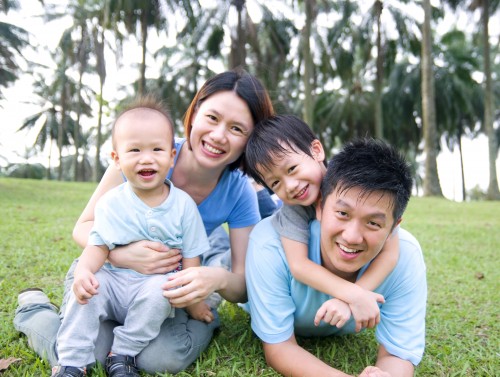 If you and your kids share a passion for nature, then going on an exploration exercise can be fun. Take along a butterfly book or a bird book and make a game of challenging your kids to spot as many creatures as they can, using the book as a guide. The idea is to have fun exploring and learn new things about nature at the same time.
2) Be Picasso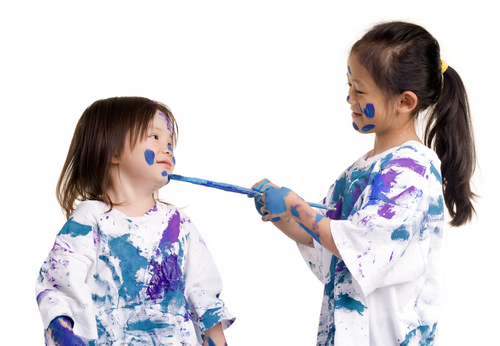 Painting is usually a messy activity, so why not take it outdoor and allow your kids the freedom to get as messy and creative as they like. Cleaning up will be less of a nightmare.
3) Design some plates
Take out your old china and let your kids have fun painting designs on them. This is a good activity for outdoors, as you will not have to clean up the mess later. Your kids can then use these pieces as decorative containers for potted plants.
4) Rent some bikes!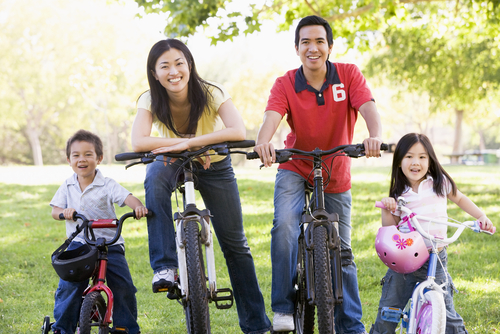 Cycle around the neighbourhood. It is heart-warming to see a whole family out together cycling and enjoying the exercise and fresh air.
5) Splash around
Play with water balloons. This will keep your kids occupied and happy as water and kids usually make the ideal partnership, especially when the words "bath-time" are not in the equation.
6) Beachy fun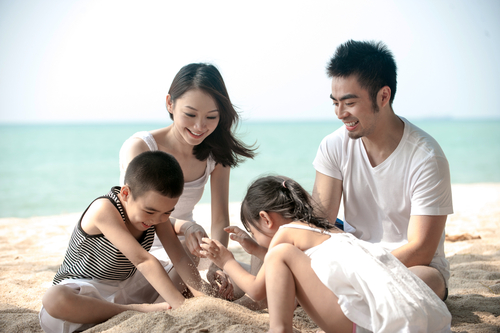 Besides just going to the beach to make sand castles and play in the water, try organising a hunt for seashells, crabs, washed up coral pieces or even funny shaped rocks.
7) Green thumbs
Do some gardening with your kids. Plant new things and watch your kid become absorbed in the growing process. You will be surprised at just how enthusiastic your child will become as he/she monitors the growth of something they planted on your lovely day out with kids.
8) Wash the car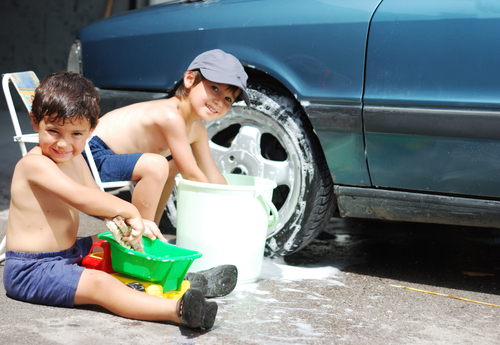 Washing a car alone, can be a chore, but when kids are included, the fun starts. Laughter will be heard as you all enjoy the soap and water frolic.
9) Be tourists
Hop on a bus and take a trip around the city. This is an interesting way to spend time for an outdoor activity with kids. Do this during off-peak hours, and just sit back and relax while taking in the city sights. This is a great and cheap way to see your city. Your kids will enjoy the tour and you will certainly be able to see your city in a new light.
10) Ahoy mate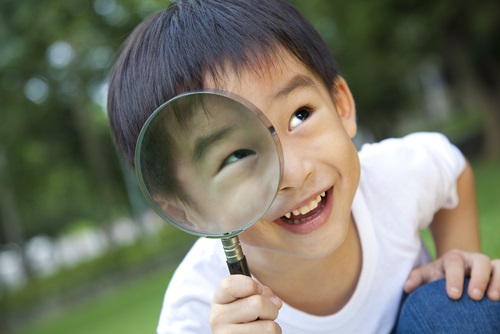 Have a treasure hunt. This will need some "homework" on your part, but it can prove to be an educational experience during your day out with kids, as they learn to understand directions and have a keen eye.
11) Old school
Play outdoor games from when you were a kid such as zero point, hop skotch, sepak takraw. Introduce these games to your child and bring back happy, old memories at the same time.
12) Scavenger hunt
On your day out with kids, organise a scavenger hunt. This kind of activity does not have any age limit so you can include anyone and everyone to make it more interesting.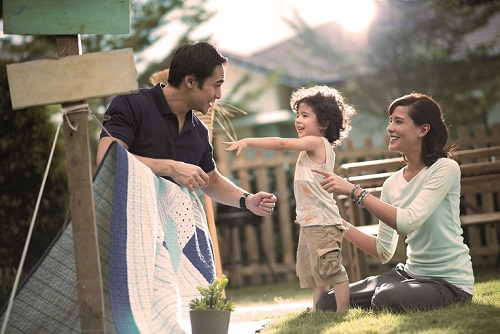 Kids want to play and outdoor activities allow kids to indulge in experiences with nature, inducing curiosity and the use of imagination. The outdoors provides an "enriched environment" for play, which helps kids to develop their cognitive, physical, social and emotional well-being.
Allowing kids to play and be exposed to the elements of the nature environment, means kids have to be healthy and strong on the inside. With the right nutrition, kids can grow to be strong and healthy to explore the beautiful world outside with you. There are many more ideas for fun outdoor activities that you can enjoy with your kids to bond with them and promote healthy development.
10 Quick, Easy and Healthy Kids' Snacks
for under $10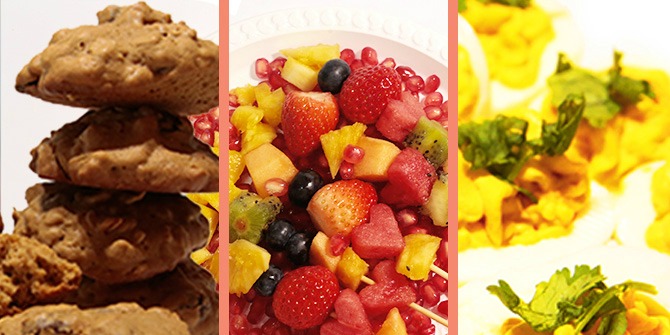 Wondering how to get your kids to eats superfoods like avocado and sweet potatoes? Here are 10 quick, easy, and healthy recipes for kids' snacks that will be a hit with your kids. And each one costs less than $10 to prepare!
If your kids are anything like my kids, they are either always hungry or don't want to eat what is put in front of them. Especially when it comes to snacks!
Getting their main meals ready is not such a challenge for me, as they largely eat what the adults eat. My real struggle has been getting fun and healthy snacks ready for them to eat right after school, or use as tummy filler if the dinner is late.
And another thing – I am not the best, or the most patient cook in the world. So I need recipes that are quick and easy, yet healthy and tasty.
Here are 10 family favourites that work for me and my kids. Why don't you give these tried and tested recipes a go too?
Recipe #1 – Crunchy Chewy Oatmeal Cookies
Sometimes when you are feeling indulgent, prepare this little treat for your kids. It's wholesome and full of oats, which is great for your kids.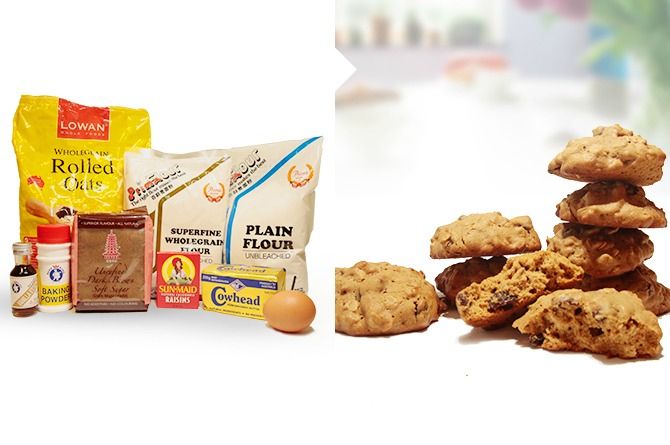 Superfood: Oatmeal
What you need:
1/2 cup whole-wheat flour
1/2 cup all-purpose flour
1 tsp baking powder
1/3 cup butter
2/3 cup packed dark-brown sugar
1 large egg
1 teaspoon pure vanilla extract
1/2 cup rolled oats (not quick-cooking)
1/2 cup dried raisins
What you do:
Preheat oven to 180°C
Whisk together both kinds of flour and baking powder in a large bowl
In another bowl, whisk together butter, sugar, egg, and vanilla
Stir and combine the two mixtures
Mix in oats and dried raisins
Using two tablespoons of dough per cookie, roll them into balls and place it on two baking sheets lined with baking paper
Bake for 15-17 minutes or until lightly browned
Let them cool for 5 minutes and they are ready to be munched on!
Recipe #2 – Devilled Eggs
This classic is a family favourite and works as well for kids as it does with adults.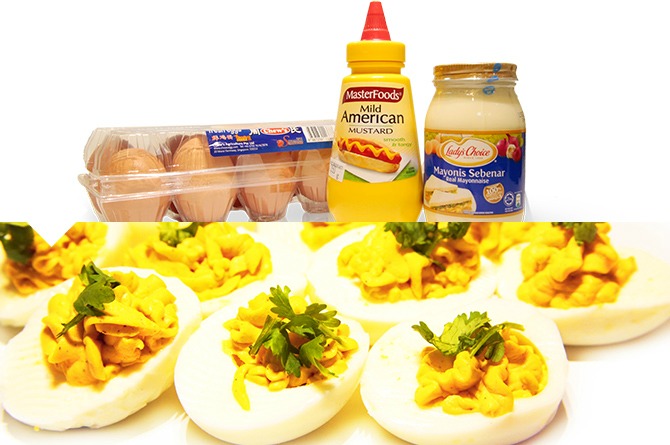 Superfood: Egg
What you need:
6 hard-boiled eggs, peeled
3 tbsp mayonnaise or salad dressing
1/2 tsp ground mustard
1/8 tsp salt
1/8 tsp pepper
What you do:
Cut eggs in half lengthwise. Take out the yolks and mash with fork
Stir in the mayonnaise, mustard, salt and pepper into the masked yolks
Fill whites with egg yolk mixture, heaping it slightly & served
Recipe #3 – Yummy Egg Muffins
This recipe hardly takes anytime and is a great snack to eat hot out of the over or out of a box on the go. It is very versatile as you can add in different ingredients to make what your kids love.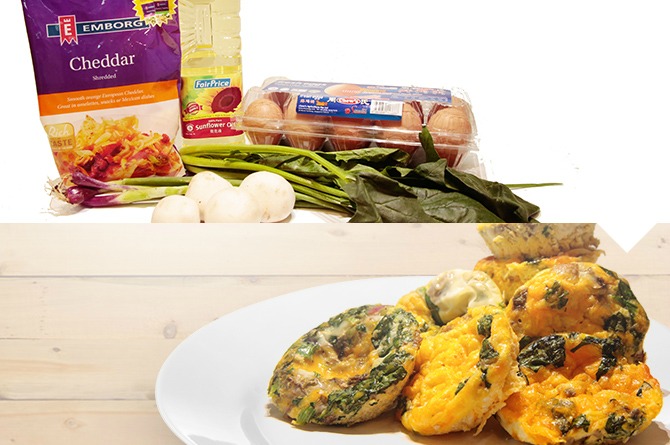 Superfood: Egg
What you need:
1 dozen eggs
1/2 teaspoon sea salt
Non-stick cooking spray or vegetable oil, to coat pans
1 cup frozen or fresh spinach
1 cup thinly sliced mushrooms
1/4 cup thinly sliced green onion
1 1/2 to 2 cups shredded cheese (either cheddar or parmesan)
What you do:
Preheat the oven to 180°C
Whisk the eggs together with salt
Grease a 12-cup muffin pan with non-stick cooking spray
Divide spinach, mushrooms, green onion, and cheese between each muffin cup, then carefully pour eggs over tops until muffin tins are almost full (leave 1/4-inch space)
Bake for 20-25 minutes or until a wooden pick inserted in the center of a muffin comes out clean. The egg muffins will look like soufflé when they come out of the oven, but they will sink after a few minutes.
Ready to serve!
Recipe #4 – Guacamole
It took a little while for my kids to learn to appreciate the taste and texture of this dish, but it took a little tweaking and finally I managed the version that they love. Pair it their favourite nachos or sandwiches and I bet you the kids will be begging for more.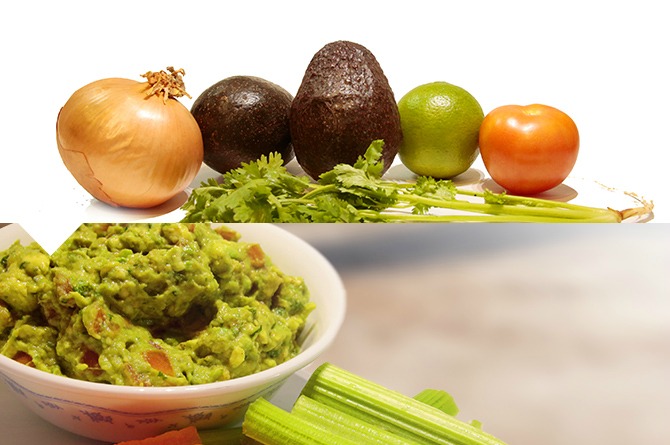 Superfood: Avocado
What you need:
2 large ripe avocados
1/2 small red onion, finely chopped
1 medium tomato, seeded and finely chopped
2 tbsp lime juice
1/2 tsp ground cumin, or to taste
1/4 cup chopped coriander
1/2 tsp salt
What you do:
Cut the avocados in half and remove the pits
Scoop out the flesh with a spoon into a bowl
Mash the flesh till it is a smooth in texture
Add the onion, tomato, lime juice, cumin, coriander and salt
Serve it as a dip with nacho chips or vegetables sticks!
Recipe #5 – Sweet Potato Bites
There is no other food in the world that is more comforting that a crispy potato bite! Here is a much healthier version of it, using sweet potatoes. They go down a treat with the kids in my household. Eat them hot and crispy for that yummy satisfaction.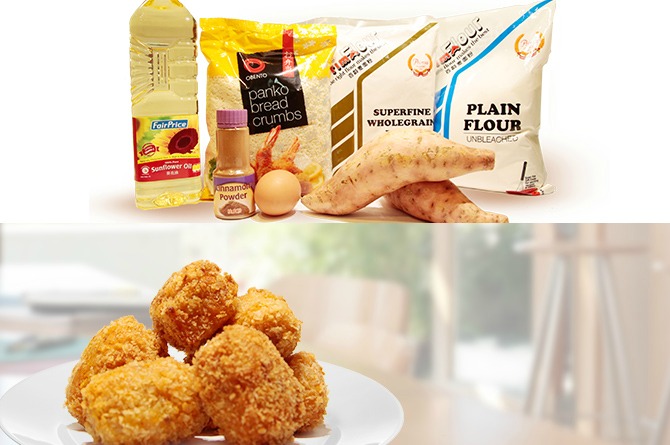 Superfood: Sweet Potato
What you need:
2 large sweet potatoes
1/4 cup all-purpose flour
1/4 cup whole wheat flour
1 1/2 tsp cinnamon
1 cup panko breadcrumbs
1 egg
Non-stick cooking spray or vegetable oil, to coat pans
What you do:
Preheat oven to 180°C
Boil sweet potatoes in a pot of salted water for 10-15 minutes or soft
Drain and cool
Mash the sweet potatoes into a bowl
In a separate bowl, combine flour, panko and cinnamon and mix well
Whisk the egg in another bowl.
Take a small amount of the sweet potato mixture and shape into a tot. Freeze the tots for at least 30 minutes.
Roll the tot the whisked egg and then coat it with the flour/panko mixture.
Grease the baking sheet with non-stick cooking spray and place the tot on it.
Bake for 15 minutes or until golden. Alternatively, shallow fry in vegetable oil.
Cool and serve.
Recipe #6 – Berry Berry Creamy Popsicles
This is a yummy treat that is perfect to give a boost of love and energy to the young ones (and the not so young ones) after a particularly long and busy day.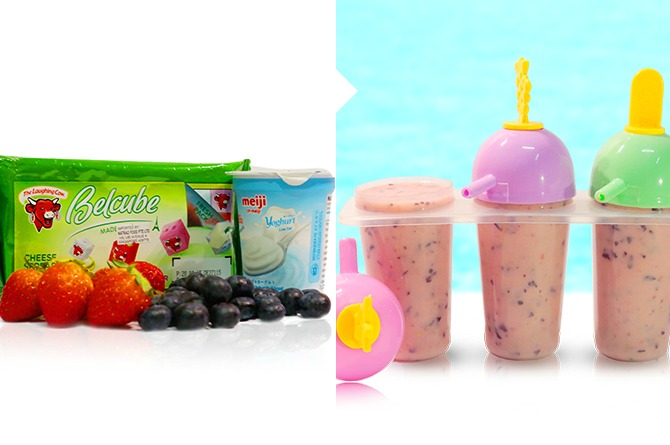 Superfood: Strawberries, Blueberries, Raspberries
What you need:
250gms berries (strawberries, blueberries, raspberries) roughly chopped
250gms cream cheese cut into chunks
60gms Greek style yogurt
5 tbsp honey
What you do:
Take a food blender and blend the berries till they form a thick puree
Add in the cream cheese, yogurt, honey and blend again until smooth & well combined
Pour the mixture into the popsicle moulds
Fold in some chopped berries if you want
Freeze for 4-6 hours and it's ready to serve
Recipe #7 – Rainbow Fruit Sticks
This snack is actually as much fun to prepare and present as it is to eat. My kids love all the yummy flavours, the colours and shapes. Sometimes, we even have battles with our fruit spears – but at the end the tummies are the real winners!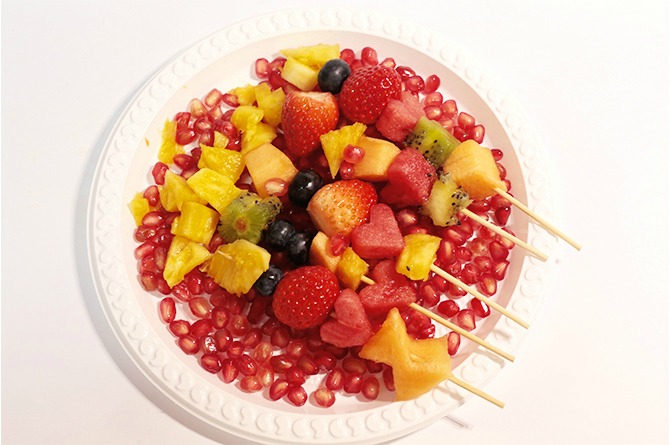 What you need:
Fruits of your children's choice: grapes, melons, watermelon, pineapple, kiwis and mango
Satay sticks
Cookie cutters of various shapes
What you do:
Cut the fruit into different shapes such as hearts and stars using the cookie cutters
Spear them onto the satay sticks & it's ready to serve
Note: You can add in pieces of cheese in the middle of the spears to add in a bit of flavour and give the kids that extra protein and fat.
Recipe #8 – Mango & Banana Smoothie
This one takes almost as little time to make as it takes to drink! A favourite of the kids and great for an energy boost.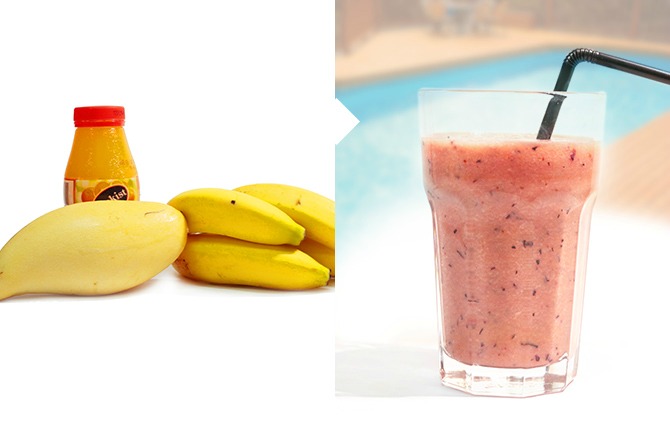 Superfood: Banana
What you need:
One medium sized mango
One banana
500 ml orange juice
Ice cubes
What you do:
Dice the mango into small chunks
Peel and chop the banana into slices
Add the mango & banana along with the orange juice & ice cubes into a blender until smooth and thick
Ready to serve
Recipe #9 – Ham-and-Apple Wraps
This no-cook snack recipe has been passed down the last three generations in my family. It is easy-peasy-lemon squeasy to prepare and yet packs a punch in terms of nutrition.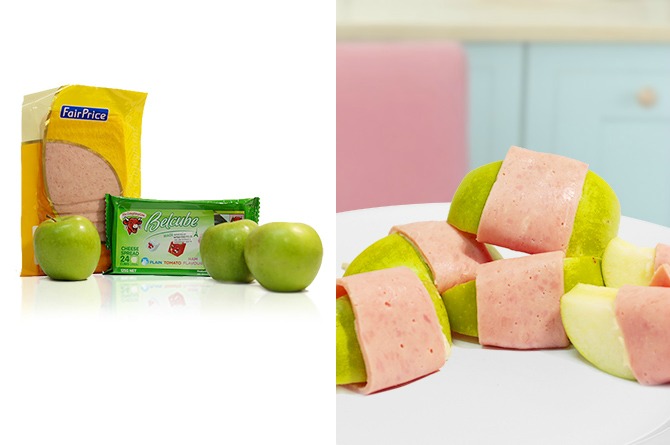 What you need:
One green apple, sliced into 8 with the core removed
8 slices of ham
8 strips of cheese (optional)
8 toothpicks to skewer it
What you do:
Slice the ham into 2 inches wide strips.
Place the cheese strips on top of it
Wrap the ham and cheese around a slice of apple and skewer with a tooth pick
Ready to serve
Recipe #10 – Cheater's sushi
Surprisingly a lot of kids love sushi, but it is not the easiest thing in the world to make for many of us. Here is a cheater's version of it for you.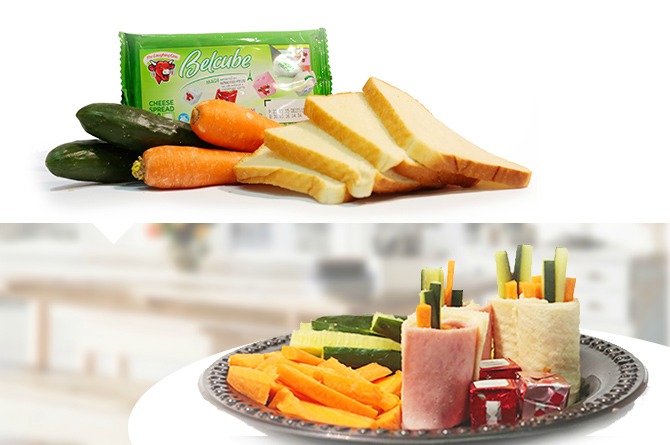 What you need:
Cucumber sliced into sticks
Carrot sliced into sticks
2 slices of sandwich bread
Cream cheese spread
(3 tablespoons cream cheese mixed with 1 1/2 tablespoons sour cream)
What you do:
Flatten the bread slices with a rolling pin
Spread cream-cheese mixture over slices
Place 2 carrot and 2 cucumber sticks at the bottom of each slice
Roll up bread, pressing gently to seal, then cut each roll into 4 equal pieces
Ready to serve
Did I forget to mention that my one-stop-shop for everything I need, right from the fruits, vegetables, cheeses, crackers to the baking sheets and satay sticks is FairPrice? I get everything that I need at one place and at amazing prices.
7 Low Fat Chinese New Year Snacks
for the Weight Watcher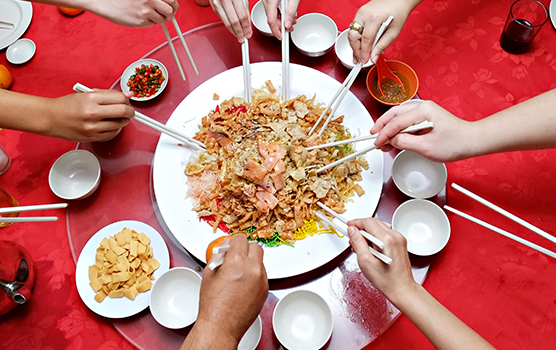 It's going to be that time of the year again when we lose sight of our New Year's Resolutions of shedding those extra pounds. Chinese New Year snacks are pretty high in the calorie count, so we've compiled a list of snacks that would help us be cautious waist watchers in this season of food and hong baos.
1. Turkey bak kwa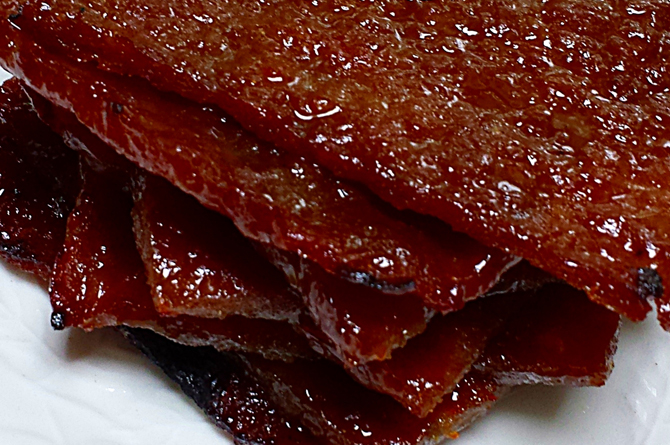 Chinese New Year without bak kwa is never the same. It's lower in fat compared to the other kinds of bak kwa, gluten free and most importantly, as tasty as the average bak kwa.
2. Yu sheng, with less oil and plum sauce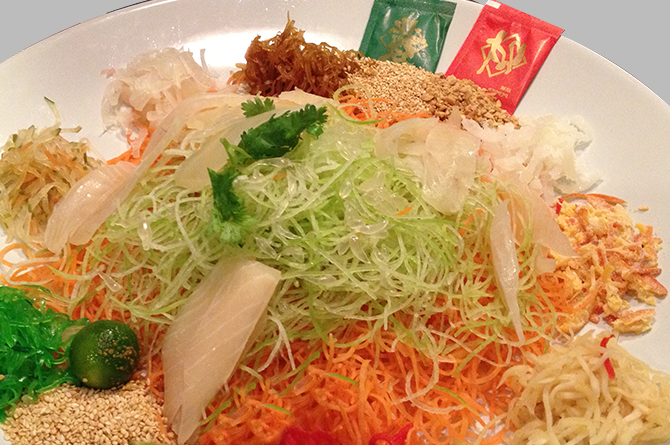 If you sprinkle the oil and plum sauce sparingly, the Yu Sheng can be one of the healthiest things you can eat during Chinese New Year - especially when an average person has about two to three Yu sheng each season. Salmon, varieties of vegetables and light crackers makes for a perfect salad alternative for the waist watcher during this season of feasting.
3. Mandarin oranges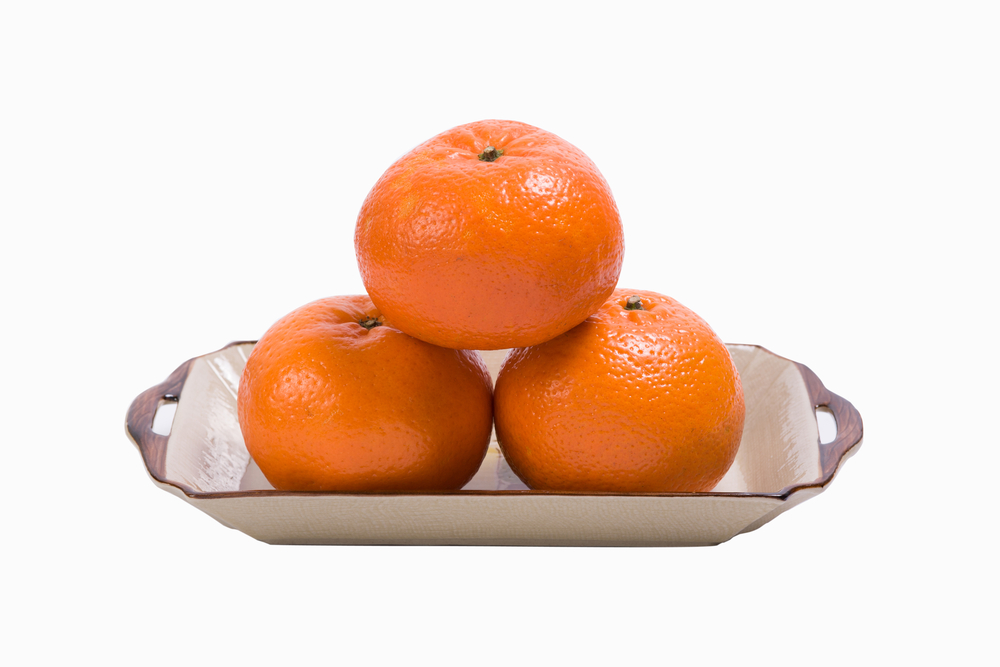 You can never go wrong with fruits. Mandarin oranges are high in Vitamin C, low in calories and contain not even one gram of fat. If you've the irresistible urge to chomp on something, we recommend you putting mandarin oranges nearest to you for the best waist-watching snack during Chinese New Year.
4. Baked fish strips with seaweed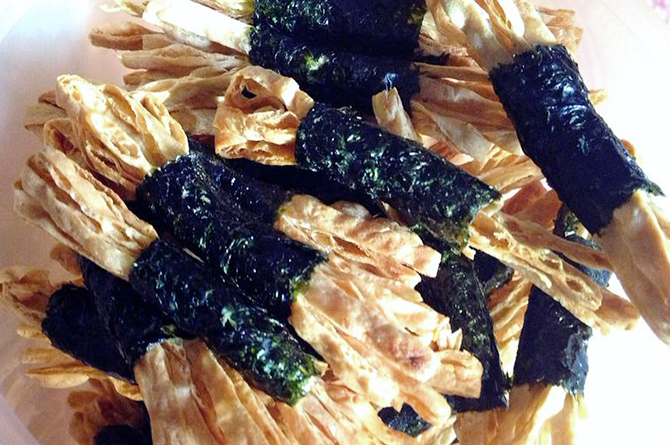 These seem to be relatively new. They're dried fish cod strips, so think protein! The problem is that this snack is so addictive that we eat non-stop, only to have developed a severe case of dehydration. Dried fish cods can easily absorb water content from inside your stomach, so eat it sparingly, accompanied by the occasional drinking of water or any other form of liquid.
5. Sunflower seeds instead of melon seeds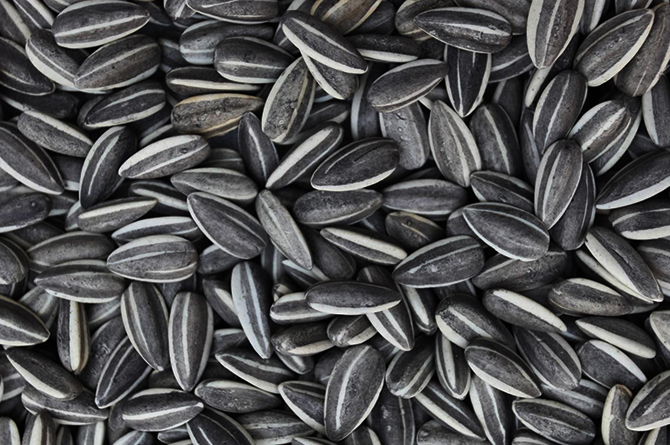 Also known as the world's healthiest seeds! Try to opt for sunflower seeds as they're generally lower in saturated fat and sodium. They also beat peanuts and almonds in the low fat nutty category. Granted, the sunflower seeds may not be as tasty as the melon seeds, but they make for a much better substitution in terms of keeping your size in check.
6. Dried cuttlefish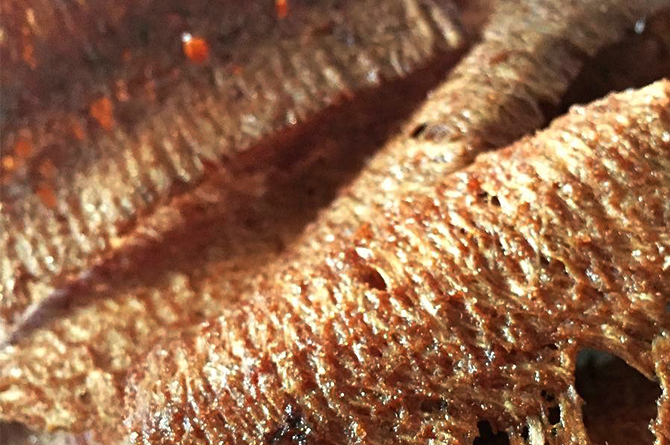 These are great to nibble on to pass time during awkward silences between distant relatives. Opt out of the sugary ones. If you're in a home where you don't have the option of moving around much, it's quite a safe snack to be left alone with.
7. Kueh bangkit cookies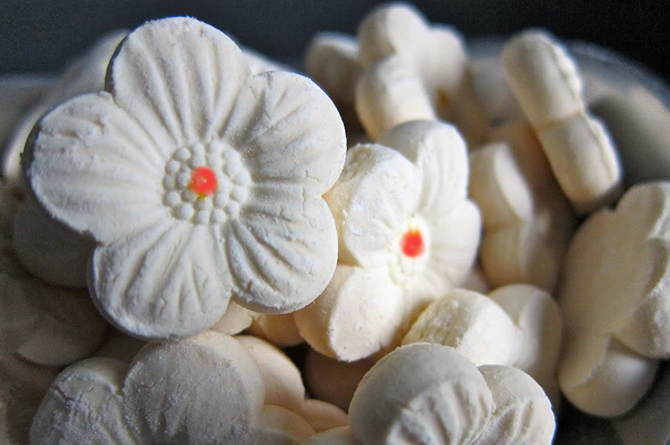 This definitely isn't one of the first to come to mind (actually, it doesn't come to mind at all). But the bangkit cookies are quite low in the calorie list. Surprisingly low. Even though they contain ingredients like coconut, flour, milk and eggs, it's still safe to pop a couple a day!
12 Sinfully Yummy Chinese New Year Foods
You Should Be Wary Of
Chinese New Year is a time for all things new and prosperous. Children vie for loaded ang pows while working adults attempt to keep their finances in check as they go visiting, eating and for the unfortunate wedded people, ang pow-giving.
Where three or four generations of family gather, food is a necessity and the variety of Chinese New Year goodies definitely do not disappoint.
When the golden period of Chinese goodies and smiling relatives slowly simmers down, however, over-indulging might not be such a good idea anymore.
Read on to find out which heartburn-inducing Chinese New Year foods you should probably eat in moderation to prevent indigestion.
1. Suckling pig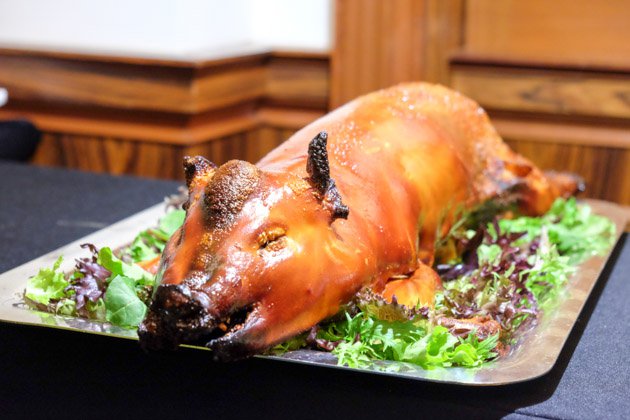 As tempting as it may be to continually reach for a second round of fried pork skin, it is good to note that suckling pig or deep-fried pork can increase the risk of you getting heartburn with all its oily goodness.
This is mainly due to its fried fatty skin which, upon consumption, might clog up your arteries with fat.
2. Mandarin oranges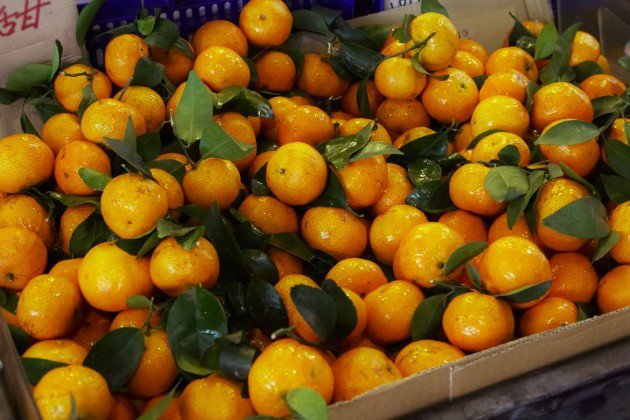 I adore mandarin oranges for the mere fact that it is very gratifying to peel the soft outer skin and devour the tangy fruit whole. It is understandably very addictive for this reason but these innocuous-looking mandarin oranges can cause heartburn if continuously chain eaten, due to their high acidity.
3. Nian gao 年糕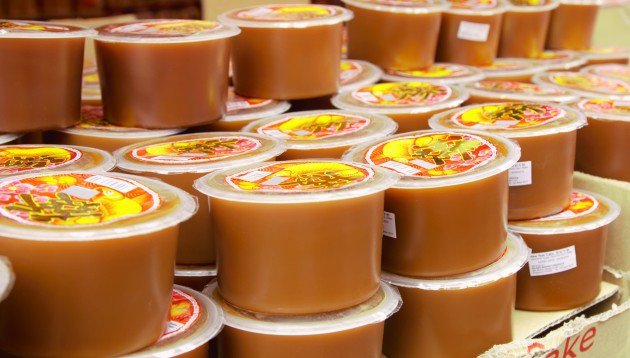 To usher in the new year, most Chinese families get Nian gao 年糕, a glutinous cake that has come to represent the start of the auspicious Chinese New Year.
It seems almost unfathomable to consider how such a treat can increase the risk of a heartburn, but the fact remains true that due to its fried, starchy and sugary nature, nian gaos can do harm to your very vital organ.
4. Bak kwa 肉干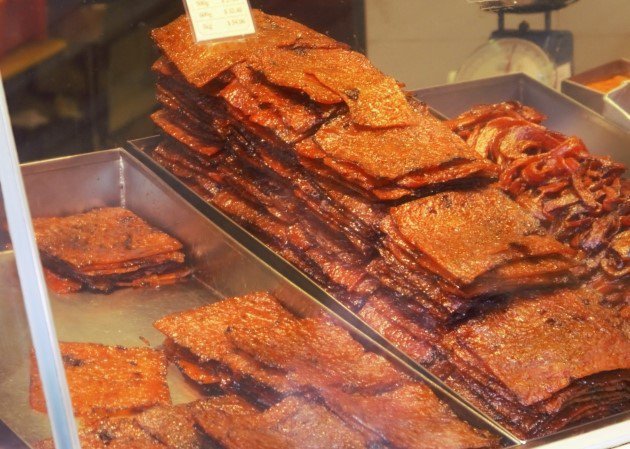 Savouring this beautiful pork creation brings me much contentment, but it is also needless to say how you should let go of what you truly love. These deliciously oily, tender pieces of barbecued meat have a heavy fat content and if you value your stomach's well-being, it is crucial that you have your dose of happiness in moderation.
5. Chinese sausage 臘腸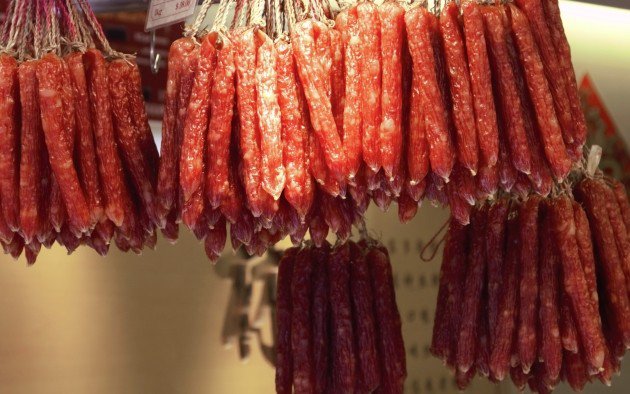 Chinese sausages can make heartburn victims out of us if we are not careful.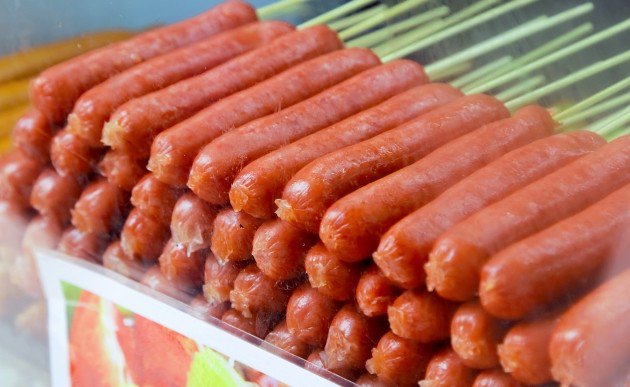 These sweetened elongated bundles of pork joy have a high level of fat content and so while you may feel like continually loading piles of these oily delicacies onto your plate, it might be wise to cut down on a few sticks of them. Having a few slices here and there in a dish like lap mai fan shouldn't be an issue though.
6. Pineapple tarts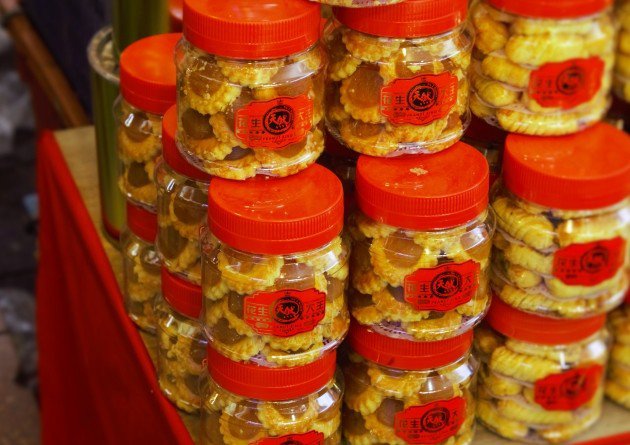 Bite-sized and addictive, and oh so easy to pop into your mouth. But all things glorified and good come with a few caveats.
The pastry of pineapple tarts is made from a thick mixture of butter and sugar, both of which are heartburn-inducing. Coupled with the pineapple which has high acidity, this Chinese New Year treat definitely needs to be eaten with some form of self-control, no matter how yummy it is.
7. Fried Spring rolls/ Egg rolls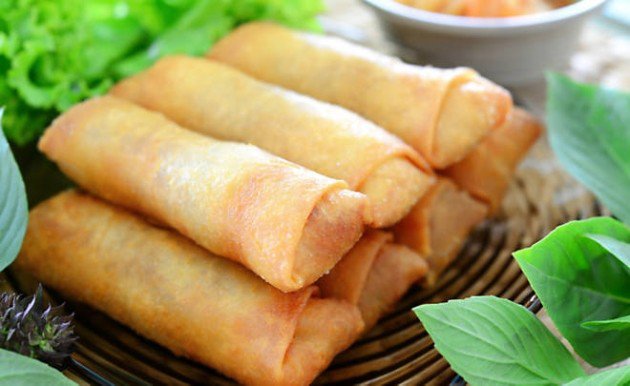 The thought of foods sizzling in a pan of oil can be splendid but the thought of oily fat deposits from fried foods settling down along your arteries can be far from delightful.
Fried spring rolls are lovely and traditional eaten during Chinese New Year, but one is to consume these treats in moderation as well for they can definitely increase the risk of you getting a heartburn if you pop one too many.
8. Deep fried lotus chips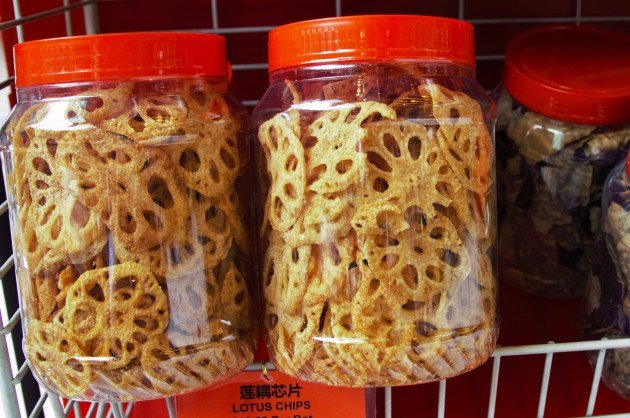 Not a particular favourite of mine but still a crispy delicacy loved by many, lotus chips are deep-fried and the oily fat content is definitely a factor to consider when you dig into jars of these chips. While it may be that lotus roots (the non-fried version) are nutritious and beneficial to your health, you should watch out munching on these fried treats.
9. Chinese peanut puff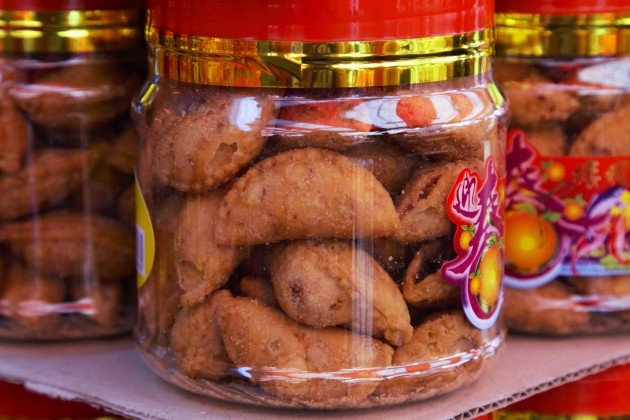 Deep-fried and saturated in fats, Chinese peanut puffs may be savoury and sweet but they can also be a trigger for heartburn if eaten in excess.
Every time I visit a friend's house during Chinese New Year and feed on their leftover Chinese New Year goodies like a vulture, I know how easily I become completely addicted to anything peanut-flavoured. So I do empathise with every ordinary food-loving Singaporean out there do watch your hands reaching for that next peanut puff.
10. Deep-fried Hae Bee Prawn Sambal roll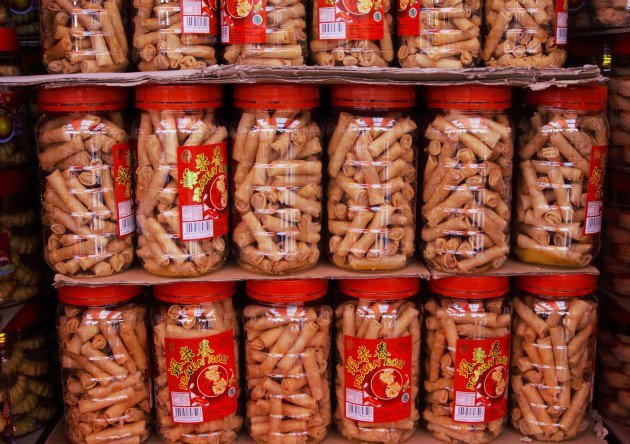 The spicy stuffing of these fried prawn rolls are dangerously delicious and of course, easily habit-forming once you start.
One can quickly become fixed on grabbing handfuls of scrumptious prawn rolls and ravaging them but due to the spiciness and deep-fried outer wrapping of these suckers, it would probably be best to keep the number of prawn rolls you consume each day computable.
11. Pork Belly/ Wagyu beef during Steamboat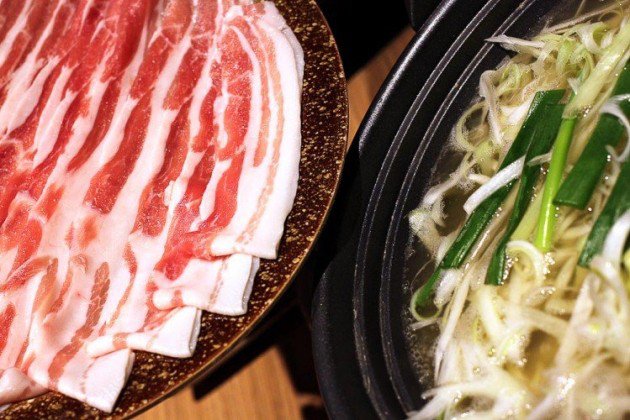 Reunion dinners over Steamboat are commonplace and alluring strips of pork belly or wagyu beef can usually be found lying harmlessly on almost every diner's table. However, meats, especially pork belly, are imbued in fats and these fats can not only increase cholesterol levels but clutter your arteries.
Combined with all the other Chinese New Year treats you've been having, risk of indigestion might just increase from these slabs of fatty meat.
12. Deep fried salmon Skin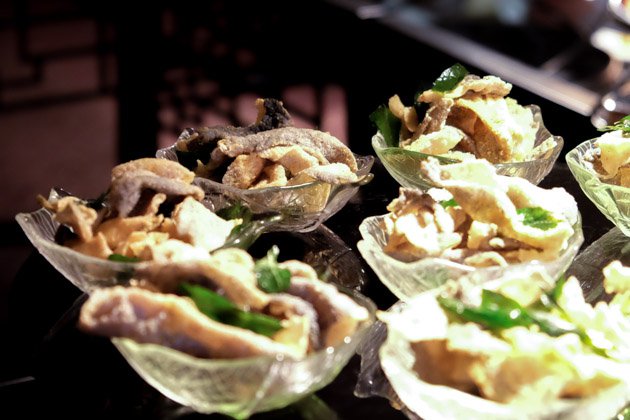 Much like the lotus chips and anything else deep-fried, salmon skin tastes sublime owing most of its glory to the crispy texture. Some even come with salted egg coating for that extra oomph.
Eat these fried beauties in moderation though, or you just might find yourself with indigestion from all the oils.
While these commonly found Chinese New Year foods have been listed to be wary of, it is necessary for fellow readers to note that no one should feel the need to deprive themselves of these goodies, but it is for the sake of your well-being you take everything delicious in moderation.
Christmas Eats: Guide to Festive Season Dining 2016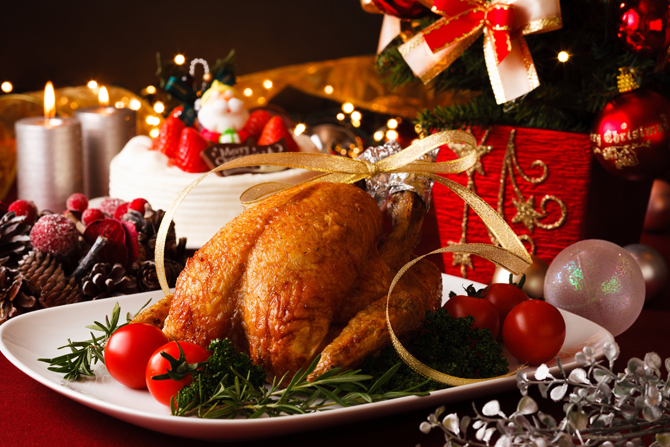 Roast Turkey and Yule Logs and Prime Rib and Champagne, oh my! It's the most wonderful time of year: our roundup of the best festive dining for Christmas and New Year's in Singapore!
If you won't be going away or traveling home this Christmas, mama, we highly suggest treating yourself to a decadent meal or two over the holidays. There's no better way to celebrate with family and friends than to come together over well-prepared classics like turkey, ham, roast beef, and of course sweet treats like fruit cake and yule log.
We've rounded up your best bets for Christmas dining in 2016, whether you want to Eat In (did you know you can even order in your own gingerbread house?) or Dine Out at an extra-special Christmas Eve or Christmas Day buffet. Start making those bookings, and check out our gallery for some special perks!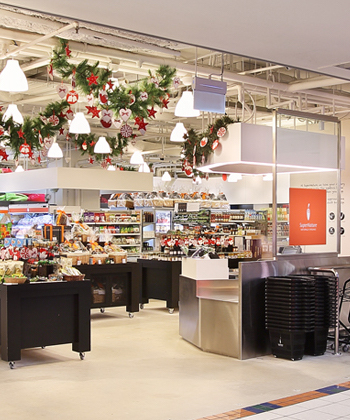 Eating In: SuperNature
We've long loved SuperNature for their wide range of healthy and organic fresh fruits, veggies, meats and other ingredients, but did you know they've got a special holiday range as well, mama? This season they're offering two artisanal Panettone cakes that will bring any holiday table to life, including a classic fruit base enhanced by organic balsamic vinegar ($85) and a yummy chocolate variety with naturally leaved panettone enhanced by chocolate drops and Italian honey ($38).
SuperNature, 583 Orchard Road #B1-05/09 Forum The Shopping Mall, Singapore 238884, Tel: (+65) 6304 1336, www.supernature.com.sg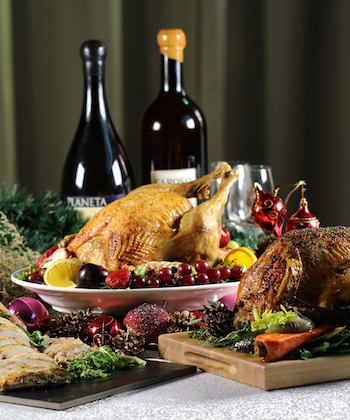 Eating In (and Out): Hotel Fort Canning
We've had a chance to sample this year's Signature Turkey Creations (Roasted Turkey with Salted Egg Yolk, Peri Peri Turkey and Tom Yum Turkey) and they. Are. AMAZING mama! Deeply marinated for 12 hours, each variety is oh so juicy, succulent and flavourful – a truly cool way to add an Asian twist to your traditional Christmas meal. Other festive takeaway goodies including Roast Striploin, Honey-baked Ham and a range of Festive Gift Hampers. Of course, if you can't be bothered to cook at home, HFC will also be serving these delectable treats at buffets on Christmas Eve and Christmas.
Take 15% off Festive takeaways, Christmas Eve dinner buffet, or the Christmas Day Lunch Buffet with promo code Sassy Mama!
Buffet prices are $49++ – $54++ for children 4-12, and $98++ – $108++ for adults.
Hotel Fort Canning, Tel: (+65) 6799 8809, fnb@hfcsingapore.com, www.hfcsingapore.com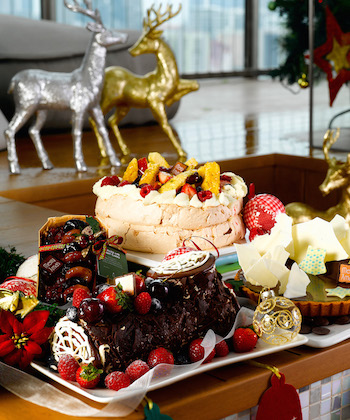 Eating In (and Out): One Farrer Hotel & Spa
Talk about a one-stop shop! In addition to yummy Christmas takeaways like Traditional Roast Turkey, Australian Lamb, Black Forest Yule Log and even a Gingerbread house, One Farrer's also got a Festive Gift Guide filled with over 600 lifestyle and branded products from the Touch & Feel shop. And of course you can always pay a visit to Escape Restaurant for a special Christmas dinner, or attend the glam New Year's Eve Gala Dinner featuring vocal group Three Degrees!
One Farrer Hotel & Spa, 1 Farrer Park Station Rd, Singapore 217562, Tel: (+65) 6705 7825, fnbevents@onefarrer.com (Festive Desk)
Tel: (+65) 6705 7828 or email escape@onefarrer.com (Escape Restaurant reservations)
Origins of Food, Tel: (+65) 6705 7825, originsoffood@onefarrer.com (reservations and enquiries on Festive Cooking Classes)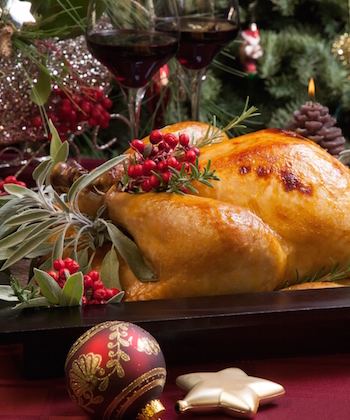 Eating In: Swiss Butchery
OMG mamas, if you're looking to dazzle Christmas guests or even just your own fam, check out Swiss Butchery exclusives like Pecan Crusted Ham (just $69 and able to feed up to four people!), both Classic Roast Turkey and Honey Glazed Turkey, and even a luxurious Irish Oyster Platter paired with Champagne (score a bottle of Pommery for just $89, mama!). Of course you can find all all sorts of delectable nibbles, from Russian Caviar to Italian Soft Nougats, and a lovely selection of Prosecco.
The first 100 Early Bird customers with a minimum spend of $200 will receive a free Swiss Butchery cooler bag.
Swiss Butchery Greenwood, 30 Greenwood Ave, Singapore 289230, Tel: (+65) 6468 7588
Swiss Butchery Tanglin, 56 Tanglin Rd, Singapore 247964, (+65) 6235 8080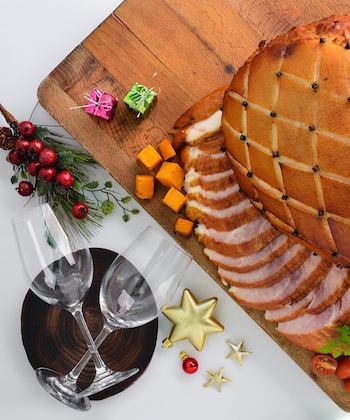 Dining Out: Hotel Jen Orchard Gateway
Here's something we can get behind: Hotel Jen will be featuring a fun Festive Buffet Brunch and Dinner every day between December 15-23 and again from the 26th-30th. On top of that will be both Brunch and Dinner buffets (including one drink, the intriguing Laksa Cocktail), on Christmas Eve and Christmas. We're eagerly anticipating their homemade Laksa Turkey along with buffet specials like Roasted USA Prime Rib, Baked Beef Wellington, Christmas Cupcakes and of course a Chocolate Yule Log Cake!
Prices range from $42++ – $88++, depending on the meal.
Hotel Jen Orchard Gateway, 277 Orchard Road, Singapore 238858, Tel: (+65) 6708 8888, hjog@hoteljen.com, www.hoteljen.com/singapore/orchardgateway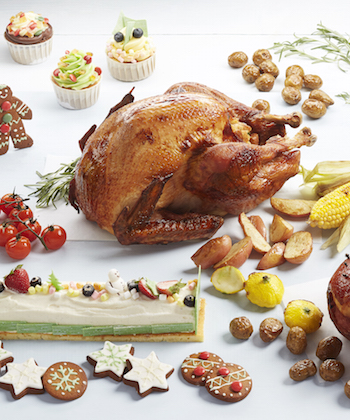 Dining Out: The Westin Singapore
Seasonal Tastes at the Westin will be offering a whole range of holiday buffets for Christmas Eve (both lunch and dinner), Christmas morning brunch, Christmas dinner and New Year's Eve Dinner. Particular Christmas highlights to get your mouth watering, mama: Whole Roasted Turkey wrapped with Smoked Bacon; Slow-Roasted Striploin with Black Pepper Crust; and Chocolate, Whiskey and Chestnut Yule Log. YUM! All buffets will also offer a free-flow Champagne option, too.
Christmas rates range from $44++ for kids to $88++ (non-alcoholic) – 158++ (free-flow Champagne) for adults.
The Westin Singapore, 12 Marina View, Asia Square Tower 2, Singapore 018961, Tel: (+65) 6922 6968, restaurant.reservation@westin.com, www.thewestinsingapore.com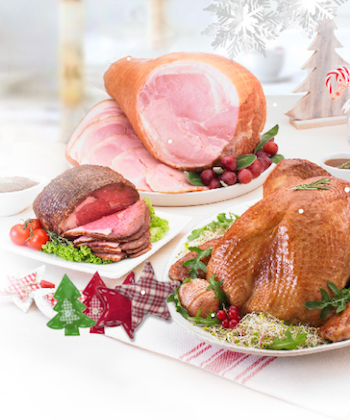 Eating In: Cold Storage
Not only does the ubiquitous supermarket offer a range of feasting options (including turkey, ham, chicken and roast beef with all the fixins), but you can even order your Christmas tree from the store and have it delivered right to your doorstep! They've also got a nice range of log cake sweet treats created especially for the season.
The "Hearty" and "Festive" Christmas Feast each cost $89.95 and can serve 6-8 people. Check out Cold Storage's Christmas website for all the deets, mama!
Cold Storage, various locations, www.coldstorage.com.sg/site/christmas2016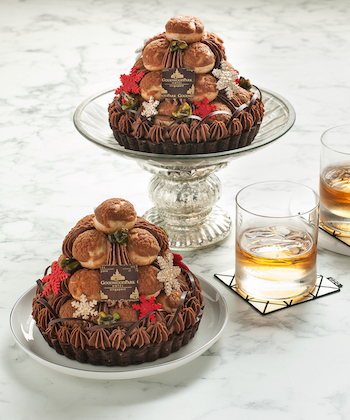 Eating In (and Dining Out): Goodwood Park Hotel
Festive takeaways from The Deli start December 1, mama, highlighted by this year's new creation, the Wu Xi Turkey that's braised with red yeast rice, red dates and a secret blend of spices. Paired with Shanghai-style vegetable fried rice, greens, and chili sauce, it's a yummy Asian spin on plain old turkey. We've also got our eye on the Slow Roasted Iberico Pork Belly with Crackling, Pickled Cabbage, Apple Sauce and Pork Jus, not to mention myriad sweet treats like a Christmas Log Cakes, Merry Mosaic Cakes, and a Whiskey Profiteroles Chocolate Tart. YUM! While all of this deliciousness can be ordered in advance, of course you can also enjoy for yourself with set lunches, dinners and a Christmas buffet at Gordon Grill. There are seriously too many options to list out here, mama, so be sure to visit their festive season website for all the deets!
Goodwood Park Hotel, 22 Scotts Rd, Singapore 228221, www.goodwoodparkhotel.com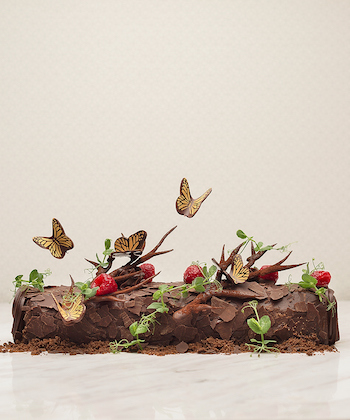 Eating In (and Dining Out): InterContinental Singapore
Does Maple Wood Bacon-Wrapped Tom Turkey sound as mouthwateringly delicious to you as it does to us, mama? This standout ($168) headlines the takeaway treats available from InterContinental Singapore this festive season, along with the Ash & Elm Platter (starting at just $38) with a yummy range of house-cured meats. Lamb, Beef Sirloin and a variety of sweet treats round out the takeawy menu, while guests can also check out the Festive Semi-Buffet Lunch available daily from 10-31 December at Ash & Elm, along with a festive A La Carte Dinner option, a Christmas Even Dinner Buffet, and brunch on both Christmas and Boxing Day. From lobster to the walk-in cheese and charcuterie room, there's lots we love about this buffet, mama!
InterContinental Singapore, 80 Middle Rd, Singapore 188966, www.singapore.intercontinental.com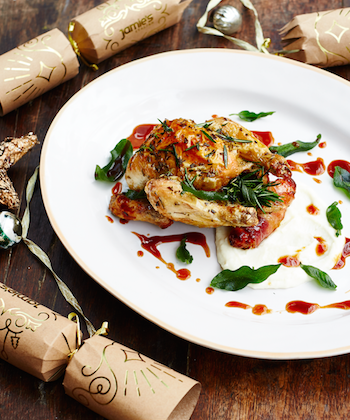 Dining Out: Jamie's Italian
With two special festive menus that run from 28 November through 31 December, Jamie's Italian has got you covered the minute you start craving something warm and comforting, whether it's a traditional Roasted Baby Chicken, Pan-fried Sea Bass or Italian Flash Steak (every main is served with rosemary roast potatoes and roasted root vegetables and they are seriously yummy, mama!). The festive lunch is priced at $49.90 and gets you a starter, main and dessert, while the festive dinner feast menu, at $65.90 is even more extensive. Both feature the all-important celebratory glass of bubbly, too!
Jamie's Italian VivoCity, #1 165-167, 1 HarbourFront Walk, Singapore 098585, Tel: (+65) 6733 5500
Jamie's Italian Forum, 583 Orchard Road, #01/01-04, Singapore 238884
Tel: (+65) 6655 7676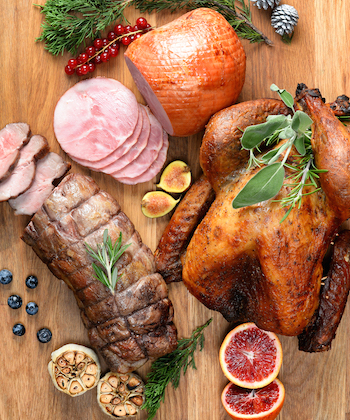 Eating In: Ryan's Grocery
With some of the yummiest organic and free range meats in Singapore (not to mention a delectable array of gluten-free and gourmet goodies specially imported from Australian farmers' markets), Ryan's is a must-visit for any at-home gourmands this festive season. Offerings include organic turkey, Dorper lamb, Black Angus beef and free-range Borrowdale pork with all the trimmings. If you're not up for cooking, you can order a pre-cooked Roast Turkey with stuffing and cranberry sauce for $139; those who are feeling more ambitious (or hungry!) can opt for the Classic Christmas Roast Beef Set (priced at $298 to serve 12 people), which includes Roast Turkey with a choice of stuffings, organic grass-fed Roast Beef and Honey-Baked Ham. Uh oh, we feel a food coma coming on. Order before 12 December to get a 10% early bird discount, mama!
Ryan's Grocery, 29 Binjai Park, Singapore, 589831, Tel: (+65) 6463 3933, www.ryansgrocery.com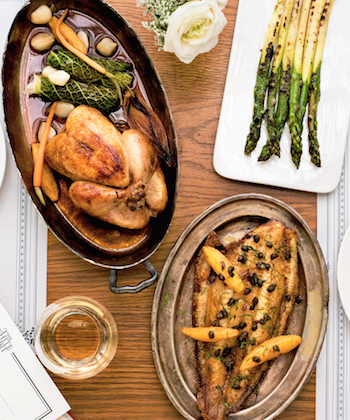 Eating Out: The White Rabbit
What's more festive than enjoying a meal in a beautiful 1930s-era former chapel? White Rabbit will be offering a festive lunch menu, Christmas Eve Dinner and a Christmas Day Brunch this festive season. Highlights include Quail with braised chestnuts and chestnut espuma and Duck with lavender honey glaze and baby carrots, while Christmas Day Brunch will have balloons and a bouncy castle for kiddos!
Festive lunch: $46++ per person (3 courses); Christmas Eve dinner: $108++-$128++ per person; Christmas Day brunch: $98++-$118++ per person (kids $49++). Check website for seating timings.
The White Rabbit, 39C Harding Road Singapore 249541, Tel: (+65) 6473 9965, eat@thewhiterabbit.com.sg, www.thewhiterabbit.com.sg
12 Great Child-Friendly Restaurants in Singapore
Let's face it - parents are always on the constant lookout for restaurants that satisfy both their palates and their children's with extra activities to keep them occupied. So here is a listing of 12 kid-friendly restaurants.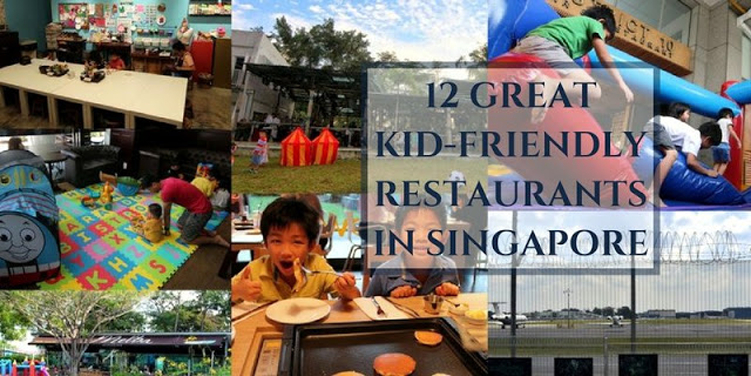 1. Eatplaylove Cafe
Kids Like: Where else in Singapore can you find a quaint retro cafe that serves up reasonable food fare, coupled with an awesome crafting corner for kids? EatPlayLove Cafe is such a place - a stylish retro cafe with all things vintage, whimsical and full of nostalgia. An entire crafting corner for kids is THE main highlight for kids here, with loads of crafting materials and ideas abound.
Kids Eat: The eatery serves a mix of Thai-inspired cuisine, Western dishes and sandwiches, and the best thing is that the prices are rather reasonable with each dish averaging $10 to $15. Kids should adore the Pineapple rice and Macaroni & Cheese.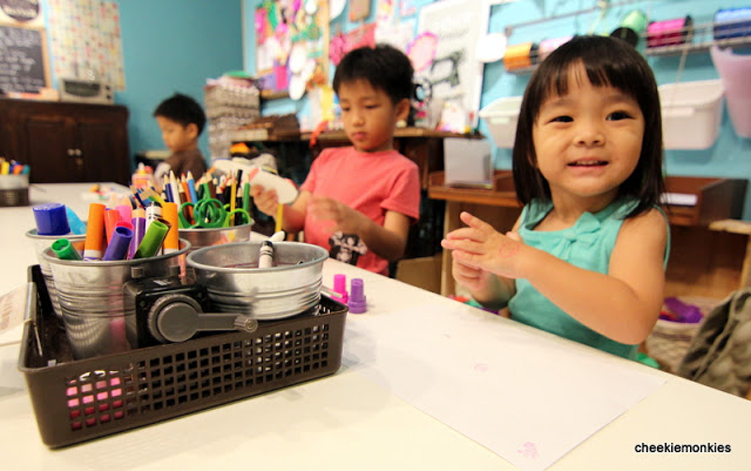 Price Range: $$ per pax | Crafting Corner Costs: $5/child per 2 hrs on Weekdays & $5/child per for 1st hour on Weekends, Public Holidays and School Holidays. Subsequent charges are at $2.50 per 30-minute block. *Craft Prices correct at time of printing
Address: 28 Aliwal Street, Aliwal Arts Centre,#01-07, Singapore 199918
Opening Hours: 12pm - 10pm daily | Closed on Tues
Website: www.eatplaylove.com.sg
2. Saizeriya Ristorante E Caffe
Kids Like: If your kids have as a voracious appetite like mine, you can probably empathize how dining outside is getting tougher on the wallet. So thankfully, there is Saizeriya – a Japanese chain of casual, low-priced Italian Restaurant famed for its wallet-friendly jaw-dropping prices. There are no special playrooms or activities for kids here though, but the food prices are enough to turn us into repeat customers, especially with the Free Flow Kids Drink Bar ($1.40 per child)!
Kids Eat: Just how affordable is the food at Saizeriya? Try the half-dozen escargots for $5.90! Or how about the Pineapple & Bacon pizza at $6.40 and Chicken Bolognese Cheese-baked rice at $4.90? Overall, the food is above average and that alone will keep us going back for more.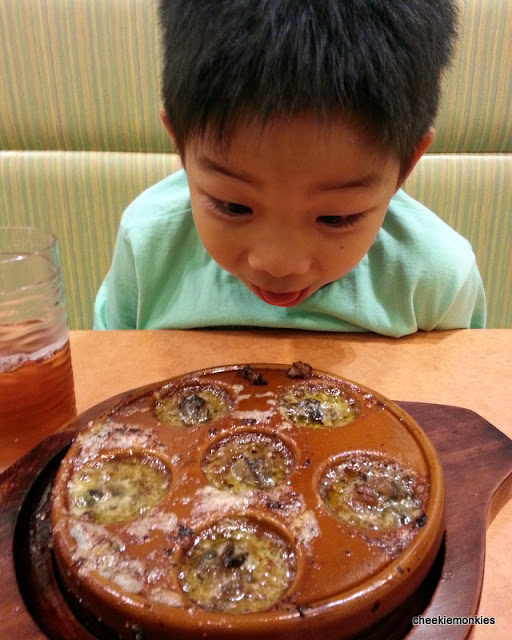 Price Range: $ per pax (No service charge and GST)
Address:
Liang Court (177 River Valley Road, #02-22, Liang Court Shopping Centre Singapore 179030)
City Square (180 Kitchener Road, #B2-55/56, City Square Mall Singapore 208539)
Bukit Timah (1 Jalan Bukit Anak, #02-24C, Bukit Timah Plaza Singapore 588996)
Toa Payoh Central (HDB Toa Payoh #02-514, 190 Lorong 6 Toa Payoh, 310190)
Hougang 1 (1 Hougang Street 91, #01-38 Singapore 538692)
The Cathay (2 Handy Road #B1-25/26/27 Singapore 229233)
Orchard Gateway (277 Orchard Road #B2-11 Orchard Gateway Singapore 238858)
Bukit Batok NS Hometeam (2 Bukit Batok West Avenue 7 #01-07 A/B Hometeam NS Bukit Batok Clubhouse Singapore 659003)
Opening Hours: 11am – 10pm daily
Website: www.saizeriya.com.sg
3. Belly View Restaurant
Kids Like: Tucked away in a hidden corner of Changi is this gem of an alfresco dining place that whips up delicious tze-char food. Families can choose to dine on the boardwalk, right beside a kick-ass scenic coastal view and under the rustling palm trees. Kids will be preoccupied with the mini playground, wooden swing, hammock and the vast open space. Or if that isn't enough, there is always the common sightings of aeroplanes which whizz by as they are making their landing at nearby Changi Airport.
Kids Eat: Admittedly, the main draw here is the secluded location so while the food wouldn't win any food awards, the tze-char fare is pretty decent. The dishes that particularly stood out were the Fish Head Curry (their signature dish), Home-made Tofu, Salted Yolk Prawns and Fried Mee Sua.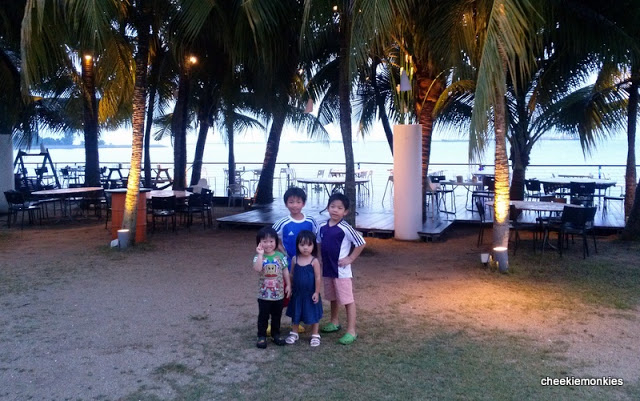 Price Range: $$ per pax (No service charge and GST)
Address: 10 Changi Coast Walk, National Service Resort Country Club (beside Constant Wind Sailing Centre), Singapore 499739
Opening Hours: 11am - 10pm daily
Website: www.nsrcc.com.sg/dining/belly-view-cafe
4. Nook: D.I.Y. House of Pancakes
Kids Like: If you are looking for a dining place where kids (and the parents) can play with food to their hearts' content, then Nook is it. This is one cool place where you get to make, doodle, flip your own pancakes and eat your own creations! And the best part? The kids polished off every single morsel on their plates without me having to nag.
Kids Eat: Pancakes, pancakes and more pancakes! But in case you are craving for something saltier, the restaurant serves all-day breakfast meals too. But the one must-try item on the menu is Nook's Awesome Cheese Burger soup – yes, I never knew that slurping the soup form of a cheeseburger could be so addictive!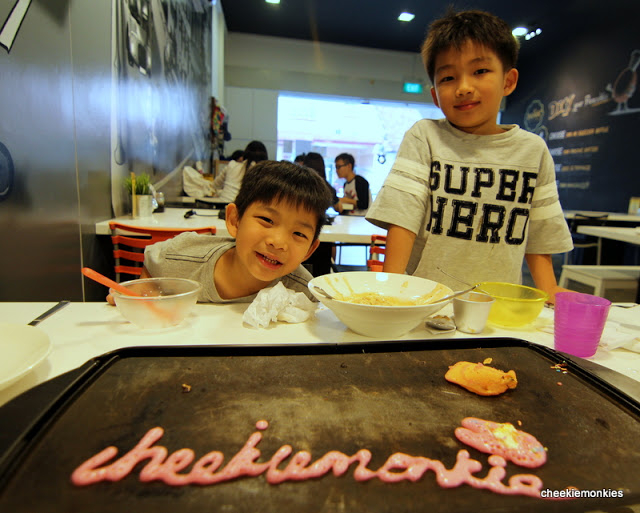 Price Range: $$ per pax
Address: Bukit Timah, 21 Lorong Kilat, #01-03, Singapore 598123
Opening Hours: Mon – Fri 12pm-9pm | Sat & Sun 10am -10pm |Closed on Tue
Website: http://nook.sg/
5. Marché Mövenpick Suntec City
Kids Like: At over 1,000 square metres, this newest Marché restaurant – and its third in Singapore - is one absolute winner for families. Of course there are the typical colouring sheets and craft sets to hold the kids' attention, but what they will really dig is the Windmill-themed play area! Almost twice as large as its counterpart in Marché 313 Somerset, the kids' double-storey play area comes with a mini-bridge and a stairway leading to a hideout on the second floor.
Kids Eat: Marché takes pride in serving healthy nutritional food. For $10.90+, kids get to choose from homemade pastas, pizzas, rosti and crepes with a drink. For parents with young toddlers, a microwave at the Baby Service Station beside the kids' corner is available.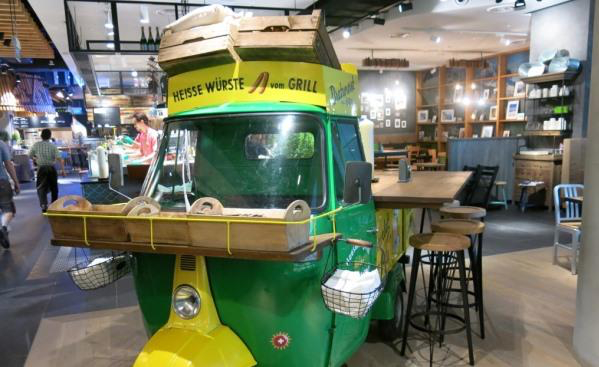 Price Range: $$ per pax
Address: 3 Temasek Boulevard #01-612
Opening Hours: 11am – 11pm daily
Website: www.marche-restaurants.com/en/marche-moevenpick-suntec
6. The Bank Bar + Bistro
Kids Like: Located in the redeveloped part of the Central Business District (CBD), The Bank Bar + Bistro exudes an old world charm with its dark wood furnishings and leather seats, complete with motifs of Straits Settlement money. But what really endeared me to the place was a separate playroom specially devoted to the kids while the adults tucked into saliva-inducing Weekend Roast and All-Day Breakfast offerings (9am – 6pm on weekends).
Kids Eat: The kids' menu consists of the usual suspects – ham & cheese sandwich, pancakes, fish & chips and pasta while the adults can take great delight in choosing between Roasted Striploin, Roasted Half-spring Chicken and other All-Day Breakfast items. And here's something even sweeter - Kids eat FREE all weekend (information correct at press time)! For every main course ordered, your kid will get to enjoy his/her entree FREE-OF-CHARGE.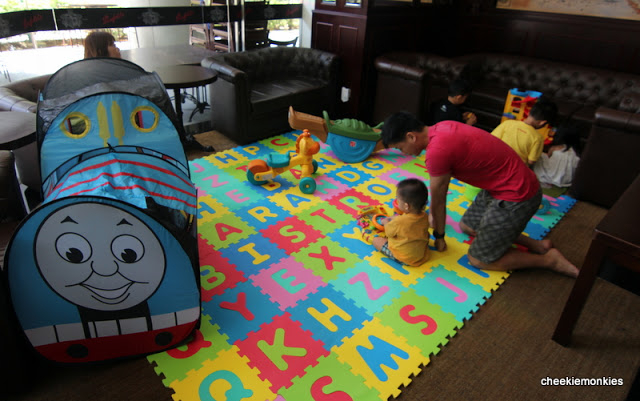 Price Range: $$$ per pax (No service charge)
Address: #01-01 One Shenton, 1 Shenton Way, Singapore 068803
Opening Hours: Mon – Fri 11am – 12am | Sat & Sun 9am – 12am
Website: www.thebankbar.com
7. Cafe Melba
Kids Love: Located in the grounds of the Goodman Arts Centre (near Mountbatten MRT), Cafe Melba exudes a laid-back charm, with a rather spacious interior and exterior to match. The café faces an expansive green field, where footballs and rugby balls are freely available for kids to play with. Come every weekend (or public holidays), two bouncy castles will be set up on the lawns which will no doubt bring joy to every single kid.
Kids Eat: Cafe Melba serves up food inspired from Melbourne and Asia (MELB + A = MELBA). A must-try is the Pancakes, which are fluffy, rather cake-like and non-greasy.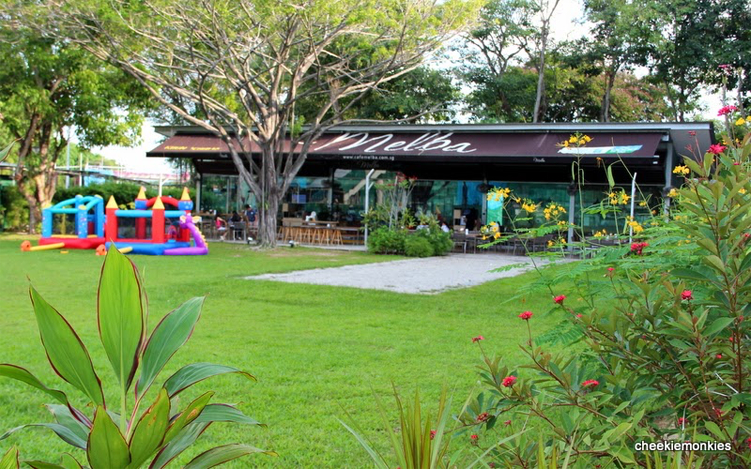 Price Range: $$ -$$$ per pax
Address: 90 Goodman Road, Block N #01-56, Goodman Arts Centre, Singapore 439053
Opening Hours: Weekdays 10am - 10pm | Weekends & PHs 8:30am - 10pm
Website: www.cafemelba.com.sg
8. Timbre @ Gillman
Kids Love: Tucked away in a sleepy corner of Gillman Barracks, Timbre @ Gillman is exactly the sort of place where one can afford to kick back and chill the weekend away. Especially if you head down on the first Saturday of every month, where the Saturday Social BBQ will offer lots of craft activities to keep your young ones duly occupied. Or how about the huge open green field to let them just run amok as you sip on your pint of ice cold beer?
Kids Eat: Adults can their their pick from Baby Back Ribs, Pork Sausage, Sirloin Steak, Lamb Leg, Chicken or Squid (between S$12++ to S$18++) and complement with one of Timbre's excellent beer selection. Kids will be able to place their own orders from the Kids Menu via an iPad, which offers the usual suspects like Fish & Chips and Spaghetti Bolognese.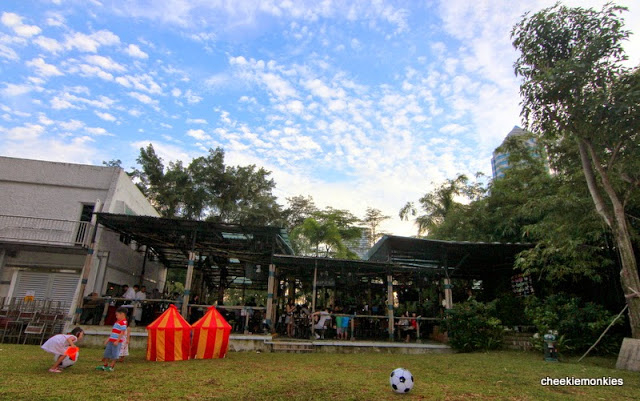 Price Range: $$$ per pax
Address: Block 9A Lock Road, Singapore 108926
Opening Hours: Mon – Thu 4pm - 11.30pm | Fri, Sat & eve of PHs 5pm to 12.30am | Closed on Sun | Saturday Social BBQ Hours - 4pm til late
Website: www.timbregroup.asia/timbresg/main.asp>
9. District 10 at UE Square
Kids Like: Who can say no to a hearty brunch on a lazy Sunday morning with the entire family? Especially when a huge bouncy castle is thrown into the mix! That's right - a Bouncy Castle is specially inflated for the kids every Sunday (11am to 3pm) and it is strategically placed right beside the outdoor dining area, so that parents are able to sneak a peek at what their young-lings are up to via a see-through netting at the side of the bouncy castle.
Kids Eat: We had the Hoegaarden Battered Fish & Chips while the kids tucked into the Eggs Florentine and Pandan-Coconut Pancakes with Gula Melaka Syrup.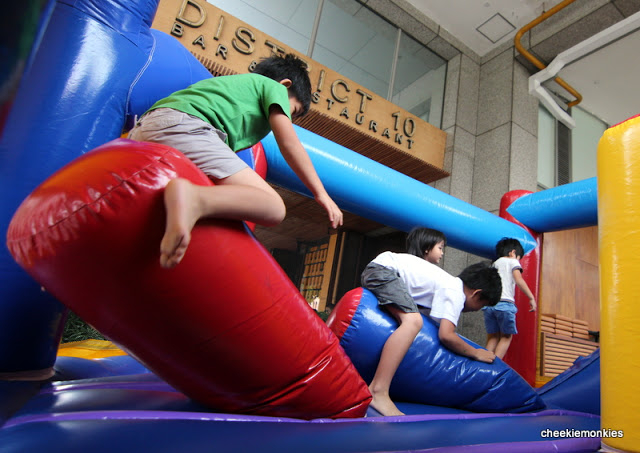 Price Range: $$$ per pax
Address: 81 Clemenceau Avenue #01-15/16/17, UE Square Shopping Mall, Singapore 239917
Opening Hours: Mon – Thurs 11.30am - 12am | Fri & PH Eve 11.30am - 1am | Sat 9am - 12am | Sun & PHs 9am – 11pm
Weekend Brunch Hours: 11am to 3pm *Bouncy Castle on Sundays only.
Website: www.district10.com.sg/uesquare/
10. Slappy Cakes
Kids Like: Another DIY pancakes eatery where kids need no invitation to play with their food, kids can have their say in choosing the pancake batter and toppings. Squirt, slap and paint the griddle with whatever batter you fancy and then splatter it with your choice of fixings and toppings, before eating it all up like a messed up kid. Who says food can't be fun? And the best part - kids can never complain about the food because they made it themselves!
Kids Eat: Purely pancakes with five batter mixes to choose from – Buttermilk, Wholegrain, Peanut Butter, Chocolate and Zucchini. Yes, the latter is a rather refreshing and interesting flavor I have to say.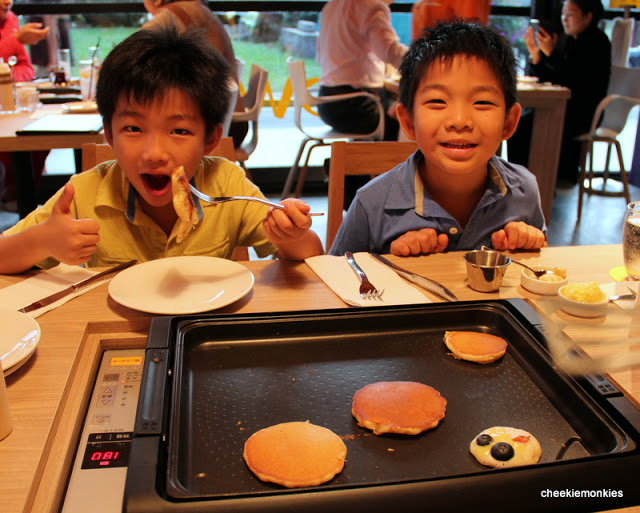 Price Range: $$ per pax
Address:
200 Turf Club Road, #01-20/21, The Grandstand, Singapore 287994
26 Sentosa Gateway (next to Universal Studios), #01-29, Resorts World Sentosa, Singapore 098269
Opening Hours:
The Grandstand: Tue - Fri 10am - 9.30pm | Sat, Sun & PHs 8am - 9.30pm | Closed on Mon
Resorts World Sentosa: 8am – 9.30pm daily
Website: www.slappycakes.com.sg
11. Old Habits Boutique & Cafe
Kids Love: Not only is it a retro-themed cafe, it is an antiques boutique and vintage store as well. Stepping into Old Habits is like being transported back in time - to an era that parents grew up in, where the decor ranged from wooden cabinets filled with antiques to vintage clocks and old signs adorning the walls. There is also a huge suitcase filled with toys of yesteryears that customers are welcomed to play with. Nothing like some vintage playthings to let the kids understand how we parents whiled away the time during the non-smartphone days!
Kids Eat: Old Habits serves a mix of classics like sandwiches, shepherd's pies and other finger food. While the food would not win any awards, the cafe's ambience and contents get huge thumbs up from all of us. It is the perfect place to just chill with family and friends, in a setting that will no doubt bring back loads of childhood memories - and share them with the kids at the same time. Oh, and did I mention there are THREE playgrounds located behind Old Habits as well?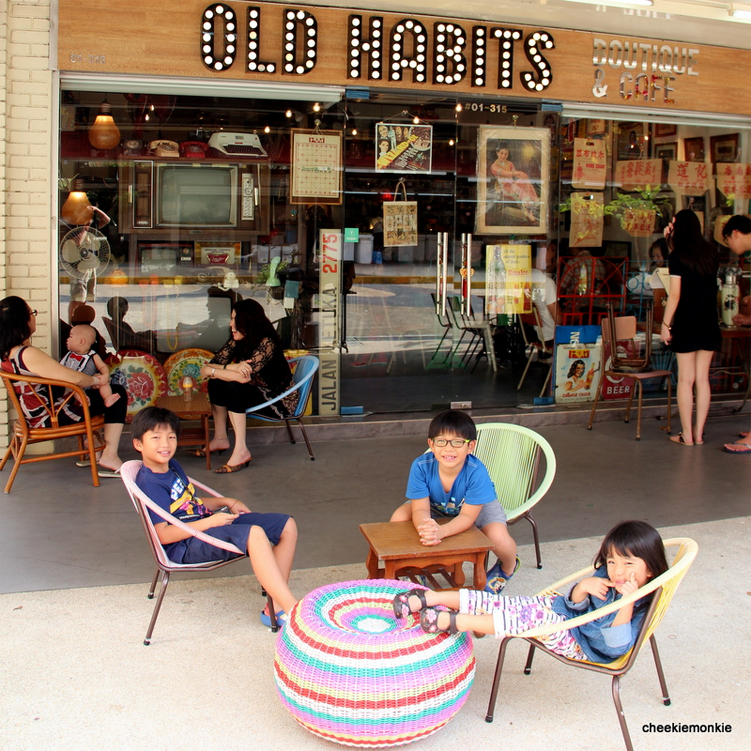 Price Range: $$ - $$$ per pax
Address: Block 38, Telok Blangah Rise, #01-315, Singapore 090038
Opening Hours: 11.00am - 9.30pm (Tuesday - Sunday) | Closed on Mondays
Website: www.facebook.com/habitssg
12. Soek Seng 1954 Bicycle Cafe
Kids Love: If you are looking to dine at somewhere in Singapore that is truly out of the way, Soek Seng 1954 Bicycle Cafe is in a location that is as obscure as it gets. Situated beside Seletar Airport and on the first level of MAJ Aviation Building at Seletar Aerospace, my recommendation is to grab a seat outside the cafe. The main reason? Kids will have a field day counting the number of planes taking off and landing on the Seletar Airport runway. As an added bonus, mini chalkboards have been attached to the fence for kids to doodle away while parents sip their coffee.
Kids Eat: The cafe's dining menu is predominantly Western style, with dishes such as Fish & Chips and Chicken Chop. In addition, there are also Asian options like Katsu Don and Beef Rendang to cater to different tastebuds.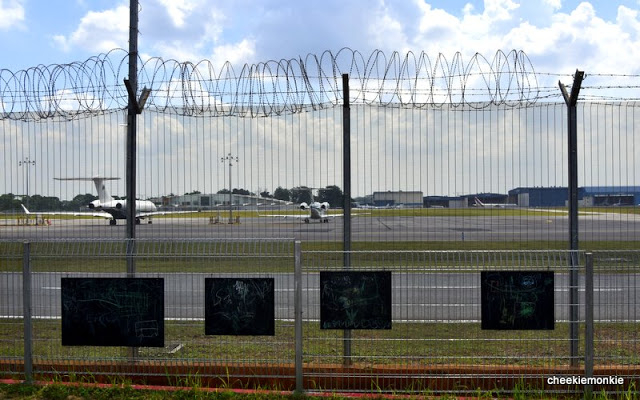 Price Range: $$ - $$$ per pax
Address: #01-01, MAJ Aviation Building, 80 Seletar Aerospace
Opening Hours: Tues - Thurs 10am - 1pm | Fri & Sat 10am - 11pm | Sun 10am - 10pm | Closed on Mon
Website: www.facebook.com/SoekSeng1954BicycleCafe/
Do you have any other child-friendly eateries in Singapore to share?