Now reading:
Helping customers make better decisions through personalisation
Helping customers make better decisions through personalisation
A huge benefit of having a lot of data about our customers is that OCBC Bank can curate highly personalised experiences for them.
Our Group Data Office regularly delivers communications and recommendations that are personalised for each individual customer.
Developing these experiences requires cross functional collaboration between our data, design, marketing, digital channels and product teams. The teams collaborate to conceptualise the experience, design the campaign, map out the user journey and determine the decision criteria of each customer. The teams will also measure the success of the campaign.
Examples of current personalised nudges include:
Personalised insights within the mobile app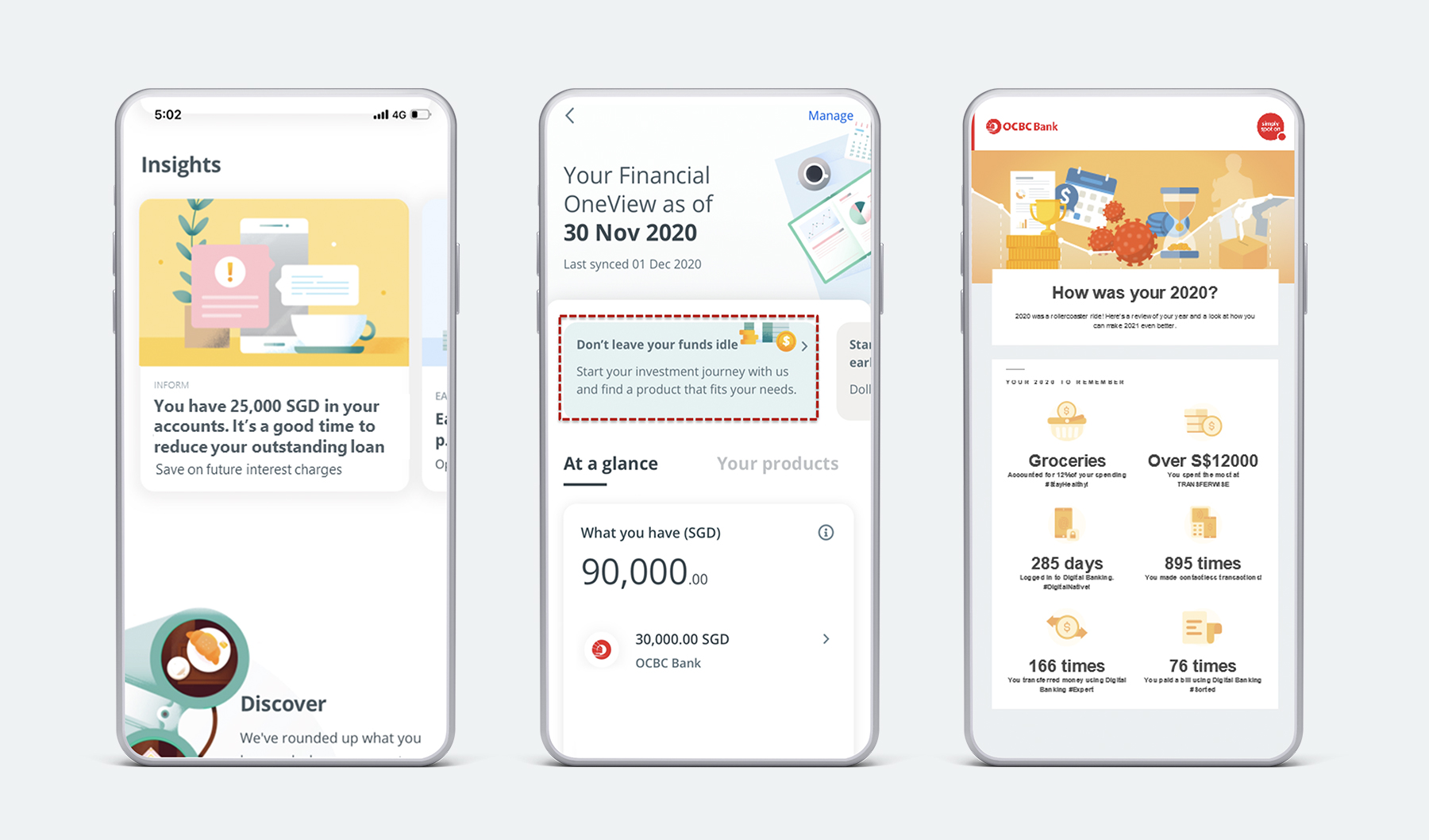 The mobile banking applications for both consumers and corporates contain dedicated sections on personalised insights. Insights are refreshed daily and personalised using specific behaviours of each customer. Insights are also personalised using OCBC data and data holdings at other banks available through the SG Findex initiative.
"Personalised insights are a great way of using data to nudge our customers to make better financial decisions. We see huge potential for these capabilities to deliver a more enjoyable and relevant banking experience."
— Kasper Hansen, Head of Analytics, Group Data Office
We also send out alerts that focus on helping customers make better financial decisions, save time, save money and reduce potential risks to their finances. For example:
Make better decisions – We highlight to customers when they would reap greater returns by optimising their portfolio, such as investing unused liquid cash.
Save time – We notify customers when we see regular transfers to the same destination and encourage them to set up automated transfers.
Save money – We make customers aware of how much they are spending on recurring subscriptions each month and suggest how the money could be better used.
Reduce risk – We alert customers when we see a transaction made with a merchant for the very first time.
Similar recommendations are provided to corporate customers which include insights into their businesses' cash flow patterns and interesting developments with their counterparties.
Financial Year in Review
Inspired by online music providers, we provide customers with an annual "Financial Year in Review" summarising interesting insights into their finances.
Examples of insights could include revealing their top credit card merchant, how much was spent on everyday items like taxis or coffee, how much they saved and how often they used the bank channels.
Personalised recommendations are also made to encourage customers to save more or to go green.
These personalised insights are designed to make banking enjoyable and relevant. We empower and nudge our customers to make smarter money management decisions. We see great potential for growth in hyper-personalisation to further help customers. If you're keen to learn more, check out our current job roles!