Family protection -
It's not just about you
As breadwinners, many of you tend to assume your responsibilities without a second thought. While you may be caught up in meeting your family's day-to-day needs, have you spared a thought towards ensuring that your family's future would be as comfortable as the present? Have you thought about who will provide for your family should something unfortunate happen to you? It is important to ponder on these questions, as their lifestyles could change overnight due to an oversight.
An insurance policy will give you some peace of mind against a range of events that could be detrimental towards you or your dependants, such as loss of income, total and permanent disability, critical illness, loss of belongings and damage to your car or your home.
It can also help you avoid a scenario where you have to give up your retirement fund because you failed to sufficiently plan for your child's education.
Rising medical costs
In the event that you as the main breadwinner suffer from a health issue, medical expenses could cripple your family financially if you had not protected yourself sufficiently. The same applies to you too when it comes to the hospitalisation of a family member.
Medical costs in Singapore are not cheap, with expenses for the top 3 critical illnesses costing as much as S$15,000 for immediate treatment, and up to S$50,000 yearly.
In the event of an urgent medical event, your focus should be on recovery and not on the financial and emotional strain on your family. Hence, the emphasis these days on MediShield Life, Medisave-approved insurance plans, and critical illness insurance plans.
MediShield Life and Medisave-approved insurance: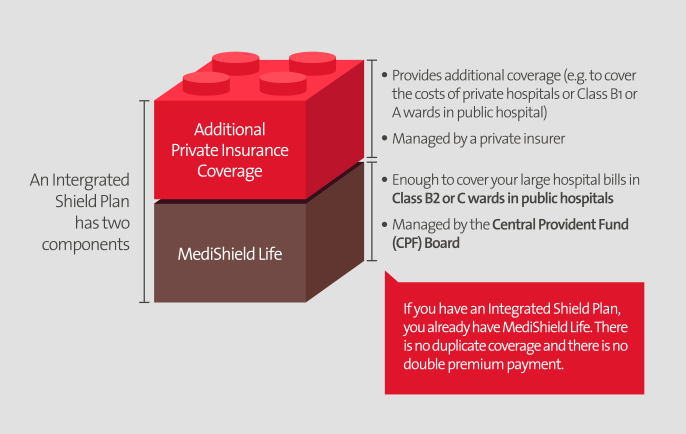 Critical illness insurance plans: Prior to 22 January 2015, traditional critical illness insurance plans paid a lump sum amount upon the insured being diagnosed with one of the 30 critical illnesses. With the changing landscape, these plans now cover 36-37 critical illnesses. The pay-outs help to meet living expenses during recuperation, additional medical expenses, or can be used for reconstructive surgery such as breast reconstruction.

The revised critical illness insurance plans cover early stages and/or multiple occurrences of illnesses. They address the need for early pay-outs and some even allow for multiple claims (up to a limit) and a "free pass" to increase the level of protection without any evidence of insurability.

Other plans even offer 100 percent premium refund if no claims are made during the policy term. An example would be MaxFamily Cover offered by OCBC Bank.
With the right medical insurance plan, the bulk of your hospital bill can be reimbursed with a Medisave-approved insurance plan. The lump sum pay-out can also help towards your recovery in the event of critical illness.
Build your wealth
To grow your savings, look into owning an endowment insurance plan such as MaxGrowth Enhanced.
An endowment insurance plan provides basic protection coverage and moderate returns with low risks.
Such plans can yield potentially better returns than regular savings in a deposit account. They also help to inculcate a disciplined approach towards saving, as you put funds aside on a regular basis for the premium.
Although the returns may not be as high as other investment products such as stocks and shares, endowment plans are generally considered a good option as they are less risky.
Endowment plans are different from a bank account as you are not able to withdraw your money as and when you please from your policy. If you do so before the endowment policy matures, you could suffer a loss, but if you wait till the policy matures, you could potentially gain more than you paid for.
In the event that no claim is made during the period covered by the plan, you benefit from the maturity proceeds. This money can go towards your retirement funds, making a debt repayment, or even be left as a legacy for your family down the road.
In the event of an untimely passing, the beneficiary will receive pay-outs which could help defray the cost of funeral expenses and debts, and perhaps there will be enough left over to cover living expenses over the long run.
Manage your financial planning
You should also review your financial goals on a regular basis as at times it can be hard to strike a balance due to when you started planning.
The longer you put your financial goals off, the tougher it becomes. For instance, to ensure you have sufficient funds set aside for your child's university fees, you may have to make some trade-offs as you try to manage your retirement goals as well. You may have to work longer than you would like but the important thing is that it is possible to meet these two major financial responsibilities via the right insurance plans.
Which is why we always recommend that our customers start planning for their financial goals as early as possible to secure their family's future.
It doesn't matter if you happen to start from a low base, because it is just as important to safeguard your family, in addition to yourself.
Important Notice
Insurance policies will be underwritten by The Great Eastern Life Assurance Company or The Overseas Assurance Corporation Limited, each a wholly-owned subsidiary of Great Eastern Holdings Limited and a member of the OCBC Group, and are not bank deposits or obligations of, or guaranteed by OCBC Bank. Max is a registered trademark of The Overseas Assurance Corporation Limited. This document is for general information only. This document does not take into account your particular investment and protection aims, financial situation or needs. Buying a life insurance policy is a long-term commitment. An early termination of the policy usually involves high costs and the surrender value payable may be less than the total premiums paid. You may wish to seek advice from a financial adviser before making a commitment to purchase a life policy. In the event that you choose not to seek advice from a financial adviser, you should consider whether the life policy in question is suitable for you. The specific terms and conditions of the plan are set out in the policy documents. A person interested in the insurance policies should read the product summary and benefit illustration (available from OCBC Bank) before deciding whether to buy this product. Buying health insurance products that are not suitable for you may impact your ability to finance your future healthcare needs. If you decide that the policy is not suitable after purchasing it, you may terminate the policy in accordance with the free look provision, if any, and the insurer may recover from you any expense incurred by the insurer in underwriting the policy. The insurance plans are protected under the Policy Owners' Protection Scheme which is administered by the Singapore Deposit Insurance Corporation (SDIC). Coverage for your policy is automatic and no further action is required from you. For more information on the types of benefits that are covered under the scheme as well as the limits of coverage, where applicable, please contact us or visit the Life Insurance Association (LIA) or SDIC websites (www.lia.org.sg or www.sdic.org.sg).
Disclaimers