Now reading:
Healthy eating recipe: Slow cooker chickpea curry
Healthy eating recipe: Slow cooker chickpea curry
SERVINGS: 4
PREP TIME: 10 mins
COOK TIME: 4 - 6 hours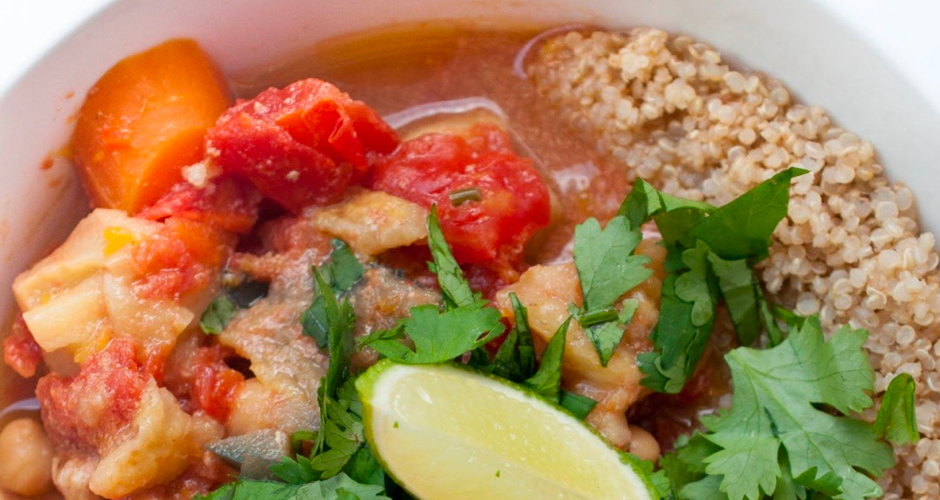 Slow Cooker Chicken Chickpea Curry is a tasty recipe that has quickly become a family favourite! We love slow cooker meals because they are perfect for busy schedules — simply add all ingredients, walk away and woollah! This recipe by #sghomecook Terri-Anne of @Carrotstick & Cravings and her famed cafes includes some mild spices, which is great for introducing new flavours to little ones.
Ingredients
1 tin drained organic chickpeas
2 400ml tins organic coconut milk
2 400ml tins organic chopped tomatoes
1 large red chilli (can add chilli padi if you like more spice)
1 inch lemongrass finely diced
1 tbsp ground coriander
1 tbsp ground cumin
Rind of 1 lime
Juice of 2 limes
½ butternut pumpkin cut into 1 inch cubes
3 carrots sliced
Torn coriander leaves and lime wedges to serve
Preparation
Add all ingredients except the lime and coriander to the slow cooker.
Cook on auto for 4-6 hours or until chicken is falling apart.
Serve on brown rice or quinoa and top with torn coriander and lime wedges.
Enjoy!
Disclaimer
Any opinions or views of third parties expressed in the article above are those of the third parties identified, and not those of OCBC Bank. There may be links or hyperlinks in this page which link you to websites of other third parties (the "Third Parties"). OCBC Bank hereby disclaims liability for any information, materials, products or services posted or offered in the article above, or on the web-site of the Third Parties. OCBC Bank is not responsible for and makes no representations or warranties in respect of this article, or of any of the Third Parties' websites, nor in respect of any products, services or information provided by such Third Parties. OCBC Bank shall not be responsible or liable for any damage, loss, liability, expense or other consequences suffered or incurred by you, including without limitation, direct, indirect, special or consequential damage or economic loss, arising from or in connection with any reliance by you on this article, or your access to and/or use of the Third Parties' websites.
---