Now reading:
A quick healthy recipe: Salmon confit
A quick healthy recipe: Salmon confit
SERVINGS: 2
PREP TIME: 5 Minutes
COOK TIME: 15 Minutes
Words by #sgfoodie Lace Zhang: Confit just means cooking something in its own fat. Here, already fatty salmon is luxuriantly bathing in extra virgin olive oil, poaching itself in all that fat. Add any aromatics you desire. Here, I added lemon slices, thyme and shallots. Feel free to throw in cloves of garlic, or whatever citrus you have on hand. As the oil slowly heats up, the aromatics infuse their flavour into the oil, creating a very intense flavoured oil to which the salmon soaks up.
Note: cook this over very very low heat, the lowest you can manage. Too high a heat and the protein kinda coagulates, resulting in little dots of white stuff floating atop. Completely fine if that happens, don't beat yourself up, just enjoy the salmon.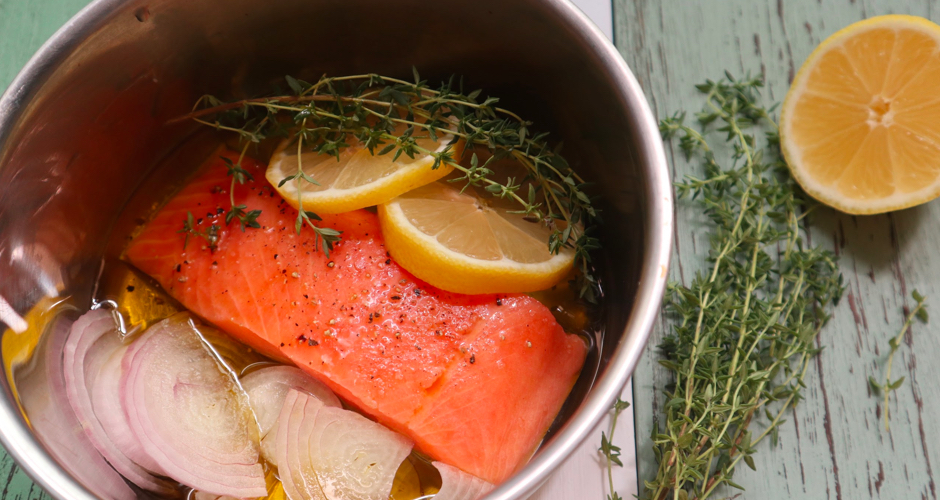 Ingredients
Extra virgin olive oil (EVOO), enough to kinda submerge the salmon fillet
½ large shallot, sliced thinly
2 slices of lemon
A few springs of thyme
Salt and pepper to taste
Preparation
Season the salmon on both sides with salt and pepper.
Using a small suacepan, fit the salmon snugly in one layer. Drizzle the oil over, just covering the salmon. Toss in the shallots, lemon and sprigs.
Over extremely low heat, the lowest you can manage, let the salmon poach in its own fat, covered, for 5 minutes. Then switch off the heat, spooning the hot oil over the top to further cook it. Let it sit around and cook in the residual heat for another 2-3 minutes, until just cooked through.
Before serving, decant salmon onto plate. Spoon oil and aromatics all over. Sprinkle with some flakey sea salt.
Disclaimer
Any opinions or views of third parties expressed in the article above are those of the third parties identified, and not those of OCBC Bank. There may be links or hyperlinks in this page which link you to websites of other third parties (the "Third Parties"). OCBC Bank hereby disclaims liability for any information, materials, products or services posted or offered in the article above, or on the web-site of the Third Parties. OCBC Bank is not responsible for and makes no representations or warranties in respect of this article, or of any of the Third Parties' websites, nor in respect of any products, services or information provided by such Third Parties. OCBC Bank shall not be responsible or liable for any damage, loss, liability, expense or other consequences suffered or incurred by you, including without limitation, direct, indirect, special or consequential damage or economic loss, arising from or in connection with any reliance by you on this article, or your access to and/or use of the Third Parties' websites.
---