Now reading:
What other ingredients can I add to my breakfast yogurt?
What other ingredients can I add to my breakfast yogurt?
Fruit and granola? That gets boring if you have it pretty often, especially if you eat it on the weekends as well.
I get so bored of adding the same fruits all the time, so I went full-on research mode and stalked hundreds of interesting yogurt combinations that are better than just blueberries and yogurt. Here are some of my favourites.
Idea #1: Yogurt Apple Pie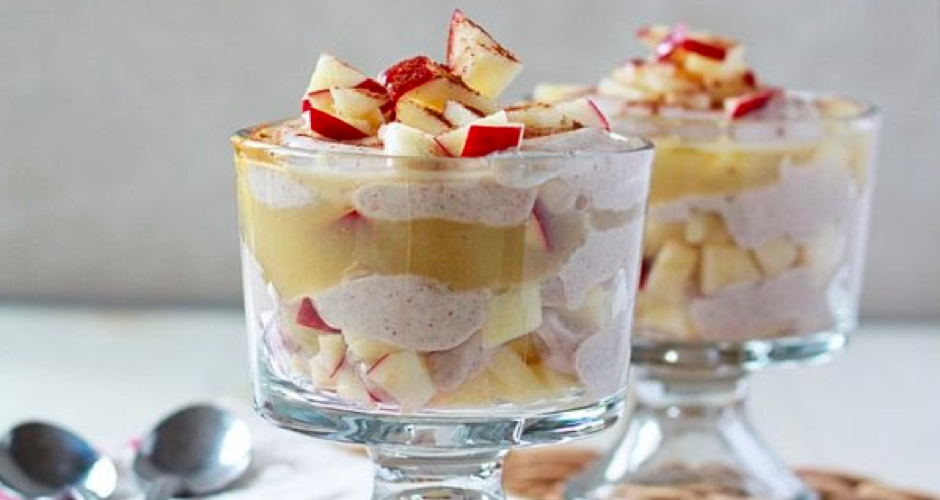 The guilt-free version of an apple pie. Create a cute dessert by adding it to mini cups of tart shells (you can get them at Phoon Huat!)
Ingredients: Yogurt, ground cinnamon, chopped apples, a sprinkle of raw sunflower seeds
Effort level: Easy
Idea #2: Matcha Kiwi Yogurt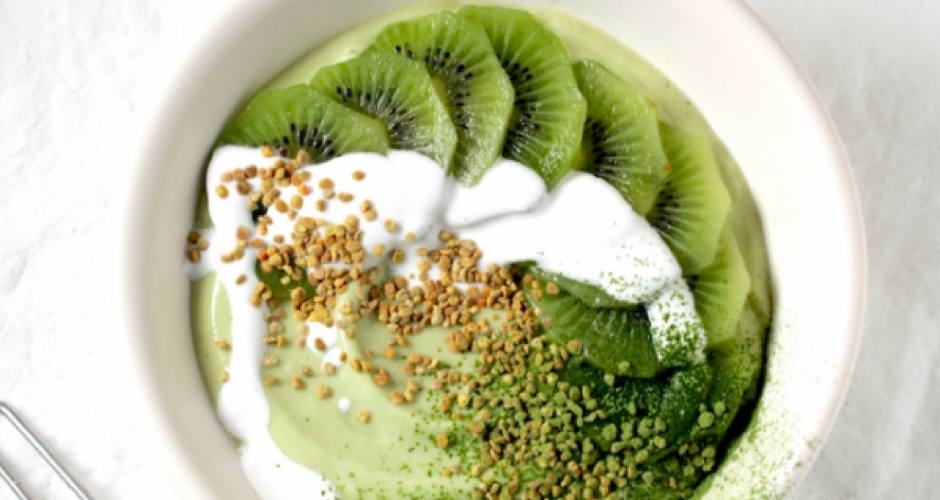 I'm an incredibly huge fan of anything Matcha, Matcha yogurt, cookies, cake, granola… you name it and I'm there. If you're not a Matcha lover, you can also create any flavoured yogurt – just mix the desired powder with your yogurt. I've yet to try curry flavoured yogurt though.
Ingredients: Yogurt mixed with Matcha powder, pounded peanuts, kiwis, a sprinkle of Matcha powder
(Optional: top it off with some peanut pretzel muddy bites for the perfect finishing touch to complete your snack)
Effort level: Easy
Idea #3: Superfood Combination With a Hint of Chocolate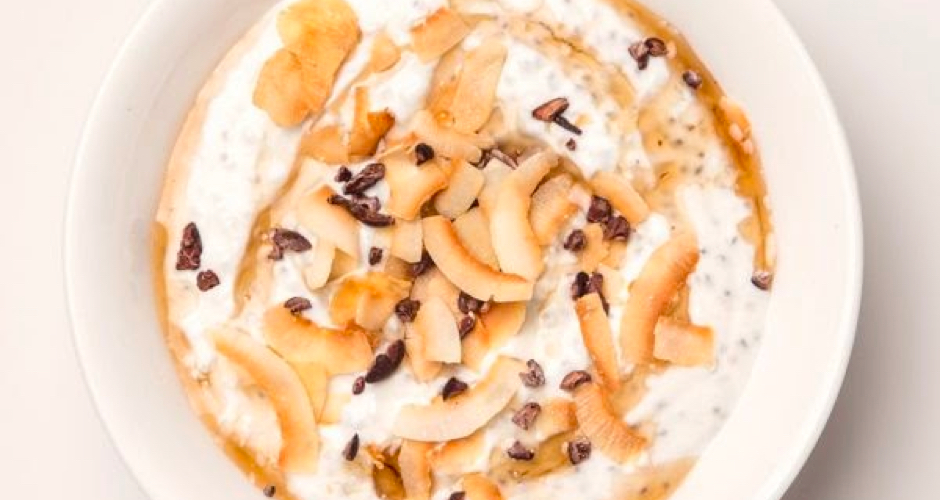 On days I know I'm not going to be getting much greens, I try to make it a point to stuff myself with antioxidants and fibre from non-greeny sources. I absolutely love cacao nibs because it's chocolate without all the sugary stuff added. It's 70% cocoa solids and high in antioxidants.
Ingredients: Yogurt, Chia Seeds, Coconut Flakes, Cacao Nibs
Effort level: Super Easy (no cutting required)
Get the recipe!
Idea #4: Granola & Dried Berries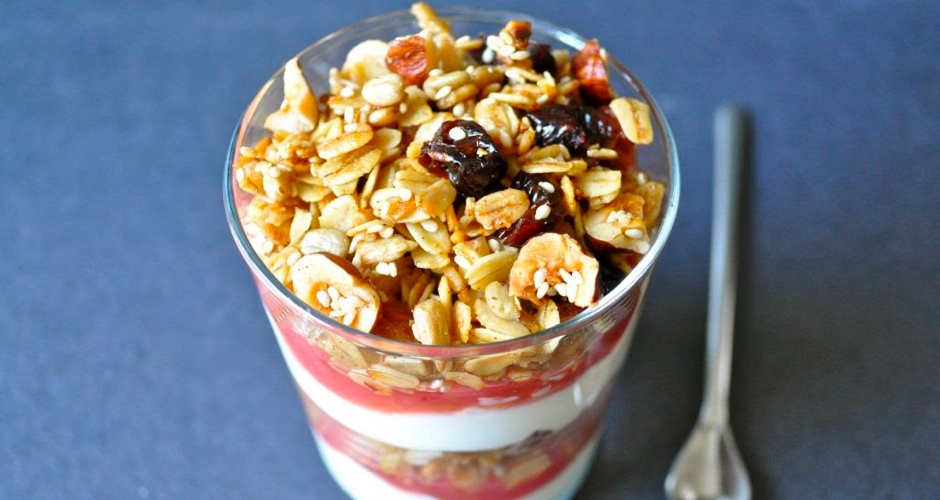 When I'm pressed for time, I'll get a small cup of yogurt from 7-11 and mix granola with some dried berries for a quick breakfast.
Ingredients: Yogurt, granola, berry nut mix
Effort level: Huh? What effort
Idea #5: Ultimate Yogurt and Fruit Cake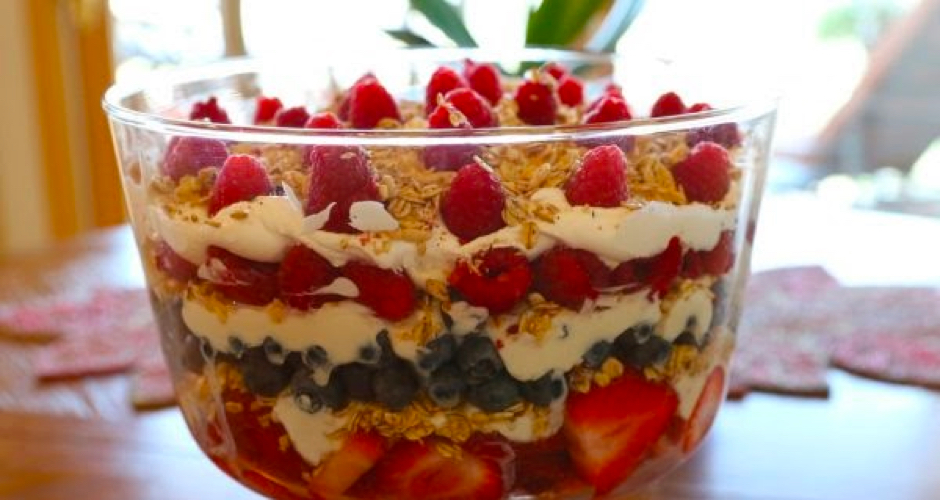 Why pay $7 for a cup of frozen yogurt when you can easily create your own gigantic version? You'll have so much more fun making it with your friends! Ideal snack after a workout, during a sleepover or it could even be an unconventional birthday cake!
Ingredients: Yogurt, colourful berries for aesthetic purposes (e.g.: strawberries, blueberries, raspberries, blackberries), granola
Effort level: Easiest party food to prepare (Bonus: it's a healthier choice too!)
How to stack them up nicely
Idea #6: Yogurt In Granola Cups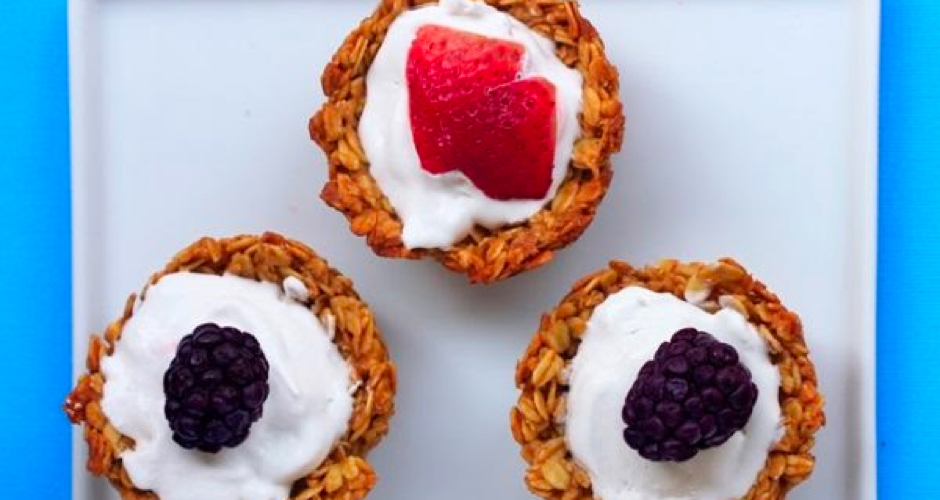 It's a lazy Sunday morning, I'm hungry but I don't want to have oatmeal or yogurt for the thousandth time and I'm too slothful to head out for food. Well, this saved my life. I had some spare oats, honey and bananas at home so I decided to try this really simple and healthy recipe!
Ingredients: Yogurt, Fruits, Yogurt Cups (mashed banana, honey, rolled oats, vanilla extract)
Effort level: Some effort required to mix the ingredients and pour them into muffin cups)
Get the recipe!
Idea #7: Peanut Butter & Banana Yogurt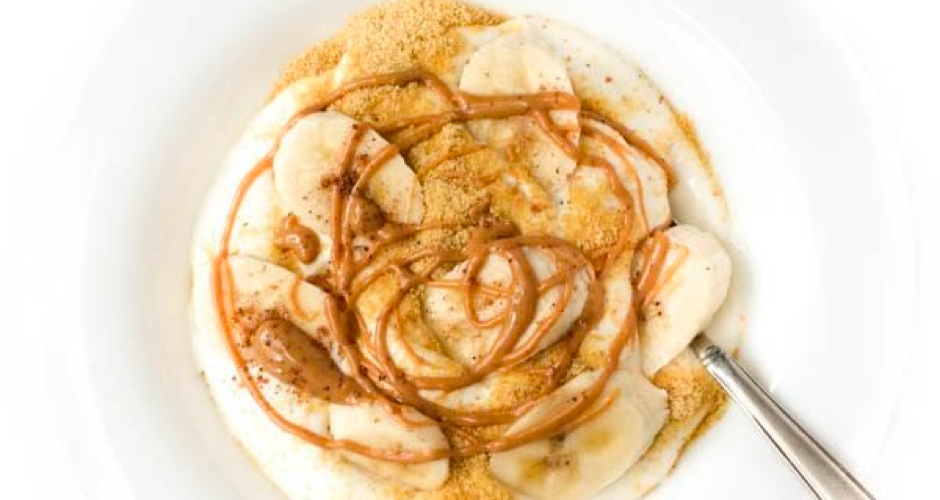 No, it's totally not weird to add peanut butter to your yogurt. For a healthier choice, consider using 100% pure peanut butter with no added sugar or palm oil. I stumbled upon this when I didn't have bread at home, tastes yummy but it's phenomenal when you top it off with some of these. If you're not a fan of peanut butter, almond butter works great too :)
Ingredients: Yogurt, Bananas, Peanut Butter
Effort level: Really easy
Disclaimer
Any opinions or views of third parties expressed in the article above are those of the third parties identified, and not those of OCBC Bank. There may be links or hyperlinks in this page which link you to websites of other third parties (the "Third Parties"). OCBC Bank hereby disclaims liability for any information, materials, products or services posted or offered in the article above, or on the web-site of the Third Parties. OCBC Bank is not responsible for and makes no representations or warranties in respect of this article, or of any of the Third Parties' websites, nor in respect of any products, services or information provided by such Third Parties. OCBC Bank shall not be responsible or liable for any damage, loss, liability, expense or other consequences suffered or incurred by you, including without limitation, direct, indirect, special or consequential damage or economic loss, arising from or in connection with any reliance by you on this article, or your access to and/or use of the Third Parties' websites.
---