Renovation Loan Payment Deferment Scheme
Supporting homeowners through COVID-19
Apply to defer payments on your renovation loan if you have not missed more than 3 months of instalment payment. The deferment period is until 31 December 2020.
HOW THE DEFERMENT WORKS
When do I have to pay my next instalment?

Your next instalment will be deferred to 4 January 2021.

What will happen to my instalments in 2021?

We will advise you on your revised instalment amount.
The instalments from January 2021 and the next few months will be used to pay off the interest incurred during the payment deferment period, before the loan principal amount is reduced.

How will interest be calculated?

During the payment deferment period, interest will be calculated on the outstanding amount only. There is no interest charged on the interest incurred during the deferment period.

If I am interested, when do I need to submit my application

Applications received by the 21st of the month will be effected the following month.
Here is a scenario that might help you understand.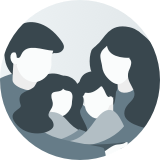 Mr and Mrs Teoh's profile:
They are currently serving their renovation loan with OCBC Bank but would like to defer their monthly instalments to a later date.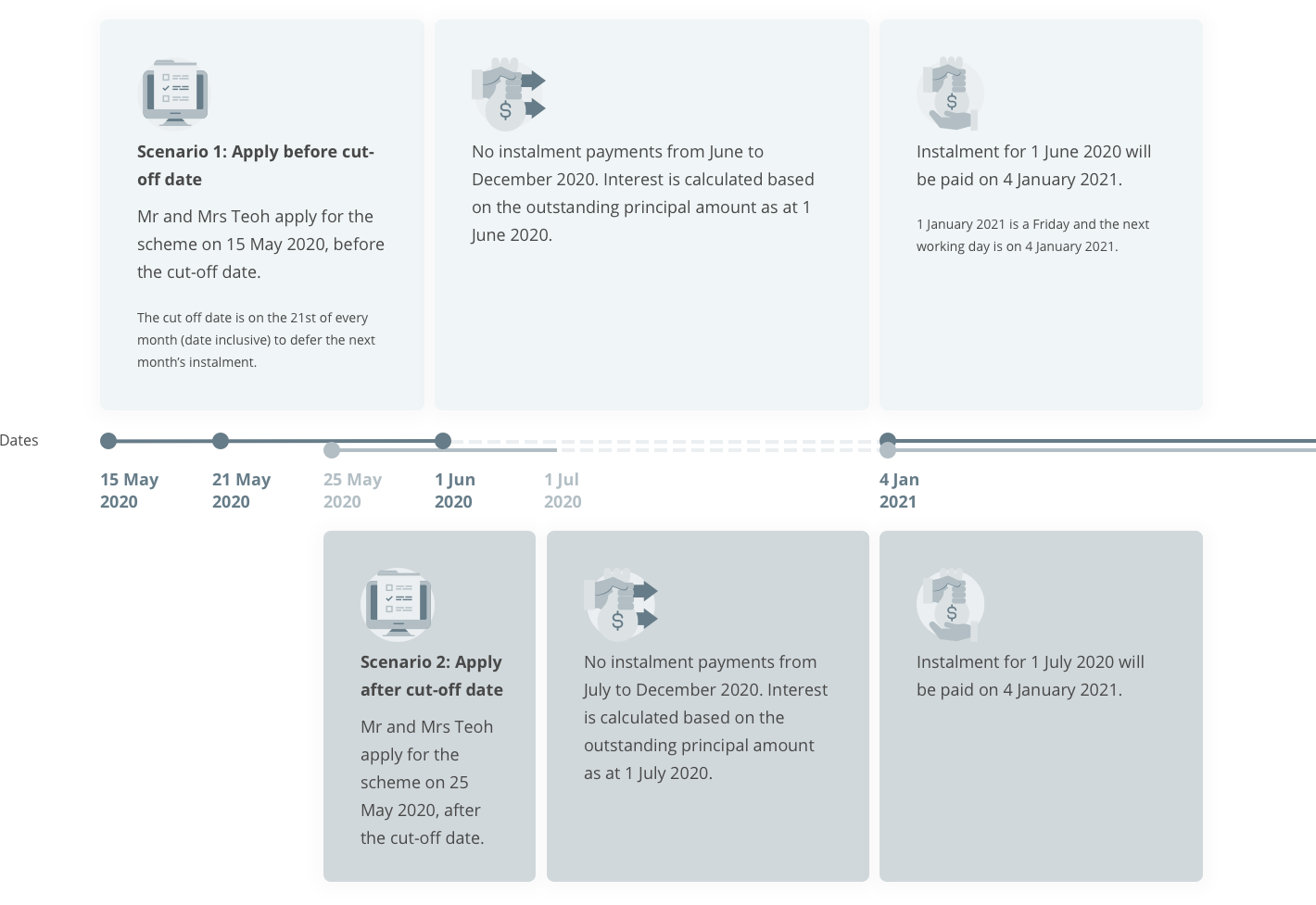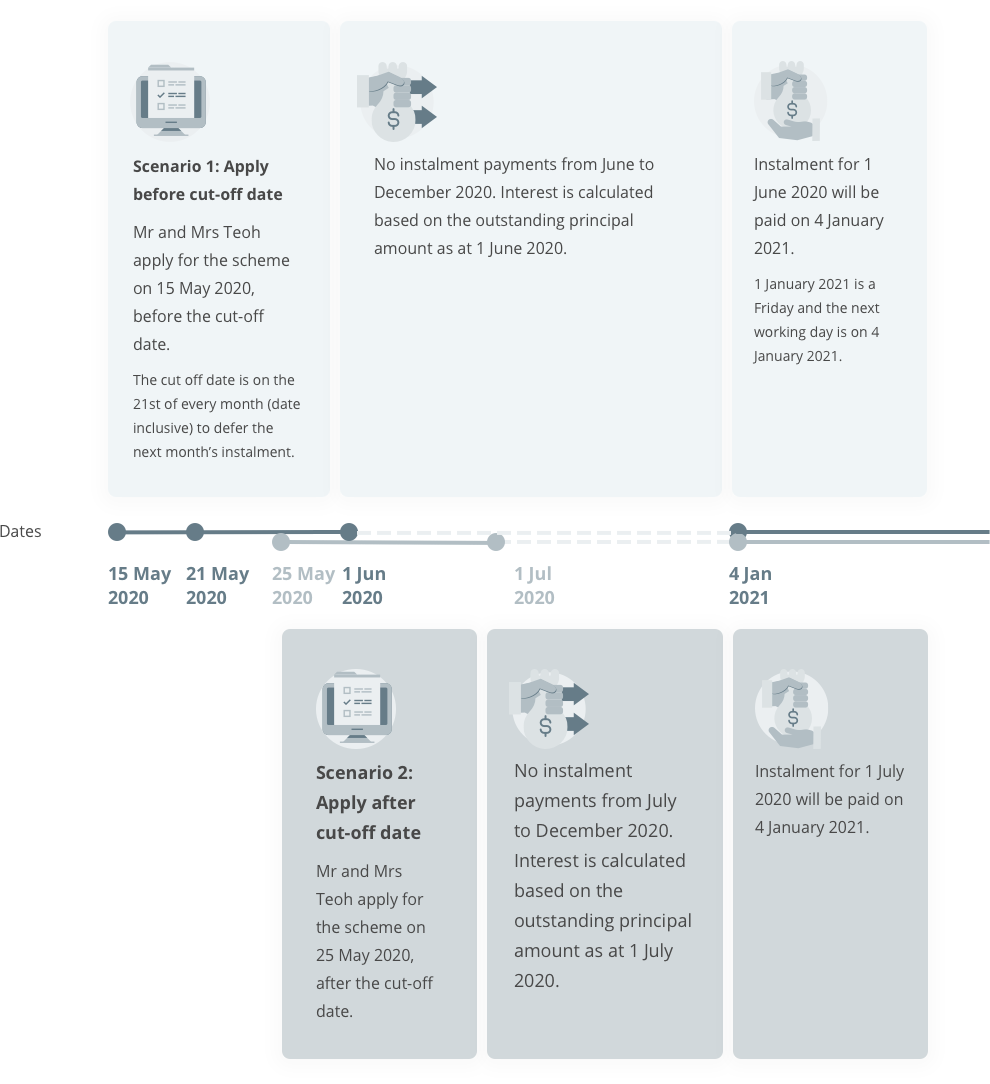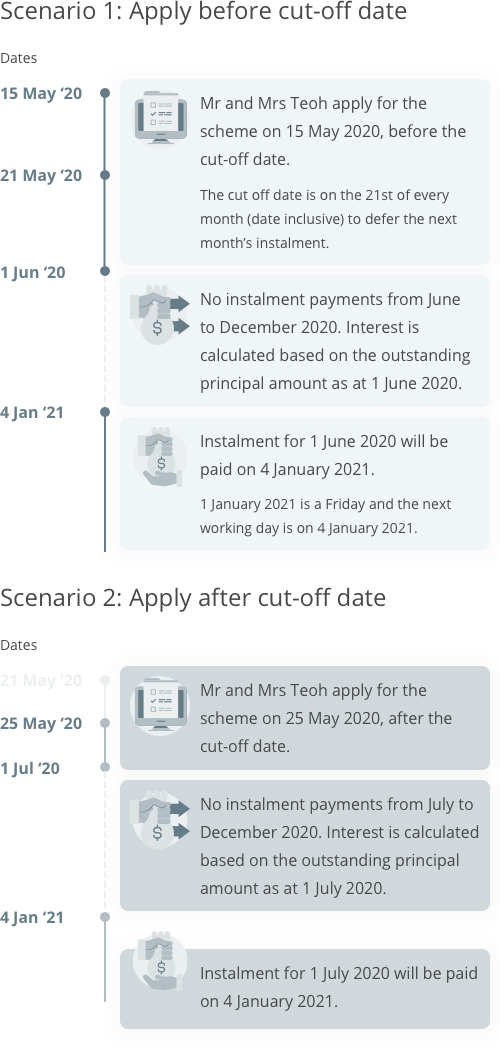 INTEREST CALCULATION
Opting into the scheme will result in higher interest paid on the loan. Interest is charged on the principal loan amount during the deferment period.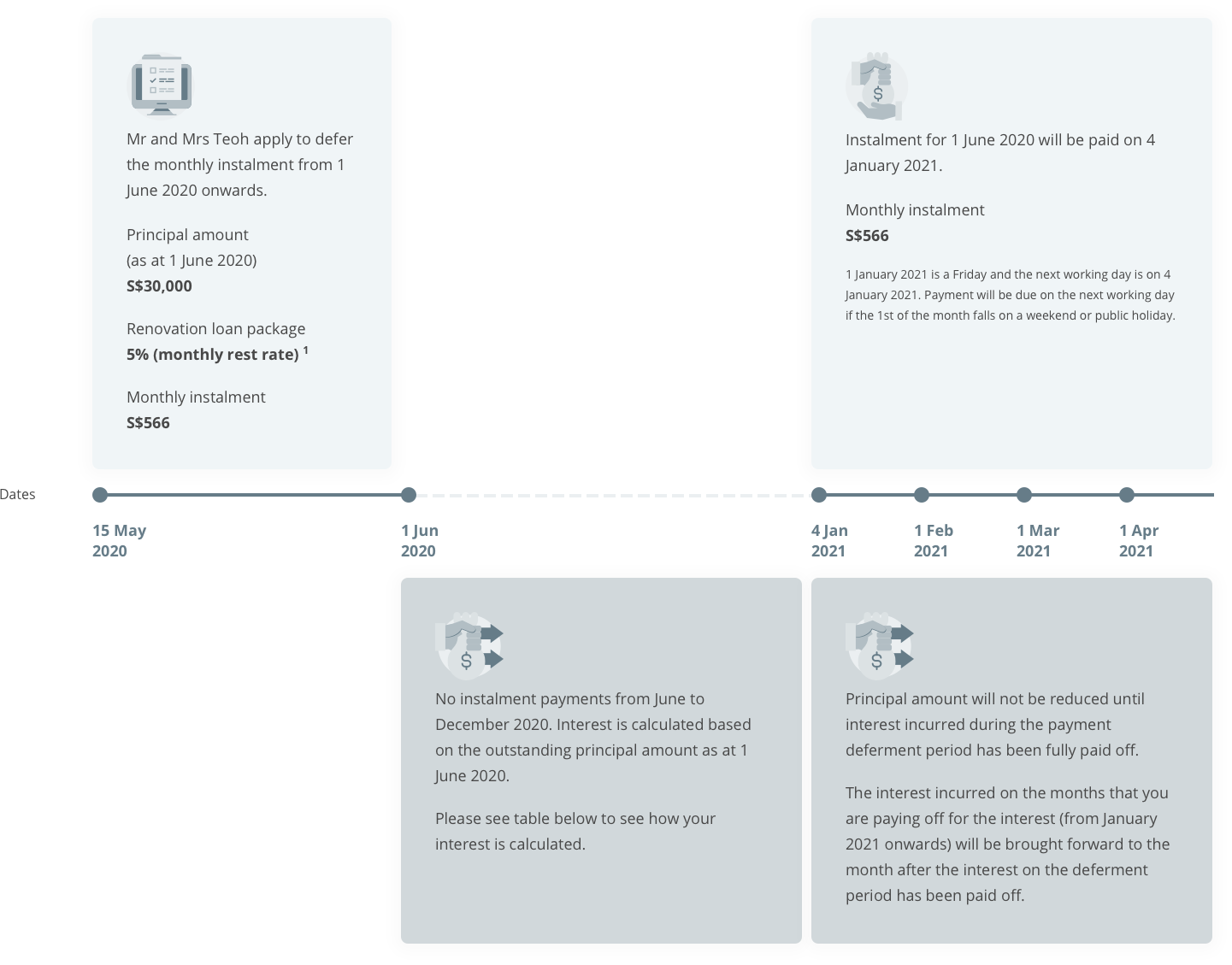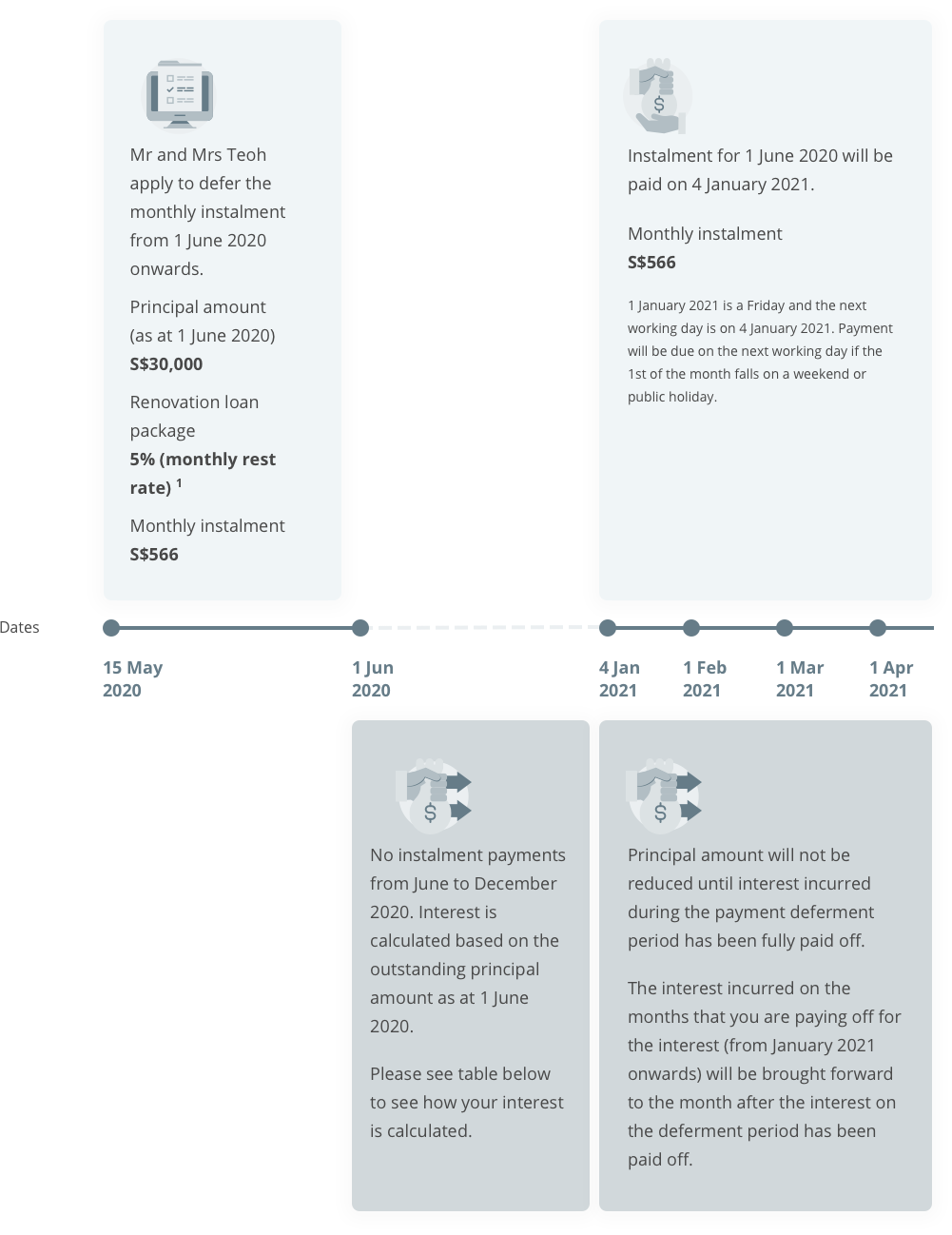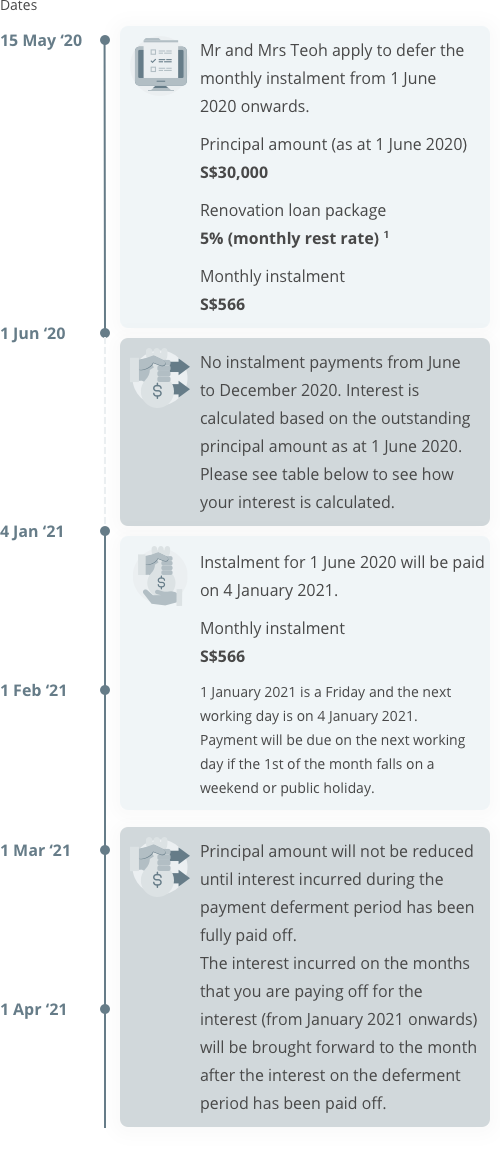 Monthly interest
For the month of June 2020
S$30,000
Principal amount as at 1 June 2020
x
5% (monthly rest rate) per year)
Renovation Loan package
x
30 days out of 365 days
Number of days in June 2020 divided by the number of days in a year
=
S$123
(rounded off to nearest dollar)
Monthly interest
Total interest
From 1 June 2020 to 3 January 2021
S$30,000
Principal amount as at 1 June 2020
x
5% (monthly rest rate) per year
Renovation Loan package
x
217 days out of 365 days
Number of days from 1 June 2020 to 3 January 2021 divided by the number of days in a year
=
S$892
(rounded off to nearest dollar)
Total interest