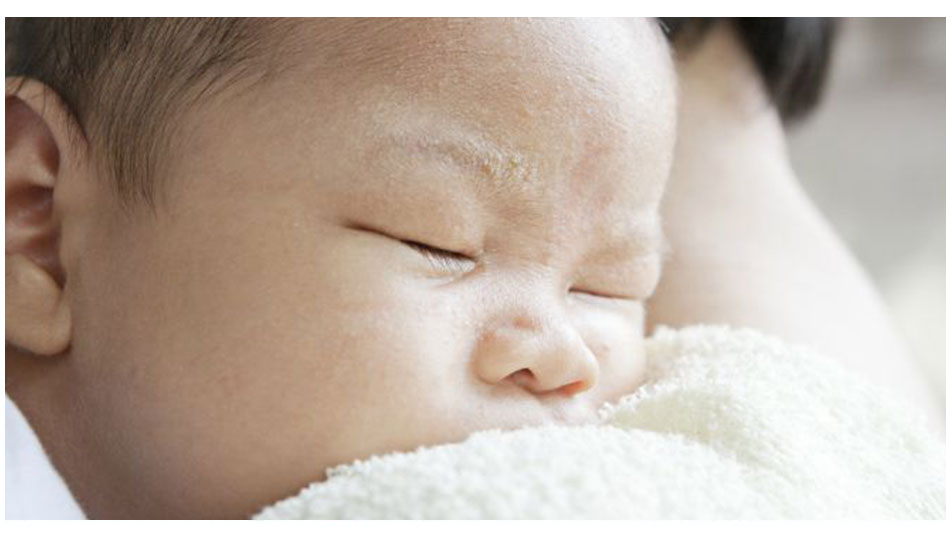 A simple way to deal with those pregnancy and birth-related worries
By Nalika Unantenne | This article was first published by the Asianparent on 5 September 2015.
A woman's pregnancy and birth journey is full of incredible moments bursting with love and joy... and plenty of stressful moments too. What is an effective way of dealing with some of these worries?
From the time you detect early symptoms of pregnancy, right up to your baby's birth, the pregnancy journey is a beautiful nine months full of unforgettable moments.
Like the day you first discovered the tiny, precious life within you. Or the first time you see your little baby turning somersaults in your womb. Or when you feel the baby's movements for the first time. Or when you see your stomach rippling with slow tumbles as the baby grows bigger.
Undoubtedly, you're on a rollercoaster of emotions during your pregnancy. These feelings most certainly include excitement, as well as stress. In fact, the moment you find out you are pregnant, you are hurtled into the world of impending motherhood that is made up of equal parts anxiety and love for your child.
It's true that mums-to-be just can't help worrying about their developing baby's wellbeing.
So while you celebrate each kick, hiccup, and tummy roll, you also worry about your little one. Is he okay? Why hasn't he moved for some time? Will he be okay after he is born? What if the scans missed something?
Usually, worries are unnecessary; most babies are likely to be fine. But sometimes, a mum-to-be's anxieties can be justified especially when pregnancy complications or congenital illnesses are diagnosed during routine check-ups and scans.
There are also unforeseen birth complications and/or infant conditions that a mum-to-be won't know about until she goes into labour and gives birth.
Pregnancy and birth complications
It's devastating and difficult to comprehend, but unfortunately, pregnancy and birth complications do happen.
According to SingHealth, around 2% of births have structural birth defects. These are complications related to a problem with body parts and structure, e.g., missing limbs, cleft palate.
Around 60% of such abnormalities can be picked up during an ultrasound scan around the fifth month of pregnancy. But, sometimes, minor (and even major) issues slip through undetected.
Stillbirth is another heartbreaking issue some mums have to deal with. Though infrequent, stillbirth can unfortunately occur without warning.
SingHealth's hospital statistics show that in approximately 50% of stillbirths and intrauterine deaths, a cause cannot be found despite extensive investigation.
It's not just the baby who can be unexpectedly affected by complications during pregnancy and at birth - the mum can be affected too.
An example of such complications is postpartum haemorrhage, or excessive bleeding after birth. According to medical experts, most of this bleeding happens within 24 hours of birth. Sometimes, it can happen after the mum is discharged from hospital.
Usually, doctors are able to manage postpartum haemorrhage with drugs, or other procedures. But sometimes, they are required to surgically remove the uterus. This condition is known as postpartum haemorrhage requiring hysterectomy.
Being prepared for peace of mind
Pregnancy and birth complications are unpleasant, if not taboo, topics to consider. Nevertheless, it's advisable for mums-to-be and their partners to be prepared for such unexpected twists during the pregnancy and birth journey.
One of the biggest factors to consider is cost. Treating many of these conditions can be terribly expensive. Yet effective treatment can not only save lives, but they also markedly improve the outcome of certain congenital birth conditions, such as a cleft palate or cleft lip.
Needless to say, the knowledge that you are protected financially in a worst-case scenario related to pregnancy and birth can bring much needed emotional and psychological stability and relief.
A head start to lifelong protection
MaxMaternity Care (MMC) offered by OCBC Bank protects both you and your child from as early as 13 weeks into your pregnancy.
1. Care for Mum
During your pregnancy, MMC protects you from eight types of pregnancy complications including fatty liver of pregnancy, postpartum haemorrhage requiring hysterectomy, preeclampsia or eclampsia, and stillbirth (after 28 weeks of gestation).
You will be paid a lump sum benefit in the event of a pregnancy complication.
You will also receive hospital cash for up to 30 days in the event of hospitalisation due to the eight pregnancy complications.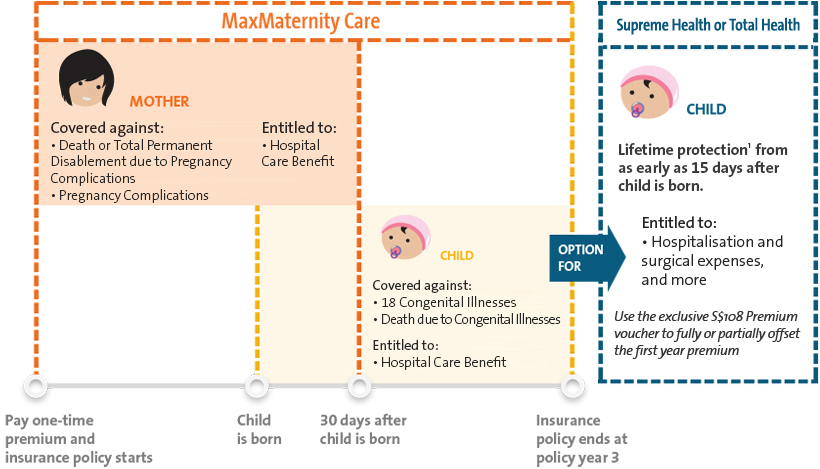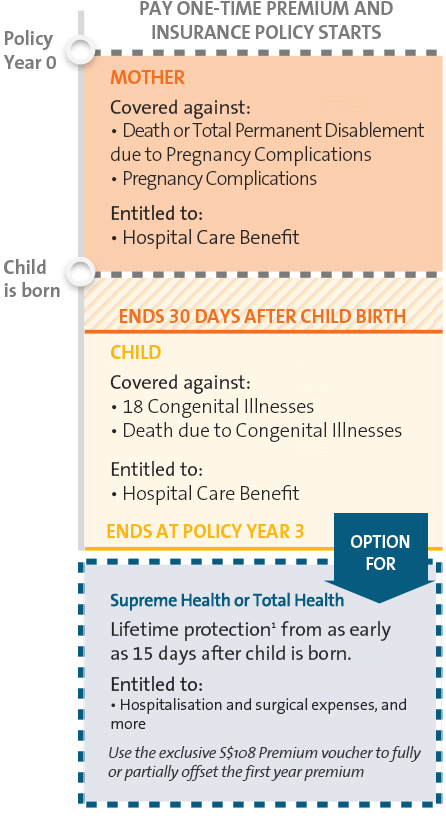 Note:
Pregnancy as a result of In-Vitro Fertilisation (IVF) is not covered.
Cover is provided for all your children from birth till end of policy year 3.
Supreme Health is a medisave-approved Integrated Shield Plan by The Great Eastern Life Assurance Company Limited. For your child to continue the Supreme Health plan, you need to pay the yearly premium.
Supreme Health starts as early as 15 days after birth or discharge from hospital whichever is later.
Total Health is an add-on to Supreme Health to cover your hospital deductible and co-insurance cost.
Premium voucher is valid for 12 months from the effective date of cover.
1
Subject to underwriting
2. Care for Baby
MMC also protects your child against 18 congenital illnesses upon birth. These conditions include Down 's syndrome, Spina Bifida, cleft palate/cleft lip, and congenital deafness.
In addition,
You only need to pay a one-time premium to enjoy protection with MaxMaternity Care.
You can choose the level of coverage to suit your needs and those of your child.
Lending a helping hand beyond your pregnancy
Besides helping you deal with hospital costs for your pregnancy and covering your child against 18 congenital illnesses, MaxMaternity Care plan also gives new parents a further helping hand.
When you sign up for OCBC's MaxMaternity Care plan, you will receive a double bonus of $216.
$108 cash reward that will be credited into the Child Development Account.
$108 voucher which can be used towards the first year premium of your child's Supreme Health or Total Health plans, both Medisave-approved Integrated Shield Plans by The Great Eastern Life Assurance Company Limited (subject to underwriting).