Now reading:
Walking the fine line
As Head of OCBC Group Human Resources' Group Disciplinary Unit and HR Risk & Compliance team, Adeline Tan leads a team of 4 and oversees employee misconduct issues within the Bank. Hear about Adeline's new role and how it's transforming the Bank and its people agenda.
Q: Could you share with us a little about your career with OCBC?
Adeline: I first joined the Bank over 12 years ago through the Postgraduate Management Associate programme. As an electrical engineer by training, I was handling engineering procurement contracts and HR matters for the engineering division in my previous company, but I knew that I wanted to move into a full HR business partnering role. The opportunity with OCBC was exactly what I wanted, and I moved to take on a Relationship Management role working with our corporate banking business, with exposure to our overseas branches in the North Asia region. This eventually led to an appointment within the talent acquisition team, and subsequently leading the entire talent acquisition piece.
Q: How did the move to the Group Disciplinary Unit happen?
Adeline: Given the increasing regulations and compliance measures by the central authorities, there was a strong call to increase focus in this area. While Group Legal and Compliance and Group Risk Management set and govern policies, a centralized team was required execute the policies as subject matter experts within Group Human Resources. Also, there was a strong call to enhance the group disciplinary framework and implement the policy throughout the OCBC Group. This prompted the establishment of the Group Disciplinary Unit in April 2019.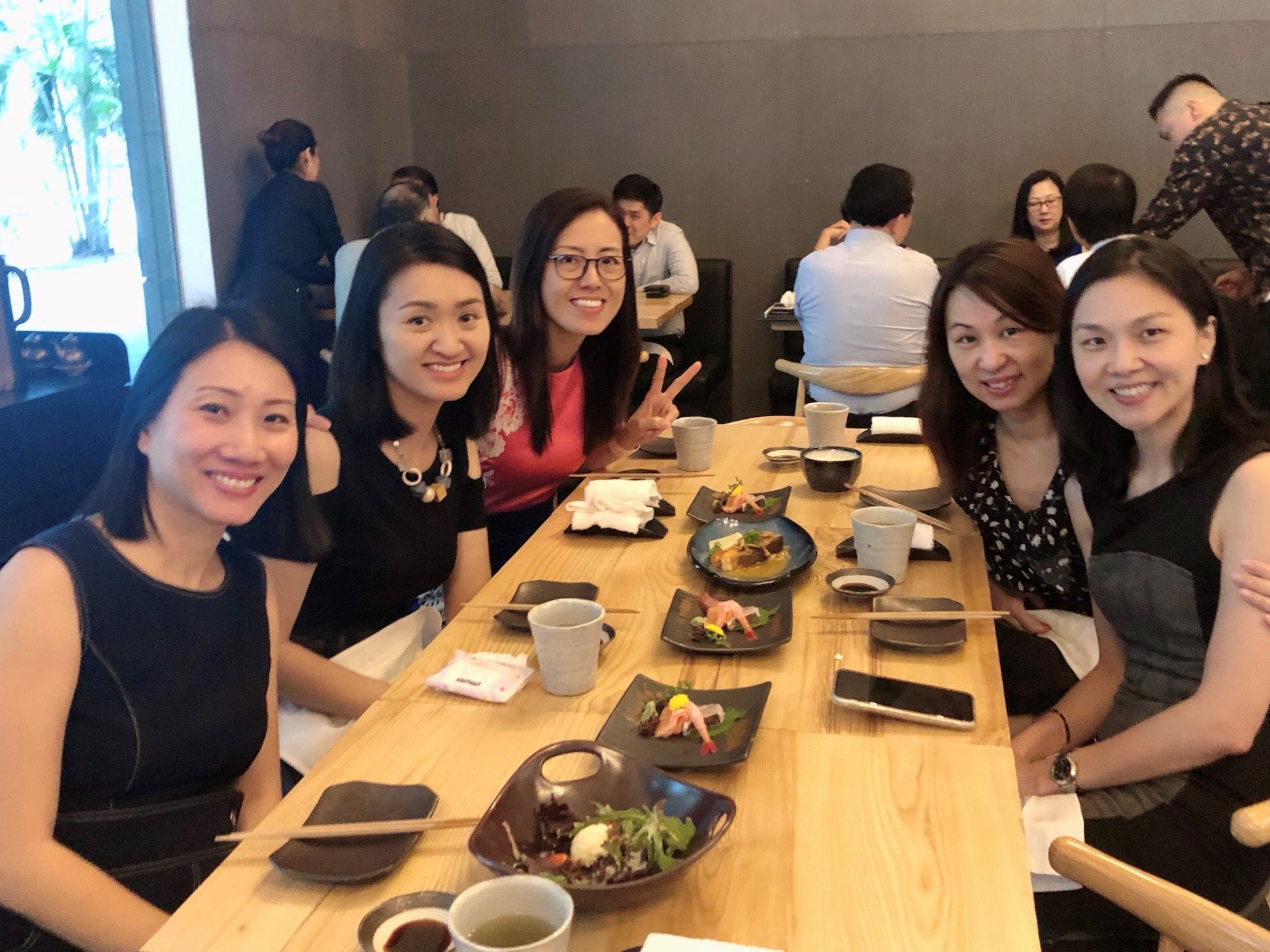 Group Disciplinary Unit and HR Risk & Compliance team, Aug 2019
Q: What is the team's role within this bigger strategy?
Adeline: The team oversees all employee misconduct cases, and we also ensure that staff comply to the Bank's code of conduct, policies and procedures at all times. Where cases of potential misconduct are suspected, the businesses or HR Relationship Managers will conduct investigations of said personnel. My team then steps in to propose a disciplinary inquiry, appoint a disciplinary committee, and recommend subsequent course of disciplinary action depending on the severity of the case. We also work with Operational Risk Management to profile the risk behaviour of individuals, assessing their potential of displaying risky behaviour based on an Employee Controls Trigger Model.
Q: What are some of the challenges of this role?
Adeline: This role requires me to work very closely across the Group and its business units, to understand their challenges and look at how we could better our people policies to address the local challenges they may face. Secondly, what we deal with requires absolute objectivity, clarity of thought, and the ability to convey policies to employees in clear and concise ways. Every case has its own extenuating circumstances and there may not be a one-size-fits-all solution, and hence it's important to exercise good judgement when advising on a case.
Q: It sounds like a methodical job.
Adeline: Rather than saying that, I'd say that you will also have to be extremely logical and have a good moral compass - to know what's black and white. The role leans more towards crafting and implementing policies, so you will need to read and write a fair bit. MAS (Monetary Authority of Singapore) regulations change frequently, and the technical and analytical know-how to mitigate risks and understand controls in place are critical to the success of the team.
Q: What aspirations do you have for the team?
Adeline: The team is fairly new and we are still learning, but my vision for the team is to evolve into subject matter experts on people risk management and compliance matters, so that we can work towards ensuring global alignment of the disciplinary framework and other policies across the OCBC Group.