Now reading:
The ABCs of being a leader
The ABCs of being a leader
Teo Sze Ling joined OCBC Bank in 2003 as a Business Development Manager. She is now the Head of Business Compliance, Commercial Banking and leads a team of 80. Hear how she learned from her managers and developed as a leader over her time with OCBC Bank.
"I joined OCBC Bank 16 years ago. And you know what? Rather than feeling that it's been a long time, it seems to have gone so quickly. Over the years, I've had the opportunity to experience a variety of roles. Many people change jobs to experience different career options. But with OCBC Bank, I experienced so much without having to leave. The Bank brought out the best in me both in terms of job satisfaction and placing me in the right place where my skills could be put to the best use."
Rotating and growing
"I've been with Commercial Banking all these years. Every two to three years, I'd take on a new role to keep my career fresh and interesting. As a new employee, I began my career in business development and subsequently moved to be a Commercial Property Loan sales team leader. Then came a progression of quick rotations as the Business Head among these portfolios—Commercial Property, Trade, Community Banking and finally, in 2016, Business Compliance."
"Prior to any change in role, I'd have frank discussions with my managers and based on my abilities, aptitude and personality, they would suggest a job that would suit me the best. I became more confident as my career progressed with the Bank. I learned not to shy away from opportunities and instead embraced each change and made the best of it."
"Now I manage a team of over 80 business compliance officers who are spread across three key businesses—Financial Institutions, Emerging Business and Enterprise Banking."
The ABC of leadership
"I think three things are important, which I call "ABC". The first two are great Attitude and the right Behaviour. The other is Competency. Why do I set competency apart? Because competency can be learned over time. It's harder to find team members with a great attitude and behaviour. The most competent team member without the right attitude and behaviour is destructive rather than constructive. This is what my previous managers shared, and I have found it to be absolutely true as I lead teams.
"Since managing a team, I have developed clarity in my thinking, to communicate clearly, to think from my team's perspective and from there, develop their careers just as my previous managers developed mine. I believe in open communications and I make it easy for my team to reach out to me regardless of their seniority."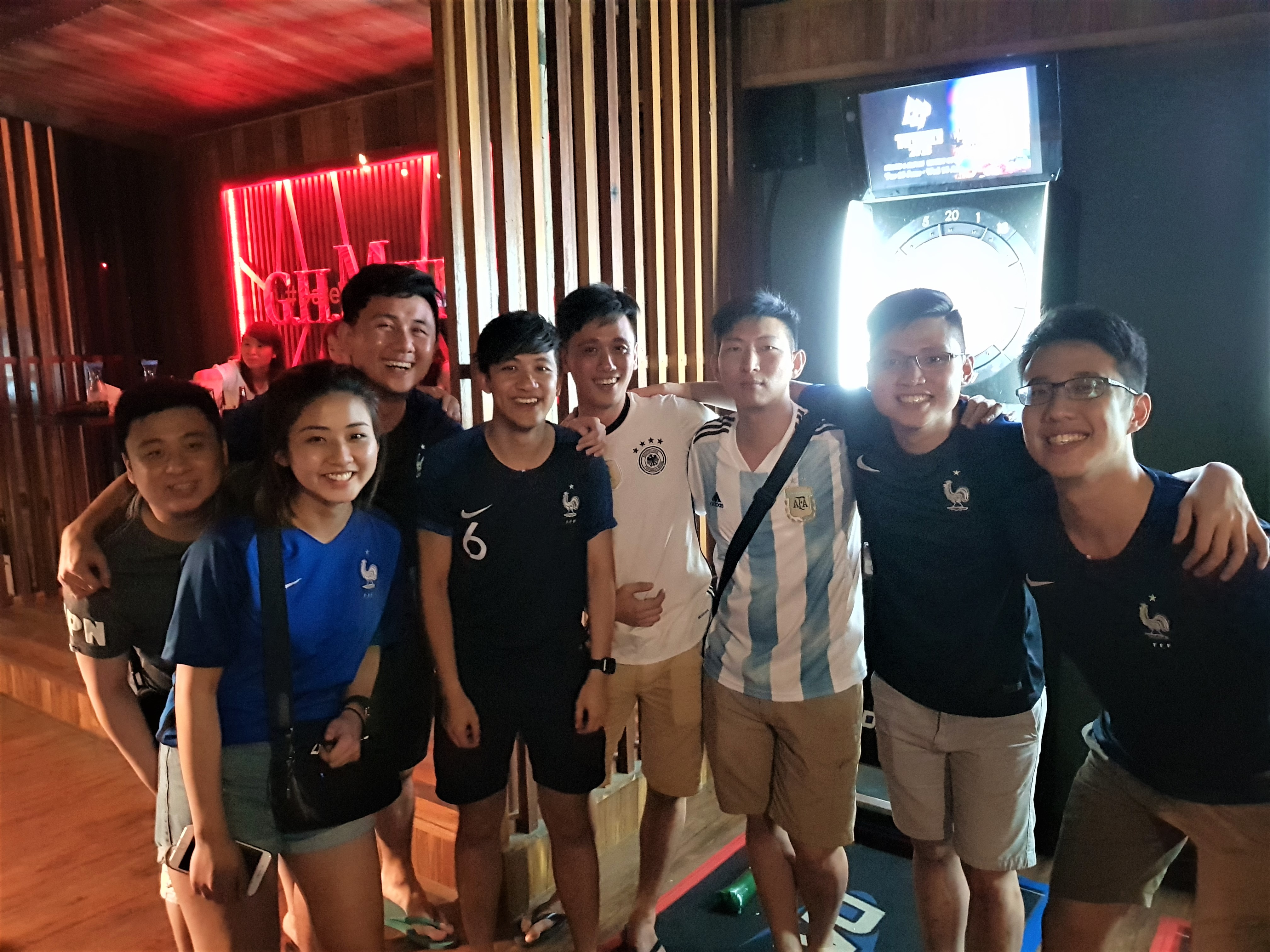 Business Compliance team, Penang, Jun 2018
Creating an effective culture and creating memories
"I truly believe that I work for the team, and not the other way around. What makes me happy is when my team feels that they are coming to work with a group of friends, and with a culture of a family. Each of us look out for one another. I remember a senior member of our staff who took a one-year sabbatical, and the rest naturally stepped up to cover her duties. This made me very proud and happy that we take care of each other like families do."
"Once a quarter, we will go away for team bonding activities. Cooking, art jamming, watching the World Cup or simply having some drinks. We even travelled together to Penang, leaving on a Friday and returning on Sunday. It was self-funded, and the high participation made me go 'wow!'"
"If there is something I hold true to, it is that we're not only building our work experience. We're creating memories."