Now reading:
Serving it up at OCBC
Outside of work, Stefanie Tan from OCBC Group Legal and Compliance is best known for her skills on the tennis court, having clinched two International Tennis Federation (ITF) singles titles, two ITF doubles titles and a bronze medal during South East Asian Games (SEA Games) 2017. Find out how this sports inspiration landed in her current job with OCBC Bank.
Stefanie was extremely keen on joining a structured management associate programme that provided opportunities for continuous learning and believed in the potential of job rotations. Upon completion of her Bachelors' in Finance and Master's in Business Administration from Texas Christian University, she had applied for a full-time job with OCBC, in hopes of pursuing a career in financial services in a bank that sees the best in their people. Her stellar performance in the interviews earned her a well-deserved place in OCBC's Graduate Talent Programme (GTP) Batch of 2016.
Supporting her sporting dreams
Concurrently, a once-in-a-lifetime opportunity to represent Singapore and compete as a full-time professional athlete with the backing of Sports Singapore (SportSG) presented itself. The Bank was supportive of Stefanie's decision to train for two years and compete. She served, she smashed, she emerged victorious. Our sportswoman made her mark in Singapore history, clinching the first medal for women's tennis in 34 years. Having tasted the fruits of her labour and enjoyed her sweet success at the peak of her sports career, she returned to join the OCBC GTP Batch of 2018, re-energised and ready to charge ahead.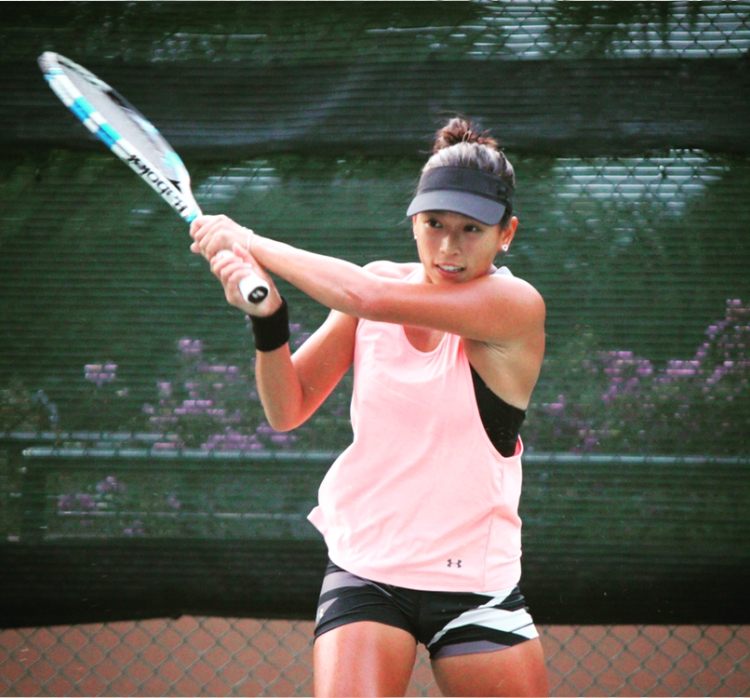 Stefanie Tan in action, Jul 2017
Thoughts on and off the court
In Stefanie's case, it was no doubt that tennis was a competitive sport. It was a survival of the fittest and not every person she trained with or played against were there to help. Everyone was a competitor and she only had herself to rely on. At OCBC, it was a 180-degree turn. Warm, kind-hearted and amiable are just some words she would use to describe her colleagues. Here in the bank, everyone is a friend to her, even the Head of the Department. She fondly recalls their first interaction and is grateful to have met a leader who has positively influenced and shaped her career. Coming to OCBC, there were #goodvibesonly, perfect for an outgoing and sociable girl like Stefanie.
Ask Stefanie about what she loves about GTP and she would share about OCBC's Graduate Talent Regional Week. Meeting fellow Graduate Talents from other countries, learning through gamification and top-level sharing by senior management were just some of the many meaningful activities included in the programme. The highlight for Stefanie? A project on a company that makes sharing short-form mobile videos possible. Forget the phrase 'think outside the box'. Stefanie's team was encouraged to think like there was no box to begin with. The team needed to analyse the assigned company, understand their business model and find learning pointers for OCBC. While her team did not get to walk away with the iPads and the bragging rights for winning, she thoroughly enjoyed the intellectual rigour and truly gained an understanding in the need to look beyond banking.
Champions keep playing until they get it right
OCBC's GTP programme would not be complete without exploring other functions within the bank. In Stefanie's case, one memorable stint was her four-month rotation with Group Branding and Communications. Truth be told, with little background in directing videos, conceptualising a creative and attention-grabbing video of OCBC Cycle was an uphill task. Instead of being fazed by the challenge, she took it upon herself to stay curious and embrace the uncertainty. Just like a sponge, she proactively looked for avenues to learn and sought advice from experts in the field.
Looking forward
What's next on this Graduate Talent's to-do list? Apart from mastering the art of calisthenics and perfecting that handstand that she has been practicing for six months now, she is looking to give back to the sports community. Role model to many young tennis players, Stefanie is exploring opportunities to impart her knowledge and mentor budding talents, alike how she has been mentored in her current role. Afterall, it is about paying it forward.