Now reading:
One summer, two takeaways
One summer, two takeaways
One summer, two takeaways
NUS business school graduate, Wesley Soo, recounted his first encounter with OCBC, a talk in Year 2 given by Group Head of Group Human Resources, Jason Ho, as part of the leadership development programme Wesley was a part of in university. It was the memorable takeaway of the Bank's willingness to invest in talent development and unique training programme design which sparked his interest in the organisation.
Keen to experience the real deal, Wesley joined OCBC in 2018 through a refreshing internship positioned for millennials: the FRANKpreneurship, a 4-months summer internship programme for penultimate undergraduates.
Day-to-day of a FRANKpreneur
On Mondays to Thursdays, Wesley worked within his home division in Wholesale Corporate Marketing, supporting Relationship Managers in the preparation of credit proposals and credit reviews. He also conducted sustainability research on how the bank could better position itself to be more sustainable, and offered these green financial products to clients. As the business seek to leverage on technology to value-add, Wesley also assisted the Business Transformation team in reviewing existing processes and identifying which could be streamlined using Robotic Process Automation (RPA).
Fridays were dedicated to working with other FRANKpreneurs, where Wesley put on his 'entrepreneurial thinking cap' to conceptualise the final project presentation. His FRANK team, Team Takeaway, was tasked to ideate on potential partnerships beneficial for OCBC's ecosystem. Going beyond banking, Team Takeaway considered how partnering unconventional companies may further add value to OCBC's customers and drive further profits.
The result? An idea to bring together a social network of informal caregivers and provide a one-stop-shop for customers to procure necessary services. As Nelson Mendela would say, "I never lose. I either win or learn." In Wesley's case, he had both! Tasting the fruits of their labour, Team Takeaway sure took everyone's breath away with their persuasive pitch and later enjoyed their sweet victory at the 2018 Grand Showcase, where the FRANKpreneurs presented to the OCBC Group CEO and the senior management!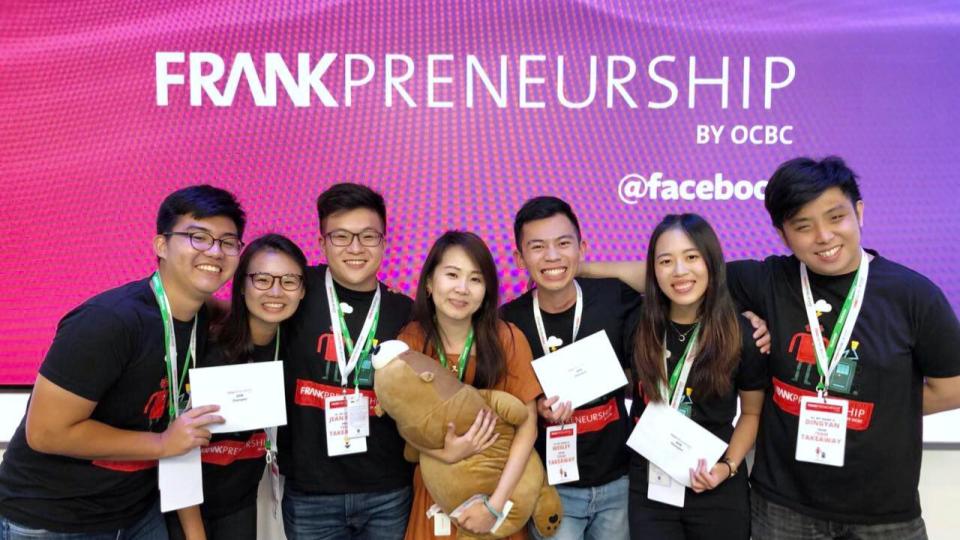 Wesley Soo (third from right) with Team Takeaway, FRANKpreneurship Grand Showcase, Aug 2018
Takeaways from OCBC
When asked about the biggest takeaways from his internship experience, on top of the friendships he found in Team Takeaway, Wesley had two that came to mind - life-long skills and much needed answers to his career doubts.
Providing guiding principles instead of micro-managing, Wesley's manager gave him room to explore and bring him a step closer to his full potential. Conversations in the office were two- way and interns like him were encouraged to share their frank (no pun intended) inputs. This was even more apparent when working on the FRANK project, where there were no specific problem statements, no straightforward answers and solutions could not be 'googled'. Questioning status quo and seeking for areas of improvement became natural inclinations for Wesley. It was through these exercises that Wesley trained his intellectual rigour, honed his presentation skills and practiced various approaches to getting the buy-in of multiple stakeholders, including senior management.
Coming into this internship, Wesley wanted to find out more about career prospects in the banking sector, especially finance roles. Furthermore, he was deliberating if taking up a direct-hire role or a management trainee program would be more suitable for him. FRANKpreneurship proved to be the ideal platform, linking potential hires like him, to employees and mentors within the bank, as well as including relevant trainings within the schedules, similar to OCBC's Graduate Talent Programme (GTP). This was in stark contrast to his previous unstructured internships in which he felt like just another cog in the machine. Wesley has since made the preferred choice for himself and joined the OCBC family as a Graduate Talent in 2019.
As someone who has walked the path, Wesley encourages his juniors to be ever ready and pro-active in seizing opportunities, and credits his internship experience to have opened his mind to more opportunities.