Now reading:
Never let age stop your passion
Never let age stop your passion
Never let age stop your passion
May Neo (pictured right) and Doreen Tow (pictured left) are Learning Operation Specialists with combined experience of over 60 years at OCBC, supporting the bank's Global Consumer Financial Services business in learning and development programmes for staff. Outside of work, May and Doreen are avid national dragon-boaters and volunteers. Hear them speak about their passion outside of work.
Q: What prompted you to start your journey in dragon boating?
May: I first started rowing in 2003. OCBC has quite a number of recreational clubs, 16 in fact, and dragon boating is one of them. What really attracted me was the team spirit and endurance required in this sport. It requires all of us, including the lead drummer, to be in sync and move at one pace, at the same time. That's how I got started with the OCBC Dragons, our dragon boat team.
Doreen: Endurance is key as on average we are rowing distances of up to 10km. It might not seem much on paper, but time and effort when you are rowing it is on a completely different level. We train every weekend to build our endurance, and it is excellent bonding time for the team. I enjoy that a lot and that is what has been keeping me going.
Q: So, is the team competitive?
Doreen: Yes, definitely. Every year we participate in at least 3 different races, for example in the Singapore Dragon Boat Festival and Singapore River Regatta. We have two boats at Kallang, painted in the OCBC colours and sponsored by the company. It's always a proud moment when we see the Bank's colours on the water.
May: Throughout the years we've taken multiple gold medals and trophies, and they're displayed at the Recreational Club. We train throughout the year so it's great to see such results come from our efforts. For me personally, it's a great motivation and has given me the confidence to compete on a bigger stage.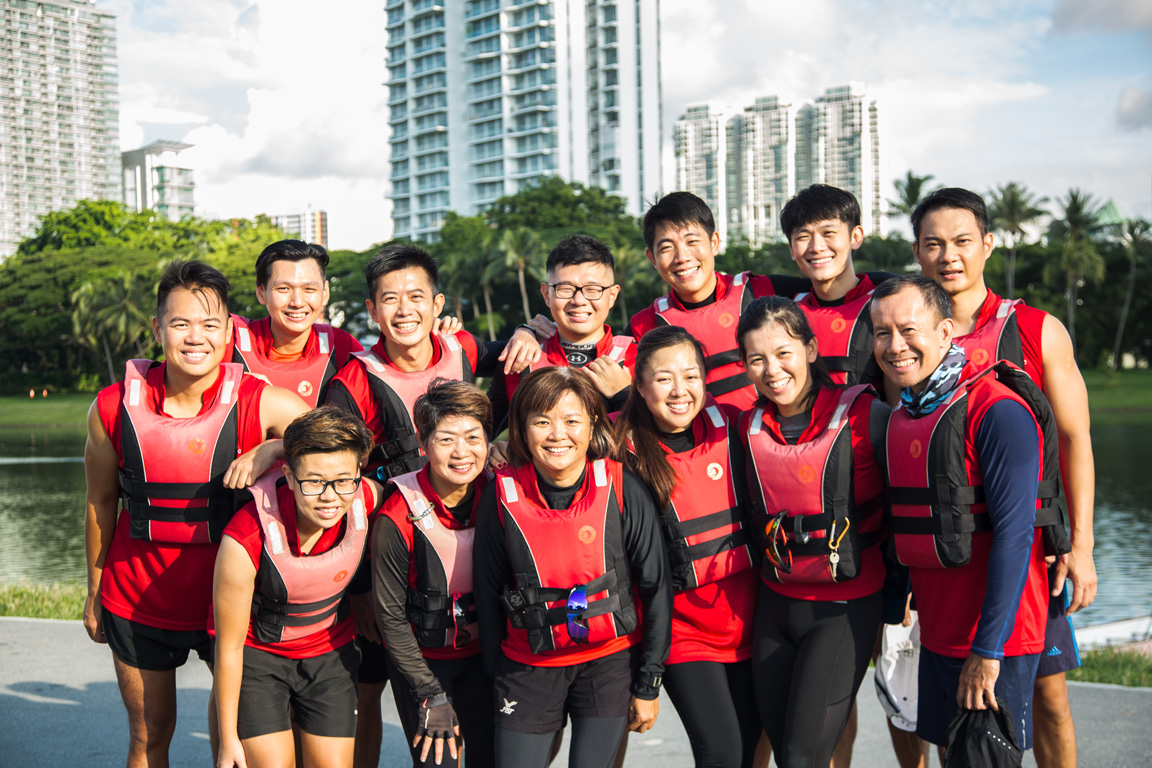 OCBC rowers 2019
Q: Speaking of a bigger stage, would you be able to share more on this?
May: Doreen and I were selected to be part of the Singapore national team in the 13 th IDBF World Dragon Boat Racing Championship 2017 race for aged 40 and above in Kunming, China. It was an eye-opening experience and a great inspiration for us.
Doreen: The oldest participant at this competition was an 85-year-old lady from Germany. Can you imagine?! I've never dreamt that I could represent Singapore at an international level at my age. The fact that we took home the bronze medal was already much encouragement.
Q: That's amazing results! What other opportunities have dragon boating opened up for you?
Doreen: As the team captain for the OCBC Dragons, I had the great honour of leading the team to compete in Hong Kong in 2018. Following the race, we joined forces with our OCBC Wing Hang Bank colleagues in giving back to community.
May: We assisted in the preparation of ingredients and packed food for 2,000 people at Food Angel, a soup kitchen in Sham Shui Po, Hong Kong. We also served their residents in the dining hall. It was great to be able to leverage this opportunity to do something meaningful as a team and was definitely something memorable and different.
Q: What are your aspirations for the team or you moving forward?
Doreen: Being part of dragon boating has given me so much, and I've tried things that I never thought I would. Even now, OCBC Dragon alumni who have left the company still return for our activities. The friendships we've built are long-lasting, and I hope the team will grow and continue to bond as a family.
May: For me, I hope that I can continue rowing for as long as possible.