Now reading:
Moving from securities risk management to investment banking
Moving from securities risk management to investment banking
Duane Tan's journey with the bank since 2012 has been nothing short of exhilarating, having made the most of each career mobility opportunity. Read on to find out how he has since navigated his way to working in OCBC's Mezzanine Capital Unit (MCU) in Global Investment Banking (GIB).
Upon graduation with a Bachelor of Business Management from SMU, Duane joined OCBC Securities' risk management department. As a Margin Risk Officer for collateral-based products, including share financing and share borrowing, he was in-charge of risk monitoring and control of exposure of clients' collateral-based accounts to meet regulatory and in-house requirements.
In 2014, he did a cross entity career move to OCBC's Global Investment Banking Divisional Office (DO). When asked about the motivation behind his move, Duane pointed to his desire for a change in career direction and new opportunities. Instead of leaving the company, Duane kept his eyes on the weekly Internal Job Postings available, finally identifying his desired role with GIB. While it was a middle office role, his job scope changed to reviewing and analysing areas such as business performance and financials.
Seizing the golden opportunity
Duane's fascination with being in a customer-facing role became stronger in this new role when he supported the Mezzanine Capital Unit (Singapore Cluster) on an ad-hoc basis. After spending two years in DO performing benchmarking, competitive assessments and data analysis, the opportunity came knocking on the door. Extremely keen on gaining front-line understanding of the business and seeking a change in career direction, he applied for a six-month Xplore! intra-division stint with the Mezzanine Capital Unit (Indonesia Cluster). This allowed Duane a non-permanent career mobility opportunity to explore the potential new role and assess if it was truly for him.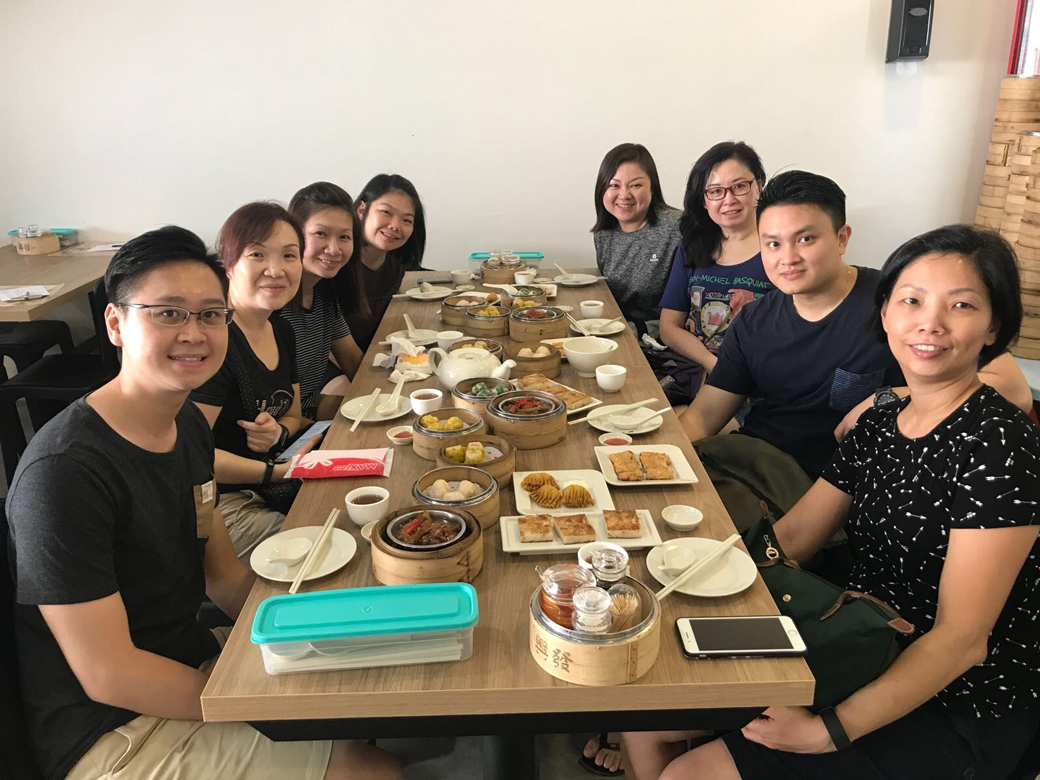 Duane Tan (second from right) with Divisional Office team, Oct 2017
Exploring through Xplore!
Exploring new opportunities is possible for curious employees like Duane because the bank's platform is diverse enough to provide employees the choice to pursue job opportunities across the OCBC Group. Now, you might think that being under the Xplore! Programme, Duane would be given easier tasks and less would be expected of him. That could not be any further from the truth. Intended to be an eye-opener and a real taster of what is expected of the role, Duane gained hands-on experience and picked up the necessary technical skills to perform the job.
Assisting seniors in deals under the Indonesia cluster unit, he further honed his soft skills when managing relations with corporate clients, tracked their financial performance and developed the ability to learn faster and better. Just as he had hoped, he got his fair share of interaction with end-clients. This experience offered a great and progressive learning curve during his 6 months and he knew that this was the place for him.
Deciding after trying
In MCU's line of business, clients come from all backgrounds and with unique needs. Duane has had the chance to work with clients from industries inclusive of but not limited to oil & gas, distribution sectors and even e-commerce. 6 months after Xplore!, Duane applied to and was offered a full-time permanent position with MCU via the OCBC Internal Job Posting (IJP) programme. Overseeing the investment portfolio of the Singapore Cluster, Duane is extensively involved in the various phases of the investment cycle and is on the constant look out for new investment opportunities. His current role has truly widened his perspective, especially since he sees the projects from start to completion.
Courage is the first step
To Duane, the most important quality to advancing a career in OCBC is to have the courage to take the first step. "If you never ask, then the answer will always be "no". Therefore, be bold. Seek out your own opportunities, adopt a mindset of ownership for your development and take charge of your own learning journey," Duane concluded.