Now reading:
Going green: #NoPlastics
Going green: #NoPlastics
What started as a division campaign, led by a project team, has since evolved into a revolution to eradicate the use of plastic across OCBC Bank and its subsidiaries, supported by eight members of the Global Consumer Financial Services (GCFS) Corporate Social Responsibility team. See how we did so.
In 2016, the Global Consumer Financial Services division made a commitment to minimise the use of disposable plastics via the #NoPlastics campaign.
"Led by our colleague Amelia Chua, who is fiercely passionate about eliminating the use of plastic, we started with discontinuing plastic bottles at all GCFS offices and branches by 2017 and switching to biodegradable disposables at all our division events," recounted Kurup Nakul, Chairperson of the GCFS CSR committee. "This was done by institutionalising ordering and delivery of specially designed biodegradable cups, which was eventually adopted by other divisions, with the support of our Group Chief Operating Officer, Mr. Ching Wei Hong. Today, we are saving about five tonnes of plastic annually."
With this massively successful effort as precedence, the bigger challenge was to bring about a shift in our employees' mindset to adopt environmentally friendly practices in the workplace and be ambassadors of change in their personal lives too. A two-pronged approach was born.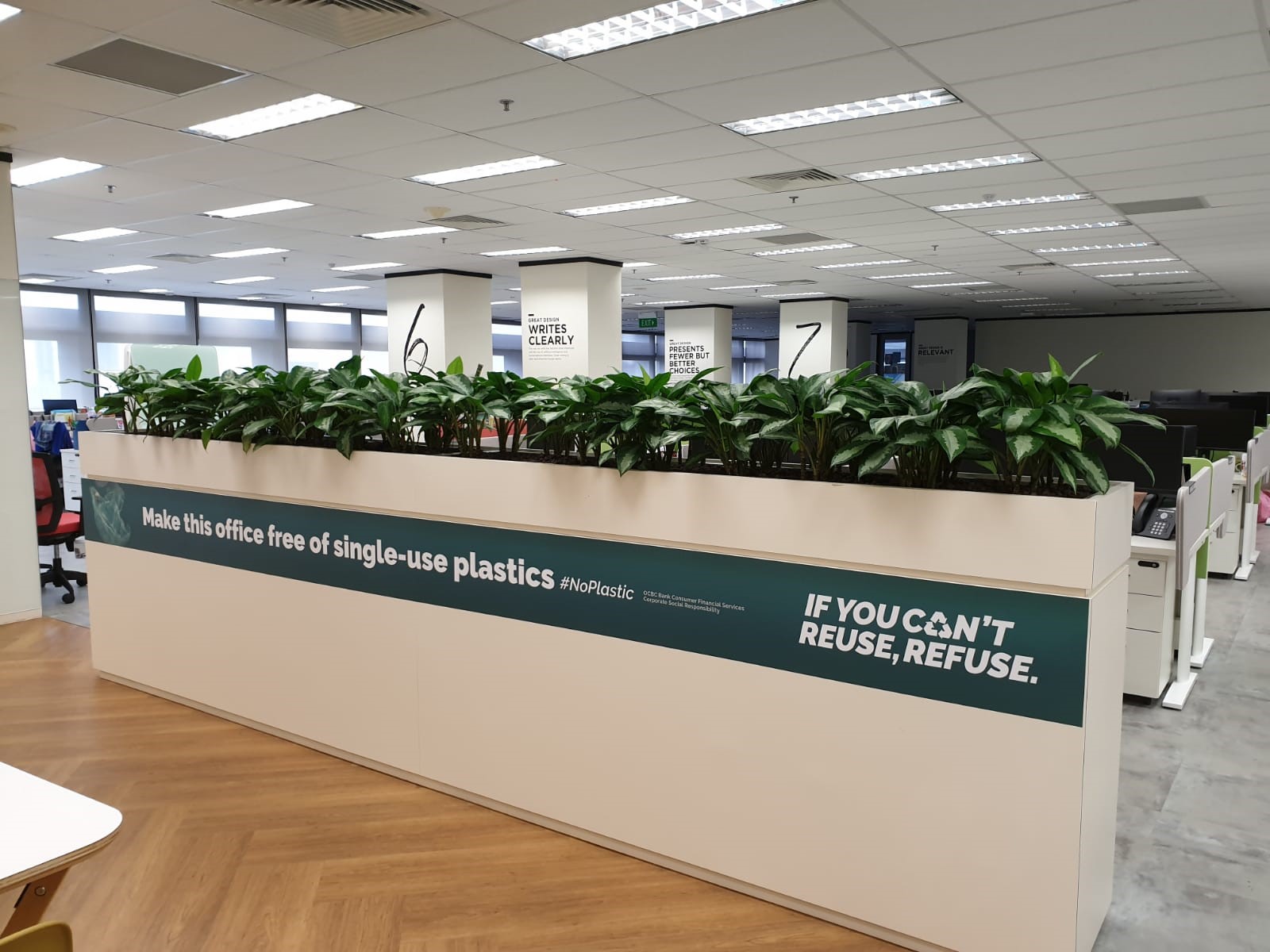 Pantry stickers within the GCFS office, 2018
Education
The project team recognised the need to raise awareness of the harm single-use plastics was causing the environment amongst employees and provide feasible alternatives. There was a need to rally colleagues to be ambassadors of change.
"We secured a partnership with BBC Studios to screen the critically-acclaimed movie Blue Planet II exclusively for our division. Over 200 employees, including 40 children of staff, attended the screening. What we did not expect was how the children became such avid supporters of #NoPlastics, in turn influencing their parents in becoming proponents of change within the office," said Nakul. Over 200 staff and members of the families have also participated in quarterly coastal clean-ups in 2018 organised by the GCFS CSR team, echoing the constant behavioural change the team advocated across the division.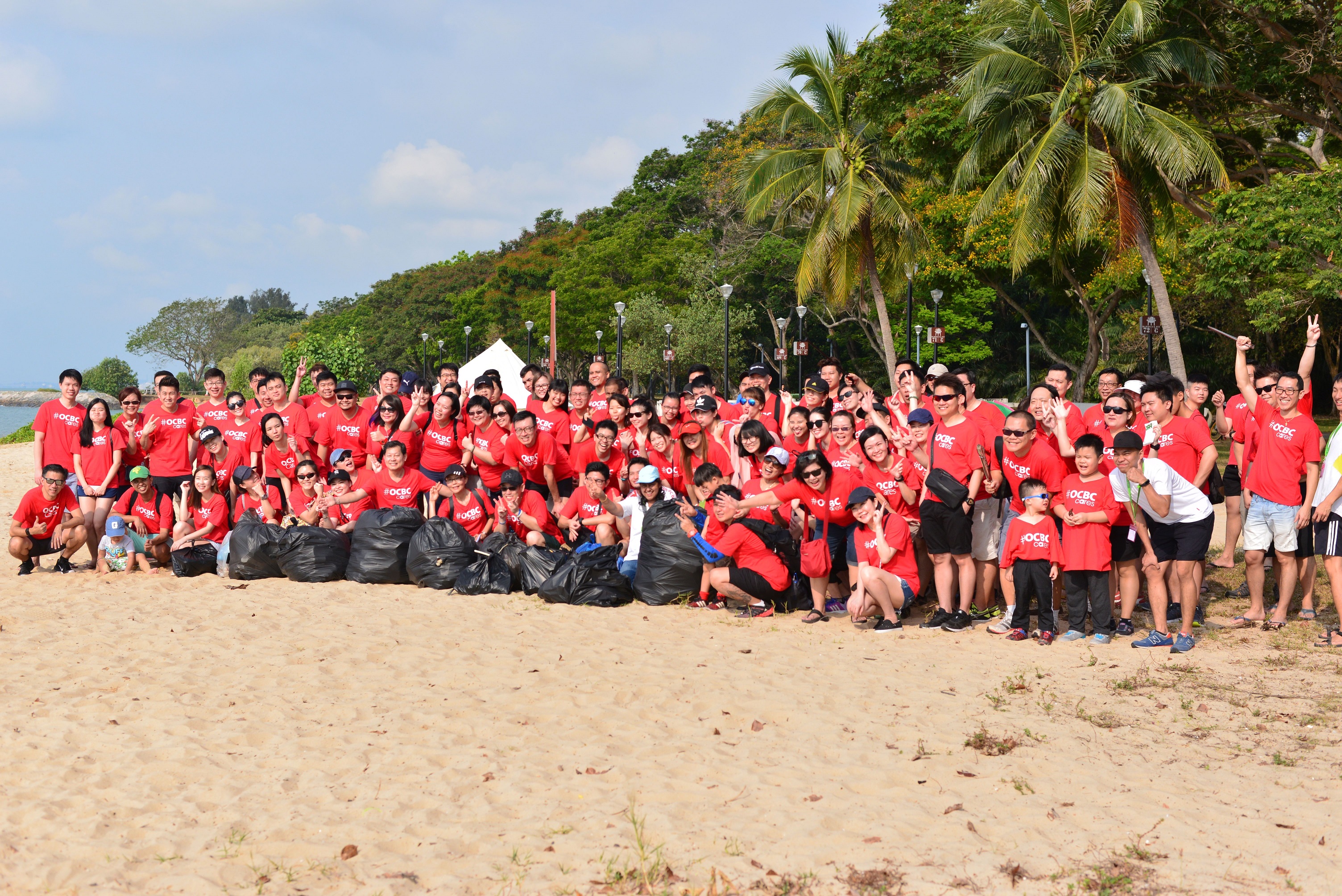 Coastal clean-up, East Cost Beach (Area H), March 2018
Empower
It's not enough changing mindset, without changing the ecosystem. The team recognised the need to make behavioural change simple for staff. "Every employee in the division at OCBC Centre received a reusable cutlery set. Apart from using these while eating in, the metal cutlery sets were also brought by staff to divisional and departmental events such as Chinese New Year Lou Hei, which saved countless single use plastic cutlery sets. Besides cutlery, we took it one step further with #NoPlastics tumblers distributed to staff, to further reduce the use of disposable cups."
Food and drinks always bring people together, and what better when it is free! This gave way to the next brainchild of Amelia and the GCFS CSR team – BYOCup Kopi-cart sessions. "We served fresh kopi (coffee) and toast at our pantry for free. The caveat? Staff had to bring their own cups and utensils in order to enjoy the awesome breakfast. Over 100 staff were served, and a quick discussion with our staff after the event indicated that 1 in 4 had made it a habit to use their own tumblers during coffee runs, instead of taking away in plastic or Styrofoam cups. It was heartening to see our efforts start making long-lasting impact in the lives of our people," Nakul enthused.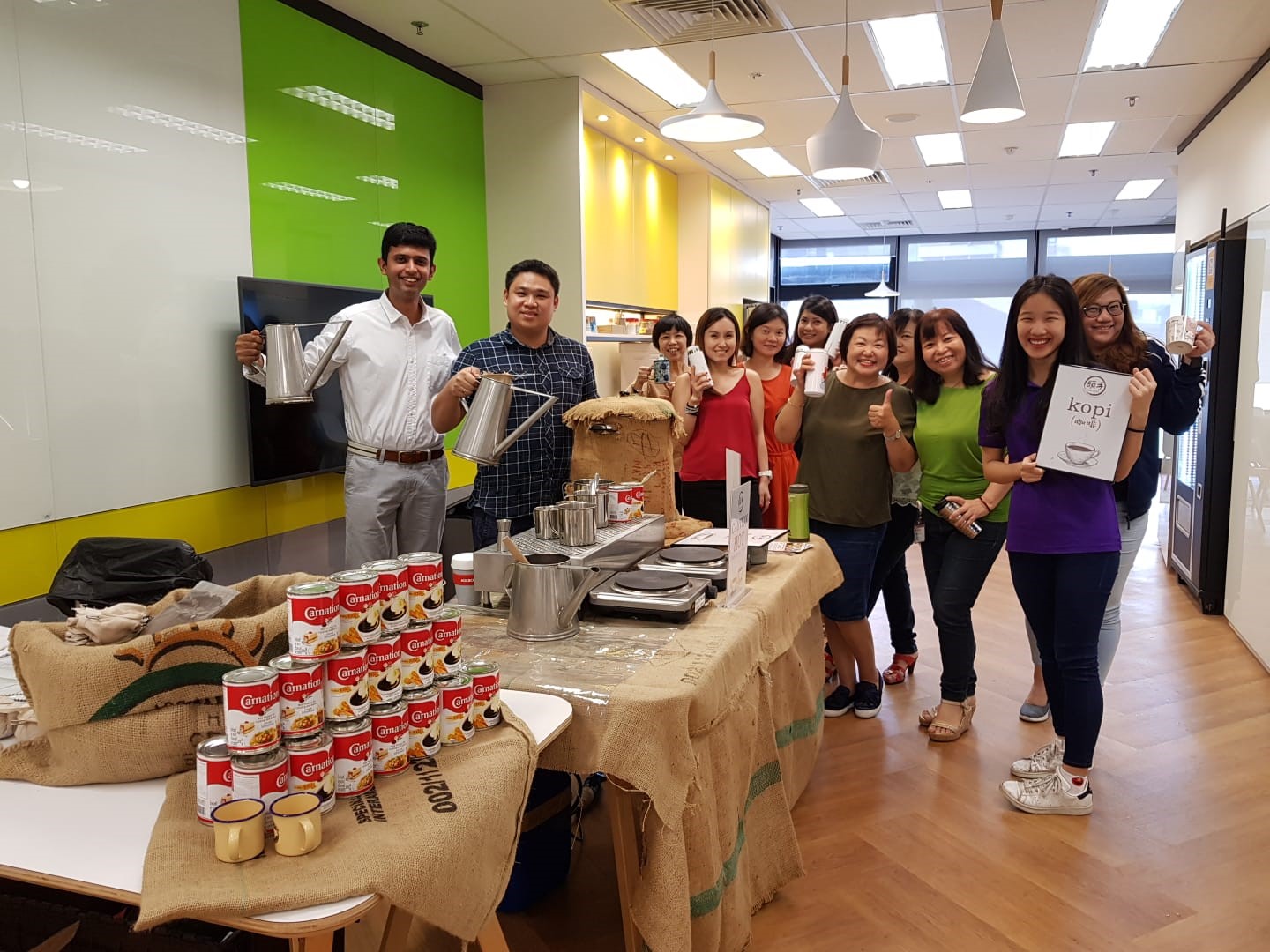 BYOCup Kopi-cart morning, Mar 2019
Not willing to stop at just within the Bank, the team scouted the area around the office for a list of all BYO (Bring Your Own) vendors that offered perks or discounts for anyone bringing their own food and drinks containers. "This suggestion came from our own people when we ran a feedback survey on our conservation efforts and how we could further add value to employees' efforts in reducing single-use plastic. It is a win-win for the Bank, our employees, and our partners," said Nakul.
What's next for the #NoPlastics campaign? "Eliminating plastics is a long journey of perseverance and commitment. We hope to encourage more staff to give up single-use plastics in their lives wherever possible. We are also embarking on initiatives to help reduce our carbon footprint as individuals from all walks of life. More on that soon!"