Now reading:
From law to compliance: Transitioning Between Identities
From law to compliance: Transitioning Between Identities
Koh Shang Yun is part of the Anti-money Laundering (Sanctions) team within OCBC's Group Legal and Compliance team. Since joining OCBC 12 years ago, her role both in and out of work has evolved greatly. Find out more about Shang Yun's journey of change.
Q: Could you tell us a bit about your transition into OCBC?
Shang Yun: Before joining OCBC, I was a qualified practicing lawyer with 8 years' experience in law firms, advising clients on corporate matters, and specialising in merger and acquisition deals. When I was looking for my next career move, I decided to move in-house for broader-based work experience, and I joined OCBC as a legal counsel in 2008. The transition was natural as I found myself in a friendly and helpful environment. My legal training gave me the analytical skills and decisiveness to guide business decisions with well-supported rationales, factoring legal and regulatory risks. It is now my 12 th year with the bank, and I continue to hone and sharpen this skill.
Q: How has the business or your role with the bank evolved since then?
Shang Yun: In my time with OCBC I had the opportunity to support various business units and group projects. For the most part of my years with the bank, I performed the role of a legal counsel, advising the different business and middle office units on the legal aspects of their business deals and other functions. At a later stage, I also had the opportunity to be involved in the bank's proprietary acquisitions. The acquisition of Wing Hang Bank in 2014 was particularly memorable for me. I was privy to the careful consideration and decision-making that underpins every critical point of the acquisition process. It was also a great opportunity to expand my regional network and get to know our colleagues in Hong Kong while being part of something that is so transformational to the Bank.
After a decade with the Bank, I was seeking further challenges in my career, and that opportunity came when I was offered a role to be part of the compliance testing team, to act as a line of control to ensure that the businesses comply with required regulatory obligations.
Today, I am with the anti-money laundering team, focusing on the dynamic sanctions space. In this area, I am required to stay vigilant and up to date with the sanction regulations promulgated by the US, EU and UN authorities, keeping pace with the methods and schemes criminals and money launders deploy. With this knowledge, I work within a team to ensure that the group continuously innovates with relevant programs and controls to guard against such AML behaviour.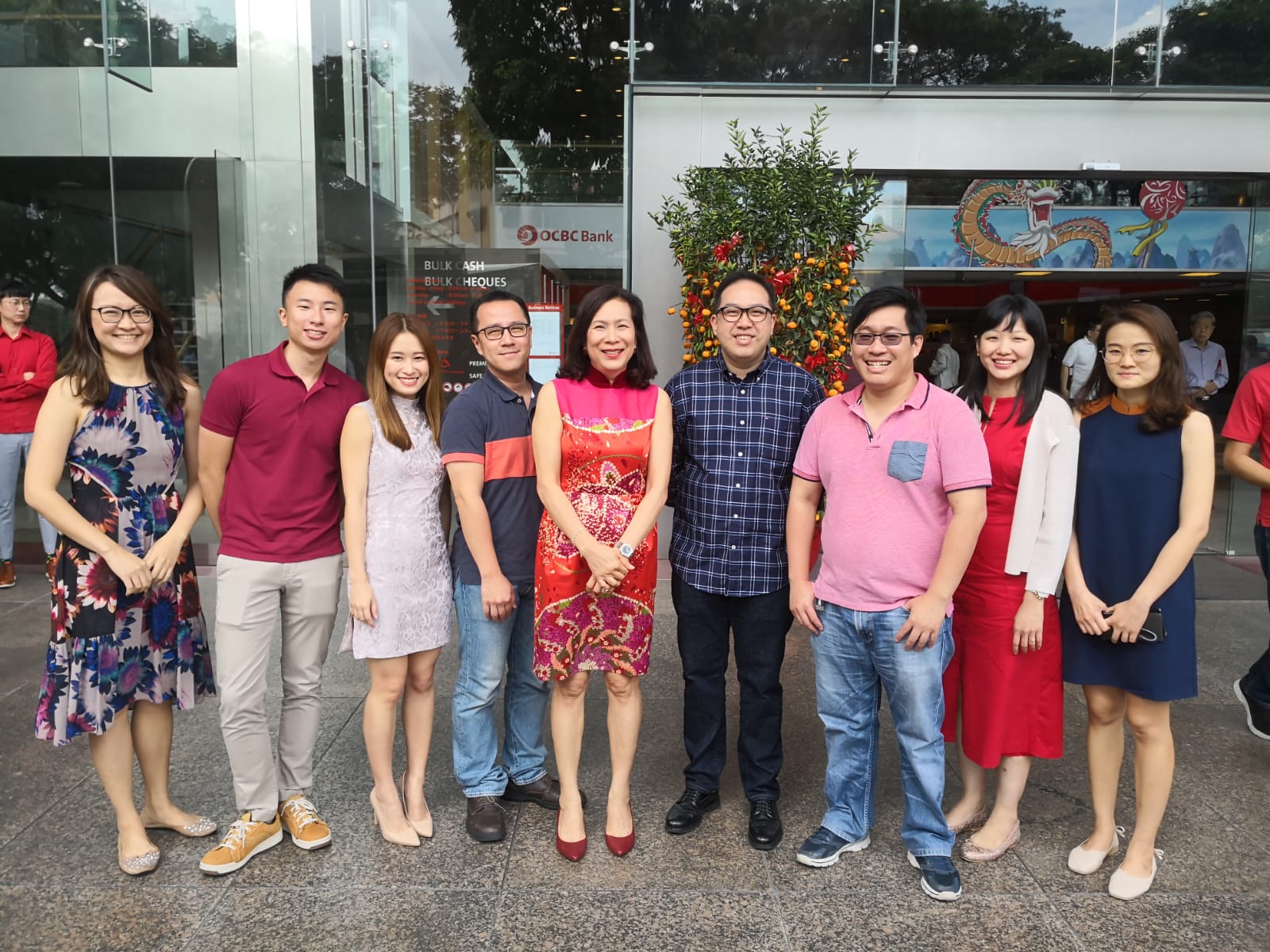 Sanctions Team, Chinese New Year, 2019
My broad-based experience having provided legal advisory support to all business units came in handy in helping me understand and be cognisant of their needs. This is key to me being able to advise the businesses on potential sanctions risks.
Q: How has the bank supported your growth?
Shang Yun: The bank is a strong advocate of continuous learning and growth, upskilling and re-skilling. I had the opportunity to be part of the bank's executive development programme which equipped me with business strategy and planning skills, and also enabled me to broaden my network with executives from other entities in the group, whom I would not have any interaction with in my ordinary course of work.
Q: What about outside of work?
Shang Yun: I had my first child when I joined OCBC. Now, I'm a mother of three, the youngest of whom will be heading to primary school next year, and my oldest entering secondary school in two years. With Singapore being the headquarters of the Bank, the instances of abroad travel have largely minimised, allowing me to spend more time with the family. Outside of work, I am also an active yoga practitioner for 4 years and spend up to 5 hours a week in my practice. The Bank has witnessed the most important changes in my personal life journey, and I look forward to more to come.