Now reading:
From FRANKpreneur to joining The Open Vault
From FRANKpreneur to joining The Open Vault
Prior to entering university, Qian Yan had taken a gap year and spent her days sweating it out at an events company organising marathons. It was challenging and draining yet fulfilling. With great bosses and teammates helping one another with various projects, that one year made her realise the importance of culture and the people in the workplace as a key motivator when hunting for a job.
Quoting renowned motivational speaker, Eric Thomas, "The only way to get out of mediocrity is to keep shooting for excellence."
Qian Yan loved challenges and sought internship opportunities that would unleash her potential. Despite having no prior experience in the flourishing fintech and innovation scene, the then-SIM undergraduate decided to take up the challenge by trying out for the OCBC FRANKpreneurship internship programme. Having not just survived but slayed the 8-hour long assessment centre (Ideation Day), Qian Yan earned her place as a FRANKpreneur at The Open Vault (TOV), the fintech and innovation arm of OCBC.
16 weeks with FRANKpreneurship
Say goodbye to snooze buttons! Qian Yan's Mondays to Thursdays were spent at her Instagram-worthy office at New Bridge Road. There was never a dull moment at TOV. In drastic contrast to the portrayal of cold and mean bankers in your Hollywood movies, Qian Yan found herself surrounded by some of the warmest and friendliest colleagues anyone could ask for.
"Looking back on my (relatively short) career, I realised that many of the skills that have helped me stay employed did not come from what I learned in lectures, but from the internships I pursued while I was a student. I was lucky to have great bosses who allowed me to learn (sometimes through trial and error) and believed in my potential." Under the guidance of her mentor, who had equally, if not more, energy than her, Qian Yan gained valuable hands-on experience, overseeing real projects such as Singapore Fintech Festival, TOV Accelerator Programme and the annual OCBC CEO Awards.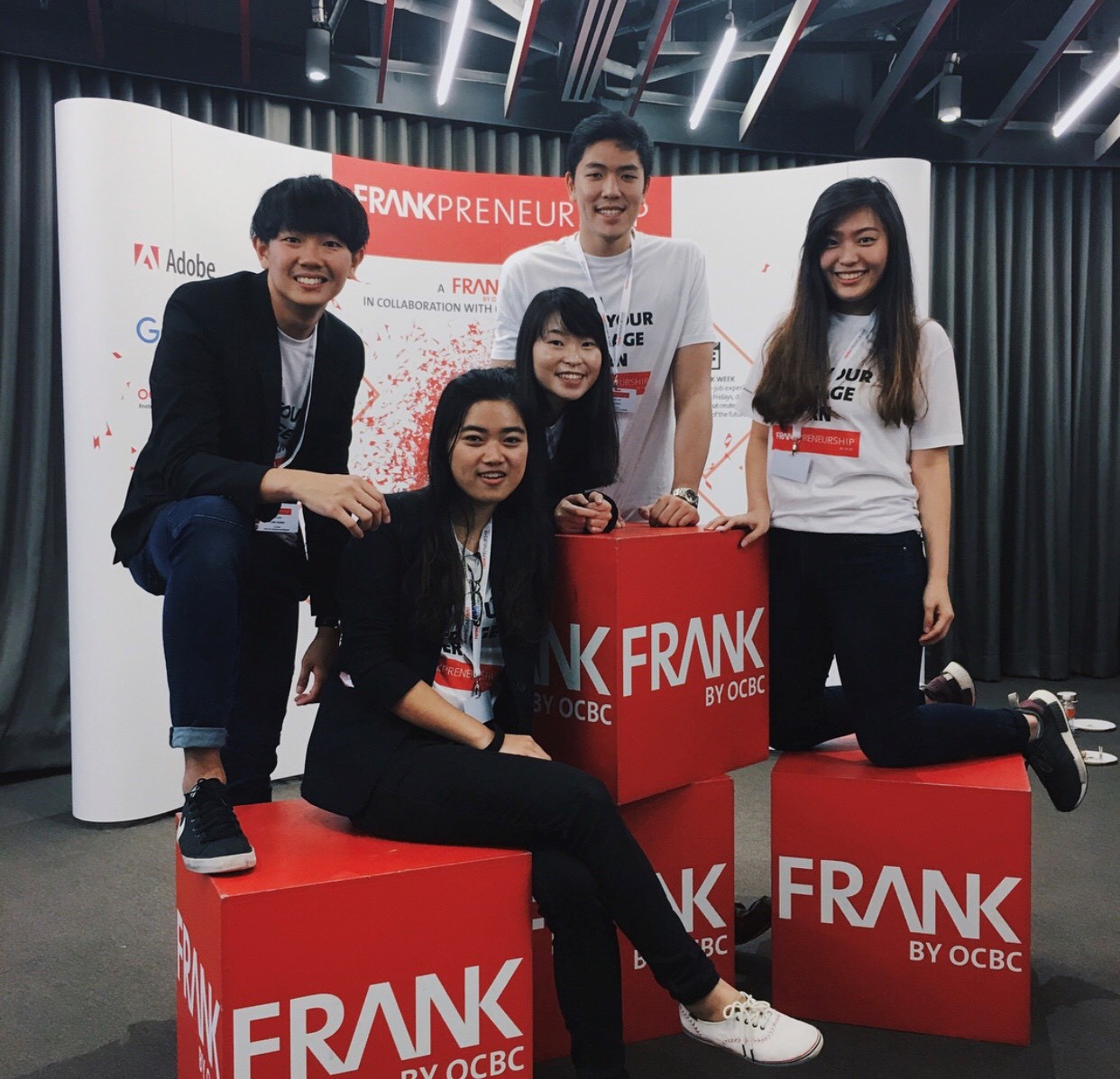 Qian Yan (far right) with her FRANKpreneurship project team, Aug 2017
Typically, people say Thank God It's Friday (TGIF). At OCBC, FRANKpreneurs like Qian Yan would say Thank God It's FRANKpreneurship Friday (TGIFF). Imagine this. Weekly brainstorming sessions, attending pitching and design thinking workshops and visiting leading technology firms. FRANKpreneurship Fridays were truly the highlight of her internship weeks. Cross-collaboration opportunities with fellow interns from different home departments, mentorship by OCBC seniors and continuous nurturing of her entrepreneurial spirit were part of the package too. In all the tasks she undertook, be it Business-As-Usual (BAU) or for FRANKpreneurship, she was encouraged to think out of the box, to fail responsibly and push innovation boundaries.
What finding the right internship could do for you
Luckily for Qian Yan, OCBC's FRANKpreneurship programme checked all her boxes when it comes to finding an all-encompassing internship. The cherry on top came in the form of career advancement opportunities, which was of utmost importance to this penultimate SIM undergraduate. She has since jumped on the conversion opportunity to join OCBC as a full- time staff under the Graduate Talent Programme (GTP) in 2018.
Under the GTP, Qian Yan has rotated to different departments. Her stints with the bank branch, Consumer Financial Services Anti-Money Laundering Risk management and Transaction Banking businesses had given her exposure to roles in both consumer and corporate banking. Additionally, the rotations enhanced her understanding of pain points of relevant stakeholders and developed her sense of empathy, deepening her understanding of customer-centric approaches that she applies daily in her projects at TOV.
Looking back, she has grown to be more confident in herself, and learnt to deal with what's thrown her way. When asked about her advice for budding FRANKpreneurs, Qian Yan's response was quick and assured. "It will be uncomfortable at times, but believe in yourself. Don't look down on yourself." Afterall, many started the same way.