Now reading:
From basketball to banking
From basketball to banking
Russel Low is a former national basketball player who joined OCBC Bank in 2018 after graduating with a degree in Banking and Finance from the Nanyang Technological University. He joined our Graduate Talent Programme (GTP), which was designed for young graduates to build a strong foundation in banking.
On joining OCBC Bank
"I'm an Assistant Relationship Manager in the technology and consumer team, within Global Corporate Banking. I joined as an FRANKpreneurship intern, before progressing to join the Graduate Talent Programme upon graduation. I formerly played basketball for the Singapore National Team, but when I studied finance at NTU, I really enjoyed it and desired a job in the finance and banking industry."
"FRANKpreneurship was a great 4-months journey. I had the opportunity to present to a large group in a corporate setting for the very first time and was given exposure to senior management. I also learned the importance of building connections as ultimately I'll have to work with various departments as I progress in my career with the Bank."
"The programme has given me great exposure within the Bank. I get a flavour of what each department does, for example, through rotations within global trade finance, debt capital markets and transaction banking. It has really helped me gain a wider perspective on how departments come together within banking."
Life as a basketball player
"Besides playing for the Singapore National Team for three years, I also played for Singapore Slingers, the only professional basketball team in Singapore. I joined the Singapore youth basketball team when I was 14, then for the under-18 team before being selected for the men's national team. It was a great honour. I participated in three Southeast Asian Games and won two bronze medals."
"Although I loved basketball, there is only so many years you can be a professional sportsperson. Banking and finance really appealed to me so I knew exactly what I wanted to do after life as a basketballer."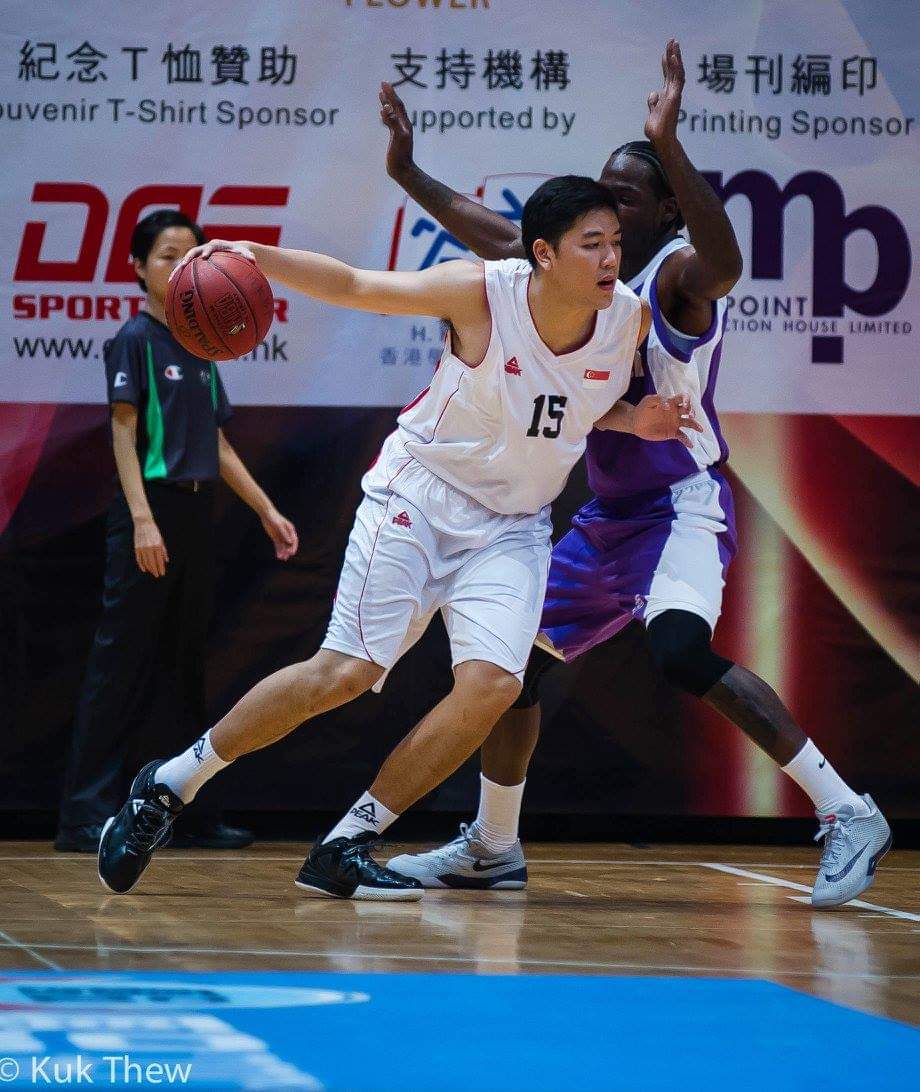 © Russel Low, 2017 Hong Kong Super Kung Sheung Cup. Photo by Kuk Thew, Kuk Thew Photography
From basketball to banking
"As a professional basketball player, I had to participate in home games and travel for away games. As a result, I was away from school two to three days a week. I learned not to struggle with these commitments but rather, to deal with them. It taught me the art of being efficient which has come in useful in banking, and to never say no to challenges encountered at work. This has helped me balance work and training after hours."
"In a basketball team, players come from various backgrounds. I learned different perspectives through interactions with team mates. I sharpened my communication skills, embraced the importance of being open and appreciated that I can learn from anyone. Everyone has a point of view and everyone has something that they can contribute to the team. This learning has come in useful as I started my career at OCBC."
"There is no way a single player can win a basketball game. It's impossible. This is the same in the Bank. One person cannot deliver all the goods. Banking is also a team-based 'sport' and we all have to pull together to 'win'. But sometimes, in a team, you're called to play a certain role and then you have to follow the coach (or leader) to make the play. Basketball taught me to trust my leaders and to be ready for challenges."
"Having two commitments—basketball and school—made me a disciplined person. It taught me to strip away meaningless tasks and set my priorities straight. I keep a notebook to allocate my tasks and time. Essentially, I learned effective time management."
Looking ahead
"I loved my time as a professional basketball player. But now, I'm committed to my career at OCBC Bank. Will I give basketball up? Yes and no. I'll certainly, at some point, retire from professional basketball. But I believe the values basketball has ingrained in me will stay, as I bounce onward and forward in life!"