Now reading:
Finding yourself beyond your limits
Finding yourself beyond your limits
With only 24 hours a day and 7 days a week, it can be a challenge for one to juggle leading a team in his workplace, fulfilling his role as a dutiful father and still actively pursue his passion - endurance sports. In Kok Wai Mun's case, it's possible, for he is unstoppable.
This year marks Wai Mun's 14th year (and counting) with OCBC. Today, Wai Mun is a team leader in Global Commodities Finance, working with his team in overseeing the energy market portfolio. What some may not know, however, is that he was part of the pioneer group in setting up this new department within the bank five years ago, which has since grown to a formidable force of over 40.
Just like how he has recently successfully integrated the team in Hong Kong with the one in Singapore, Wai Mun has also embraced the new societal norm: work-life integration. For some of us, weekends are spent on catching up on sleep or partying till late at night. For Wai Mun, he lives the life of a #fitspo (fitspiration).
Growing in face of challenges
Weekly strolls on east coast park? A quick visit to the gym? No. We are talking about more than 4 hours of cycling at 4.30am, Saturdays, and 20km runs on Sundays. "Hard work beats talent when talent doesn't work hard." This 6-time Ironman triathlon challenger knows this phrase all too well. While Wai Mun is strong in terms of speed and agility on land, he did not start off nearly as fast in water. With zero swimming background, he started from the bottom, learning the basics of how to swim, alongside a group of aunties.
In addition to the swimming lessons, he used to run and cycle for up to 15 hours a week in preparation for the races, which encompasses a 3.8km long sea swim, 180km bike ride and a full marathon. Picking up the basics of a new sport proved to be challenging, much less completing the swims during the triathlons itself. In Ironman Hainan, his second Ironman triathlon, he had gone off-course during the swim and struggled going against the current in the right direction later. Wai Mun had barely made it, completing the swim just 8 minutes short of the cut off timing of 2 hours and 15 mins.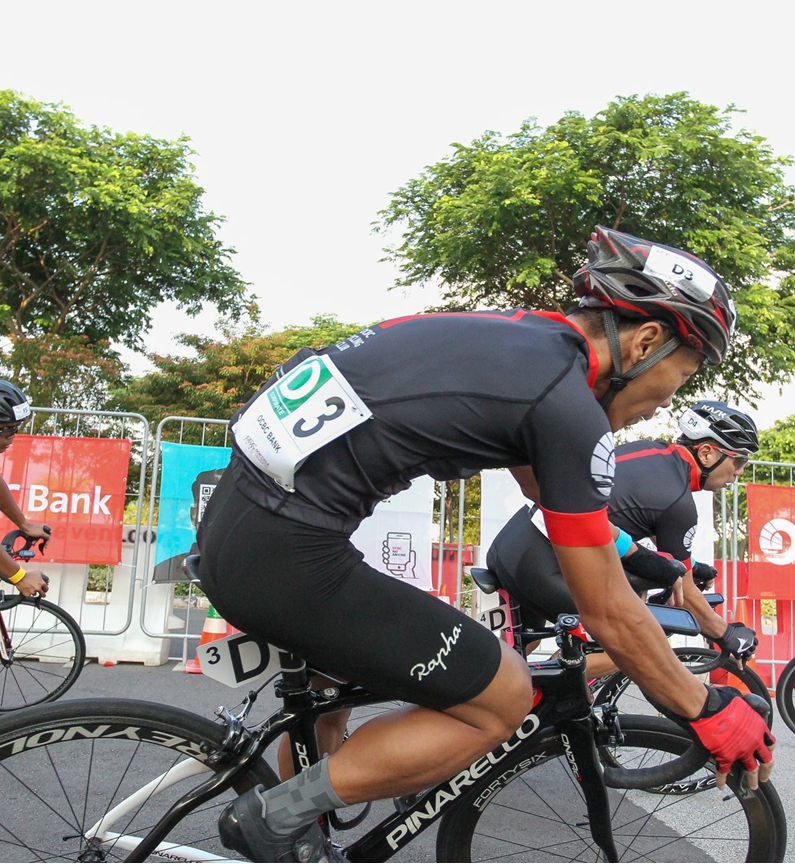 Cyclist Kok Wai Mun, OCBC Cycle 2019
Sports translating to life
These experiences have shaped his thinking and outlook on life, for what he learned through the sport were just as applicable outside of it. Here's what Wai Mun shared with us:
If you want to be the best, you must do things that others are not willing to do. Choose the hottest part of the day to train so you can acclimatise to the conditions. It is only when you are put at a full stretch that you realise your full potential.
Having a positive mindset is very important. Persevere during training with the end goal in mind, prepare hard now so that you can enjoy success at the race later. In all that one does, he or she must have the optimism and determination to see things through.
Learn to play to your strengths and empower your team members to do so too. If you are not the strongest rider, do not insist on being the one pulling the pack. Perhaps, if you are lighter in weight, you ought to play to this advantage and lead during the uphill rides. This is crucial when enabling the team to accelerate and maximise overall success.
Turning endurance into glory
Wai Mun's best time recorded for a triathlon was only 13 hours, far from the cut-off time of 18 hours. That is not all to his long list of personal achievements. In Wai Mun's case, the annual OCBC Cycle is the highlight not only for Wai Mun, but also his team. And yes, you guessed it right, his team has won the bragging rights to the coveted title of Division Challenge winner amongst OCBC staff since 2014, with Wai Mun bagging the title of Fastest Cyclist twice in a row in 2018 – 2019.
What's next for our OCBC fitspo? Well, he is working towards competing in two races per annum and spending more time with his children, who are also in their school's track and field and swimming teams. Look forward to his performance at next year's OCBC Cycle!