Now reading:
Driving innovation as a team
Driving innovation as a team
Vincent Teo, Vice President, FinTech and Innovation Group (The Open Vault) has been with OCBC Bank for close to seven years. The Open Vault works with the various departments to develop innovative transformation projects for the benefit of both customers and the Bank.
"I'm from Malaysia. Originally, I was in engineering and technology before coming to Singapore to do my MBA. After my degree, I joined OCBC Bank in the Business Transformation team. I left briefly to join another organisation, founded a start-up and returned to the Bank in 2016. The opportunity to return to OCBC was an interesting one as the role intersected different domains: banking, technology and start-up. I liked the commitment that the bank was putting in transformation and innovation, and the energy and grit of the people behind the effort was so infectious. This made the decision to return a no-brainer."
All change is about people
"At The Open Vault, our mandate is to challenge the Bank to do things differently and do things better. We partner with our colleagues internally and co-innovate with external partners, to bring positive change to the Bank and our customers."
"This role is exciting for so many reasons. Firstly, we look at what are our values and what do we believe in. Given that, what do we think the future will look like and what will be the Bank's role in that future? Establishing this 'north star' that reflects our values and beliefs of the future, will help the Bank organise towards the same direction. This ensures that we prioritise and focus on the right initiatives."
"With that, we look at various problem statements and opportunity statements through this lens. We work with our colleagues across the organisation to develop and validate hypotheses, as well as test solutions. This disciplined approach of applying digital discretion ensures we are focused on solving truly impactful problems without getting distracted!"
"But having the best strategy, most compelling vision and battle-tested approach is futile if you don't have the people with you. What differentiates corporate innovation from entrepreneurship is that you are operating in a structured environment which has been operating with success for many years. Stakeholder empathy is key. The ability to partner with the business units and put yourselves in their shoes, understand their, products, customers, pain points, work with them to discover the problem and co-develop the solution, would be one of the greatest skillsets needed and is something that constantly challenges me to up my game every day."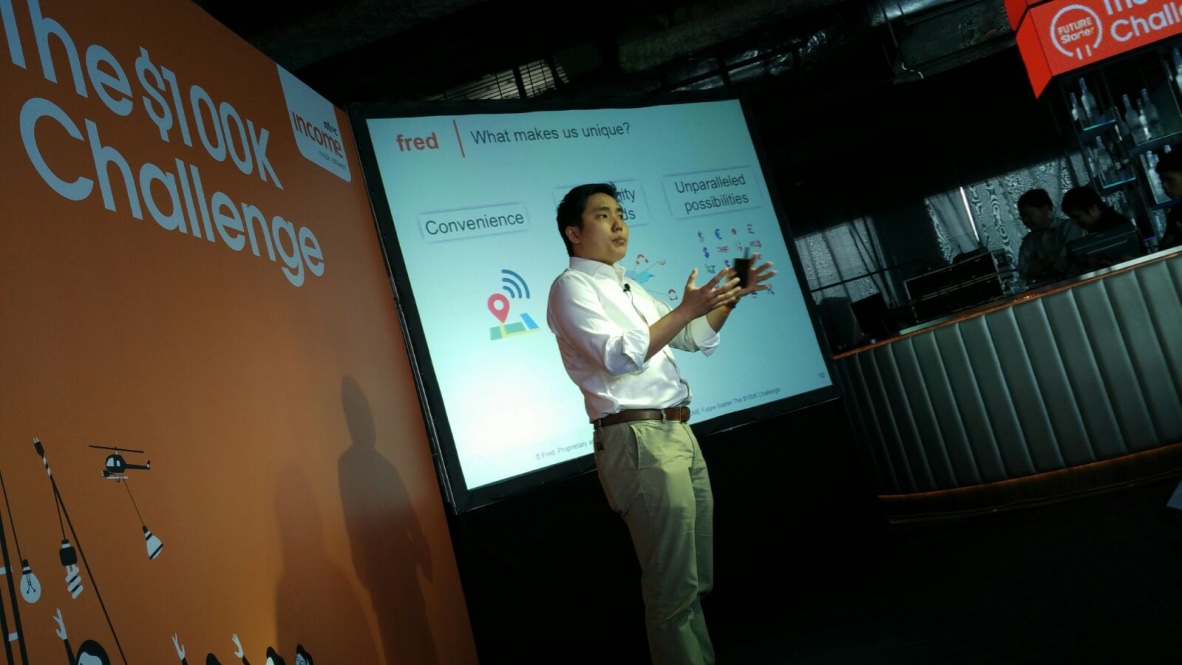 Vincent Teo, as one of the five start-up founders at the finals of Future Starter by Income The $100k Challenge pitch, 2015
About the team
"We are a small team with a flat structure, seated in an open office space. It's a fun environment with a foosball table for people to 'whack it out', destress and unwind if they need to. Working in a non-hierarchical setting means that everyone is in the trenches together - we see the sweat on the brow of our comrades, battle scars from skirmishes, and the knowing look that we are in this together and putting up a good fight. The camaraderie, support, trust and the fact that we can simply joke about a bad day with each other is what makes working in this team so enjoyable."
"The team consists of individuals from very diverse backgrounds, which is really great. We have a colleague who used to build start-ups in Latin America, another who used to work in the Chinese payments space, a Russian colleague who worked two years in India, another who is a baker, and I was an engineer before making the switch to banking. Diversity fosters learning from one another. After all, iron sharpens iron."