Now reading:
Career progression as a Personal Financial Consultant
Career progression as a Personal Financial Consultant
On weekdays, you will find Premier Relationship Manager (PRM), Eva Chen, at Ang Mo Kio Premier Banking Branch. Her career with OCBC begun as a Personal Financial Consultant (PFC), focusing on providing personalised financial advice to customers and helping them to reach their short-term and long-term financial goals. Progressing through different portfolio and clientele, Eva has had her fair share of challenges and opportunities. Read on to find what she has learned over the past three years with the bank.
For Eva, starting as a Personal Financial Consultant was a hectic, fast-paced journey with much to learn. Hailing from China, the banking landscape in Singapore was vastly different, with extensive human interaction as compared to a mainly technology-driven banking experience back home. It took time to build her knowledge of the products and processes, but it was one which Eva excelled in. Clinching the North Cluster Top Rookie awards in 2016, she was promoted to a Branch Relationship Manager, and then Premier Relationship Manager (PRM) in three years.
Moving into her new role as a PRM meant new challenges ahead. Engaging with a larger clientele with more complicated needs, she had to master the art of both time and relationship management. In this job, no two days were the same. The work was fast-paced and dynamic, much to Eva's liking. Mornings for her started with listening to ten-minute briefings by treasury specialists who would cover the latest key market insights. Not only was Eva well-equipped to perform her role to her best abilities, it also helped her to learn as an individual.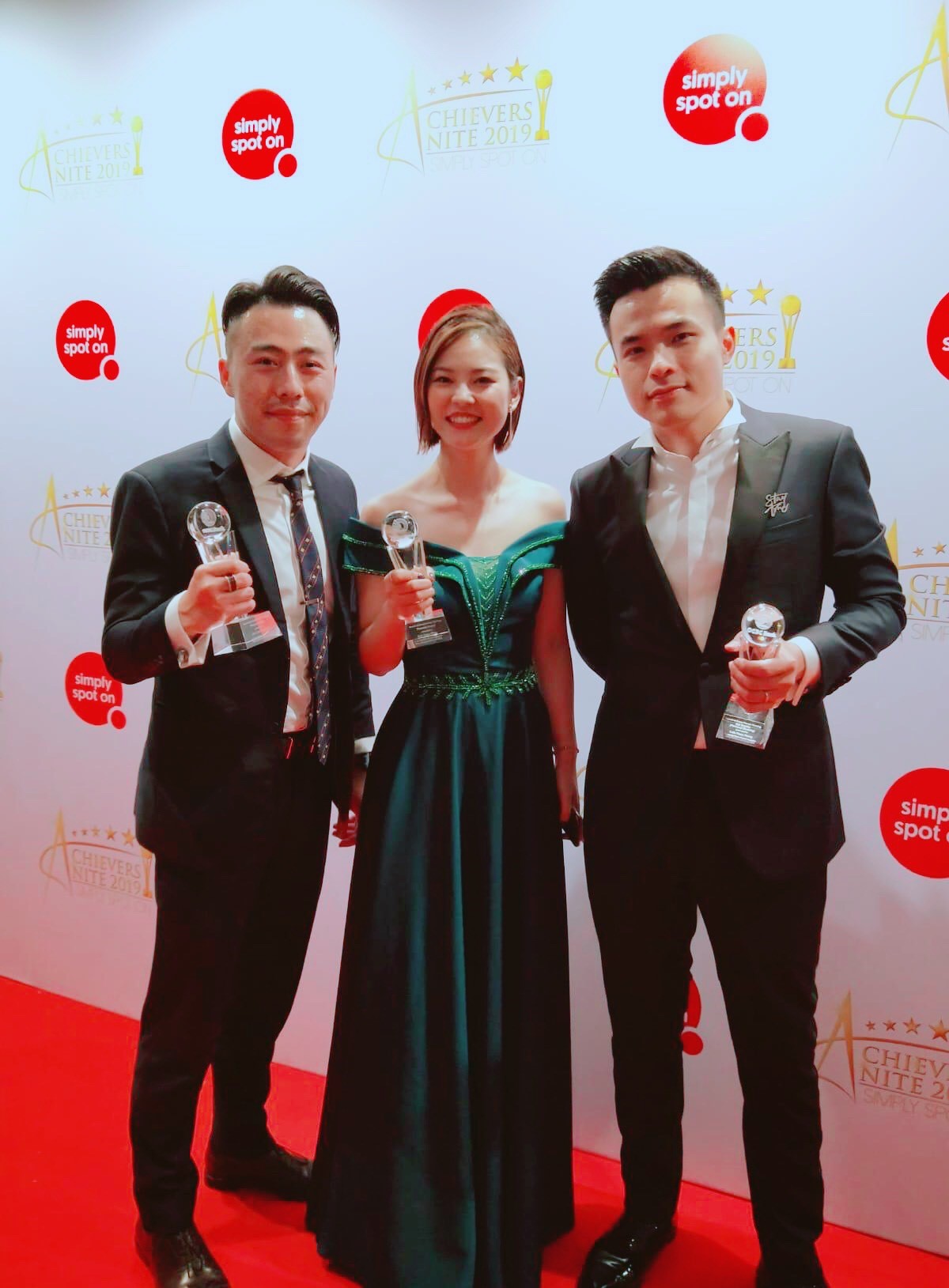 Eva Chen (middle) with colleagues, Achievers Nite 2019
Do you have what it takes?
If you are looking to pursue a career as a Personal Financial Consultant, here is what Eva wants you to know. It is an exciting job no doubt, but it does have its challenges.
Here are three must-haves if you wish to succeed in this industry.
Patience is a virtue. Do not fall prey to the temptation to jump straight into a conversation with a customer and expect to identify their needs in the next minute. Every good conversation starts with good listening. Take the time to understand their pain points, read between the lines and craft a financial solution that will directly address their needs.
Knowledge is power. Have the discipline to read and to stay updated about current affairs. Keeping yourself abreast of latest industry trends and being informed about the market outlook is the bare minimum. It is especially important when speaking with Premier customers, who are equally, if not more knowledgeable.
Persistence is key. Gaining trust does not happen overnight and building a relationship takes weeks, months, maybe even years. There will be instances where your client responds unfavourably, saying that they are too busy and may be unwilling to cooperate with you. Persevere, for it is through challenging periods that others will see who stands firm in the face of adversity and who crumbles under the pressure.
A family at OCBC
Throughout her career journey, she always felt like a part of the OCBC family. While learning from scratch as a PFC was an uphill task in itself, the support she received from her team made the process significantly more bearable. On a regular basis, her team members would share with her tips and tricks to survive in this competitive industry. In addition, monthly gatherings are organised to keep the team bonded and motivated. Eva has become a much more confident individual under the guidance of her bosses, to whom she is full of gratitude towards.
Eva's success in her career was no accident. It is an accumulation of hard work and passion for her clients. While Eva has attained multiple awards, what really motivated her is knowing she made a positive difference in the lives of that the clients she has helped. That sense of achievement is a rewarding feeling like no other.