Recession Fears Overblown, Despite New Uncertainties
---
Britain has left; central banks get ready to act
Britain's vote to exit the European Union has introduced new uncertainties in the macro-economic environment.
It is a timely reminder that all is not well within the Developed Markets (DM) arena, with major central banks supposedly poised for emergency injections of USD liquidity had financial mayhem ensued.
Add to the mix a need to reassess central banks' monetary policy, with U.S. Federal Reserve shelving its hawkish stance, and growing market speculation that the dovish European Central Bank and Bank of Japan will have to embark on more extreme measures to support growth and prevent deflationary expectations from taking root, the pervading gloom in the global economy looks set to stay for a while longer.
No global or U.S. recession in 2016
Despite the plethora of gloomy news, global growth is still tipped to be close to the 3 per cent year-on-year handle. The U.S. economy is expected to grow around 2 per cent in 2016, not fantastic but not dire either. Europe and Japan may clock in a more tepid 1.6 per cent and 0.5 per cent respectively. China's growth has stabilized in recent quarters, although it remains to be seen if the policy-fuelled momentum can be sustained into the future.
Chart 1: G3 Composite PMI Generally Indicates Modest Expansion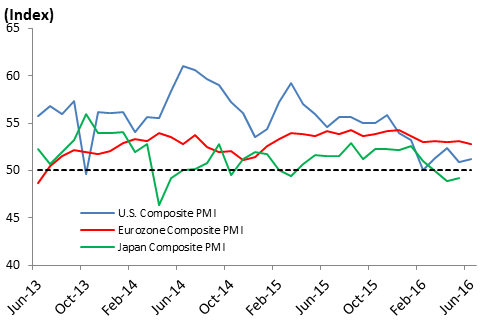 Japan may perk up post meaningful structural reforms, possibly after the Upper House election this month.
Central banks poised to ease
The main difference that sets 2H2016 outlook apart from 2H2015 is that the Fed is no longer hawkish and global inflation remains lacklustre. The latter is both a reflection of the health of global demand, as well as the over-supply situation in crude oil prices, albeit with WTI up from sub-US$20 per barrel to around US$50 per barrel.
This allows major central banks the space to ease monetary policy in the interim, in light of growth headwinds.
Asia remains a silver lining
Indochina economies may still expand by 6-8 per cent this year, followed by Philippines (around 6 per cent), Indonesia (5.1 per cent) and Malaysia (4.4 per cent) with Singapore as the laggard (1.8 per cent).
Emerging Markets, especially Asia, may benefit from relatively higher yields and more stable macro-economic fundamentals. Asia should see growth stabilize in the second half of 2016, and remain a key growth region.
Brexit implications
Brexit's damage should be assessed through the triple lens of economic, financial and political contagion. Contagion is what can turn a local shock into a global one.
Chart 2: Brexit will take 2 years to complete, at least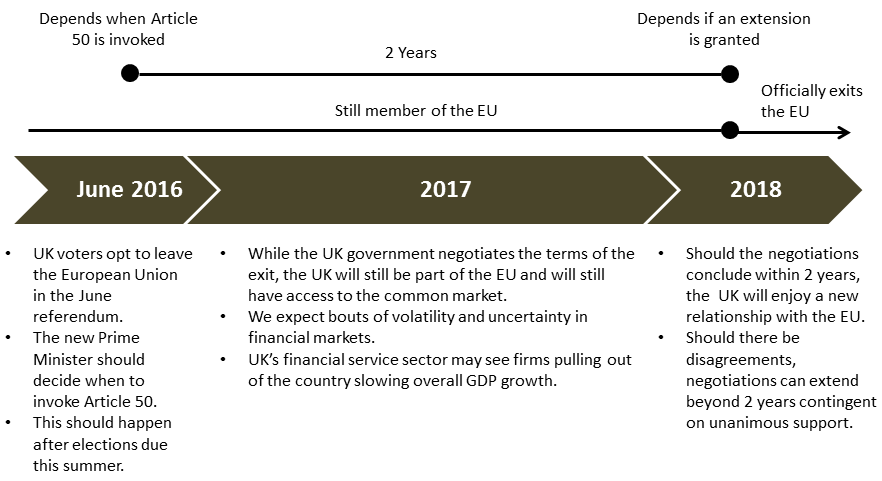 Our view is that Brexit's adverse economic impact will be largely contained within UK, and to some extent Europe. The UK accounts for 2.3 per cent of world GDP, financial and economic contagion risks remain small, but political contagion - the unity of the EU - is of a greater concern. If the UK fares well outside the EU, then other EU countries might be tempted to follow, although exit will be much more complicated for those that are members of the Eurozone.
Investment calls
We remain cognizant that markets will enter a risk-off phase as investors pull back to assess the implications of Brexit on the global world order.
This risk-off phase will in due course fade away as valuations and fundamentals become compelling. In the meantime, risks will be skewed towards the downside and we prefer to stay defensive.
In line with our more defensive stance, we are upgrading our DM Investment Grade bonds to neutral from an underweight position, while downgrading DM high yield bonds to underweight from neutral.
From our current neutral global equities position, we are turning underweight on global equities, largely due to the negative outlook for European equities, while raising cash to an overweight position as the uncertainty in markets play out.
European equities will be most adversely affected by the implications of Brexit, while U.S. equity markets would be more defensive given its economy's underlying resilience.
Within the context of a diversified multi-asset portfolio, investors with large overweight holdings in European equities should use short-term rallies to trim their positions. Investors low on European equity exposure may consider investing in Europe as the current risk-off sentiments may offer opportunities.
With major markets expected to turn substantially more turbulent in the short-term due to heightened risk aversion, we favour multi-asset solutions strategies as they seek to manage risks and/or exhibit low correlations with the broader markets. Exposure to these strategies should provide benefits of market participation in the event of a pick-up in risk sentiments (we expect macro fears to wane through time) while mitigating potential downside risks.
Important Information
Any opinions or views of third parties expressed in this material are those of the third parties identified, and not those of OCBC Bank. The information provided herein is intended for general circulation and/or discussion purposes only. It does not take into account the specific investment objectives, financial situation or particular needs of any particular person. Before you make any investment decision, please seek advice from your OCBC Relationship Manager regarding the suitability off any investment product taking into account your specific investment objectives, financial situation or particular needs. In the event that you choose not to seek advice from your OCBC Relationship Manager, you should carefully consider whether the product is suitable for you. This does not constitute an offer or solicitation to buy or sell or subscribe for any security or financial instrument or to enter into any transaction or to participate in any particular trading or investment strategy. OCBC Bank, its related companies, their respective directors and/or employees (collectively Related Persons') may have positions in, and may effect transaction in the products mentioned herein. OCBC Bank may have alliances with the product providers, for which OCBC Bank may receive a fee. Product providers may also be Related Persons, who may be receiving fees from investors. OCBC Bank and the Related Person may also perform or seek to perform broking and other financial services for the product providers.
The information in this material is not intended to constitute research analysis or recommendation and should not be treated as such.
The contents of this material are a summary of the investment ideas and recommendations set out in OCBC Investment Research and Group Treasury research reports. Please refer to the respective research report for the interest that the entity might have in the investment products and/ or issuers of the securities.
Foreign currency investments or deposits are subject to inherent exchange rate fluctuation that may provide opportunities and risks. Earnings on foreign currency investments or deposits would be dependent on the exchange rates prevalent at the time of their maturity if any conversion takes place. Exchange controls may be applicable from time to time to certain foreign currencies. Any pre-termination costs will be deducted from your deposit.
For fund investments, a copy of the prospectus of each fund is available and may be obtained from the relevant fund manager or any of its approved distributors. You should read the prospectus for details on the relevant fund before deciding whether to subscribe for, or purchase units in the fund. The value of the units in the funds and the income accruing to the units, if any, may fall or rise. Please refer to the prospectus of the relevant fund for the name of the fund manager and the investment objectives of the fund.
No representation or warranty whatsoever (including without limitation any representation or warranty as to accuracy, usefulness, adequacy, timeliness or completeness) in respect of any information (including without limitation any statement, figures, opinion, view or estimate) provided herein is given by OCBC Bank and it should not be relied upon as such. OCBC Bank does not undertake an obligation to update the information or to correct any inaccuracy that may become apparent at a later time. All information presented is subject to change without notice. OCBC Bank shall not be responsible or liable for any loss or damage whatsoever arising directly or indirectly howsoever in connection with or as a result of any person acting on any information provided herein. The information provided herein may contain projections or other forward-looking statements regarding future events or future performance of countries, assets, markets or companies. Actual events or results may differ materially. Past performance figures are not necessarily indicative of future or likely performance. Any reference to any specific company, financial product or asset class in whatever way is used for illustrative purposes only and does not constitute a recommendation on the same.
The contents hereof may not be reproduced or disseminated in whole or in part without OCBC Bank's written consent.
Cross-Border Marketing Disclaimer
1. Indonesia: The offering of the investment product in reliance of this document is not registered under the Indonesian Capital Market Law and its implementing regulations, and is not intended to constitute a public offering of securities under the Indonesian Capital Market Law and its implementing regulations. The investment product may not be offered or sold, directly or indirectly, within Indonesia or to citizens (wherever they are domiciled or located), entities or residents, in any manner which constitutes a public offering of securities under the Indonesian Capital Market Law and its implementing regulations.
2. Malaysia: Oversea-Chinese Banking Corporation Limited (?OCBC Bank?) does not hold any licence, registration or approval to carry on any regulated business in Malaysia (including but not limited to any businesses regulated under the Capital Markets & Services Act 2007 of Malaysia), nor does it hold itself out as carrying on or purport to carry on any such business in Malaysia. Any services provided by OCBC Bank to residents of Malaysia are provided solely on an offshore basis from outside Malaysia, either as a result of ?reverse enquiry? on the part of the Malaysian residents or where OCBC Bank has been retained outside Malaysia to provide such services. As an integral part of the provision of such services from outside Malaysia, OCBC Bank may from time to time make available to such residents documents and information making reference to capital markets products (for example, in connection with the provision of fund management or investment advisory services outside of Malaysia). Nothing in such documents or information is intended to be construed as or constitute the making available of, or an offer or invitation to subscribe for or purchase any such capital markets product.
3. Myanmar: OCBC Bank does not hold any licence or registration under the FIML or other Myanmar legislation to carry on, nor do they purport to carry on, any regulated activity in Myanmar. All activities relating to the client are conducted strictly on an offshore basis. The customers shall ensure that it is their responsibility to comply with all applicable local laws before entering into discussion or contracts with the Bank.
4. Taiwan: The provision of the information and the offer of the service concerned herewith have not been and will not be registered with the Financial Supervisory Commission of Taiwan pursuant to relevant laws and regulations of Taiwan and may not be provided or offered in Taiwan or in circumstances which requires a prior registration or approval of the Financial Supervisory Commission of Taiwan. No person or entity in Taiwan has been authorised to provide the information and to offer the service in Taiwan.
5. Thailand: Please note that OCBC Bank does not maintain any licences, authorisations or registrations in Thailand nor is any of the material and information contained, or the relevant securities or products specified herein approved or registered in Thailand. Interests in the relevant securities or products may not be offered or sold within Thailand. The attached information has been provided at your request for informational purposes only and shall not be copied or redistributed to any other person without the prior consent of OCBC Bank or its relevant entities and in no way constitutes an offer, solicitation, advertisement or advice of, or in relation to, the relevant securities or products by OCBC Bank or any other entities in OCBC Bank?s group in Thailand.
6. Hong Kong SAR: This document is for information only and is not intended for anyone other than the recipient. It has not been reviewed by any regulatory authority in Hong Kong. It is not an offer or a solicitation to deal in any of the financial products referred to herein or to enter into any legal relations, nor an advice or a recommendation with respect to such financial products. It does not have regard to the specific investment objectives, financial situation and the particular needs of any recipient or Investor. This document may not be published, circulated, reproduced or distributed in whole or in part to any other person without OCBC Bank?s prior written consent. This document is not intended for distribution to, publication or use by any person in any jurisdiction outside Hong Kong, or such other jurisdiction as the Bank may determine in its absolute discretion, where such distribution, publication or use would be contrary to applicable law or would subject the Bank and its related corporations, connected persons, associated persons and/or affiliates to any registration, licensing or other requirements within such jurisdiction.
© Copyright 2016 - OCBC Bank | All Rights Reserved. Co. Reg. No.: 193200032W