As published in The Sunday Times on 19 June 2016
Michael Tan
Senior Investment Counsellor, Wealth Management Singapore, OCBC Bank
Member of OCBC Wealth Panel
Working adults should start saving for their retirement early, to beat rising costs and enjoy their golden years
Like many Singaporeans, OCBC Wealth Panelist Michael Tan envisions an idyllic life as a retiree. With the money he has saved over the years, his family will be well-taken care of, giving him and his wife the time and finances to pursue interests they are both passionate about.
The senior investment counsellor, Wealth Management, at OCBC Bank, adds that he is nearing retirement, and so, is mulling over extended holidays, learning new skills and doing charity work. He says: "I am not musically inclined, but my wife and I learnt to play drums for a year. We could continue with this. It is therapeutic, exciting and invigorating to learn new things." Mr Tan would also like to spend time in a new country to see it through the eyes of a local, as well as relearn the Malay language he used as a young man living in a kampung.
Planning is key
That said, working gives Mr Tan a lot of satisfaction, even though retirement is looming for the 54-year old. "I encourage everyone to continue working for as long as they are able," he says. And as many savvy savers and investors know, people need to plan their finances in order to achieve a comfortable retirement.
Before considering that, however, they need to ensure that their expenditure is lower than their income. He says: "The reality is that, when it comes to retirement, the only certainty is uncertainty. Without some form of savings, you are unable to plan even for month-to-month, much less the future. As our society continues to live longer, one consideration is also to make sure you do not outlive your retirement monies." To be prepared for uncertainties like health and financial shocks, Mr Tan recommends setting aside a small amount of money every month.
"As our society continues to live longer, one consideration is also to make sure you do not outlive your retirement monies. On the whole, one should consider how to live out his retirement years. "Whether you travel, live with your children or support a charity, the activities you engage in influence your financial planning," he explains.
Planning for the next generation is just as important to Mr Tan, who has a child aged 26. "Anyone, not just the rich, can make a difference to their family financially with a well-thought out plan. You can also make a will," he says.
Saving early
Mr Tan recommends planning your retirement as soon as possible, "when you start your first job".
He says: "Inflation is an insidious beast. However, if you compound your savings or investment at an appropriate rate, you will be able to slay this mighty beast. "For example, if you are 24 years old, and you save or invest $3,600 a year for 10 years and it is compounded at 10 per cent per annum, you should have about $917,000 when you reach 60 years of age," says Mr Tan. "You would only have amassed $432,000 when you reach 60, if you were to start saving for your retirement at 35," he adds.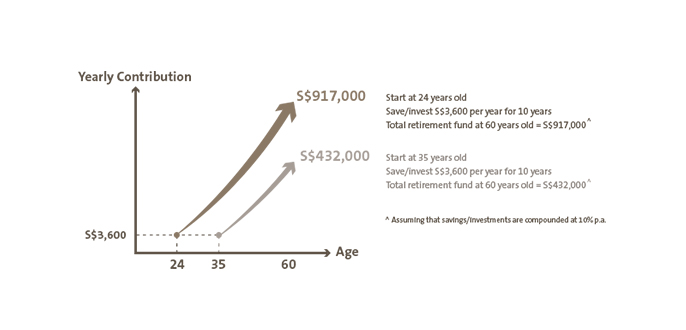 "Many of us remember that in the 1970s, the price of a three-room HDB flat was about $7,000. It now costs about $300,000 to $400,000, even with a shorter lease than when it was new." He also mentions the possibility of dealing with medical expenses, citing the case of cancer patients, who may face chemotherapy and traditional Chinese medicine treatment fees of up to $400,000 currently. He adds: "Retirement planning is a continuous process where you revisit your plans regularly. This is to adjust for changes in life and circumstances."
Mr Tan notes that current government schemes to help Singaporeans save for their old age - such as the Central Provident Fund (CPF) - can provide for just a minimum standard of retirement life. Furthermore, old age may come with unexpected health expenses, which may prove more of a burden during what are meant to be one's golden years.
"You should manage your cash flow, safeguard your future against unfortunate or unexpected or unforeseen events and invest for the very long term to ensure a comfortable and peaceful retirement", says Mr Tan. "You are always working towards the day when you decide to work only because you want to, not because you have to."
That something extra
To those planning for their retirement, he recommends considering various investment assets and insurance schemes to supplement CPF and Supplementary Retirement Scheme (SRS) savings. "We have to consider all assets and their planned use for and during our retirement. A house's rental income can contribute to one's retirement monies as well," he explains. "Medishield Life helps you to cover your basic hospitalisation costs, but it is important to supplement with critical illness, disability and life insurance to ensure a more comprehensive coverage," he adds.
OCBC's PremierLife Generation scheme can assist individuals in meeting their retirement and wealth transfer needs.Apart from helping you prepare financially for your retirement, the policy also ensures wealth transfer for up to three family generations.
PremierLife Generation is a Singapore-dollar denominated, single-premium insurance plan that guarantees a monthly payout from the fifth year onwards, supplementing your retirement plans with a regular income. The minimum single premium for the plan stands at $100,000. The policy can also be transferred to your child when he or she turns 18. On the demise of your child, your grandchild would receive a lumpsum payout from the policy.
"Success does not come easy. It would have taken years of sacrifice, perseverance and hard work to get where you are today," says Mr Tan. "You want to ensure that your family and future descendants can continue to enjoy the benefits of your hard-earned wealth."
Retirement must-dos
Make sure your spending is lower than your income;
You should start retirement planning as soon as possible;
Compound your savings or investments early at an appropriate rate;
Invest for the very long term to ensure a comfortable and peaceful retirement;
Consider all your assets and their planned use for and during your retirement; and
Manage your cash flow and safeguard your future against unfortunate, unexpected or unforeseen events.
Investment recommendation
At OCBC Premier Banking, both customers and Premier Banking Relationship Managers have access to rich market information provided by the OCBC Wealth Panel. With over 200 years of collective investment experience, the Panel's insights are available to help guide customers' investment decisions.
This is the bank's recommendation:
PremierLife Generation
Disclaimers